High Peaks Pure Earth presents English translations of two tributes to the late film director Pema Tseden who died suddenly on May 8, 2023, at the age of 53. These tributes are by his close friends and collaborators Shidé Nyima and Chone Yum Tsering.
Pema Tseden was a master storyteller and his writings and work have featured on High Peaks Pure Earth several times in the past. Two of his written works featured on our Tibet Reading List, in 2018 a book of his short stories "Enticement: Stories of Tibet", and in 2017 the short story and screenplay of "Tharlo". In 2015 we translated an article previewing "Tharlo" and in 2016 published a review of the film written by Tsering Shakya.
In 2016, we translated an interview conducted by Pema Tseden with his good friend the writer Takbum Gyal. When Pema Tseden was hospitalised after an incident in Xining Airport in June 2016, we translated his Weibo statements and monitored the situation closely. Lastly, in November 2017, we published a poem "This is How We Quietly Work" by Gangshun, Pema Tseden's longtime friend, supporter and producer, with an accompanying essay by scholar Françoise Robin. Please read or re-read this essay for insight into Pema Tseden's world and work.
"A Tale of Light"
By Shidé Nyima
The first tribute to Pema Tseden is this poem by actor and comedian Shidé Nyima. It was composed on May 9, 2023 and published on WeChat on May 10, 2023. Shidé Nyima starred in Pema Tseden's film "Tharlo" and made a guest appearance in "Balloon", both referenced in the poem. Thank you to Palden Gyal for the translation.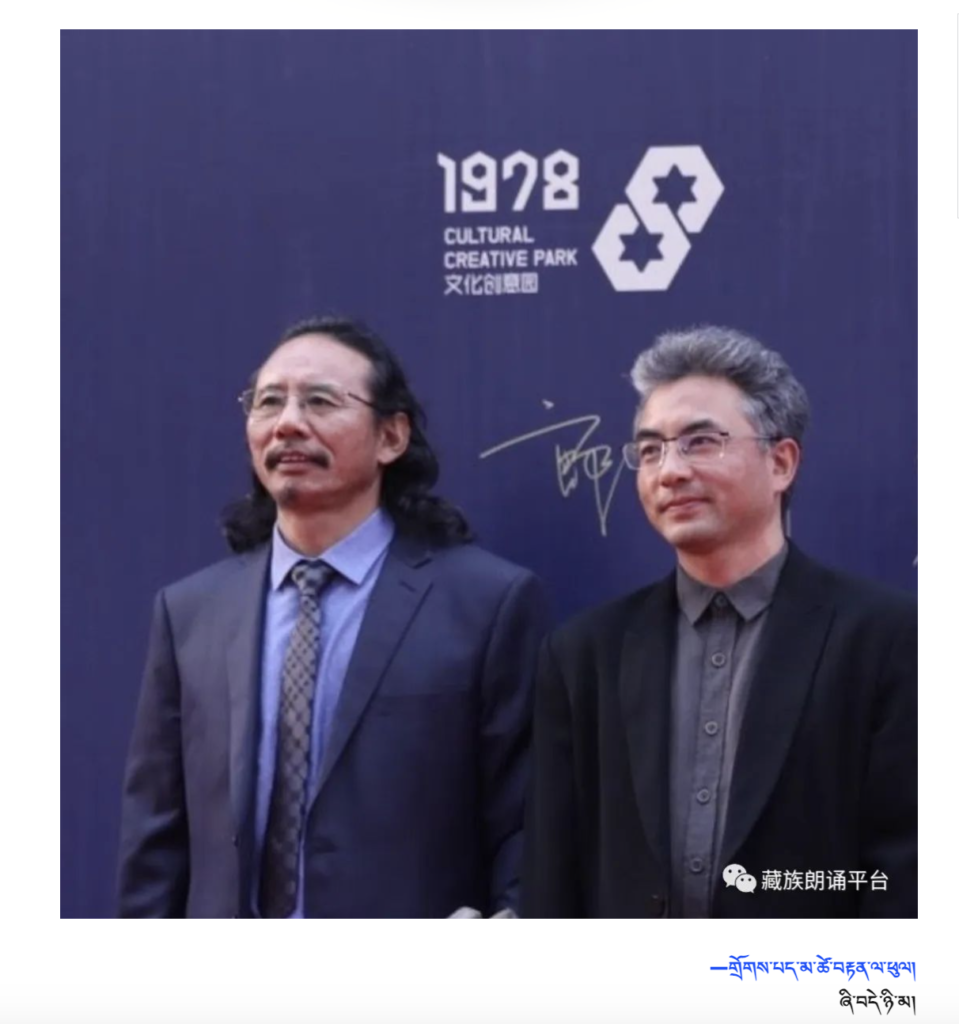 "A Tale of Light"
—To my friend Pema Tseden
By Shidé Nyima, translated by Palden Gyal 
Smiling gently, you'd say
"What? Are you scheming something mischievous again?"
That's one of our playful banters.
"Hey, I plan to seek out the company of a beautiful woman
And enjoy our companionship.
You are such a charmingly handsome person
But, should you allow time to take its toll
Wouldn't that be a real waste?"
That would be my playful retort.
Again, with a jocular smile, you'd reply
"Oh, let it be, my friend
Beautiful women do not befit our lot."
That's also a jest we shared every time we met.
During the festive gathering of Tharlo's completion
You told me, as we hugged each other,
"It was a real pleasure
to work with you on this film."
"May our collaborations flourish in the days ahead."
Our eyes, brimming with emotion, welled up tears.
Amidst the summer of 2017,
Our paths converged in Guangzhou city.
By the tranquil bank of Zhujiang river
How serenely quiet were you!
As we savored our coffee, you inquired
"Amongst my films, Tharlo shines bright.
Does the prospect of a sequel excite you?"
I responded, "indeed, it would be the icing on the cake,
Embracing the commercial medium might let it soar."
You beamed.
In the hush of midnight's cloak, over four years past,
A beckoning phone call stirred me from slumber's vast:
"I have arrived near Kokonor,
Intend to shoot a film,
And I really need your help."
"What can I help you with?"
"It is an intriguing character.
It involves inflating condoms, haha!"
"If that's so,
I will be there swiftly, haha!"
That was your polemical film "Balloon."
That was also our last creative partnership.
Once more, on a new year's dawn
We crossed paths in the ancient city of Ziling
And you gifted me a bottle of German wine, saying
"I heard Yangshuk Tso and you
Performed Tharlo's sequel, haha!"
"Haha! That's just a play."
"I heard about it in Labrang
And saw the video too.
It is really good!"
"A play is insufficient as a sequel," I remarked.
As usual, you responded with a smile.
That was our final jest.
And the last time we exchanged smiles.
It is also the last memory of you
etched in my heart by this melancholic morning.
Dear friend, today
I shall not weep for my failure to bid you farewell
Nor shall I beat my chest, lost in disarray's spell.
Also, I won't claim you as a sky-lifting pillar,
The height of snow-capped mountains,
Or the majestic gait of wild yaks.
You are my dear friend.
You are a caring parents' beloved son.
Lifted through the rain-filled sky of Tibet–
You are a tale of light.
May 9, 2023, in Ziling.
"Farewell Prostrations to Pema Tseden"
By Chone Yum Tsering
The second tribute to Pema Tseden is by his close friend, well-known writer Chone Yum Tsering. It was written on the same day of his passing and immediately published on WeChat. The essay traces their friendship over the years and provides some personal insights into the state of Pema Tseden's health. Thank you to Bhuchung D. Sonam for the translation.

"Farewell Prostrations to Pema Tseden"
By Chone Yum Tsering, translated by Bhuchung D. Sonam
Upon hearing the news of my friend Pema Tseden's passing, I was numb with sorrow the entire day and did not know what to do. Tears came down in torrents. I cannot say for sure that I became a writer because of his influence but as two writers writing in Tibetan and Chinese, Pema and I had many discussions and we became good friends since the beginning of this century. I have read most of his writing and watched all of his films. Before shooting his films, he often sent me the scripts for my opinion and as a result we had a number of discussions.
In 2007 when he finished his first film "The Silent Holy Stones" at the Beijing Film Academy, Pema invited me as a guest for its premiere. After the screening I shared my thoughts on the film. Whenever he came to Chengdu, he would not tell me when he came or why he was in the city, instead he would send me his room number where he was staying or a restaurant where we were to meet. This was like a secret rendezvous between two men. Even though I had other things to do, I would leave everything and go to see Pema. During my stay over at his hotel room, we always had discussions on films and writing that lasted into the early hours of the morning.
Generally, I am sparing with my time and I never want to waste any time meeting some big-shots or high officials. Yet when Pema came to town I would sacrifice several nights to be with him. Sometimes when I had no one to look after my child, I would take him along to Pema's hotel room. My boy was very naughty and he would jump in the air and roll on the floor, and so Pema once said, "I don't think your son will become a writer." Upon hearing this Pema's wife responded, "If your son can become a director why wouldn't his son become a writer." We all laughed. Pema then said that to be a film director and to be a writer were two entirely different things. I think what he said was true.
Frankly speaking, although I am a writer now, once I had a dream of becoming a film director. When he was shooting his film "Sacred Arrow" in Rebkong, I went to see Pema. For days he coordinated and worked hard with so many people that by the time he came back he was dead tired but he could not sleep. Witnessing this I knew that I was not made to be a director. Subsequently I gave up my aspiration to become a film director.
In the process of speaking and having numerous discussions with him, I came to know that deep down, Pema wanted to be a writer more than a director. When I requested him to write a novel, he told me that he was writing one called "I Am a Marketplace" and had already written over twenty thousand words. Later he told me that he was working on a new film and hence the hoped-for novel only became a novella. "One person can do only so much and I am certain that I won't be able to write a novel. But you must write several novels,' Pema told me. I agreed by saying that I would try my best.
For over a decade, whenever Pema came to Chengdu we met. However, since 2019 I noticed that he had started to take several more medicines for diabetes. There were many people, including officials, lamas, businessmen, his students as well as strangers to receive him whenever he came to the city. When a dozen or so people gathered in a bar speaking with their voices flashing out like lightning, Pema would sit on his chair with a faint smile on his face and he'd become even more reticent. Occasionally, he would quietly walk outside to take his medicine. Sometimes he took several pills in his hand in front of everyone and gulped them down with a glass of hot water. We would then tell him to take great care of his health. He would smile and say, "Nothing to worry about" and our worried expression would disappear and the loud conversations would continue. When I noticed exhaustion on his face and asked if he wanted to go and rest, Pema would say 'I am alright,' and listen to the ongoing conversations.
If I have no patience for any conversation, I would certainly get up and leave if I wanted to, but Pema had the forbearance and gentleness to bear it which distinguished him from others. Every time he came to Chengdu, he would always take his medicine like a ritual whether it was in a bar or a teahouse. It became a common sight for his friends and he did not want any fuss made over it.
Two years ago, I accompanied him to a hospital and we found out that his condition wasn't urgent so we were a little relieved. He said that perhaps it was because he started regular walks. Although his hair had turned grey, his complexion appeared quite robust, so I thought that perhaps the worst was over. Therefore, when I heard the terrible news this morning, I found it hard to believe that diabetes can have such sudden dire consequences. When I learned that he died at noon near Lhasa due to heart failure, I remembered the 'groan' that was associated with his name. The 'Pema Tseden groan' became known amongst journalists because whenever there was an interview, Pema would groan. The reporters filed stories which mentioned this 'groan' and in fact one of the articles was titled 'Pema Tseden's Groan'. It seems that it was not diabetes but the 'groan' that took Pema Tseden to the next world. But what is this 'groan'? It is a burden that rests on each of our shoulders. But Pema's burden was heavy, so heavy that it permanently took him away from us.
In the last few years, many of the great personalities from the Tibetan Plateau have passed away one after another. Many memorial events, articles and photos can be seen online for them. However, when they were alive there was more badmouthing about them than praise. This pains my heart and so I promised not to write any obituaries for them. Sorry.
Pema was a true pioneer of Tibetan film. For me, he was an old friend with whom I slept in the same room and had tea from the same thermos. All I have now is the power to write a few lines of remembrance and these scattered words arise from my mobile phone like murky water.
What I want to say in the end is that a few nice words and a few obituaries cannot measure Pema's values. His significance will flow for as long as Tibetan history remains. He was a precious jewel hidden in the depth of an ocean. His tragic death is for us like a double shock and our sorrow cannot be eased. Now we have three things that we need to accomplish i.e. one: since so many of the great personalities have passed in recent years due to various illnesses, all of us must take great care of our health; two: all of Pema's writing and films must be collected and a museum should be established in his memory and each year, May 8 should be marked as "Tibet Film Festival Day" so that a new generation remember his life and work; and three: each professional, especially writers and filmmakers, must be inspired by Pema's dedication and commitment so that you too can achieve something. This is actually the best gift to remember him. Personally, in order to remember my friend, I pledge that I will not waste my time on unnecessary events and focus on my writing instead.
Written from the incense pervaded city without obstruction on May 8, 2023.