High Peaks Pure Earth presents the translation of a blogpost titled "The Fifth Blog" by Dolkar Tso, wife of imprisoned businessman and environmentalist Karma Samdrup, which was written on July 7 and also re-posted on Woeser's blog on the same day.
On Woeser's blog, Woeser has written an introduction to Dolkar Tso's blogpost and also given a history of Dolkar Tso's blogs, hosted on popular Chinese blog portal Sohu, that are constantly being deleted and shut down. Read the High Peaks Pure Earth translation of Dolkar Tso's account of the first day in court, titled "Praying" here. Read a blogpost written after the sentencing of Karma Samdrup to 15 years in prison in which Dolkar Tso thanks the lawyers here.
Dolkar Tso's blogpost is mainly directed at those censors who delete her blog, the people who are called the "50 Cent Party".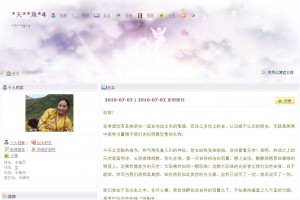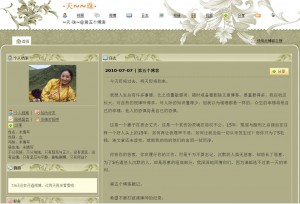 The photo above shows Dolkar Tso's 4th blog, the photo below shows her 5th blog
The Perils of Dolkar's blogs
By Woeser
July 7, 2010
The wife of Karma Samdrup, unjustly sentenced to 15 years in prison, has started and then seen her blogs shut down several times over the past month, and yesterday she started her fifth blog. Dolkar's "personal details" written beneath her photograph is the passage: "Regardless of nationality, regardless of geography, seek only mercy and justice. No lies, no flattery, only perseverance and calm. What good comes of deleting this post or this blog?"
If this website continues to play these games with "Chinese characteristics", it'll be an extremely interesting online incident well worthy of attention and analysis, touching upon an individual and citizen's fundamental right to freedom of speech.
The Perils of Dolkar's blogs:
Dolkar's first blog, "The epic behind Heavenly Beads", http://drolkartso.blog.sohu.com/  was set up on Sohu on June 2, 2010, when Karma Samdrup's first trial was postponed. It was shut down after just one day.
Dolkar's second blog, "Heavenly… Beads…" http://drolkar.blog.sohu.com/ was set up on Sohu on June 21, 2010 when Karma Samdrup's trial restarted. However, it was closed down again five days later.
Dolkar's third blog, "Heavenly… Beads…" http://drolkar3.blog.sohu.com/ was set up on Sohu on June 27 following Karma Samdrup's unjust sentencing. Six days later on July 3, having published several articles, it was shut down again.
Dolkar's fourth blog, "Heavenly… Beads…4" http://drolkar4.blog.sohu.com/ was set up on Sohu on July 3, the day that Karma Samdrup's elder brother Rinchen Samdrup was unjustly sentenced to five years in prison. Three days later, it was again closed down.
Dolkar's fifth blog, "Heavenly… Beads…5" http://drolkar5.blog.sohu.com/ was set up on Sohu on July 6. Who knows when it's going to be shut down.
Pasted below is the latest piece from Dolkar's blog.
The Fifth Blog (By Dolkar)
July 7, 2010
Today will pass, tomorrow will come.
I think there are many things in life more important than sensitive words or closing down blogs and deleting essays. I grew up in the nomadic regions and learnt much from the laws of nature and understood little from the world of man. But I thought reason was always the same: the happiness of others will become one's own happiness, and the fear of others will become one's own fear.
This is a wife thinking of her husband. This is a wounded soul frustrated by an injustice. 15 years. Injustice and torture is amplified by 15 years on a good man's head. How can I ever be made silent again? How can I be made as though none of this ever happened? And for a mere 50 cents, you wont even finish reading my piece, and just wipe away my, his, their tears and blood.
You have your hardships but in carrying out your work whatever you do, do not forget, the silent are strong without malice but are an aid to those who have malice. Those who force others into silence for a mere 50 cents are a part of that organisation of malice. I have such deep sympathy for you, for no one will escape the judgment of a certain day.