High Peaks Pure Earth has translated a blogpost by Dolkar, wife of Karma Samdrup, that was written and posted on her blog on January 3, 2011. The blogpost was re-posted the same day on Woeser's blog and the introduction below is written by Woeser, who is friends with both Karma Samdrup and Dolkar, see Woeser's earlier blogpost "Remembering the First Time I Met Karma Samdrup".

To read earlier High Peaks Pure Earth translations of blogposts by Dolkar, follow this link: http://www.highpeakspureearth.com/search/label/Dolkar%20Tso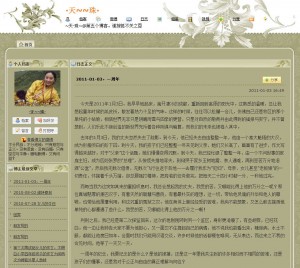 Screenshot of Dolkar's Fifth Blog
"One Year On": Dolkar's Blogpost Following Her Second Prison Visit
(Introduction below by Woeser)

On January 3, 2010, the businessman, art collector, environmentalist and philanthropist (also referred to as the "King of Heavenly Beads"), Karma Samdrup, was arrested. In June of the same year, he was sentenced to 15 years in jail, serving his prison sentence in Shaya County, Aksu Prefecture in Xinjiang. Five other people from different ethnic backgrounds were, one after the other, also put into jail and convicted or put into labour camps for re-education. Karma's case was a shocking demonstration of injustice but reveals and summarises on a very small level, the real situation of suffering and loss that Tibet experiences in today's world.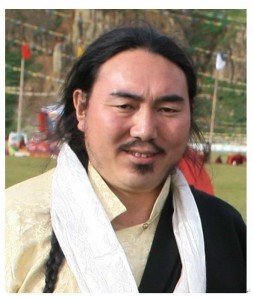 Above: Karma Samdrup
Please pay attention to the following sentence in Dolkar's most recent article on her fifth blog: "During our meeting, we were only allowed to speak in Mandarin"; this does not mean that the Tibetan couple were not capable of communicating in Tibetan, it rather means that the authorities did not allow them to speak Tibetan and so when they met for only the second time this year, they were forced to communicate in broken Mandarin… Karma, you have been in prison for an entire year now; the New Year has arrived and, as an old friend, I can only pray for you: I pray for your health and your ability to endure through your Buddhist practice…
January 3, 2011, One Year On
By Dolkar

Today is the January 3, 2011. I got up really early and left the cold and bleak city of Chengdu to once more return to the bright sunlight of the plateau. This so familiar warmth always makes me remember the lamb-fur-jackets of my childhood, giving off the smell of heat. This is always a time to relax and it feels as if I was still that simple girl from the pasture, believing that apart from the four seasons and the rain and snow replacing the bright sun, nothing ever changes in this world. It was about admiring nature and thus obtaining karmic reward and peace. I had never thought that people would be tirelessly creating a new world of all sorts of conspiracies and plots, which our futures were to be drawn into.
On January 3 last year, my husband suddenly disappeared without a trace. Today, he has been deprived of his freedom already for an entire year. From a tall and burly man he transformed into a thin, grey prisoner. Today, my daughters have not seen their father for an entire year; they have grown and are becoming better at painting and essay writing. With regards to the subject "father", they have slowly become silent. Today, I have been busy for an entire year, have turned from an ill-informed housewife into an active and rushing-around "prime minister"; I searched for my husband in panic, cried my heart out for the relatives who were killed during the earthquake in my hometown, Yushu, and I shed tears of great misery in the "law court". I also borrowed money on many occasions and flew back and forth many times − fulfilling the responsibilities as a "prisoner's wife", as a mother, as a daughter, and even as a "boss's wife". I had to tackle a multitude of different things, had to constantly re-motivate myself, finish every single task that emerged, and live out every minute, every second of the day.
Every time I struggle for breath upon this abruptly arisen burden, I always think of my husband; what is my misery compared to his? This honest and straightforward man from Kham, whose natural intelligence and kind-heartedness, and whose simple and down-to-earth ideals have given him a sublime spirit and respect from others, but also repeated abuse and the heavy disaster of this unjust verdict. The sufferings his body have had to endure are still beyond my imagination and I don't even dare to think about what his simple heart has been going through. Really, what is my misery compared to his!
This was only the second time that I had visited him since the sentence was passed, and this time he had just been moved to a different prison area. His body looked undernourished, he was unshaven and looked grey. He, on the one hand, told me to let everyone know that they shouldn't worry about him, but on the other hand, he couldn't help but speak of his bad conditions, I could see it even without him saying it; diabetes, and problems acclimatising to the environment are making him feel like the days drag on like years. During our meeting, we were only allowed to speak in Mandarin and his words would often be stuck in his throat, he couldn't express himself, and this after he had waited and counted the days for this hard-won opportunity to meet me.
It is the commemoration of the first "anniversary", but what do I want to commemorate? My husband being arrested; or the many similar but not identical grievances I encountered over the past year; or the growing up of the children; or my true understanding of and yearning for impartiality and freedom?
The little girl from the grassland believed that honesty and respect are the laws of nature that govern human beings, and believed that a pure spirit is the only way for people and the gods to communicate. Today's me, being confronted with and floating in this "modern" but at the same time helplessly complex provincial capital city, remembers the simple and pure belief of those early days; I remember myself on the grasslands and it seems that I have touched on the true meaning of simplicity.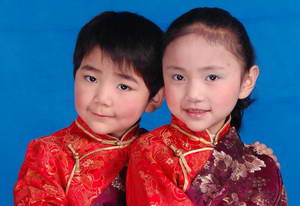 Yesterday, my older daughter painted a yellow flower in a glass box for her father and wrote next to it that this beautiful flower is her mother; having a gracious colour but living in a lonesome glass world; father, you need to spend more time with her.
I want to send my love and happiness to my grey-bearded husband who is thousands of miles away from me; also to my parents, daughters, friends, everyone, all living beings. I am not at all lonely.