High Peaks Pure Earth presents the Winter 2020 Tibet Reading List! We've updated the previous Summer Reading List to include 28 more titles covering the span of the entire Tibetan Buddhist world.
If you think we've missed anything or if you have a particular recommendation please feel free to get in touch with us, it's impossible for us to keep track of all Tibet-related publications! You're also welcome as always to write your own short reviews in the comments section or on your social media, just tag us so that we see it or use the #TibetReadingList.
Please note that the list only includes books currently available for purchase. If a book is coming out later this month or early next year, it will be featured on the Summer Tibet Reading List which will be published in 2021.
One last thing is that we've added links to Bookshop.org, if you buy books linked to our site, we may earn a small commission and at the same time, their fees support independent bookshops! Where publications are not available on Bookshop, Amazon links are provided for convenience.
See below for the new books added (in no particular order) to the existing Tibet Reading List.
This is our last post of the year, see you in 2021. Happy reading and stay safe!
"Eat the Buddha" By Barbara Demick
Published in September 2020, Eat the Buddha is the acclaimed work by journalist Barbara Demick exploring Ngaba in Amdo closely.
From the Granta website:
In 1950, China claimed sovereignty over Tibet, leading to decades of unrest and resistance, defining the country today. In Eat the Buddha, Barbara Demick chronicles the Tibetan tragedy from Ngaba, a defiant town on the eastern edge of the Tibetan plateau where dozens of Tibetans have shocked the world since 2009 by immolating themselves.
Following the stories of the last princess of the region, of Tibetans who experienced the struggle sessions of Mao's Cultural Revolution, of the recent generations of monks and townsfolk experiencing renewed repression, Demick paints a riveting portrait of recent Tibetan history, of Tibetan life today and of the challenges Tibetans face while locked in a struggle for identity against one of the most powerful countries in the world.
Available on Bookshop here: https://uk.bookshop.org/a/4863/9781783785704
"Exile from the Grasslands: Tibetan Herders and Chinese Development Projects" By Jarmila Ptáčková
Published by University of Washington Press in December 2020,
Exile from the Grasslands
is an in-depth study of nomad resettlement in Amdo.
From the University of Washington Press website:
At the beginning of the new millennium, the Chinese government launched the Great Opening of the West, a development strategy targeted at remote areas inhabited mainly by indigenous ethnic groups. Intended to modernize infrastructure and halt environmental degradation, its tactics in western China have resulted in the displacement of pastoral Tibetans to urban residence and sedentary livelihoods, causing massive social and economic shifts and uncertainty and eventually leading to signs of discontent in ethnically Tibetan regions.
Based on more than a decade of fieldwork, Exile from the Grasslands documents the viewpoints of both the people affected—Tibetan pastoralists in Qinghai Province—and the Chinese officials charged with relocating and settling them in newly constructed housing projects. As China's international influence expands, the welfare of its ethnic minorities and its handling of environmental issues are receiving close media scrutiny. Jarmila Ptáčkova's study documents a politically and ecologically significant process that is happening—unlike events in Lhasa or Xinjiang—largely outside the view of the wider world.
Available on Amazon here: https://amzn.to/3h0HHI7
"The Third Karmapa Rangjung Dorje: Master of Mahamudra" By Ruth Gamble
Published in November 2020 by Shambhala Publications, The Third Karmapa Rangjung Dorje: Master of Mahamudra, scholar Ruth Gamble brings together her extensive research on Rangjung Dorje into a sweeping biography covering his life, legacy, and important selected writings.
From the Shambhala website:
Known for his mastery of teachings across sectarian lines, his treatises on medicine and astrology, and his work as spiritual advisor to the last Yuan emperor of China, Rangjung Dorje (1284–1339) is considered one of the most important and influential figures in Tibetan Buddhist history. First recognized as a tulku, or reincarnated Buddhist master, at the age of five, Rangjung Dorje became a major Kagyu lineage holder and instituted the Tibetan system of reincarnation-based inheritance that led to the formation of important lineages of tulkus such as the Dalai Lamas.
Included in Ruth Gamble's discussions are Rangjung Dorje's synthesis of Dzogchen and Mahāmudrā in his writings, his devotion to spreading the teachings of buddha nature, and several works never before translated into English. As the most comprehensive work available on Rangjung Dorje, this book is an indispensable resource for scholars and Buddhist practitioners alike.
Available on Bookshop here: https://uk.bookshop.org/a/4863/9781611807080
"Conflicting Memories: Tibetan History under Mao Retold" By Robert Barnett, Benno Weiner, and Françoise Robin (eds.)
Published in September 2020 by Brill,
Conflicting Memories: Tibetan History under Mao Retold
is a study of how the Tibetan encounter with the Chinese state during the Maoist era has been recalled and reimagined by Chinese and Tibetan authors and artists since the late 1970s.
From the Brill website:
Written by a team of historians, anthropologists, and scholars of religion, literature and culture, it examines official histories, biographies, memoirs, and films as well as oral testimonies, fiction, and writings by Buddhist adepts. The book includes translated extracts from key interviews, speeches, literature, and filmscripts. Conflicting Memories explores what these revised versions of the past chose as their focus, which types of people produced them, and what aims they pursued in the production of new, post-Mao descriptions of Tibet under Chinese socialism.
Contributors include: Robert Barnett, Benno Weiner, Françoise Robin, Bianca Horlemann, Alice Travers, Alex Raymond, Chung Tsering, Dáša Pejchar Mortensen, Charlene Makley, Xénia de Heering, Nicole Willock, M. Maria Turek, Geoffrey Barstow, Gedun Rabsal, Heather Stoddard, Organ Nyima.
Available on Amazon here: https://amzn.to/3ah2h5N
"Resistant Hybridities: New Narratives of Exile Tibet" By Shelly Bhoil (ed.)
Published by Lexington Books in November 2020, Resistant Hybridities: New Narratives of Exile Tibet has an analytic focus on the cultural production by Tibetans-in-exile, this volume examines contemporary Tibetan fiction, poetry, music, art, cinema, pamphlets, testimony, and memoir.
From the publishers website:
The twelve case studies highlight the themes of Tibetans' self-representation, politicized national consciousness, religious and cultural heritages, and resistance to the forces of colonization. This book demonstrates how Tibetan cultural narratives adjust to intercultural influences and ongoing social and political struggles in exile.
Available on Bookshop here: https://uk.bookshop.org/a/4863/9781498552356
"Building a Religious Empire: Tibetan Buddhism, Bureaucracy, and the Rise of the Gelukpa" By Brenton Sullivan
Published by University of Pennsylvania Press in December 2020, Building a Religious Empire: Tibetan Buddhism, Bureaucracy, and the Rise of the Gelukpa examines the Geluk school's expansion and consolidation of power along the frontier with China and Mongolia from the mid-seventeenth through the mid-eighteenth centuries to chart how its rise to dominance took shape.
From the publishers website:
In contrast to the practice in other schools of Tibetan Buddhism, Geluk lamas devoted an extraordinary amount of effort to establishing the institutional frameworks within which everyday aspects of monastic life, such as philosophizing, meditating, or conducting rituals, took place. In doing so, the lamas drew on administrative techniques usually associated with state-making—standardization, record-keeping, the conscription of young males, and the concentration of manpower in central cores, among others—thereby earning the moniker "lama official," or "Buddhist bureaucrat."
The deployment of these bureaucratic techniques to extend the Geluk "liberating umbrella" over increasing numbers of lands and peoples leads Sullivan to describe the result of this Geluk project as a "religious empire." The Geluk lamas' privileging of the monastic institution, Sullivan argues, fostered a common religious identity that insulated it from factionalism and provided legitimacy to the Geluk project of conversion, conquest, and expansion. Ultimately, this system succeeded in establishing a relatively uniform and resilient network of thousands of monasteries stretching from Nepal to Lake Baikal, from Beijing to the Caspian Sea.
Available on Bookshop here: https://uk.bookshop.org/a/4863/9780812252675
"Himalaya: A Human History" By Ed Douglas
Published by Vintage in August 2020, Himalaya: A Human History is the first major history of the Himalaya: an epic story of peoples, cultures and adventures among the world's highest mountains.
From the publishers website:
Spanning millennia, from its earliest inhabitants to the present conflicts over Tibet and Everest, Himalaya is a soaring account of resilience and conquest, discovery and plunder, oppression and enlightenment at the 'roof of the world'.
From all around the globe, the unique and astonishing geography of the Himalaya has attracted those in search of spiritual and literal elevation: pilgrims, adventurers and mountaineers seeking to test themselves among the world's most spectacular and challenging peaks. But far from being wild and barren, the Himalaya has throughout the ages been home to an astonishing diversity of indigenous and local cultures, as well as a crossroads for trade, and a meeting point and conflict zone for the world's superpowers. Here Jesuit missionaries exchanged technologies with Tibetan Lamas, Mongol Khans employed Nepali craftsmen, Armenian merchants exchanged musk and gold with Mughals. Here too the East India Company grappled for dominance with China's emperors, independent India has been locked in conflict with Mao's Communists and their successors, and the ideological confrontation of the Cold War is now being buried beneath mass tourism and ecological transformation.
Featuring scholars and tyrants, bandits and CIA agents, go-betweens and revolutionaries, Himalaya is a panoramic, character-driven history on the grandest but also the most human scale, by far the most comprehensive yet written, encompassing geology and genetics, botany and art, and bursting with stories of courage and resourcefulness.
Available on Bookshop here: https://uk.bookshop.org/a/4863/9781847924131
"Our Only Home: A Climate Appeal to the World" By The Dalai Lama & Franz Alt
Published by Bloomsbury in November 2020, Our Only Home: A Climate Appeal to the World is a manifesto calling for action on climate change.
From the Bloomsbury website:
Saving the environment is our collective duty. With each passing day, climate change is causing Pacific islands to disappear into the sea, accelerating the extinction of species at alarming proportions and aggravating a water shortage that has affected the entire European continent. In short, climate change can no longer be denied – it threatens our existence on earth.
In this inspiring new book, the Dalai Lama, one of the most influential figures of our time, calls on political decision-makers to finally fight against deadlock and ignorance on this issue. He argues that we all need to stand up for a different and more climate-friendly world, and to allow the younger generation to assert their right to regain their future.
From the voice of the beloved world religious leader comes this eye-opening manifesto that empowers the generation of today to step up, take action and protect our world.
Available on Bookshop here: https://uk.bookshop.org/a/4863/9781472983923
"From a Mountain In Tibet: A Monk's Journey" By Lama Yeshe Losal Rinpoche
Published by Penguin in August 2020, From a Mountain In Tibet: A Monk's Journey is the autobiography of the leading monk at Samye Ling monastery in Scotland.
From the Penguin website:
Lama Yeshe didn't see a car until he was fifteen years old. In his quiet village, he and other children ran through fields with yaks and mastiffs. The rhythm of life was anchored by the pastoral cycles.
The arrival of Chinese army cars in 1959 changed everything. In the wake of the deadly Tibetan Uprising, he escaped to India through the Himalayas as a refugee. One of only 13 survivors out of 300 travellers, he spent the next few years in America, experiencing the excesses of the Woodstock generation before reforming in Europe.
Now in his seventies and a leading monk at the Samye Ling monastery in Scotland – the first Buddhist centre in the West – Lama Yeshe casts a hopeful look back at his momentous life. From his learnings on self-compassion and discipline to his trials and tribulations with loss and failure, his poignant story mirrors our own struggles.
Written with erudition and humour, From a Mountain in Tibet shines a light on how the most desperate of situations can help us to uncover vital life lessons and attain lasting peace and contentment.
Available on Bookshop here: https://uk.bookshop.org/a/4863/9780241439272
"Tibetan typeforms: An historical and visual analysis of Tibetan typefaces" By Jo A.J. De Baerdemaeker
Published in September 2020 by Buitenkant,
Tibetan typeforms
by
@typojo
presents research regarding the origin, development, and typographical function of letter types in Tibetan writing, from their beginnings in 1738 to the present.
From the Typotheque website:
The first, and until now the only, book exploring in-depth Tibetan type and typography. Besides introducing the characteristics of Tibetan script and the chronological evolution of letter design and typographic techniques, it also offers a comparative visual and analytical investigation of the manufacture of multilingual typesets and their deployment. Multiple solutions for these typographical complexities are identified, including the placement of diacritical marks, the vertical composition of syllable ligatures, and the many glyphs to be designed.
Available on Amazon here: https://amzn.to/2Wj7HVI
"Divination in Exile" by Alexander K. Smith

Published in September 2020 by Brill, Divination in Exile offers the first comprehensive scholarly introduction to the performance of divination in Tibetan speaking communities, both past and present.
From the Brill website:
While Smith surveys a variety of ritual practices, the volume focuses on divination and its associated rites in the contemporary Tibetan Bon tradition. Drawing from multi-site ethnographic fieldwork conducted in Himachal Pradesh and the translation of previously unpublished Tibetan language materials, Divination in Exile offers a valuable, social scientific contribution to our understanding of the perception and usage of ritual manuscripts in contemporary Tibetan cultural milieus.
Available on Amazon here: https://amzn.to/37oKeIN
"The Ends of Kinship: Connecting Himalayan Lives Between Nepal and New York" By Sienna Craig

Published in October 2020 by University of Washington Press, The Ends of Kinship draws on more than two decades of fieldwork with people in and from Mustang and combines narrative ethnography and short fiction to engage with foundational questions in cultural anthropology.
From the University of Washington Press website:
For centuries, people from Mustang, Nepal, have relied on agriculture, pastoralism, and trade as a way of life. Seasonal migrations to South Asian cities for trade as well as temporary wage labor abroad have shaped their experiences for decades. Yet, more recently, permanent migrations to New York City, where many have settled, are reshaping lives and social worlds. Mustang has experienced one of the highest rates of depopulation in contemporary Nepal—a profoundly visible depopulation that contrasts with the relative invisibility of Himalayan migrants in New York.
How do different generations abide with and understand each other? How are traditions defended and transformed in the context of new mobilities? Anthropologist Sienna Craig draws on khora, the Tibetan Buddhist notion of cyclic existence as well as the daily act of circumambulating the sacred, to think about cycles of movement and patterns of world-making, shedding light on how kinship remains both firm and flexible in the face of migration. From a high Himalayan kingdom to the streets of Brooklyn and Queens, The Ends of Kinship explores dynamics of migration and social change, asking how individuals, families, and communities care for each other and carve out spaces of belonging. It also speaks broadly to issues of immigration and diaspora; belonging and identity; and the nexus of environmental, economic, and cultural transformation.
Available on Amazon here: https://amzn.to/38ahzGT
"A Monastery on the Move: Art and Politics in Later Buddhist Mongolia" By Uranchimeg Tsultemin
Published in December 2020 by the University of Hawai'i Press, A Monastery on the Move provides a fascinating, in-depth analysis and interpretation of Mongolian Buddhist art and its role in shaping borders and shifting powers in Inner Asia.
From the University of Hawai'i Press website:
In 1639, while the Géluk School of the Fifth Dalai Lama and Qing emperors vied for supreme authority in Inner Asia, Zanabazar (1635–1723), a young descendent of Chinggis Khaan, was proclaimed the new Jebtsundampa ruler of the Khalkha Mongols. Over the next three centuries, the ger (yurt) erected to commemorate this event would become the mobile monastery Ikh Khüree, the political seat of the Jebtsundampas and a major center of Mongolian Buddhism. When the monastery and its surrounding structures were destroyed in the 1930s, they were rebuilt and renamed Ulaanbaatar, the modern-day capital of Mongolia.
Based on little-known works of Mongolian Buddhist art and architecture, A Monastery on the Move presents the intricate and colorful history of Ikh Khüree and of Zanabazar, himself an eminent artist. Author Uranchimeg Tsultemin makes the case for a multifaceted understanding of Mongol agency during the Géluk's political ascendancy and the Qing appropriation of the Mongol concept of dual rulership (shashin tör) as the nominal "Buddhist Government." In rich conversation with heretofore unpublished textual, archeological, and archival sources (including ritualized oral histories), Uranchimeg argues that the Qing emperors' "Buddhist Government" was distinctly different from the Mongol vision of sovereignty, which held Zanabazar and his succeeding Jebtsundampa reincarnates to be Mongolia's rightful rulers. This vision culminated in their independence from the Qing and the establishment of the Jebtsundampa's theocractic government in 1911.
Available on Bookshop here: https://uk.bookshop.org/a/4863/9780824878306
"Borderland Infrastructures: Trade, Development, and Control in Western China" By Alessandro Rippa
Published in September 2020 by Amsterdam University Press, in Borderland Infrastructures Alessandro Rippa offers a rich and nuanced ethnography of life across China's peripheries.
From the Amsterdam University Press website:
Across the Chinese borderlands, investments in large-scale transnational infrastructure such as roads and special economic zones have increased exponentially over the past two decades. Based on long-term ethnographic research, Borderland Infrastructures addresses a major contradiction at the heart of this fast-paced development: small-scale traders have lost their historic strategic advantages under the growth of massive Chinese state investment and are now struggling to keep their businesses afloat. Concurrently, local ethnic minorities have become the target of radical resettlement projects, securitization, and tourism initiatives, and have in many cases grown increasingly dependent on state subsidies. At the juncture of anthropological explorations of the state, border studies, and research on transnational trade and infrastructure development, Borderland Infrastructures provides new analytical tools to understand how state power is experienced, mediated, and enacted in Xinjiang and Yunnan. In the process, Rippa offers a rich and nuanced ethnography of life across China's peripheries.
Available from Bookshop here: https://uk.bookshop.org/a/4863/9789463725606
 "Buddhist Magic: Divination, Healing, and Enchantment through the Ages" By Sam Van Schaik
Published by Shambhala Publications in July 2020, Buddhist Magic is an exploration of the role that magic has played in the history of Buddhism.
From the Shambhala website:
As far back as we can see in the historical record, Buddhist monks, nuns, and other ritual specialists have offered services including healing, divination, rain making, aggressive magic, and love magic to local clients. Studying this history, scholar Sam van Schaik concludes that magic and healing have played a key role in Buddhism's flourishing, yet they have rarely been studied in academic circles or by Western practitioners. The exclusion of magical practices and powers from most discussions of Buddhism in the modern era can be seen as part of the appropriation of Buddhism by Westerners, as well as an effect of modernization movements within Asian Buddhism. However, if we are to understand the way Buddhism has worked in the past, the way it still works now in many societies, and the way it can work in the future, we need to examine these overlooked aspects of Buddhist practice.
In Buddhist Magic, van Schaik takes a book of spells and rituals—one of the earliest that has survived—from the Silk Road site of Dunhuang as the key reference point for discussing Buddhist magic in Tibet and beyond. After situating Buddhist magic within a cross-cultural history of world magic, he discusses sources of magic in Buddhist scripture, early Buddhist rituals of protection, medicine and the spread of Buddhism, and magic users. Including material from across the vast array of Buddhist traditions, van Schaik offers readers a fascinating, nuanced view of a topic that has too long been ignored.
Available from Bookshop here: https://uk.bookshop.org/a/4863/9781611808254
"India's China Challenge" By Ananth Krishnan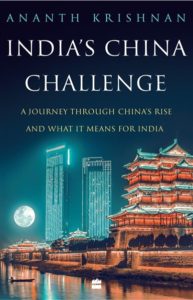 Published by HarperCollins India in September 2020, India's China Challenge tells the story of a complex political relationship, and how China – and its leading opinion-makers – view India. It looks at the economic dimensions and cultural connect, and the internal political and social transformations in China that continue to shape both the country's future and its relations with India.
From the HarperCollins website:
Ananth Krishnan first moved to China in the summer of 2008. In the years that followed, he had a ringside view of the country's remarkable transformation. He reported from Beijing for a decade, for the India Today and The Hindu. This gave him a privileged opportunity that few Indians have had – to travel the length and breadth of the country, beyond the glitzy skyscrapers of Shanghai and the grand avenues of Beijing that greet most tourists, to the heart of China's rise. This book is Krishnan's attempt at unpacking India's China challenge, which is four-fold: the political challenge of dealing with a one-party state that is looking to increasingly shape global institutions; the military challenge of managing an unresolved border; the economic challenge of both learning from China's remarkable and unique growth story and building a closer relationship; and the conceptual challenge of changing how we think about and engage with our most important neighbour.
Thank you to Swati Chawla for the recommendation!
Available from Bookshop here: https://uk.bookshop.org/a/4863/9789390327683
"Compassion Mandala: The Odyssey of an American Charity in Contemporary Tibet" By Pamela Logan
Published in September 2020 by Hibiscus Books, Compassion Mandala chronicles Pamela Logan's fourteen years in Tibet working with Kham Aid Foundation, a nonprofit with the mission of bringing development and humanitarian assistance to people in the Tibetan region of Kham.
From Pamela Logan's website:
Eastern Tibet is a place of rugged ranges and torrential rivers, home to the fierce Khampa rebels who tried for a decade to defeat China's army and win independence for Tibet. This book chronicles Logan's fourteen years there doing the impossible: assisting Tibetans under Chinese rule. In this book, Logan shares her first-hand experience working in education, health care, job training, disaster relief, reforestation, and cultural heritage. She tells about the diverse Tibetans she knew; she documents the many obstacles they face as ethnic minorities in China, and the impact of Chinese migrants pouring into their homeland.
Available on Bookshop here: https://uk.bookshop.org/a/4863/9781735053806
"The End of an Era: India Exits Tibet (India Tibet Relations 1947-1962) Part 4" By Claude Arpi
Published by VIJ Books (India) in October 2020, Volume 4 (1958-62) of Claude Arpi's historical series looks into the last years of the Indian presence in Tibet. Delhi was living in a dream world; the reports from Lhasa should have alerted the government and at least opened the eyes of the Indian intelligence agencies; it was not to be the case.
The closure of the Indian Consulate in Lhasa in mid-December 1962 was the last straw; a few months earlier the Indian Trade Agencies in Yatung, Gyantse and Gartok had ceased to exist, bringing down the curtain on India's presence in Tibet.
An era had come to an end; Mao's China did not want any Indians in 'its' new colony; a sense of jealousy towards India prevailed. Beijing clearly resented the existence of an age-old civilizational relation between India and Tibet and the goodwill of the Tibetans for India.
Available on Bookshop here: https://uk.bookshop.org/a/4863/9789389620726
"About Padmasambhava: Historical Narratives and Later Transformations of Guru Rinpoche" By Geoffrey Samuel and Jamyang Oliphant
From the Garuda Books website:
Padmasambhava or Guru Rinpoche is a central figure in Tibetan Buddhism. Many aspects of his life still await proper study. Here, ten well known scholars shed light on this outstanding personality from a variety of different viewpoints. This volume contains ten papers on Padmasambhava, most of them originating from two conferences held in 2013 at SOAS, London, and in 2018 at the Rubin Museum of Art, New York.
The contributors are: Geoffrey Samuel, Jacob P. Dalton, Robert Mayer, Lewis Doney, Cathy Cantwell, Martin Boord, Jue Liang, Lama Jampa Thaye, Jamyang Oliphant,James Gentry and Nicholas Sihlé.
Available on Amazon here: https://amzn.to/3oTUVJi
"Imagined Geographies in the Indo-Tibetan Borderlands: Culture, Politics, Place" By Swargajyoti Gohain
Published in August 2020 by Amsterdam University Press, Imagined Geographies in the Indo-Tibetan Borderlands: Culture, Politics, Place is an ethnography of culture and politics in Monyul, a Tibetan Buddhist cultural region in west Arunachal Pradesh, Northeast India.
From the Amsterdam University Press website:
For nearly three centuries, Monyul was part of the Tibetan state, and the Monpas — as the communities inhabiting this region are collectively known — participated in trans-Himalayan trade and pilgrimage. Following the colonial demarcation of the Indo-Tibetan boundary in 1914, the fall of the Tibetan state in 1951, and the India-China boundary war in 1962, Monyul was gradually integrated into India and the Monpas became a Scheduled Tribe. In 2003, the Monpas began a demand for autonomy under the leadership of Tsona Gontse Rinpoche. This book examines the narratives and politics of the autonomy movement regarding language, place-names, and trans-border kinship against the backdrop of the India-China border dispute. It explores how the Monpas negotiate multiple identities to imagine new forms of community that transcend regional and national borders.
Swargajyoti Gohain teaches Sociology and Anthropology at Ashoka University, India. She has published widely on borders, state, culture, politics, and Tibetan Buddhist communities in Northeast India and the Himalayan region.
Available on Bookshop here: https://uk.bookshop.org/a/4863/9789462989320
"The Transnational Cult of Mount Wutai" By Susan Andrews, Jinhua Chen, and Guang Kuan (Eds.)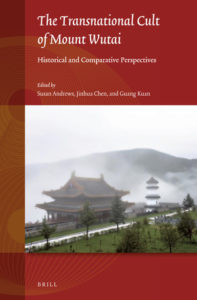 Published in November 2020 by Brill, The Transnational Cult of Mount Wutai explores the pan-East Asian significance of sacred Mount Wutai from the Northern Dynasties to the present day.
From the Brill website:
The volume offers novel readings of comparatively familiar visual and textual sources and, in many cases, examining unstudied or understudied noncanonical materials, the papers collected here illuminate the roles that both local actors and individuals dwelling far beyond Mount Wutai's borders have played in its making and remaking as a holy place for more than fifteen hundred years. The work aims to contribute to our understanding of the ways that sacred geography is made and remade in new places and times.
Available from Brill: https://brill.com/view/title/39127
"The 'Other' Shangri-la: Journeys through the Sino-Tibetan Frontier in Sichuan" By Shivaji Das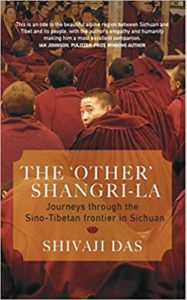 Published in July 2020 by Konark Publishers, The 'Other' Shangri-La is a work of narrative non-fiction based on Shivaji Das and his wife's journey through the Sino-Tibetan frontier land of western Sichuan.
From the Konark Publishers website:
The book describes the rugged landscape of this region that comprises 7,000-metre-high mountains, deep gorges, vast grasslands and the world's most dangerous roads. It also explores the region's history and the peculiarities of its scattered settlements: Litang—the world's highest town that is also the birthplace of important lamas; Larung—the world's largest monastery and highest slum; Danba—a 'Beauty Valley' famed since antiquity for its good-looking and strong-minded women; Yading—a pilgrim circuit once terrorized by bandit monks; and Kangding—a small town that gave birth to China's favourite love song.
Along their journey, the travelling duo indulged in several adventures that are written about humorously in this book—staying with nomad families, debating with monks on reviving Buddhism in China, getting spooked by a bone-collector at a sky-burial site, becoming investigators in a love triangle in the 'Beauty Valley', and running away from paparazzi tourists who mistook the travellers as participants in a local beauty contest.
Above all, this book explores in detail the lives and cultures of the people inhabiting these remote lands who are now subject to turbulent socio-economic factors. It also explores the testy relationship between Hans and Tibetans in what is arguably the most restless of the Tibetan-inhabited areas in China.
Available on Amazon here: https://amzn.to/3gR7HFS
"Another Place" by Tsering Wangyal aka Editor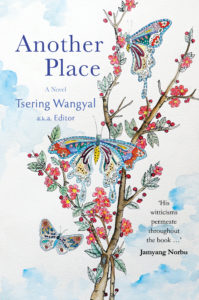 Released in November 2020 by Blackneck Books to coincide with the 20th anniversary of the passing away in Canada of Tsering Wangyal aka Editor, "Another Place" is a novel that gives an insight into the Tibetan exile community in the 1990s.
Read Jamyang Norbu's introduction to Another Place here: https://www.jamyangnorbu.com/blog/2020/11/28/introduction-to-another-place-a-novel-by-tsering-wangyal-aka-editor-la/
The book is available from Blackneck Books, Dharamsala: https://www.tibetwrites.in/blackneck/
"His Holiness the Fourteenth Dalai Lama: An Illustrated Biography" By Tenzin Geyche Tethong
Published in November 2020 by Interlink Books, this biography of the Dalai Lama was written by Tenzin Geyche Tethong, a close aide of His Holiness for forty years who became family. Readers are  offered unprecedented access to the Dalai Lama in this beautifully illustrated book.
From the Interlink Books website:
The Dalai Lama's youngest brother, Ngari Rinpoche Tenzin Choegyal, who was only 12 years old when he accompanied His Holiness on his dangerous 1959 escape to India, is a personal friend of Tethong and the mentor for this book project. As "elders" to the Tibetan community in exile, these men have come together to tell the true story of His Holiness—their brother, friend, and leader.
Featuring previously unpublished photographs, as well as interviews and memories of those closest to him, this book renders unparalleled insights into the Dalai Lama's experiences as the preeminent leader of Tibet, and the wealth of his compassion and gentle humor in the face of the ongoing conflict. This is in no small part due to Tethong and Ngari Rinpoche's unique perspectives on many sensitive issues.
Richly compelling, His Holiness the Fourteenth Dalai Lama: An Illustrated Biography is a stunning visual celebration of the Dalai Lama, sketching a memorable portrait of an icon and a cause that have won the attention and hearts of billions across the world.
Available on Amazon here: https://amzn.to/37rD7iW
"The Visual Culture of Tibet and the Himalayas" By Amy Heller and Leigh Miller (eds.)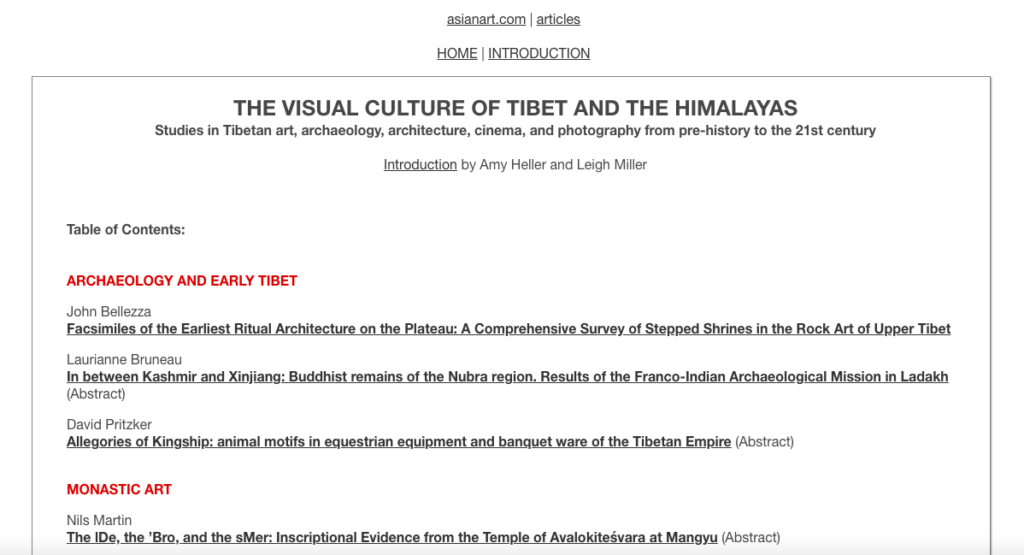 Published online in May 2020, The Visual Culture of Tibet and the Himalayas: Studies in Tibetan art, archaeology, architecture, cinema, and photography from pre-history to the 21st century is an open access volume hosted by Asian Art.
The volume is the proceedings of a panel on Tibetan and Himalayan art, archaeology and modern visual arts focusing on Tibetan identity at the International Association of Tibetan Studies held in  Bergen in June 2016.
Papers available include a look at women in Pema Tseden's films by Françoise Robin, Tibetan amateur fiction movies from Kham by Isabelle Henrion-Dourcy and a profile of the artist Monsal Pekar by Nicola Schneider.
For the Table of Contents, please visit: http://asianart.com/articles/iats2/toc.html
"Mount Everest Adventure" By Tenzin Choekyi
Published in November 2020, this is the third book written by eight year old London, UK, based Tenzin Choekyi! The illustrations are by Cheri Hasler.
From the book's description:
The Glitter Princess Rainbow Seed needs to go to Mount Everest to get the snow flower for bumblebee because he is ill by eating poison from rubbish. She is going to meet some special friends on her big adventure and also she is going to help them with her magic power.
This book blurb tells to the readers that how much our environment and animals are suffering from people dumping each single rubbish.
Available on Amazon here: https://amzn.to/37q27ah
"Science and Philosophy in the Indian Buddhist Classics: The Mind, Volume 2" Conceived by Introduced by His Holiness the Dalai Lama, Edited by Thupten Jinpa 
Published in November 2020 by Wisdom Publications, this second volume in the Science and Philosophy in the Indian Buddhist Classics series, focuses on the science of mind.
From the Wisdom Publications website:
Readers are first introduced to Buddhist conceptions of mind and consciousness and then led through traditional presentations of mental phenomena to reveal a Buddhist vision of the inner world with fascinating implications for the contemporary disciplines of cognitive science, psychology, emotion research, and philosophy of mind. Major topics include:
The distinction between sensory and conceptual processes and the pan-Indian notion of mental consciousness
Mental factors—specific mental states such as attention, mindfulness, and compassion—and how they relate to one another
The unique tantric theory of subtle levels of consciousness, their connection to the subtle energies, or "winds," that flow through channels in the human body, and what happens to each when the body and mind dissolve at the time of death
The seven types of mental states and how they impact the process of perception
Styles of reasoning, which Buddhists understand as a valid avenue for acquiring sound knowledge
In the final section, the volume offers what might be called Buddhist contemplative science, a presentation of the classical Buddhist understanding of the psychology behind meditation and other forms of mental training.
To present these specific ideas and their rationale, the volume weaves together passages from the works of great Buddhist thinkers like Asaṅga, Vasubandhu, Nāgārjuna, Dignāga, and Dharmakīrti. His Holiness the Dalai Lama's introduction outlines scientific and philosophical thinking in the history of the Buddhist tradition. To provide additional context for Western readers, each of the six major topics is introduced with an essay by John D. Dunne, distinguished professor of Buddhist philosophy and contemplative practice at the University of Wisconsin. These essays connect the traditional material to contemporary debates and Western parallels, and provide helpful suggestions for further reading.
Available on Bookshop here: https://uk.bookshop.org/a/4863/9781614294740
"Hidden Lands in Himalayan Myth and History: Transformations of sbas yul through Time" By Frances Garrett, Elizabeth McDougal and Geoffrey Samuel (Eds.)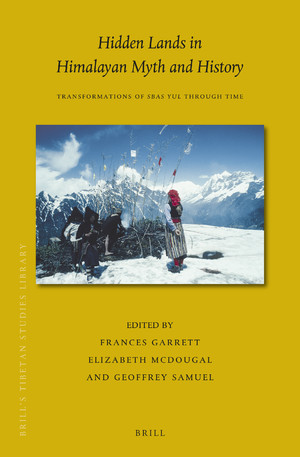 Published in December 2020 by Brill, Hidden Lands in Himalayan Myth and History is Volume 46 in  Brill's Tibetan Studies Library.
From the Brill website:
In an era of environmental crisis, narratives of 'hidden lands' are resonant. Understood as sanctuaries in times of calamity, Himalayan hidden lands or sbas yul have shaped the lives of many peoples of the region. Sbas yul are described by visionary lamas called 'treasure finders' who located hidden lands and wrote guidebooks to them. Scholarly understandings of sbas yul as places for spiritual cultivation and refuge from war have been complicated recently. Research now explores such themes as the political and economic role of 'treasure finders', the impact of sbas yul on indigenous populations, and the use of sbas yul for environmental protection and tourism. This book showcases recent scholarship on sbas yul from historical and contemporary perspectives.