High Peaks Pure Earth presents the Summer 2023 Tibet Reading List! We've updated the previous Winter Reading List to include over 30 more titles covering the span of the entire Tibetan Buddhist world.
If you think we've missed anything or if you have a particular recommendation please feel free to get in touch with us, it's impossible for us to keep track of all Tibet-related publications! You're also welcome as always to write your own short reviews in the comments section or on your social media, just tag us so that we see it or use the hashtag #TibetReadingList.
We've continued to add links to Bookshop.org, if you buy books linked from our site, we may earn a small commission and, at the same time, you are supporting independent bookshops! Where titles are unavailable on Bookshop, we have added links to Amazon for convenience.
For ease, we have (broadly) categorised the titles, and then listed them alphabetically by author's first name. For books not directly about Tibet but may include Tibet or be of general interest, we have placed them in the section at the bottom called Special Mentions. Do look out for the titles which are Open Access.
Also we recently published a book review of Pema Bhum's Tibetan language novel "Rainbow Path of Many Hues" written by Dhondup T. Rekjong, be sure to read it! For those of you who may be thinking about learning Tibetan, we're happy to share this page with links to resources created by Shambhala Publications: https://www.shambhala.com/a-guide-to-tibetan-language-programs
Happy summer of reading and learning!
Politics, History and Non-Fiction
"Bon and Naxi Manuscripts" By Agnieszka Helman-Ważny and Charles Ramble (eds.)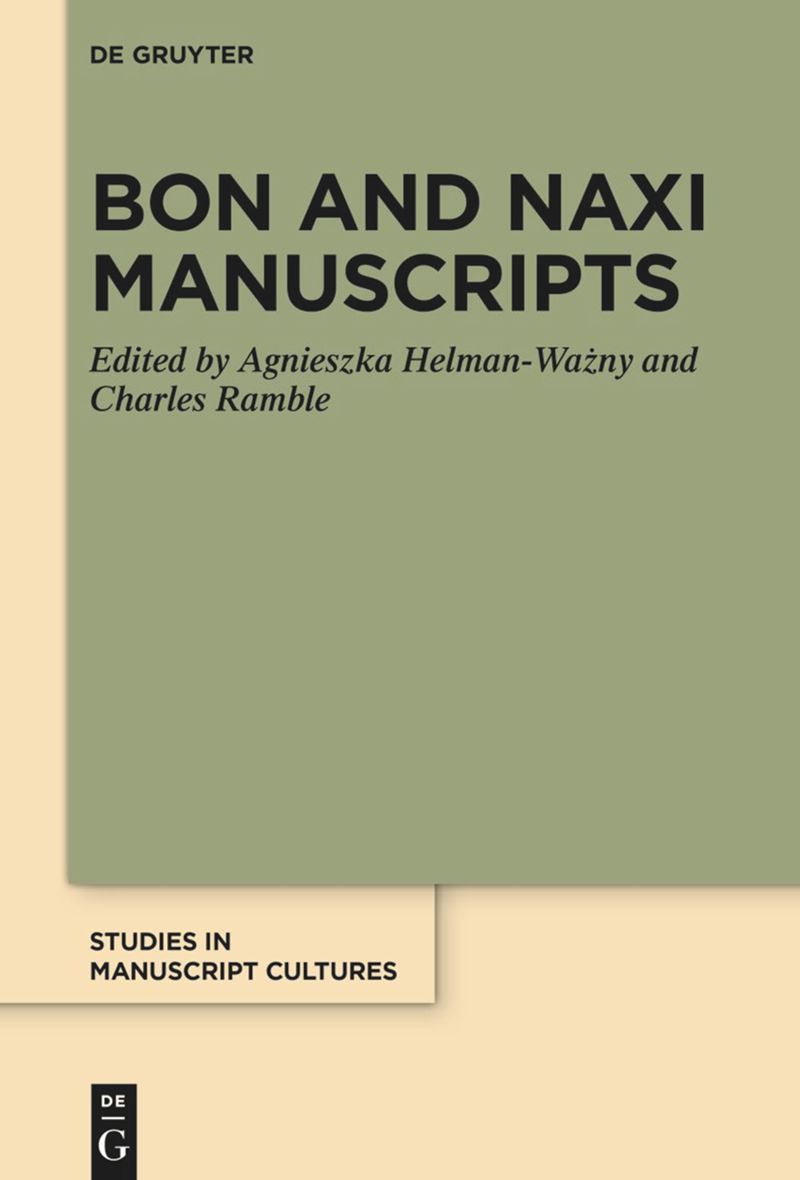 Published by De Gruyter in early 2023, this open access volume offers a dozen studies of manuscripts of the Tibetan Bon and Naxi Dongba traditions across time and space.
From the De Gruyter website:
While some of the contributions focus on particular features of manuscripts from either tradition, others explicitly bridge the two by considering common codicological and material aspects of selected examples or common themes in the content of the texts. This is the first primarily object-based study to deal with the cultural history and technology of books from the two traditions. It discusses collections of Bon and Naxi manuscripts, the concepts and history of both traditions, the science and technology of book studies as it relates to these collections, the relationship between text and image, writing materials, and the historical and archaeological context of the manuscripts' places of origin. The authors are specialists in different fields including philology, anthropology, art history, codicology and archaeometry. The contributions shed light on trade routes, materials and technologies as well as on reading practices and ritual usage of Bon and Naxi manuscripts.
"Taxation in Tibetan Societies: Rules, Practices and Discourses" By Alice Travers, Charles Ramble and Peter Schwieger (Eds.)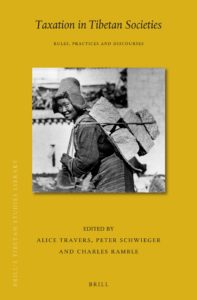 Published in January 2023 by Brill, this volume takes the analysis of taxation in Tibetan societies (both under the Ganden Phodrang and beyond it) in new directions, using hitherto unexploited Tibetan-language sources.
From the Brill website:
The study of taxation is fundamental for understanding the construction of Tibetan polities, the nature of their power – often with a marked religious component – and their relationships with their subjects, as well as the consequences of taxation for social stratification.
It pursues the dual objective of advancing our understanding of the organisation of taxation from an institutional perspective and of highlighting the ways in which taxpayers themselves experienced and represented these fiscal systems.
Contributors are Saadet Arslan, John Bray, Kalsang Norbu Gurung, Isabelle Henrion-Dourcy, Berthe Jansen, Diana Lange, Nancy E. Levine, Charles Ramble, Isabelle Riaboff, Peter Schwieger, Alice Travers, and Maria M. Turek.
"Tibetan and Uyghur Refugees in the New Colonial Era: Reflections on the Rise of Chinese Colonialism" By Dolma Tsering (Ed)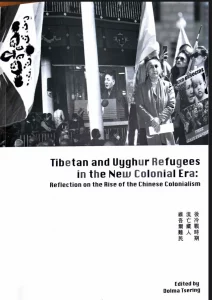 This title, edited by Dolma Tsering, was published in 2023 by National Cheng Kung University Press, Taiwan. The edited book is the result of a workshop on human rights issues related to Tibet, Xinjiang, and Hong Kong and features a foreword by Professor Dibyesh Anand.
The title is available to read online here: https://heyzine.com/flip-book/aa6f214064.html
"Echoes from Forgotten Mountains: Tibet in War and Peace" By Jamyang Norbu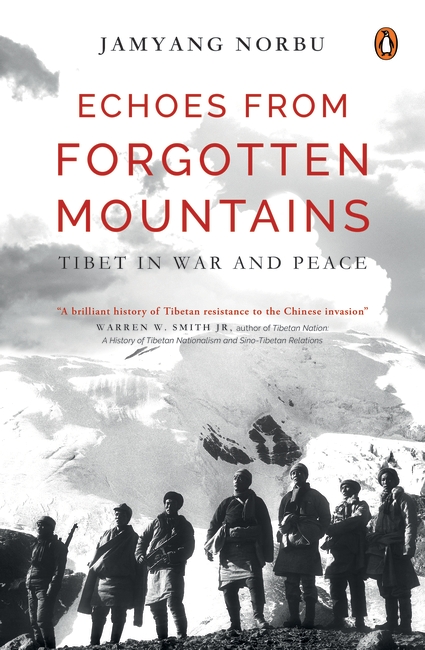 Published in July 2023 by Viking, an imprint of Penguin India, "Echoes from Forgotten Mountains" by novelist, historian, playwright and polemicist, Jamyang Norbu, is a deep dive into Tibet's modern history of resistance. (For readers in the US and UK, the book is released in November 2023)
From the Penguin India website:
Jamyang Norbu has taken the stories of 'forgotten' Tibetans–resistance fighters, secret agents, soldiers, peasants, merchants, even street beggars–and skillfully worked their myriad accounts into a single glorious 'memory history' of the Tibetan struggle. He uses recollections from his own childhood to ease the reader into an immersive understanding of the complexity of Tibet's modern history: the Chinese invasion, the uprisings in Kham and Amdo, the formation of the Four Rivers Six Ranges Resistance Force, the March '59 Lhasa Uprising, the CIA supported Air Operations, the Nyemo peasant Uprising of 68/69 and the Mustang Guerilla Force in northern Nepal, where Norbu later served.
He writes of leaving home to drive tractors at refugee settlements, educate refugee children, produce plays at the Tibetan Institute of Performing Arts, and collect intelligence for the Tibetan Office of Research and Analysis (TORA) and for France's External Intelligence Agency (SDECE). He uses these anecdotes not so much as autobiography but as a framing device to recount the lives, deeds and, too often, tragedies of the many Tibetans he encountered and befriended throughout his life–nearly all of whom played vital roles in shaping the recent history of their country but whose contributions are still unsung and forgotten. Jamyang Norbu's lifelong commitment to collecting and orchestrating the 'echoes' of these many forgotten voices from the past has resulted in a lyrical, learned and compassionate book that could well be described as the prose epic of the Tibetan freedom struggle.
"Old Lhasa: A Biography" By M.A. Aldrich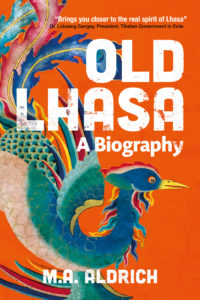 Published in January 2023 by Camphor Press, "Old Lhasa: A Biography" by M.A. Aldrich weaves an accessible, detailed, and compelling tapestry of the history, religion, and culture of Lhasa. Along the way M. A. Aldrich shares with readers his infectious enthusiasm for Lhasans, the everyday features of their lives, and their indefatigable resilience.
From the Camphor Press website:
The scope of Old Lhasa extends from the minute to the momentous. We explore small customs of great antiquity still seen in the Tibetan Quarter, such as the twirling of hand-held prayer wheels, the billowing smoke of juniper incense, and the coral jewelry adorning the hair of herdswomen. We visit the vital monuments of Tibetan civilization: iconic palaces, temples, and monasteries, such as the magnificent Potala Palace on Marpo Ri, the veritable Jokhang Temple at the heart of the city, and the superbly resurrected Gandan monastery on the mountains outside Lhasa.
A natural raconteur, Aldrich brings to life time-honored legends and charming anecdotes about kings and lamas, ministers and tricksters, which reveal the hidden significance of easily-overlooked side alleys, shrines, and stone houses clustered around the city's most important pilgrims' route, the Barkhor. He recounts the stories of the great Yarlung dharmarajas bringing Buddhism to Tibet, the rise of Lhasa in the seventeenth century as the premier city of the Himalayas, and the progression of the Old Lhasa calendar and its pageantry of festivals as witnessed by Tibetans and foreigners.
Old Lhasa is not only richly informative for armchair readers, including English-speaking Tibetans in the diaspora, but also useful for intrepid travelers planning a trip to Tibet. Following his two well-received books on Beijing and Ulaanbaatar, Old Lhasa is the final book in Aldrich's trilogy on Asian cultural capitals. He is a retired lawyer who has lived in East and Central Asia for more than thirty years.
"Tibetan Nomad: Memoir of a Tangled Hair Woman" By Norzom Lala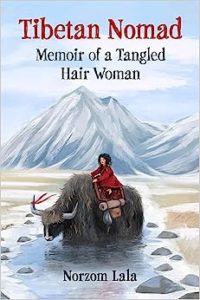 Published by McFarland Books in February 2023, "Tibetan Nomad: Memoir of a Tangled Hair Woman" is a memoir by Norzom Lala, a refugee from Tibet, now living in Portland, Oregon.
From the McFarland website:
When Norzom Lala was two years old, her father fled their family tent in Tibet's mountains after a yak trading deal turned sour. Along with her six siblings, Norzom was then raised by her mother, a nomadic pastoralist who taught her children to integrate themselves with nature. Several dramatic circumstances forced Norzom from her Tibetan home to a Chinese boarding school, and finally to the shores of America to live with her estranged father. As Norzom navigated jobs, school, relationships and a dying sister back home, she lost herself to the vices of a strange land. It was only when Norzom released herself back to the wonders of nature (and, indeed, a therapist) that she ultimately learned what was worth sacrificing in her quest for survival. This memoir chronicles Norzom's experiences navigating tragedies, culture shocks and her own relationship with nature, all the while honoring the traditions and legacy of the Tibetan nomad.
"Tibetan Houses: Vernacular Architecture of the Himalayas and Environs" By Peter Herrle, Anna Wozniak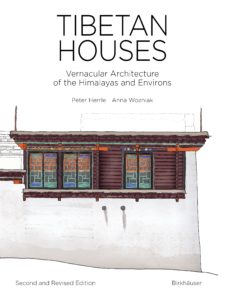 Published in February 2023 by Birkhauser, "Tibetan Houses: Vernacular Architecture of the Himalayas and Environs" by Peter Herrle and Anna Wozniak is a revised second edition of a book about a disappearing building tradition. This edition has a new preface and expanded bibliography and features full-scale, large-format and in some cases colored drawings.
From the Birkhauser website:
The region of the Himalayas and the adjoining Tibetan plateau is known for its unique and characteristic vernacular architecture and housing culture which is slowly but surely disappearing.
The first part of the book analyses 21 traditional houses in the region that respond in diverse ways to the specifics of their location and local climate. The second part presents a comparative study of the construction elements – walls, roof and façades – using photographs and hand-drawn construction details.
The newly produced scale drawings provide an excellent basis for comparative review. Detailed plans, atmospheric photographs and informative texts take the reader on a journey through a fascinating building culture.
"A Future We Can Love: How We Can Reverse the Climate Crisis with the Power of Our Hearts and Minds" By Susan Bauer-Wu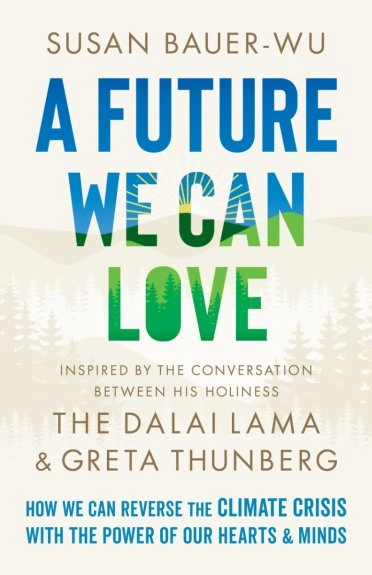 Published by Shambhala in June 2023, "A Future We Can Love" was inspired by a conversation between His Holiness the Dalai Lama and Greta Thunberg.
From the Shambhala website:
When the Dalai Lama and Greta Thunberg spoke for the first time in January 2021, millions of people around the world took notice. "It is encouraging to see how you have opened the eyes of the world to the urgency to protect our planet, our only home," the Dalai Lama wrote to Greta before their meeting.
"A Future We Can Love" shares the words of these two great figures, generations apart, bringing them into dialogue with dozens of visionary scientists, activists, and spiritual luminaries. These include indigenous scholar and artist Lyla June, medical biochemist and author Diana Beresford-Kroeger, climate scientist and Zen teacher Kritee Kanko, interfaith environmental leader Dekila Chungyalpa, Buddhist teacher Willa Blythe Baker, Rabbi Steve Leder, and many more. Through this world-changing conversation, readers embark on a four-part journey toward active hope in the face of the climate crisis: from knowledge of climate science, through the capacity for change, and to the will that is needed and the actions we can take.
"The Penguin Book of Modern Tibetan Essays" By Tenzin Dickie (Ed.)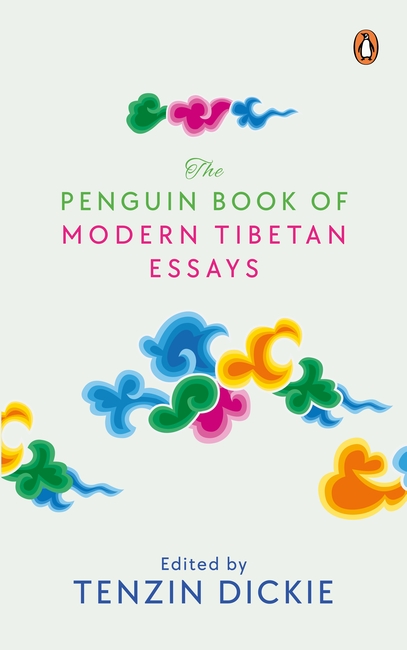 Published in May 2023 by Vintage Books, an imprint of Penguin, "The Penguin Book of Modern Tibetan Essays" is a groundbreaking anthology of modern Tibetan non-fiction, edited by Tenzin Dickie.
From the Penguin website:
This unprecedented collection celebrates the art of the modern Tibetan essay and comprises some of the best Tibetan writers working today in Tibetan, English and Chinese.
There are essays on lost friends, stolen inheritances, prison notes and secret journeys from-and to-Tibet, but there are also essays on food, the Dalai Lama's Gar dancer, love letters, lotteries and the Prince of Tibet. The collection offers a profound commentary not just on the Tibetan nation and Tibetan exile, but also on the romance, comedy and tragedy of modern Tibetan life.
For this anthology, editor and translator Tenzin Dickie has commissioned and collected 28 essays from 22 Tibetan writers, including Tsering Woeser, Jamyang Norbu, Tsering Wangmo Dhompa, Pema Bhum and Lhashamgyal.
This book of personal essays by Tibetan writers is a landmark addition to contemporary Tibetan letters as well as a significant contribution to global literature.
Also available in a paperback edition outside the Indian subcontinent. To order online, visit this link.
"Tibet as I Knew It: The Memoir of Dr. Tsewang Yishey Pemba" By Dr. Tsewang Yishey Pemba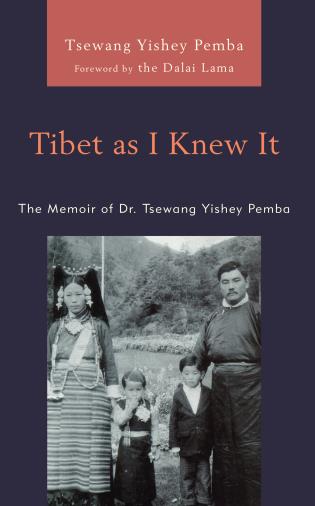 Published in November 2022 by Lexington Books, "Tibet As I Knew It" is the memoir of the late Dr. Tsewang Yishey Pemba and has a foreword by His Holiness the Dalai Lama.
From the Lexington Books website:
Written in the 1990s after retirement from his services as a doctor and discovered by his daughter in the loft of their house in Darjeeling in India in 2017, this memoir of Dr. Tsewang Yishey Pemba provides an intricate portrayal of early twentieth-century Tibet.
With his finger on the pulse of the Tibetan ethos, Pemba offers glimpses into the traditional sociology of Tibet and occasionally its snail-paced reforms, as well as the British Raj in India, while recollecting his young days in his native country. Pemba also draws information from prized sources like his father´s diaries and his conversations with Tibetan and British officials as well as people at the grassroots. His own metamorphosis, as he leaves Tibet in 1949 for higher education abroad, foreshadows the metamorphosis of Tibet and its inescapable fate in the decade that followed.
"Journal of a Doctor to Tibetan Mystics and Masters" by Dr. Tsewang Yishey Pemba
Published in March 2023 by Blackneck Books, this is the late Dr. Tsewang Yishey Pemba's account of being the doctor to some of the greatest Tibetan spiritual masters.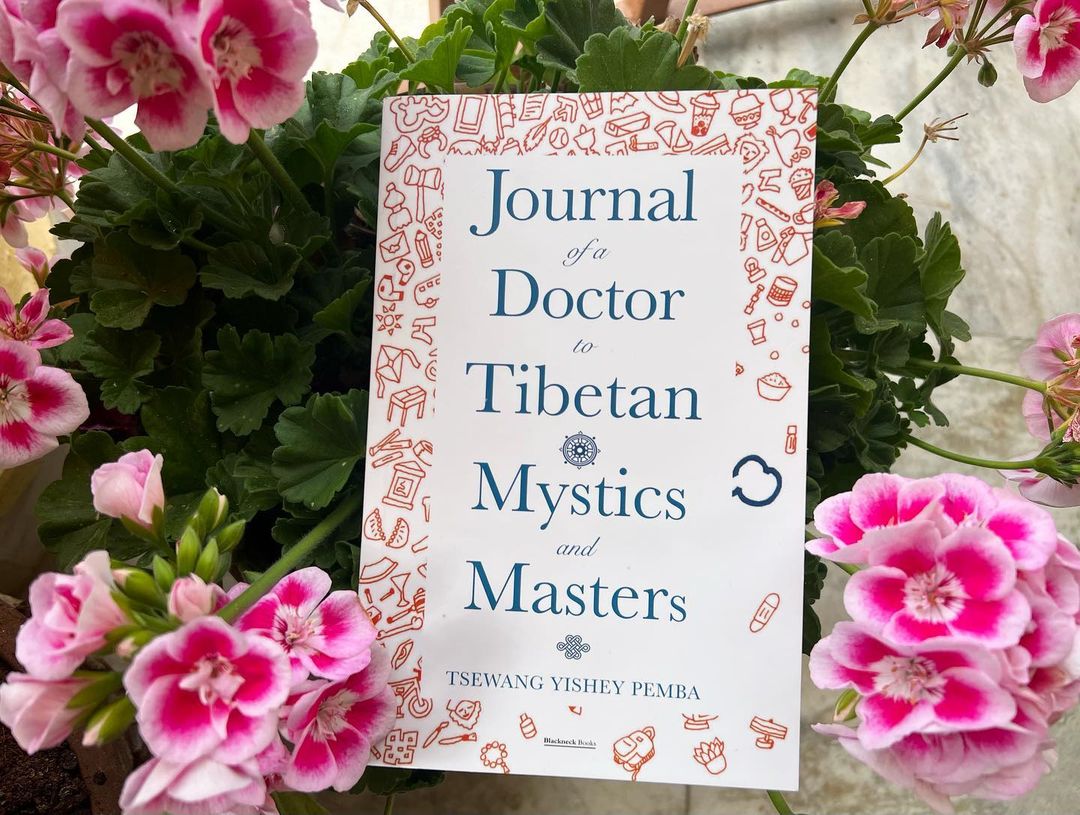 Of all the great masters the author met and are written about in this book, only five are alive, including His Holiness the Dalai Lama and Situ Rinpoche. The book's cover artwork is by the late artist Jigme Choedak.
To order the title, contact Blackneck Books via their social media accounts.
"Tibet's Fate" By Warren W. Smith Jr.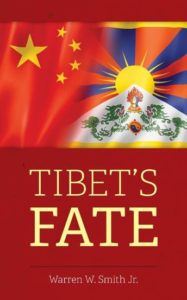 Published in March 2023 by Rowman & Littlefield Publishers, "Tibet's Fate" by Warren W. Smith Jr. examines the issue of the political fate of Tibet. It is told by Tibetans themselves as well as by the author from his own experiences.
From the Rowman & Littlefield website:
The title is not meant to imply that the current fate of Tibet is an ultimate destiny, or even that Tibet's fate is already decided. It is only meant in the sense that if Tibet's fate is now determined, it has been determined not by the Tibetan people but by those of China. If it is to be determined by China, then Tibet's fate is indeed to be an integral part of China. However, if Tibet's fate were to be decided by the Tibetan people, if they were allowed their right to national self-determination, then it would definitely be different.
Given all the criteria for independent statehood—territory, culture, language, religion and government—Tibet surely should be an independent state. Tibetan territory, defined by altitude, was the very nearly exclusively habitation of people who identified themselves as Tibetans. Those people share a distinct culture, language and religion. They had a central government that directly administered the territory of Central Tibet and indirectly that of Kham and Amdo. Had Tibetans been allowed to determine for themselves their political status; that is, if they had the right to self-determination as specified in the most fundamental documents of international law, there is no doubt that they would have chosen independence. Whatever the flaws of the Tibetan social and political systems, Tibet should have had the right to determine its own fate, and could have done so, until deprived of that right by China.
"Chinese Propaganda on Tibet: A Documentary History" By Warren W. Smith Jr. (Ed.)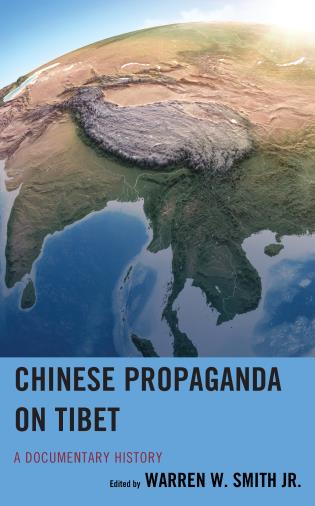 Published by Lexington Books in April 2023, "Chinese Propaganda on Tibet: A Documentary History" reproduces excerpts from some of the most notable pieces of Chinese propaganda, along with a critical analysis.
From the Lexington Books website:
China has produced a tremendous amount of propaganda justifying its invasion and occupation of Tibet. The primary themes of Chinese propaganda about Tibet are that Tibet has "always" been a part of China, thus there is no question about "Tibetan independence" or a Chinese "invasion" of Tibet; that the traditional Tibetan social system was a "dark, cruel, savage, feudal hell on earth" from which Tibetans welcomed their liberation by the CCP; and that China has selflessly assisted Tibetan social and economic development ever since while taking nothing from Tibet.
China denies the legitimacy of any issues of Tibetan nationalism, self-determination or any desire by Tibetans for an independent political existence. Despite China's claims about the happiness of the Tibetan people, Tibetan resistance has continued. These excerpts from propaganda articles and documents reveal the political and cultural ideology of the Chinese as they attempt to maintain and justify their control over Tibet.
Religion, Art and Fiction
"The Second Karmapa Karma Pakshi: Tibetan Mahasiddha" By Charles Manson
Published in November 2022 by Shambhala, "The Second Karmapa Karma Pakshi: Tibetan Mahasiddha" by Charles Manson is the first-ever comprehensive biography of Karma Pakshi in English and reveals new information about a pivotal historical figure in the development of Tibetan Buddhism and his interactions with two Mongol emperors.
From the Shambhala website:
Born in East Tibet in the thirteenth century, Karma Pakshi, a key figure in the development of the reincarnate lama tradition, himself was the first master to be named Karmapa, a lineage that continues to modern times and has millions of admirers worldwide. During his lifetime, Karma Pakshi was widely acknowledged as a mahāsiddha and was therefore invited to the Mongol court at the apogee of its influence in Asia. He gave spiritual advice and meditation instructions to the emperor Mongke Khan, whom he advised to engage in social policies, to release prisoners, and to adopt a vegetarian diet. After Mongke's death, Karma Pakshi was imprisoned by the successive emperor Kubilai Khan, and much of Karma Pakshi's writing was done while he was captive in northeast China. He was eventually released and returned to Tibet, where he commissioned one of the medieval world's largest metal statues.
Also included are translations of several newly available songs attributed to Karma Pakshi and translations of ten excerpts of his writings on reincarnation, meditation, dreams, visionary experiences, tantra, and consecration. Each of the chapters in Part Two come with substantial introductions by the author.
"Living Treasure: Buddhist & Tibetan Studies in Honor of Janet Gyatso" By Holly Gayley and Andrew Quintman  (Eds.)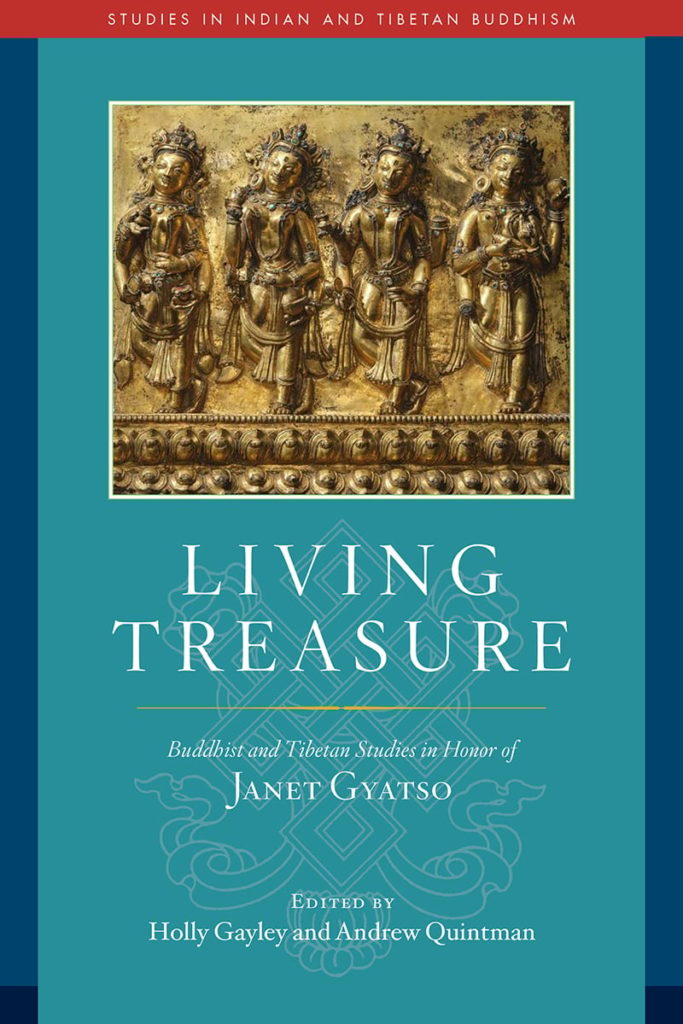 Published in July 2023 by Wisdom Publications, "Living Treasure: Buddhist and Tibetan Studies in Honor of Janet Gyatso", edited by Holly Gayley and Andrew Quintman, is a collection of essays by senior scholars and former students celebrating the life and work of Janet Gyatso, professor of Buddhist studies at Harvard Divinity School.
From the Wisdom website:
Inspired by her contributions to life writing, Tibetan medicine, gender studies, and more, these offerings make a rich feast for readers interested in Tibetan and Buddhist studies.
Janet Gyatso has made substantial, influential, and incredibly valuable contributions to the fields of Buddhist and Tibetan studies. Her paradigm-shifting approach is to take a topic, an idea, a text, a term—often one that had long been taken for granted or overlooked—and turn it inside out, to radically reimagine the kinds of questions that might be asked and what the answers might reveal. The twenty-nine essays in this volume, authored by colleagues and former students—many of whom are now also colleagues—represent the breadth of her interests and influence, and the care that she has taken in training the current generation of scholars of Tibet and Buddhism. They are organized into five sections: Women, Gender, and Sexuality; Biography and Autobiography; the Nyingma Imaginaire; Literature, Art, and Poetry; and Early Modernity: Human and Nonhuman Worlds. Contributions include José Cabezón on the incorporation of a Buddhist rock carving in Central Asian culture; Matthew Kapstein on the memoirs of an ambivalent reincarnated lama; Willa Blythe Baker on Jikmé Lingpa's theory of absence; Andrew Quintman on a found poem expressing worldly sadness on the forced closure of a monastery; and Padma 'tsho on Tibetan women's advocacy for full female ordination. These and the many other chapters, each fascinating reads in their own right, together offer a glowing tribute to a scholar who indelibly changed the way we think about Buddhism, its history, and its literature.
"Conjuring the Buddha: Ritual Manuals in Early Tantric Buddhism" By Jacob P. Dalton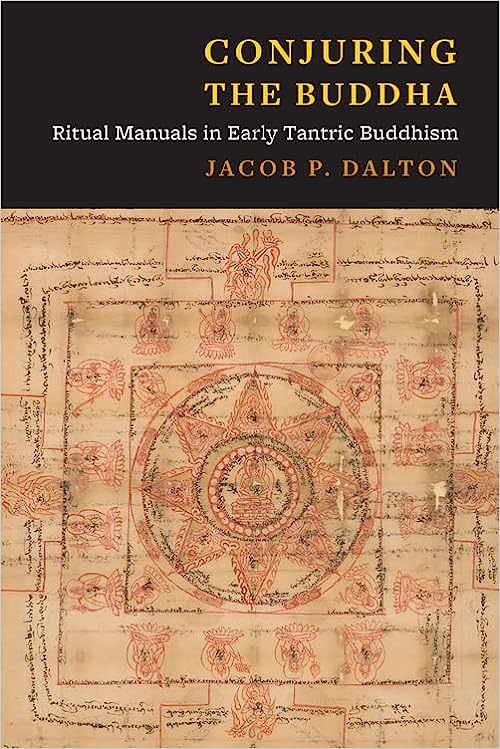 Published in January 2023 by Columbia University Press, "Conjuring the Buddha" by Jacob P. Dalton offers a history of early tantric Buddhist ritual through the lens of the Tibetan manuscripts discovered near Dunhuang on the ancient Silk Road.
From the Columbia University Press website:
Ritual manuals are among the most common and most personal forms of Buddhist literature. Since at least the late fifth century, individual practitioners—including monks, nuns, teachers, disciples, and laypeople—have kept texts describing how to perform the daily rites. These manuals represent an intimate counterpart to the canonical sutras and the tantras, speaking to the lived experience of Buddhist practice.
In "Conjuring the Buddha", Jacob P. Dalton argues that the spread of ritual manuals offered Buddhists an extracanonical literary form through which to engage with their tradition in new and locally specific ways. He suggests that ritual manuals were the literary precursors to the tantras, crucial to the emergence of esoteric Buddhism. Examining a series of ninth- and tenth-century tantric manuals from Dunhuang, Dalton uncovers lost moments in the development of rituals such as consecration, possession, sexual yoga, the Great Perfection, and the subtle body practices of the winds and channels. He also traces the use of poetic language in ritual manuals, showing how at pivotal moments, metaphor, simile, rhythm, and rhyme were deployed to evoke carefully sculpted affective experiences. Offering an unprecedented glimpse into the personal practice of early tantric Buddhists, Conjuring the Buddha provides new insight into the origins and development of the tantric tradition.
"Power and Agency in the Lives of Contemporary Tibetan Nuns: An Intersectional Study" By Mitra Härkönen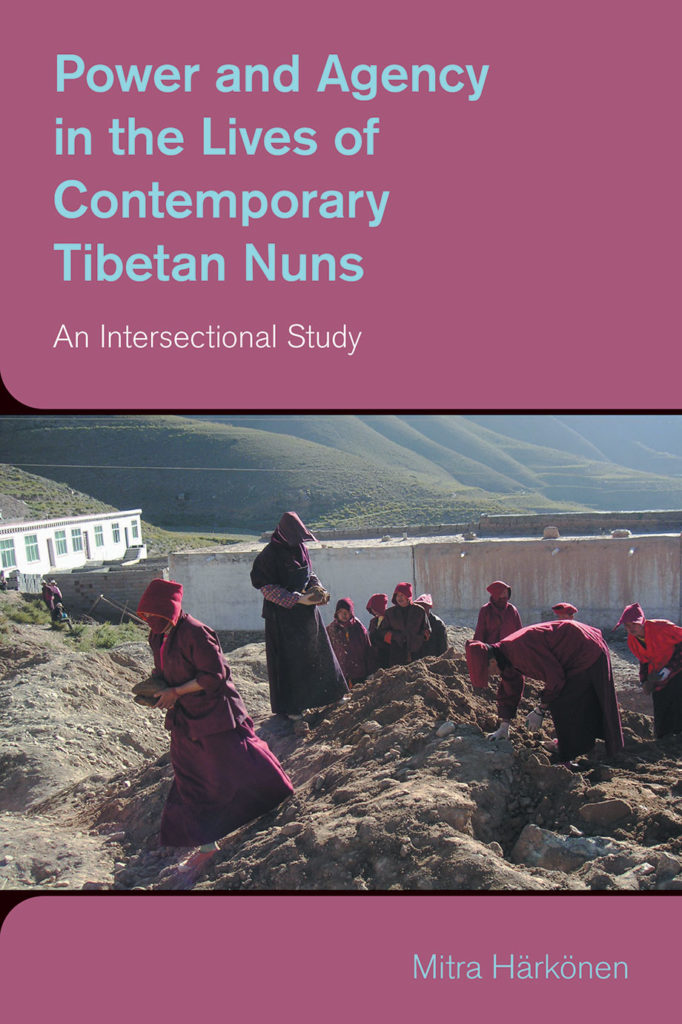 Published in February 2023, by Equinox, "Power and Agency in the Lives of Contemporary Tibetan Nuns: An Intersectional Study" by Mitra Härkönen examines the lived experiences of oppression and opportunities encountered by contemporary Tibetan Buddhist nuns living in the People's Republic of China and the Tibetan exile community in India.
From the Equinox website:
This book investigates how the intersections of the nuns' female gender, their Buddhist religion and their Tibetan nationality on the one hand produce subordination and an unequal distribution of power but, on the other, provide the nuns with opportunities and agency. Depending on the intersection of her status positions, the Tibetan nun can be either disadvantaged or privileged, and sometimes both at the same time.
Power structures and relations that disadvantage nuns as women, as religious practitioners, and as Tibetans, are constructed and maintained in different domains of power. In the structural domain, traditional but still dominant institutions – such as the distribution of work, marriage, educational practices and religious institutions – disadvantage Tibetan nuns. In the disciplinary domain of power, the nuns are monitored by traditional culture and the Chinese authorities. The unequal distribution of power in these domains is justified by hegemonic ideas based on religious and cultural beliefs, ideas of religion and modernity, and religion and gender. These domains of power find their expression in the everyday life in the interpersonal sphere.
Analysis also reveals that many nuns were highly active in choosing and determining their life course. Monastic life offers Tibetan women freedom from the suffering faced by laywomen. The juncture of their gender, religion and nationality also provides them with agency in their nationalism, which is both visible and more subtle. Monastic life also offers them religious agency as compassionate bodhisattvas, who aim to not only benefit other living beings but also themselves.
"Mystics and Sceptics : In Search of Himalayan Masters" By Namita Gokhale (Ed.)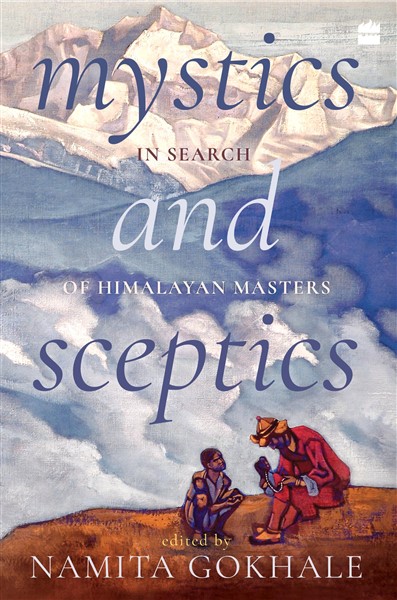 Published in February 2023 by HarperCollins India, "Mystics and Sceptics", edited by Namita Gokhale, is an anthology traversing the sacred geography of the Himalayan range, encompassing different cultures and religious traditions in its living legacy.
From the HarperCollins India website:
Through myth, legend and anecdotal memory, it includes narratives of wanderers and seekers, gurus and enlightened souls, tricksters and delusionists. The spiritual seekers discussed here include Guru Milarepa, Neem Karoli Baba and Siddhi Ma, Paramhansa Yogananda, Swami Rama, Guru Nanak, Swami Vivekananda, Haidakhan Baba, Yeshe Tsogyal, Lal Ded and Sri Madhav Ashish. Also discussed are the sacred traditions of the dhuni and chimta, the shakti peeths in the Himalayan region, trance runners of Tibet and Bhutan and the Khasi rituals of divination and prophecy.
The stories herein are as varied as the flora and fauna of the mountains. Some of them display the resilient scepticism that is the foundation of true belief; others take a leap of faith. There are encounters and quests, wanderings and lost paths, disappointments and betrayals, but they carry the spirit of the seeker, of the search and the continuing journey within them. This book is a tribute to the mysteries of the Himalaya and the mystic secrets it contains.
Authors: Holly Gayley, Andrew Quintman, W.Y. Evan Wentz, Ranjit Hoskote, Navtej Sarna, Makarand R. Paranjape, Alexandra David-Neel, Rajiv Mehrotra, Paramhansa Yogananda, Sujata Prasad, Romola Butalia, Madhu Tandan, Namita Gokhale, Rene von Nebesky-Wojkowitz, Swami Rama, Devyani Mungali, Bhushita Vasistha, Sidharth, Tsering Dondrup, Jono Lineen, Tshering Tashi, Bijoya Sawian, Alka Pande and Vaibhav Kaul.
"Red Tara: The Female Buddha of Power and Magnetism" By Rachael Stevens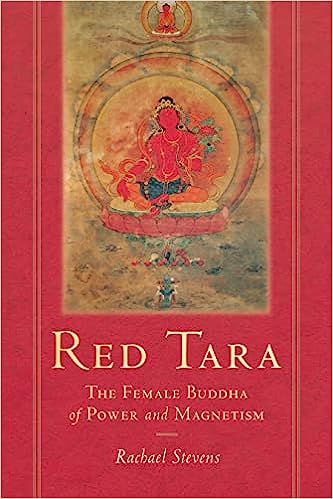 Published by Shambhala in November 2022, "Red Tara: The Female Buddha of Power and Magnetism" by Rachael Stevens is a comprehensive overview of Tara, one of the most celebrated goddesses in the Buddhist world, representing enlightened activity in the form of the divine feminine.
From the Shambhala website:
Tara protects, nurtures, and helps practitioners on the path to enlightenment. Manifesting in many forms and in many colors to help beings, Tara's red form represents her powers of magnetization, subjugation, and the transformation of desire into enlightened activity. She is considered to be particularly powerful in times of plague and disharmony.
This comprehensive overview focuses on the origins, forms, and practices of Tara, providing the reader with insightful information and inspirations relating to the goddess. Its second part focuses on Red Tara, a powerful and liberating form of Tara that is particularly important to connect with in a time of crisis. These chapters cover various forms of Red Tara found throughout the Tibetan Buddhist world, the particular qualities she represents, and how through prayers and meditation we can embody her principles and truly benefit beings.
"A White Conch Spiraling Toward Happiness: Poems of a Tibetan Master" By Sangngak Tenzin Rinpoche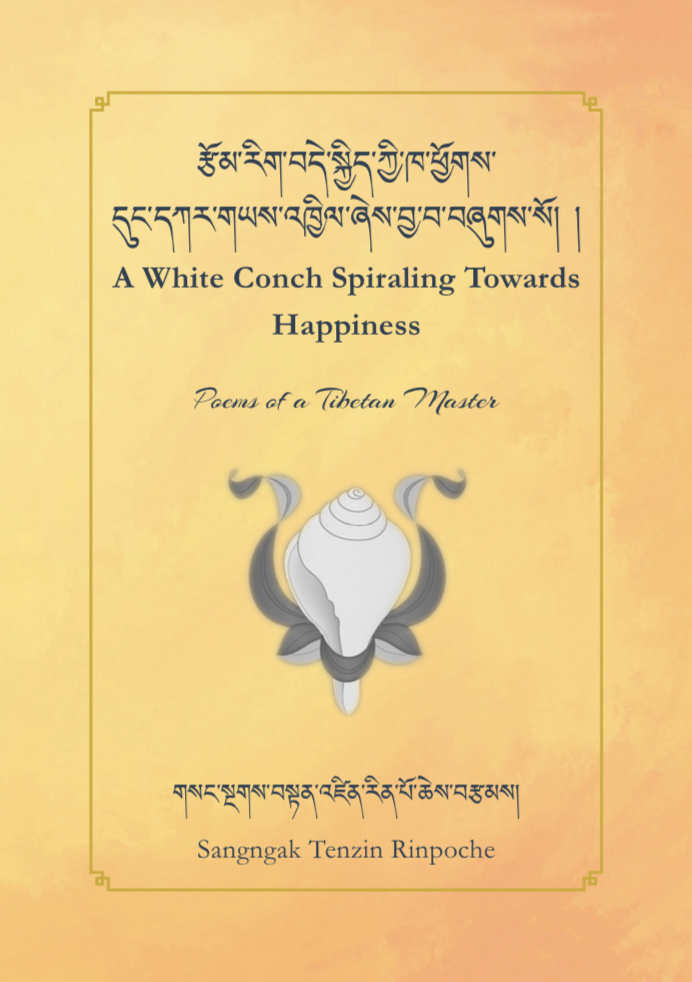 Published in January 2019 by Vajra Books, this late addition to the Reading List is a collection of poetry by Sangngak Tenzin Rinpoche. It also includes several essays and original liturgies and is particularly recommended for language students as it's published in a bilingual Tibetan-English edition.
"A Thousand Parallel Lives" By Tenzin Pema Chashar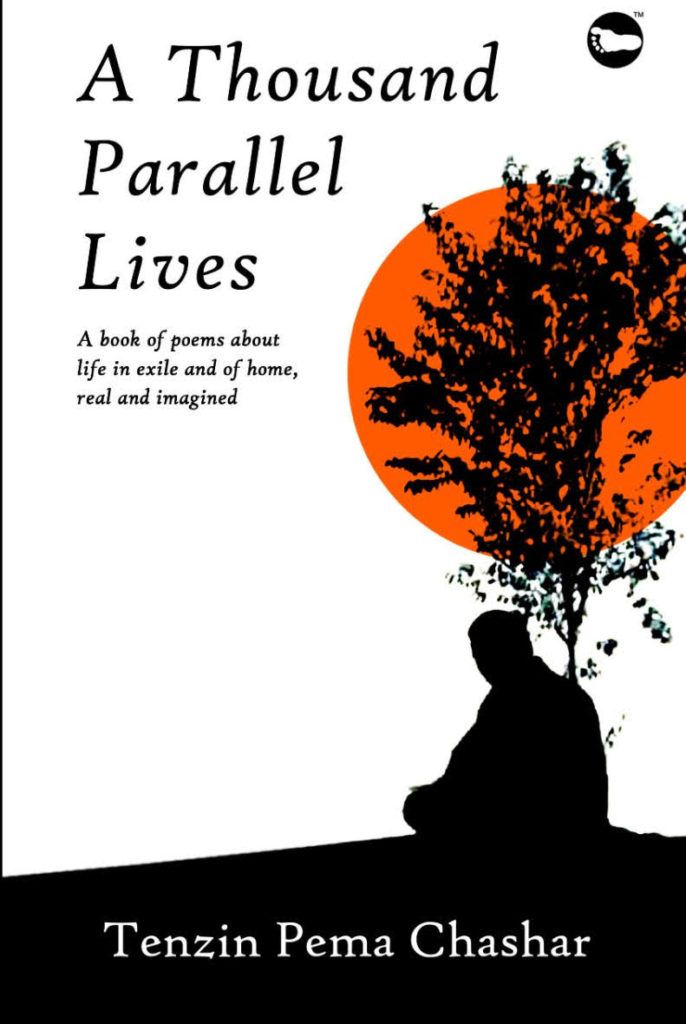 Published in May 2023, "A Thousand Parallel Lives" is the first book of poetry by Tenzin Pema Chashar.
This collection of 21 poems is about life in exile and of memories of home, real and imagined. The poems are in "chronological sequence of how things have unfolded for us [Tibetans] prior to our escape into exile, then early life in exile, and finally to today – where the Tibetan diaspora is really spread across the world, with each of us holding onto our sense of identity and, now more so than before, maybe even asserting them more forcefully in our own way, irrespective of our age, location, and background."
Read six of the poems on Lhakar Diaries here.
Younger Audiences
"Phuntsok Nyidon – ཕུན་ཚོགས་ཉི་སྒྲོན" An illustrated Tibetan story book from ANEC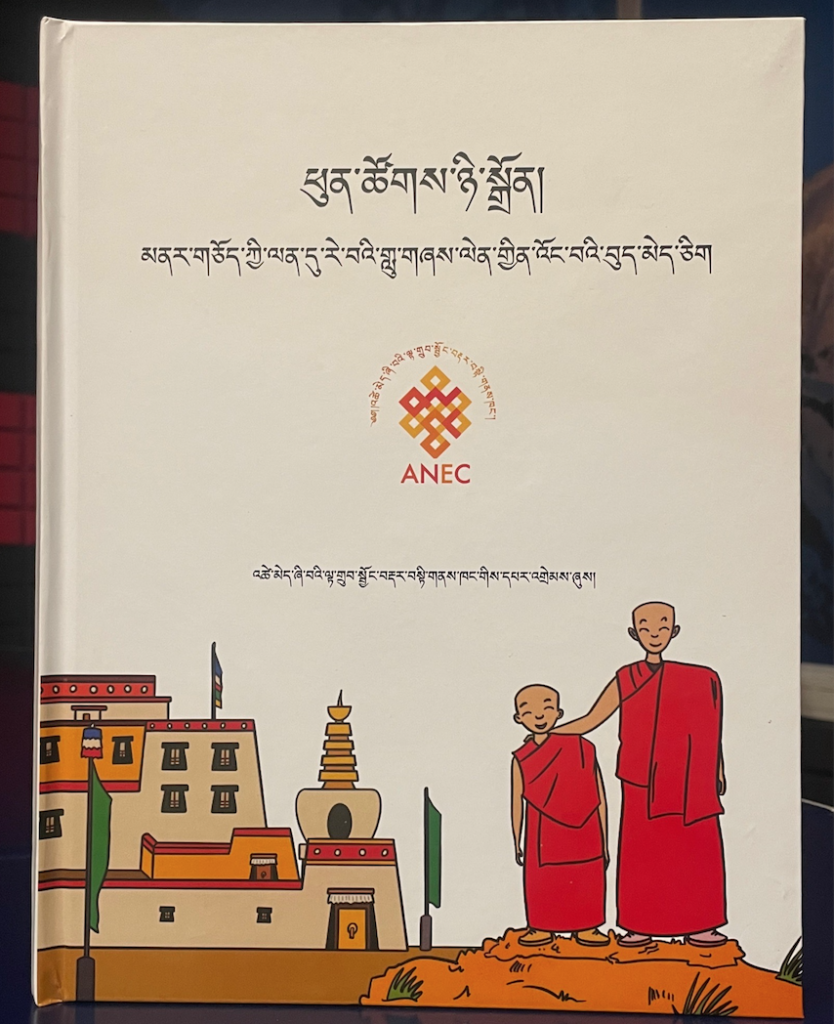 Published in July 2023 by the Active Nonviolence Education Center (ANEC) in Dharamsala, India, "Phuntsok Nyidon" is an illustrated Tibetan language story book based on the true story of former political prisoner Phuntsok Nyidon.
This book is appropriate for children aged 8 and above. ANEC decided to freely distribute the first edition of the book as a gesture of tribute to the late artist Jigme Choedak who did the illustrations for this book and collaborated with them on numerous projects in the past.
"Don't Kill the Bugs: How Kids Can Be Heroes for Creatures Big and Small" By Berthe Jansen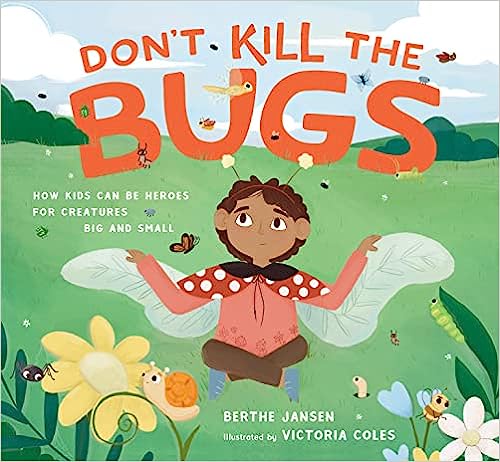 Published in March 2023 by Shambhala, "Don't Kill the Bugs: How Kids Can Be Heroes for Creatures Big and Small" by Berthe Jansen and illustrated by Victoria Coles is a story book for children aged 3–7 showing how they can be everyday heroes for the creatures with whom we share our world.
From the Shambhala website:
Follow Bu and his new friends through the park as they encounter creatures who crawl and buzz all around us—bugs! From spiders and ladybugs to bees and beetles, this lively story shows kids that every living creature deserves our kindness and compassion and that we can all be everyday heroes.
"Everything Changes And That's OK" By Carol Dodd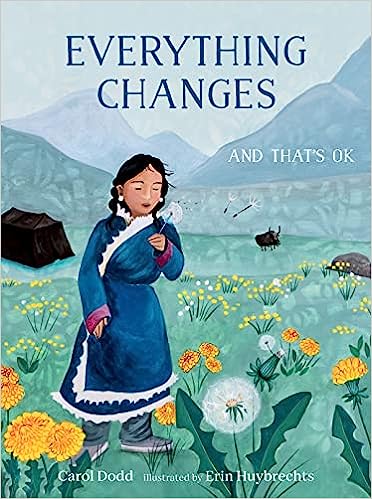 Published in October 2022 by Shambhala, "Everything Changes And That's OK" written by Carol Dodd and illustrated by Erin Huybrechts, explores how change exists everywhere in a way that is natural, and even beautiful, in this vibrantly illustrated book with fun rhyming couplets, for children ages 3 to 7.
From the Shambhala website:
Change is all around, but it can be overwhelming!
From an apple seed growing into a brilliant tree to a child watching a family member grow old, this book offers a thoughtful look at why change doesn't always have to be negative and can instead be observed with appreciation. It poetically presents a story that prompts kids to recognize and adapt to the change they see in their daily lives.
This beautiful exploration of impermanence is accompanied by vibrant illustrations that explore every corner of the world, from rolling fields in Tibet to the cozy, fireplace-lit living room of a family members home. The illustrations remind children that everything changes no matter where you are, no matter who you are, and that's all right.
"Heart to Heart: A Conversation on Love and Hope for Our Precious Planet" By His Holiness The Dalai Lama and Patrick McDonnell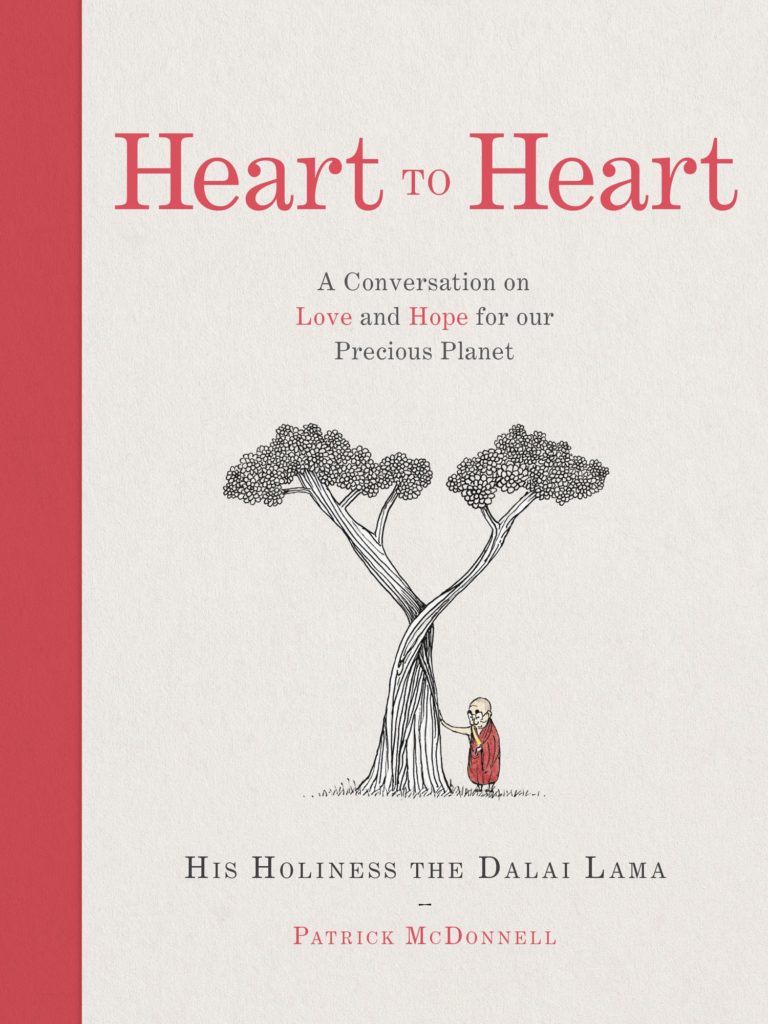 Published in January 2023 by HarperCollins, "Heart to Heart" from His Holiness the Dalai Lama and Mutt's cartoonist and award-winning author Patrick McDonnell is a powerful and timely gem of a book on how to heal our relationship with the planet and each other.
From the HarperCollins website:
At the Dalai Lama's residence in Dharamsala, India, an unusual visitor has arrived. His Holiness interrupts his morning meditation to greet a troubled Giant Panda who has travelled many miles to see him. Welcoming him as a friend, His Holiness invites the Panda on a walk through a cedar forest. There in the shadow of the Himalayas, surrounded by beauty, they discuss matters great and small…
With a galvanizing message about the future of our planet—text by His Holiness accompanied by McDonnell's masterful illustrations—Heart to Heart calls for a Compassionate Revolution, reminding us that "we are indeed all members of a single family, sharing one little house." Told with whimsy, wisdom, and warmth, this beautiful book is deceptively simple in its approach and all the more powerful for it, as it elegantly and decisively conveys a message of joy, hope and change.
"Opposites" from Red Balloon Books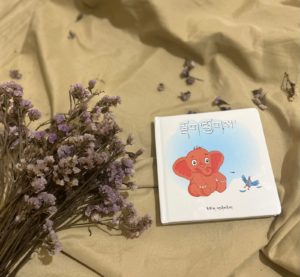 Published in June 2023 by Red Balloon Books, Dharamsala, this book featuring original illustrations is a Tibetan language book of opposites. For orders and more information, contact Red Balloon Books via their Instagram page.
Tibetan Language
འཇའ་ལམ་ཁྲ་མོ། "The Rainbow Path of Many Hues" By Pema Bhum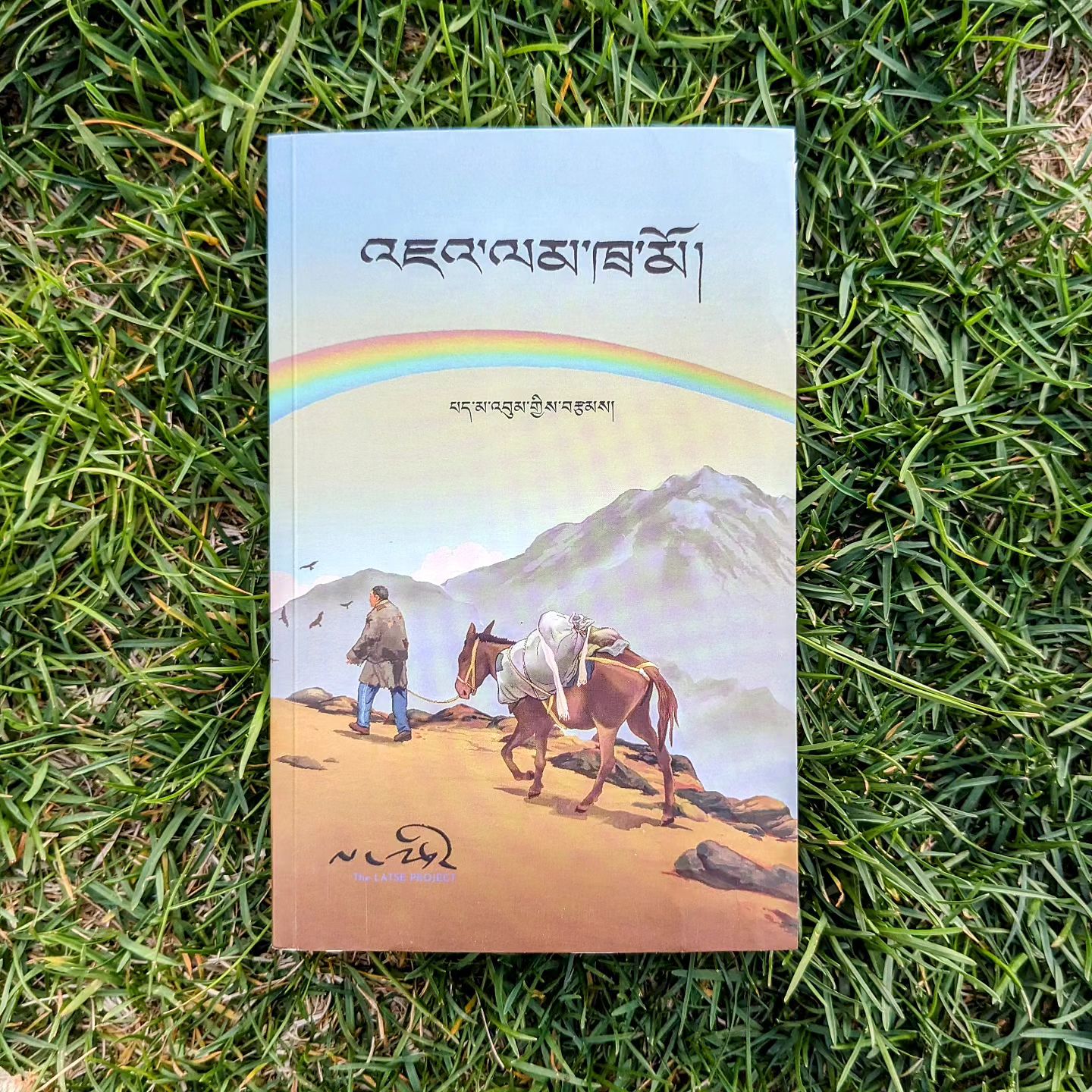 "The Rainbow Path of Many Hues", the debut novel by Pema Bhum, was published in May 2023 by the Latse Project and printed and distributed by Tibet Times. For purchase enquiries please contact Tibet Times: https://tibettimes.net/about-us/#Eng
It took Pema Bhum nearly eight years to complete the book and it picks up where his essays left off, using fiction to relate the transformations of Tibet under China's control. The narrative revolves around Longrik, a monk from a small village in Amdo who escapes to India in the 1980s; the author skillfully weaves Longrik's experiences with significant political, economic, and cultural transformations.
Be sure to read Dhondup T. Rekjong's review of the book here.
Special Mentions
"Sex in the Land of Genghis Khan: From the Times of the Great Conqueror to Today" By Baasanjav Terbish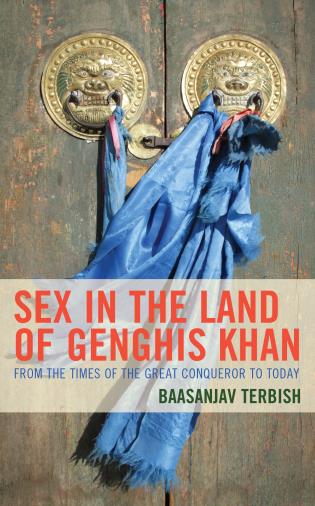 Published in May 2023 by Lexington Books, "Sex in the Land of Genghis Khan: From the Times of the Great Conqueror to Today" by Baasanjav Terbish, examines the history of sexuality in Mongolia over the last 800 years.
From the Lexington Books website:
As a culture-specific and time-specific system of values, practices and identities, sexuality in Mongolia, as elsewhere, has been subject to change as Mongolian society transformed from an empire to a post-imperial regional power to a Qing colony to a socialist country, before embracing liberal democracy in the 1990s. Since every social change tends to become reflected in sexuality, this study takes into account a range of intertwined topics, including religious ideologies, political ideologies, law, gender and relationships between individuals and the state, all of which have evolved throughout Mongolia's history and require rethinking if one is to describe such a complex social phenomenon as human sexuality.
"The Nomadic Leviathan: A Critique of the Sinocentric Paradigm" By Lhamsuren Munkh-Erdene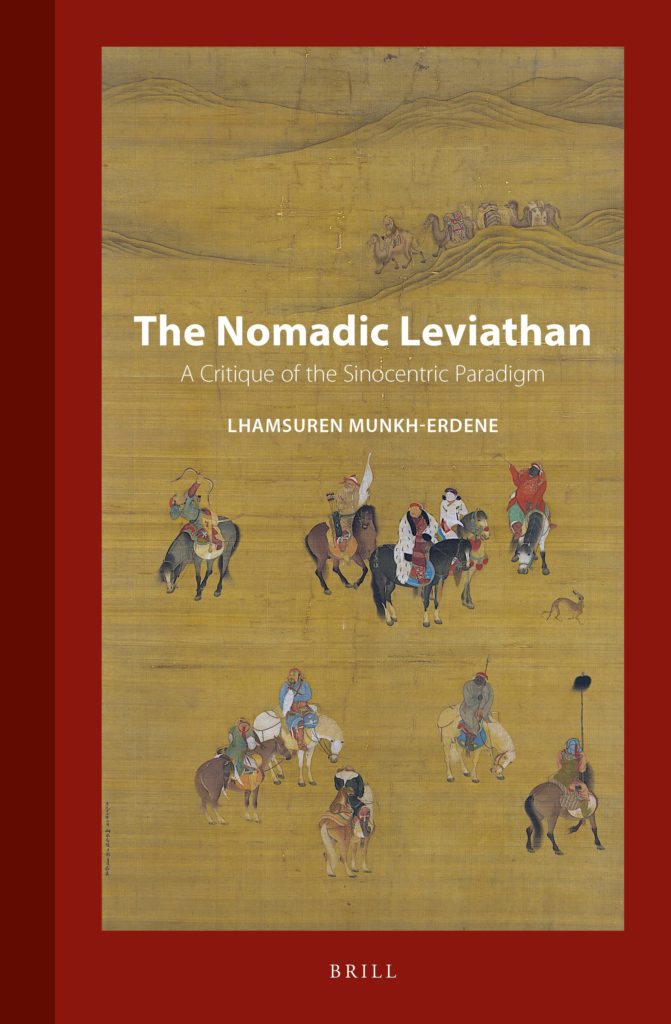 Published by Brill in May 2023, "The Nomadic Leviathan" by Lhamsuren Munkh-Erdene places pastoralism at the origin of the state and civilization, and the Eurasian steppe at the center of human history, thereby debunking the Sinocentric paradigm as a myth.
"The Tarikh-i Ḥamidi: A Late-Qing Uyghur History" By Musa Sayrami, Translated by Eric Schluessel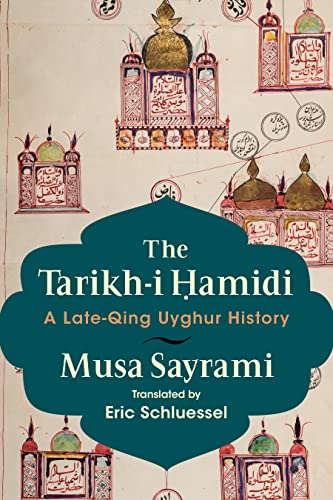 Published in July 2023 by Columbia University Press, "The Tarikh-i Ḥamidi" is an epic and tragic history from the region of Xinjiang in northwest China, the homeland of the Muslim-majority Uyghur people. Written in the early twentieth century, it chronicles a mass rebellion by the Muslims of Xinjiang against the China-based Qing empire from its beginnings in 1864 to the Qing reconquest of 1877 and its aftermath. Its author, Musa Sayrami, was an eyewitness to and participant in the rebellion, and he later became a servant to the state that arose from it: an emirate led by the Central Asian military commander Yaʿqub Beg.
Sayrami wrote not only to record events being lost from memory three decades after the uprising but also to account for why the Islamic rebellion had failed. He draws on traditional Islamic scholarship to analyze the relationship between Qing and Islamic power, developing an incisive argument about politics and empire. Presenting a distinctly Uyghur perspective on China, Eurasia, and the world, the Tarikh-i Ḥamidi is at once an invaluable lens on a period of flux and a cornerstone of Uyghur writing.
"Jangar: The Heroic Epic of the Kalmyk Nomads" By Saglar Bougdaeva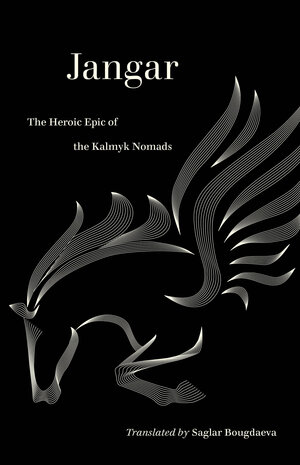 Published in January 2023 by the University of California Press, this is the first English translation of Jangar, the heroic epic of the Kalmyk nomads, who are the Western Mongols of Genghis Khan's medieval empire in Europe.
From the University of California Press website:
Today, Kalmykia is situated in the territory that was once the Golden Horde, founded by the son of Genghis Khan, Juchi. Although their famed khanates and cities have long since disappeared under the sands of the Great Eurasian Steppe, the Kalmyks have witnessed, memorized, and orally transmitted some of the most transformative developments, both victorious and tragic, in the history of civilizations. A tribute to the protectors of the mythical country Bumba, Jangar reflects the hopes and aspirations of the Kalmyk people as well as their centuries-long struggle for their cultural existence.
This new English translation is more than a tribute to the artistic creativity and imagination of the Kalmyk people—it is also an important step in their struggle for cultural survival. It was only after centuries of oral transmission that the songs and stories surrounding Jangar were written down. When the first translation, into Russian, finally appeared, Stalin had the entire Kalmyk population deported to Siberia and ordered that their national literature be eliminated from the published world. This Soviet repression has had enormous consequences for world literature, silencing nomadic voices and keeping hidden their distinctive contributions. Making Jangar available in English is a landmark event, bringing a lost classic to the world's attention and restoring the voices of an almost-erased tradition at the heart of the history of Eurasia.