High Peaks Pure Earth presents the Summer 2022 Tibet Reading List! We've updated the previous Winter Reading List to include over 25 more titles covering the span of the entire Tibetan Buddhist world.
If you think we've missed anything or if you have a particular recommendation please feel free to get in touch with us, it's impossible for us to keep track of all Tibet-related publications! You're also welcome as always to write your own short reviews in the comments section or on your social media, just tag us so that we see it or use the hashtag #TibetReadingList.
We've continued to add links to Bookshop.org, if you buy books linked from our site, we may earn a small commission and at the same time, their fees support independent bookshops! Where publications are not available on Bookshop, Amazon links are provided for convenience.
See below for the new books added to the existing Tibet Reading List. For ease, we have again (broadly) categorised them. For books not directly about Tibet but may include Tibet or be of general interest, we have placed them in the section at the bottom called Special Mentions.
Happy reading this summer and stay cool!
Biography, History, Politics and Social Science
"When the Iron Bird Flies: China's Secret War in Tibet" By Jianglin Li
Published in January 2022 by Stanford University Press, "When the Iron Bird Flies: China's Secret War in Tibet" by Jianglin Li tells an untold story that reshapes our understanding of Chinese and Tibetan history.
From the
Stanford University Press website
:
From 1956 to 1962, devastating military conflicts took place in China's southwestern and northwestern regions. Official record at the time scarcely made mention of the campaign, and in the years since only lukewarm acknowledgment of the violence has surfaced. When the Iron Bird Flies, by Jianglin Li, breaks this decades long silence to reveal for the first time a comprehensive and explosive picture of the six years that would prove definitive in modern Tibetan and Chinese history.
The CCP referred to the campaign as "suppressing the Tibetan rebellion." It would lead to the 14th Dalai Lama's exile in India, as well as the Tibetan diaspora in 1959, though the battles lasted three additional years after these events. Featuring key figures in modern Chinese history, the battles waged in this period covered a vast geographical region. This book offers a portrait of chaos, deception, heroism, and massive loss. Beyond the significant death toll across the Tibetan regions, the war also destroyed most Tibetan monasteries in a concerted effort to eradicate local religion and scholarship.
Despite being considered a military success, to this day, the operations in the agricultural regions remain unknown. As large numbers of Tibetans have self-immolated in recent years to protest Chinese occupation, Li shows that the largest number of cases occurred in the sites most heavily affected by this hidden war. She argues persuasively that the events described in this book will shed more light on our current moment, and will help us understand the unrelenting struggle of the Tibetan people for their freedom.
About the author:
Jianglin Li is an independent writer and researcher with expertise in Tibetan history and the Tibetan diaspora. She is the author of numerous books, including Tibet in Agony: Lhasa 1959 (2016).
Available on Amazon here: https://amzn.to/3O6i8UZ
"The Concrete Plateau: Urban Tibetans and the Chinese Civilizing Machine" By Andrew Grant
Published in July 2022 by Cornell University Press, "The Concrete Plateau: Urban Tibetans and the Chinese Civilizing Machine" by Andrew Grant is an examination of the ways that urbanization has extended into the Tibetan Plateau.
From the
Cornell University Press website
:
Many people still think of Tibetans as not being urban, or that if they do live in cities, this means that they have lost something. Much of this is relates to the expectation that urbanization can only erode essential aspects of Tibetan culture. Grant pushes back against this notion through his in-depth exploration of Tibetans' experiences with urban life in the growing city of Xining, the largest city on the Tibetan Plateau.
Grant shows how Tibetans' actions to sustain their community challenge China's civilizing machine: a product of state-led urbanization that seeks to marginalize ethnic and indigenous groups. In their homes, neighborhoods, and businesses, Tibetans' assertion of cultural identity and modification of the built environment has prevented their assimilation into China's national urban project. The Concrete Plateau presents insights into the politics of urban development not only in Tibet and China, but to contexts of urban diversity all around world. Its findings are important for studies of urban development in the Global South where in-migrating ethnic and indigenous groups are negotiating top-down urban projects. Grant's book offers a profound rethinking of urbanization, rurality, culture, and the politics of place.
Available on Amazon here: https://amzn.to/3O9xPKV
"Three Lives in One Lifetime: An Interview with Kirti Rinpoche Lobsang Tenzin Jigme Yeshe Gyatso" By Jianglin Li, Translated by Matthew Akester
Published in January 2021 by the Library of Tibetan Works and Archives, Dharamsala, "Three Lives in One Lifetime" is the biography of Kirti Rinpoche as told to Jianglin Li.
From the
book description
:
At this very crucial juncture of Tibet's history sharing of experiences of the Tibetan elders is a must for a deeper understanding of our people's history, and culture by the younger Tibetan generation. As indicated by the very title of the book, Kirti Rinpoche not only has a good understanding of religion, culture and everyday life in Tibet before the invasion of the Chinese Communists, but he also witnessed the Communist invasion, the suppression of the Tibetan people, and the fight into exile. As opposed to what is happening in Tibet itself he has also witnessed the Tibetans in exile preserving their religion and culture in a foreign country, maintaining their national identity, and developing a democratic political system and society. He himself participated in many of these noble deeds envisioned by His Holiness the Dalai Lama and made significant contribution in following His guidance. The very active work of dissemination of Tibetan culture and religion by the Kirti Monastery under his leadership is a living example of his dedication.
Available on Amazon here: https://amzn.to/3z35eCU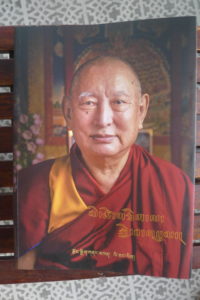 The Tibetan version of the book (pictured above) was published earlier this year and launched in Dharamsala in April 2022.
"The Social and the Religious in the Making of Tibetan Societies: New Perspectives on Imperial Tibet" By Guntram Hazod, Mathias Fermer and Christian Jahoda (Eds.)
Published in June 2022 by the Austrian Academy of Sciences Press, "The Social and the Religious in the Making of Tibetan Societies" is an open access volume containing eight contributions belonging to the field of early Tibetan studies with a strong social anthropological and historical perspective.
From the publisher website:
The thematic focus is related to the social and the religious in the making of Tibetan societies primarily between the 7th and 17th century. This includes studies of the conception of the rulers of early (7th–9th century) Tibet and their burial customs, the socio-political topography, the adoption of Buddhism as state religion in the 8th century and its role in the foundation of the West Tibetan kingdom in the 10th century as well as ritual traditions in later (post-11th century) regional contexts. The main hypothesis underlying the contributions in this volume is the indissoluble connection of the religious with the social, which is reflected in formulations of "custom" and "tradition" and a conception of "sacred" kingship and related ritual practices in pre-Buddhist contexts that were modified with the introduction and establishment of Buddhism and adapted in post-dynastic times to various regional contexts. In these studies, the basis is formed by so far little-researched primary written sources (Tibetan texts, manuscripts, and inscriptions) and a wealth of newly documented first-hand archaeological, geographic, and ethnographic data. Beside the keen attention to primary sources throughout the volume, another strongly innovative aspect consists of the successful application of fresh concepts in the social anthropology of the social and the religious to a variety of historical, in particular 7th–9th century Tibetan contexts.
Do note that this title is Open Access and available for free download here.
Available on Amazon here: https://amzn.to/3Rw8CgY
"Science on the Roof of the World: Empire and the Remaking of the Himalaya" By Lachlan Fleetwood
Published in May 2022 by Cambridge University Press, "Science on the Roof of the World" outlines the ways in which the imaginative geography of the Himalayas was constituted by western scientific knowledge, indigenous cosmologies and labour in the nineteenth century contributing to a global science of mountains.
From the
publisher website
:
When, how, and why did the Himalaya become the highest mountains in the world? In 1800, Chimborazo in South America was believed to be the world's highest mountain, only succeeded by Mount Everest in 1856. Science on the Roof of the World tells the story of this shift, and the scientific, imaginative, and political remaking needed to fit the Himalaya into a new global scientific and environmental order. Lachlan Fleetwood traces untold stories of scientific measurement and collecting, indigenous labour and expertise, and frontier-making to provide the first comprehensive account of the East India Company's imperial entanglements with the Himalaya. To make the Himalaya knowable and globally comparable, he demonstrates that it was necessary to erase both dependence on indigenous networks and scientific uncertainties, offering an innovative way of understanding science's global history, and showing how geographical features like mountains can serve as scales for new histories of empire.
Lachlan Fleetwood is a research fellow at University College Dublin.
Available on Bookshop here: https://uk.bookshop.org/a/4863/9781009123112
"New Perspectives on Modern Ladakh: Fresh Discoveries and Continuing Conversations in the Indian Himalaya" By Rafał Beszterda, John Bray and Elizabeth Williams-Oerberg (Eds.)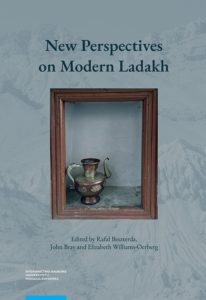 Published in 2021 by Nicolaus Copernicus University, "New Perspectives on Modern Ladakh" is a volume that originated at the 2017 IALS conference in Bedłewo, Poland. It contains twelve research papers on the following themes: the natural environment and social change; urbanisation and social change in Leh; bees, mushrooms and folkways; 20th century external contacts and local responses; three perspectives on weaving; and a final essay that poses the question "Did Gama ever reach the land of the lama?"
Available on: https://wydawnictwo.umk.pl/en/products/5621/new-perspectives-on-modern-ladakh-fresh-discoveries-and-continuing-conversations-in-the-indian-himalaya
"Oral Histories of Tibetan Women: Whispers from the Roof of the World" By Lily Xiao Hong Lee
Published by Routledge in May 2022, "Oral Histories of Tibetan Women" by Lily Xiao Hong Lee looks at the lives of twenty Tibetan women of various backgrounds, ages and occupations who were alive in the twentieth century. The book presents broad, under-explored and engaging perspectives on Tibetan culture and politics, ethnicity or mixed ethnicity, art, marriage, religion, education and values.
From the Routledge website:
Offering a unique spectrum of primary sources, this book showcases interviews which were recorded in the 1990s and early 2000s which faithfully document Tibetan women telling their stories in their own words and situate these stories in their historical and socio-cultural contexts. These women were historically and religiously significant, such as a tulku (an incarnate), and tribal and local leaders, as well as ordinary women, such as poor peasants, the urban poor and women in polyandrous marriages.
An important and unique contribution to the understanding of Tibetan women, this book is a valuable resource for those in the fields of anthropology, women and gender studies, applied history, contemporary China studies and Indigenous studies.
Available on Bookshop here: https://uk.bookshop.org/a/4863/9781032213644
"An Atlas of the Tibetan Plateau" By Michael Farmer
Published by Brill in May 2022, "An Atlas of the Tibetan Plateau" shows for the first time the contemporary geography of the entire Tibetan Plateau, an area where major powers (China, India and Pakistan) meet in the highest landscape on earth, originally inhabited by the unique, ancient Buddhist civilization of Tibet.
From the
Brill website
:
Using extensive satellite imagery, the author has accurately positioned over two thousand religious locations, more than a third of which appear not to have not been previously recorded. Nearly two thousand settlements have also been accurately located and all locations are named in both Tibetan and Chinese where possible. This ancient landscape is shown in contrast to the massive physical infrastructure which has been recently imposed on it as an attempt to "Open up the West" and carry forward the Chinese "Belt and Road Initiative". With 120 maps in full colour.
Available on Amazon here: https://amzn.to/3z6rYCa
"Journey to the End of the Empire: On the Road in Eastern Tibet" By Scott Ezell
Published in May 2022 by Camphor Press, "Journey to the End of the Empire" is a lyrical account of traveling Tibetan borderlands over a fifteen-year period, charting the changes in the people and the encroachment of the PRC developmental state by American poet and musician Scott Ezell.
From the
Camphor Press website
:
On foot, by rattling truck and local bus, by jeep and motorcycle, American poet and musician Scott Ezell explores the Tibetan borderlands. Plotted with a line drawn on a map in Hong Kong, the journey starts in Dali, in the foothills of the Himalaya in southwestern China. The road extends north a thousand miles through towns and villages along the edge of Tibet, finally arriving at Kekexili, the highest plateau in the world, and crossing the Kunlun Mountains.
Ezell takes us through landscapes of blond and gold barley fields, alpine meadows ablaze with wildflowers, silver-blue rivers beneath "clouds like burning aluminum," and impossible snow peaks "cracking and shattering into jagged resplendence against the sky."
Balancing the epic is the intimate. Fluent in Mandarin, Ezell chats with farmers, shopkeepers, lamas, nomads, and police along way. There is also outrage in Ezell's account, as, over the course of many years and numerous trips, he witnesses the rise of militarization, surveillance, and destructive resource extraction, including open-pit mining and the death of rivers by the blunt force trauma of dams.
Readers were first treated to the visceral beauty of Ezell's poetic prose in A Far Corner: Life and Art with the Open Circle Tribe, the story of three years he lived among a community of Indigenous artists on Taiwan's rugged Pacific Coast. The present work continues his exploration of remote peoples and wild landscapes, and reveals an exceptionally talented writer at the height of his craft.
Journey to the End of the Empire is both a love song for the earth, and a cry of dissent against environmental destruction, centralized national narratives, and the marginalization of minority peoples.
Available on Amazon here: https://amzn.to/3aFrF7Q
Education, Language and Literature
"We Measure the Earth With our Bodies" By Tsering Yangzom Lama
Published in May 2022 by Bloomsbury USA, "We Measure the Earth With our Bodies" by Tsering Yangzom Lama is a compelling and profound debut novel about a Tibetan family's journey through exile.
From the
Bloomsbury website
:
In the wake of China's invasion of Tibet throughout the 1950s, Lhamo and her younger sister, Tenkyi, arrive at a refugee camp in Nepal. They survived the dangerous journey across the Himalayas, but their parents did not. As Lhamo-haunted by the loss of her homeland and her mother, a village oracle-tries to rebuild a life amid a shattered community, hope arrives in the form of a young man named Samphel and his uncle, who brings with him the ancient statue of the Nameless Saint-a relic known to vanish and reappear in times of need.
Decades later, the sisters are separated, and Tenkyi is living with Lhamo's daughter, Dolma, in Toronto. While Tenkyi works as a cleaner and struggles with traumatic memories, Dolma vies for a place as a scholar of Tibetan Studies. But when Dolma comes across the Nameless Saint in a collector's vault, she must decide what she is willing to do for her community, even if it means risking her dreams.
Breathtaking in its scope and powerful in its intimacy, We Measure the Earth with Our Bodies is a gorgeously written meditation on colonization, displacement, and the lengths we'll go to remain connected to our families and ancestral lands. Told through the lives of four people over fifty years, this novel provides a nuanced, moving portrait of the little-known world of Tibetan exiles.
Available on Amazon here: https://amzn.to/3Px2ynr
"Flowers of Lhasa" By Tsering Yangkyi, Translated by Christopher Peacock
Published by Balestier Press in June 2022, "Flowers of Lhasa" by Tsering Yangkyi is a stark and urgent tale of four young women thrown into the seedy underbelly of a sacred city undergoing rapid change.
From the
Balestier Press website
:
After coming to the big city to look for work, a tragedy befalls Drölkar and leads her to a nightclub called the Rose and a life of selling her body for money. There, she falls in with Yangdzom, Dzomkyi, and Xiao Li. Four women––three Tibetan, one Chinese––all migrant laborers who move to the city and whose misfortunes take them down similar paths. We read of their encounters with wealthy, callous, and often violent men, their struggles to stay afloat and to support their impoverished families, and the hopes and dreams they still cherish despite it all.
Tsering Yangkyi's novel paints a vivid portrait of Lhasa, Tibet's cultural and religious capital. This is a holy city where thousands of pilgrims daily circumambulate the Potala Palace and the Jokhang Temple, but it is also a modern city, with all the problems of the modern world. While immersing us in the vibrant uniqueness of Tibetan life, Flowers of Lhasa also paints a haunting picture that deals with global and timely concerns.
About the Author
Tsering Yangkyi is one of the most recognized names in the Tibetan literary world. She began publishing fiction in the 1980s and has built up a body of work that concerns itself first and foremost with women and the underclass of Tibetan society. She began Flowers of Lhasa, her first novel, in 2009, and it took seven years to complete. When it was published in 2016, it became only the second novel by a Tibetan woman. In Tibet, the publication of her novel was immediately met with widespread acclaim, from critics and readers alike.
About the Translator
Christopher Peacock holds a PhD from Columbia University. He is a translator and a scholar of modern Chinese and Tibetan literatures. His translations of modern Tibetan fiction have appeared in journals including Chinese Literature Today, Ploughshares Solos, Pathlight, and Two Lines. He is the translator of Tsering Döndrup's The Handsome Monk and Other Stories, one of the first collections of Tibetan fiction available in English.
Available on Amazon here: https://amzn.to/3PlyCcU
"Under the Blue Skies: A Tibetan Reader"
Published in June 2022 by Blackneck Books, an imprint of TibetWrites, "Under the Blue Skies" is an anthology of Tibetan writing – fiction, non-fiction and poetry, edited by Bhuchung D. Sonam.
To order copies, contact Blackneck Books via Facebook or Instagram.
"A Textbook in Classical Tibetan" By Joanna Bialek
Published by Routledge in March 2022, "A Textbook in Classical Tibetan" by Joanna Bialek is the first comprehensive course book in the Classical Tibetan language written in English.
From the
Routledge website
:
The textbook describes the grammar of pre-16th-century Classical Tibetan works for beginners and students of intermediate level. It is intended to cover the most essential topics that can be mastered within two semesters of an academic class. Classical Tibetan is a written Middle Tibetan language that has been in use in Tibet from the 9th century. Until the early 20th century it served all purposes, from administrative, to medical, to religious. Nowadays Classical Tibetan remains an important part of religious identity and services for communities also outside of cultural Tibet, foremost in India, Nepal, and Bhutan, but also elsewhere, most importantly in Europe, North America and Australia.
The main body of the textbook consists of an introduction to the Tibetan script, eighteen lessons, and a reading section. Each lesson elucidates several grammatical topics which are followed by an exercise and a word list. The chapter readings contain four supplementary readings. In addition to the main parts of the textbook, a brief introduction to Tibetic languages provides linguistic context for the language taught in the textbook, whereas the chapter Translations of Exercises and Readings contains translations and explanatory notes to the exercises provided at the end of each lesson, as well as to the readings.
A Textbook in Classical Tibetan is essential reading for both undergraduate and graduate students without any knowledge of Classical Tibetan, but also for those who would like to deepen their experience of the language by reading annotated excerpts from well-known pieces of Tibetan literature.
Available on Bookshop here: https://uk.bookshop.org/a/4863/9781032123561
"Special Education in Tibet: Perspectives on the Education of Children with Special Educational Needs" By Miloň Potměšil, Bu Qiong
Published by Routledge India in February 2022, "Special Education in Tibet" analyses the value orientation system of education in Tibet and examines the special education interventions aimed at children with disabilities in the region. The authors draw on their interviews with students, parents and teachers to shed light on how education is viewed by the general population in Tibet.
From the
Routledge website
:
The book looks at themes such as traditional Tibetan education, the ways in which value orientation affects the development of disabled children, the role of special education interventions in building self-esteem and confidence and the importance of developing pedagogical care and special schools in Tibet. It also reviews China's existing legal provisions and policies dedicated to persons with disabilities in comparison with Tibet. Finally, it emphasizes the role of practicing social acceptance for children with special educational needs and recommends developing special education interventions based on the cultural foundation and real social conditions of the ethnic group.
Based on in-depth qualitative and quantitative research, this book will be of interest to teachers, students and researchers of education, special education, curriculum studies, sociology, anthropology, disability studies, minority studies and cultural studies. It will also be useful for educationalists, special education institutions, policymakers, social activists and NGOs.
Available on Bookshop here: https://uk.bookshop.org/a/4863/9780367644055
"The Taming of the Demons: The Epic of Gesar of Ling, Book Two" Translated by Jane Hawes, David Shapiro and Lama Chonam
Published by Shambhala in March 2021, "The Taming of the Demons" is the fourth volume among the hundreds available in the Tibetan original – available for the first time in English translation.
From the Shambhala website:
The Epic of Gesar of Ling has been the national treasure of Tibet for almost a thousand years. An open canon of tales about a superhuman warrior-king, the epic is still a living oral tradition, included in UNESCO's Representative List of the Intangible Cultural Heritage of Humanity.
Popularly read as an allegory and rich with ethical proverbs, this volume recounts stories of Gesar fending off demons and liberating his foes as an enlightened leader. While the first three volumes cover Gesar's birth, youth, and rise to power, this volume recounts the martial victories and magical feats that made him a legendary figure in Tibet and beyond.
Available on Bookshop here: https://uk.bookshop.org/a/4863/9781611808964
"The Many Faces of King Gesar: Tibetan and Central Asian Studies in Homage to Rolf A. Stein By Matthew T. Kapstein and Charles Ramble (Eds.)
Published by Brill in January 2022, in "The Many Faces of King Gesar", many aspects of the epic – historical, cultural, and literary – are surveyed for the first time in a single volume in English, addressed to both general readers and specialists.
From the Brill website:
The Tibetan Gesar epic, considered "the world's longest poem," has been the object of countless retellings, translations, and academic studies in the two centuries since it was first introduced to European readers.
The original scholarship presented here, by international experts in Tibetan Studies, honours the contributions of Rolf A. Stein (1911-1999), whose studies of the Tibetan epic are the enduring standard in this field.
With a foreword by Jean-Noël Robert, Collège de France. Contributors are: Anne-Marie Blondeau, Chopa Dondrup, Estelle Dryland, Solomon George FitzHerbert, Gregory Forgues, Frances Garrett, Frantz Grenet, Lama Jabb, Matthew W. King, Norbu Wangdan, Geoffrey Samuel, Siddiq Wahid, Wang Guoming, Yang Enhong.
Available on Amazon here: https://amzn.to/3PlrxZG
Religion and Medicine
"Buddhism and Waste: The Excess, Discard, and Afterlife of Buddhist Consumption" By Trine Brox and Elizabeth Williams-Oerberg (Eds.)
Published in January 2022 by Bloomsbury Academic, "Buddhism and Waste" explores these questions of waste and non-waste in a close examination of a religion that is often portrayed as anti-materialist and non-economic.
From the
Bloomsbury website
:
In what ways do Buddhists recognize, define, and sort waste from non-waste? What happens to Buddhist-related waste? How do new practices of Buddhist consumption result in new forms of waste and consequently new ways of dealing with waste?
This book provides insight into the complexity of Buddhist consumption, conceptions of waste, and waste care. Examples include scripture that has been torn and cannot be read, or an amulet that has disintegrated, as well as garbage left behind on a pilgrimage, or the offerings of food and prayer scarves that create ecological contamination.
Chapters cover mass-production and over-consumption, the wastefulness of consumerism, the by-products of Buddhist practices like rituals and festivals, and the impact of increased Buddhist consumption on religious practices and social relations. The book also looks at waste in terms of what is discarded, exploring issues of when and why particular objects and practices are sorted and handled as sacred and disposable. Contributors address how sacred materiality is destined to wear and decay, as well as ideas about redistribution, regeneration or recycling, and the idea of waste as afterlife.
Available on Amazon here: https://amzn.to/3RuSjRm
"The Early 20th Century Resurgence of the Tibetan Buddhist World" By Ishihama Yumiko and Alex McKay (Eds.)
Published by Amsterdam University Press in January 2022, "The Early 20th Century Resurgence of the Tibetan Buddhist World" is a cohesive collection of studies by Japanese, Russian and Central Asian scholars deploying previously unexplored Russian, Mongolian, and Tibetan sources concerning events and processes in the Central Asian Buddhist world in the late 19th and early 20th centuries.
From the
Amsterdam University Press website
:
Set in the final days of the Qing Empire when the Russian and British empires were expanding into Central Asia, this work examines the interplay of religious, economic and political power among peoples who acknowledged the religious authority of Tibet's Dalai Lama. It focuses on diplomatic initiatives involving the 13th Dalai Lama . and other Tibetan Buddhist hierarchs . during and after his exile in Mongolia and China, as well as his relations with Mongols, and with Buryat, Kalmyk, and other Russian Buddhists. It demonstrates how these factors shaped historical processes in the region, not least the reformulations of both group identity and political consciousness.
Available on Bookshop here: https://uk.bookshop.org/a/4863/9789463728645
"Monpas: Buddhists of the High Himalayas" By Vinay Sheel Oberoi
Published by Roli Books, India, in January 2022, "Monpas: Buddhists of the High Himalayas" by Vinay Sheel Oberoi is a photo book looking at the Monpa way of life and their land, Monyul.
From the
book description
:
It began with a new camera, a retirement present from the author's wife. The Kameng area in Arunachal Pradesh, familiar to the author's family for over six decades, and the Monpa people provided the perfect subjects to indulge his interest in photography. Over time, the idea of a book firmed up, and the photographs coalesced into what was envisioned as a sensitive, not necessarily comprehensive, look at the Monpa way of life and their land, Monyul. The intent was not to be ethnographic or academic, but to portray the rapidly changing world of the Monpas. A meditative travelogue in images that transforms into a thoughtful exploration, the book captures the lives of the people and the region. The author's personal stories, interspersed throughout the book, tell of the Monpas' hospitality and warmth, providing insight into the everyday lives of a spiritual community.
Available on Bookshop here: https://uk.bookshop.org/a/4863/9788194425793
"Impermanence: Exploring Continuous Change Across Cultures" By Haidy Geismar, Ton Otto, and Cameron David Warner (Eds.)
Published by University College London Press in March 2022, "Impermanence" draws on cases from all over the world to investigate the significance of impermanence in such diverse contexts as social death, atheism, alcoholism, migration, ritual, fashion, oncology, museums, cultural heritage and art.
From the
University College London Press website
:
Nothing lasts forever. This common experience is the source of much anxiety but also hope. The concept of impermanence or continuous change opens up a range of timely questions and discussions that speak to globally shared experiences of transformation and concerns for the future. Impermanence engages with an emergent body of social theory emphasizing flux and transformation, and brings this into a dialogue with other traditions of thought and practice, notably Buddhism that has sustained a long-lasting and sophisticated meditation on impermanence.
The authors draw on a wide range of disciplines, including anthropology, archaeology, art history, Buddhist studies, cultural geography and museology. This volume also includes numerous photographs, artworks and poems that evocatively communicate notions and experiences of impermanence.
Do note that this title is Open Access and available for free download here.
Available on Bookshop here: https://uk.bookshop.org/a/4863/9781787358706
"A Global History of Buddhism and Medicine" By C. Pierce Salguero
Published by Columbia University Press in February 2022, "A Global History of Buddhism and Medicine" is a wide-ranging and accessible account of the interplay between Buddhism and medicine over the past two and a half millennia.
From the
Columbia University Press website
:
Medicine, health, and healing have been central to Buddhism since its origins. Long before the global popularity of mindfulness and meditation, Buddhism provided cultures around the world with conceptual tools to understand illness as well as a range of therapies and interventions for care of the sick. Today, Buddhist traditions, healers, and institutions continue to exert a tangible influence on medical care in societies both inside and outside Asia, including in the areas of mental health, biomedicine, and even in responses to the COVID-19 pandemic. However, the global history of the relationship between Buddhism and medicine remains largely untold.
C. Pierce Salguero traces the intertwining threads linking ideas, practices, and texts from many different times and places. He shows that Buddhism has played a crucial role in cross-cultural medical exchange globally and that Buddhist knowledge formed the nucleus for many types of traditional practices that still thrive today throughout Asia. Although Buddhist medicine has always been embedded in local contexts and differs markedly across cultures, Salguero identifies key patterns that have persisted throughout this long history. This book will be informative and invaluable for scholars, students, and practitioners of both Buddhism and complementary and alternative medicine.
Available on Bookshop here: https://uk.bookshop.org/a/4863/9780231185271
"Healing at the Periphery: Ethnographies of Tibetan Medicine in India" By Laurent Pordié and Stephan Kloos (Eds.)
Published by Duke University Press in January 2022, "Healing at the Periphery: Ethnographies of Tibetan Medicine in India" examines the crucial moment of crisis and transformation that occurred in the early 2000s to offer insights into the beginnings of Tibetan medicine's professionalization, industrialization, and official recognition in India and elsewhere.
From the
Duke University Press website
:
India has long occupied an important place in Tibetan medicine's history and development. However, Indian Himalayan practitioners of Tibetan medicine, or amchi, have largely remained overlooked at the Tibetan medical periphery, despite playing a central social and medical role in their communities. Power and legitimacy, religion and economic development, biomedical encounters and Indian geopolitics all intersect in the work and identities of contemporary Himalayan amchi.
Based on fine-grained ethnographic studies in Ladakh, Zangskar, Sikkim, and the Darjeeling Hills, Healing at the Periphery asks how the dynamics of capitalism, social change, and the encounter with biomedicine affect small communities on the fringes of modern India, and, conversely, what local transformations of Tibetan medicine tell us about contemporary society and health care in the Himalayas and the Tibetan world.
Available on Bookshop here: https://uk.bookshop.org/a/4863/9781478014454
"Renunciation and Longing: The Life of a Twentieth-Century Himalayan Buddhist Saint" By Annabella Pitkin
Published by the University of Chicago Press in May 2022, "Renunciation and Longing: The Life of a Twentieth-Century Himalayan Buddhist Saint" is a study that reimagines cultural continuity beyond the binary of traditional and modern through the eventful life of a Himalayan Buddhist teacher, Khunu Lama.
From the
University of Chicago Press website
:
In the early twentieth century, Khunu Lama journeyed across Tibet and India, meeting Buddhist masters while sometimes living, so his students say, on cold porridge and water. Yet this elusive wandering renunciant became a revered teacher of the Fourteenth Dalai Lama. At Khunu Lama's death in 1977, he was mourned by Himalayan nuns, Tibetan lamas, and American meditators alike. The many surviving stories about him reveal significant dimensions of Tibetan Buddhism, shedding new light on questions of religious affect and memory that reimagines cultural continuity beyond the binary of traditional and modern.
In Renunciation and Longing, Annabella Pitkin explores devotion, renunciation, and the teacher-student lineage relationship as resources for understanding Tibetan Buddhist approaches to modernity. By examining narrative accounts of the life of a remarkable twentieth-century Himalayan Buddhist and focusing on his remembered identity as a renunciant bodhisattva, Pitkin illuminates Tibetan and Himalayan practices of memory, affective connection, and mourning. Refuting long-standing caricatures of Tibetan Buddhist communities as unable to be modern because of their religious commitments, Pitkin shows instead how twentieth- and twenty-first-century Tibetan and Himalayan Buddhist narrators have used themes of renunciation, devotion, and lineage as touchstones for negotiating loss and vitalizing continuity.
Available on Bookshop here: https://uk.bookshop.org/a/4863/9780226816920
Art and Food
"Taste Tibet: Family recipes from the Himalayas" By Julie Kleeman and Yeshi Jampa
Published in by March 2022 by Murdoch Books, "Taste Tibet: Family recipes from the Himalayas" is a collection of over 80 recipes from the Tibetan plateau written for today's home cook.
From the
Murdoch Books website
:
Nourishing, simple, seasonal food that heals as well as fuels: this way of eating might be popular today, but it has been traditional in Tibet for over 8,000 years.
Create comforting soups and stews, learn the secrets of hand-pulled noodles, and everything you need to know about making and eating momo dumplings, Tibet's legendary culinary export. Award-winning food writer Julie Kleeman and Tibetan cook Yeshi Jampa interweave stories of Yeshi's childhood in Tibet, and the shared love of food that brought them together. They reveal nomadic Himalayan food culture and practices, including mindful eating and communal cooking – and a way of life that celebrates family, togetherness and respect for food.
Alongside the recipes, award-winning food writer Julie Kleeman and Tibetan cook Yeshi Jampa, who live in Oxford, UK, and run the Taste Tibet restaurant and food stall, interweave stories of Yeshi's childhood in Tibet, and the shared love of food that brought them together. They reveal nomadic Himalayan food culture and practices, including mindful eating and communal cooking – a way of life that celebrates family, togetherness and respect for food – while exploring the relationship between landscape and diet, evoking the simple, subtle and unique flavours of Tibet.
Available on Bookshop here: https://uk.bookshop.org/a/4863/9781911668428
"KESANG LAMDARK" By David Elliott, Andy Cohen, Dr Regina Höfer and Alain Kupper
Published by Skira in August 2021, "Kesang Lamdark" compiles work by the artist who has participated in numerous solo and group exhibitions around the world and his works are held in private and public collections worldwide.
From the
Skira website
:
Kesang Lamdark's life and work has been punctuated by a series of dramatic starts, shifts and turns that, radiating from Switzerland, have played out on a global scale. Such movements make little sense viewed in a logical or progressive sequence, but only begin to gel when set in a more fantastic zone – a doppelgänger of the everyday, an Alpine mirror of Tibet perhaps – where, like the folding tectonic plates that, millennia ago, created this mountain chain, time and space turn back on themselves. On this rarefied level, a state of being may well exist in which art, and the selfhood it expresses, move intuitively, untrammelled by convention or ambition.
Kesang has spent most of his life in Switzerland, his context has remained fluid as a means of survival. He has refused to be categorised in any single group. He has therefore managed to flip, without visible friction, from the gnomic towers of Zurich6 to the skyscraper canyons of Manhattan, back to the mountain retreats of Switzerland or Tibet, and then on, and on, to artists' studios, galleries, bars, clubs and dives, wherever they may be found. You could say that this propensity for shape shifting expresses his essential "Tibetanness".
Born in 1963 in Dharamsala, India, Kesang Lamdark grew up in Switzerland. His plastic sculptures and mirrored lightboxes are evidence of his displaced and multicultural upbringing. His search for an appropriate cultural space ultimately turned inwards, as he came to understand and reconnect with his Tibetan heritage while living in the West.
Available on Bookshop here: https://uk.bookshop.org/a/4863/9788857242217
Special Mentions
"Gender, Sexual/Other Identities in the Eastern Himalaya" By Dr. Mona Chettri with Ktien Hima & Nikita Rai (Eds.)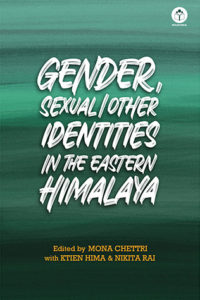 This inaugural volume frames questions of identity and belonging in the Eastern Himalaya from the perspective of Gender, Sexual and Other Identities which are often embraced, even celebrated, and yet simultaneously rendered invisible, essentialised and understood through narrow frameworks of pre-existing (and often hypocritical) societal norms. This volume aims to fill in an academic lacuna, whilst simultaneously challenging staid approaches of reading, analysing and writing about the region and the issues within. The volume represents both the dynamism and stillness that is visible and experienced by those in/from the region; while some chapters capture the changing expressions, experiences and understandings of gender and other identities, others invite us to reflect on our stories, words, actions, and society.
The chapters in this volume examine how our intersectional identities are experienced, expressed and performed. In doing so, it recognises, analyses and even challenges prevailing norms and perceptions on Gender, Sexual and Other Identities in the eastern Himalaya, as we know it.
Available at Rachna Books: https://rachnabooks.com/product/gender-sexual-other-identities-in-the-eastern-himalaya/
"We Uyghurs Have No Say: An Imprisoned Writer Speaks" By Ilham Tohti
Published in March 2022 by
Verso Books
, "We Uyghurs Have No Say: An Imprisoned Writer Speaks" is a compilation of Ilham Tohti's owne words, a collection of his plain-spoken calls for justice, scholarly explanations of the history of Xinjiang, and poignant personal reflections. While his courage and outspokenness about the plight of China's Muslim minorities is extraordinary, these essays sound a measured insistence on peace and just treatment for the Uyghurs.
Winner of the PEN/Goldsmith Freedom to Write Award and the Sakharov Prize for Freedom of Thought while imprisoned, this book is the only way to hear from a man who has been called "a Uyghur Mandela."
Available on Bookshop here: https://uk.bookshop.org/a/4863/9781839764042
"Community Still Matters: Uyghur Culture and Society in Central Asian Context" By Aysima Mirsultan, Eric Schluessel and Eset Sulaiman (Eds.)
A
new edited volume
on the history, anthropology, literature, and politics of the Uyghur homeland and beyond. This volume collects a series of studies on these themes, drawing upon the innovative work of one of the field's leading figures, Ildikó Bellér-Hann. The result is a snapshot both of the Uyghur region (and beyond) in the midst of change, and of a field of scholarship that is evolving as the voices of people from the region themselves increasingly come to the fore. More than a reflection on the genealogy of this field's knowledge and methodologies, this is a celebration of scholarly community – and of the people at its center.
Available on Amazon here: https://amzn.to/3PTisrF
"The Contest of the Fruits" By Slavs and Tatars and Guangtian Ha
A satirical poem about the rivalry of various fruits becomes a point of departure for investigations of tolerance and identity in a pluralistic world. "The Contest of the Fruits" takes a nineteenth-century Uyghur satirical poem as a departure point for investigations of language, politics, religion, humor, resilience, and resistance in a pluralistic world. Composed at the crossroads of multiple civilizations and empires and born of the Uyghurs' liminal position at the edges of Islam and the frontiers of China, The Contest of the Fruits captures a world in which borders are gateways rather than dividing lines. The poem, highly performative, embellished with verbal flourishes, and featuring the ribald rivalry of such fruits as mulberry, pomegranate, quince, and pear, may be the first Turkic rap battle.
Available on Bookshop here: https://uk.bookshop.org/a/4863/9780262542517
"Multilingual China: National, Minority and Foreign Languages" By Bob Adamson, Anwei Feng (Eds.)
"Multilingual China"
explores the dynamics of multilingualism in one of the most multilingual countries in the world. This edited collection comprises frontline empirical research into a range of important issues that arise from the presence of 55 official ethnic minority groups, plus China's search to modernize and strengthen the nation's place in the world order.
Available on Bookshop here: https://uk.bookshop.org/a/4863/9780367251031