High Peaks Pure Earth has translated an interview with contemporary Tibetan artist and set designer Yak Tseten which was carried out by Kesang Youdon for the Lhasa-based WeChat channel "Sweet Tea House" and published on their channel on October 23, 2020.
Previously, we have published translations of interviews with high profile contemporary artists such as Nortse and Gade and also a profile of Nyema Droma. Work by several of the Tibetan artists mentioned in the interview can be viewed on Google Arts and Culture.
"He Used 2700 Lhasa Beer Bottles to Build a Stupa: A Conversation about Art with Tibetan Contemporary Artist Yak Tseten" By Sweet Tea House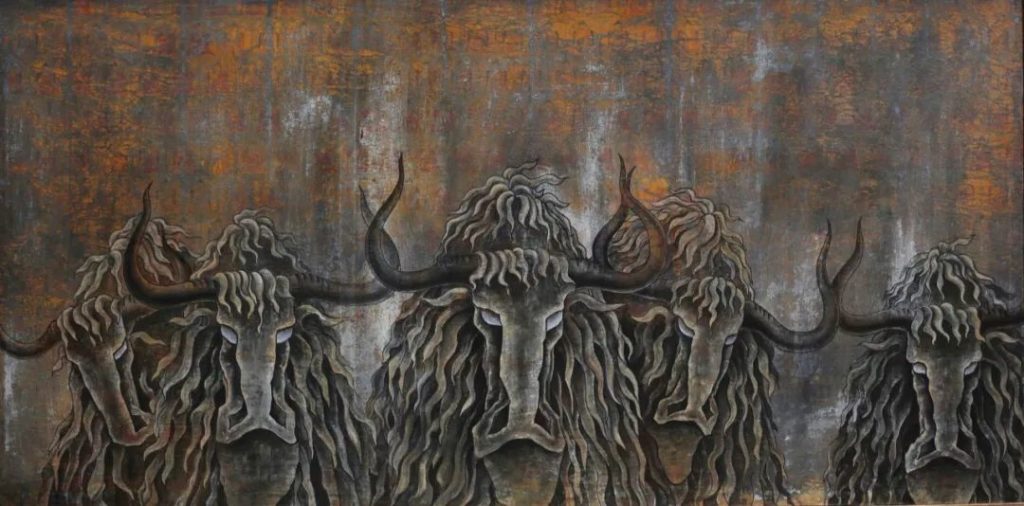 October 2020, Lhasa is once again entering its most beautiful season.
The banks of the Lhasa River, the valleys, mountains and fields are all suffused in rich golden colour and the river water that begins to branch out to expose the riverbed is still sparkling. I meet renowned artist Mr. Yak Tseten at a riverside restaurant called Akher Ting. "The yak is my self-portrait," this is how he describes himself; he is an outstanding painter, a stage designer and the chief designer of the Tibet Autonomous Region (TAR) Tibetan Opera Troupe.
When I arrive, he is just showing his most recent set of illustrations that he has drawn on his iPad to his companion. His mysterious, ethereal but still traditional painting-style immediately grabs people's attention, drawing them into the story and scenery of the painting.
Our interview then also unfolds in this unconstrained and spontaneous manner.
1. The Arak Stupa on the Damshung grasslands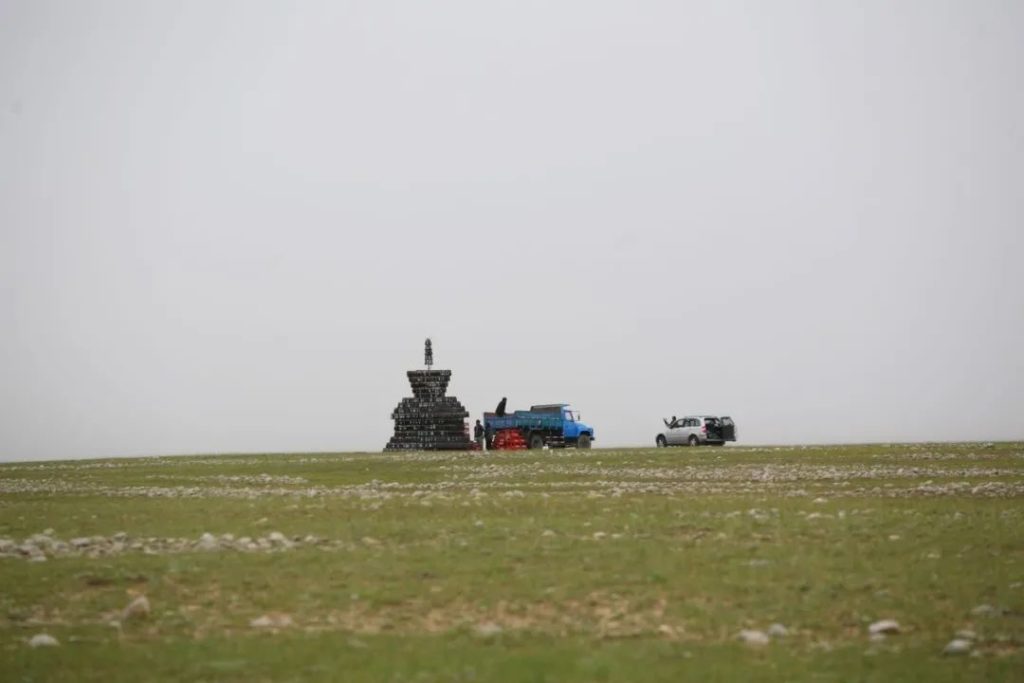 In 2010, on the vast grasslands of Damshung, next to the imposing Nyenchen Tanglha Mountains, a seven-metre-high stupa was erected.
Like most Buddhist stupas, this one also consisted of four parts: the stupa base, the stupa bottle, the upper ornamentation and the stupa top. The difference being that this stupa had been built using countless coffee-coloured beer bottles.
4200 meters above sea level, under the blue sky and white clouds, this fusion of a stupa and beer bottles appeared shocking and abrupt, like an exclamation mark in the midst of the vast northern Tibetan grasslands. Deeply thought-provoking.
But the life of this stupa was short-lived; in fact, it only remained for three days before it quietly disappeared again from the vast grasslands. Only a few herds people actually witnessed its emergence and disappearance.
It is artist Yak Tseten's large-scale art installation titled "Arak (Beer) Stupa." Together with his fellow artist Tsekal, he spent three days, 30,000 Yuan and much effort to use the language of art to communicate to the world and record what he had experienced and reflected upon.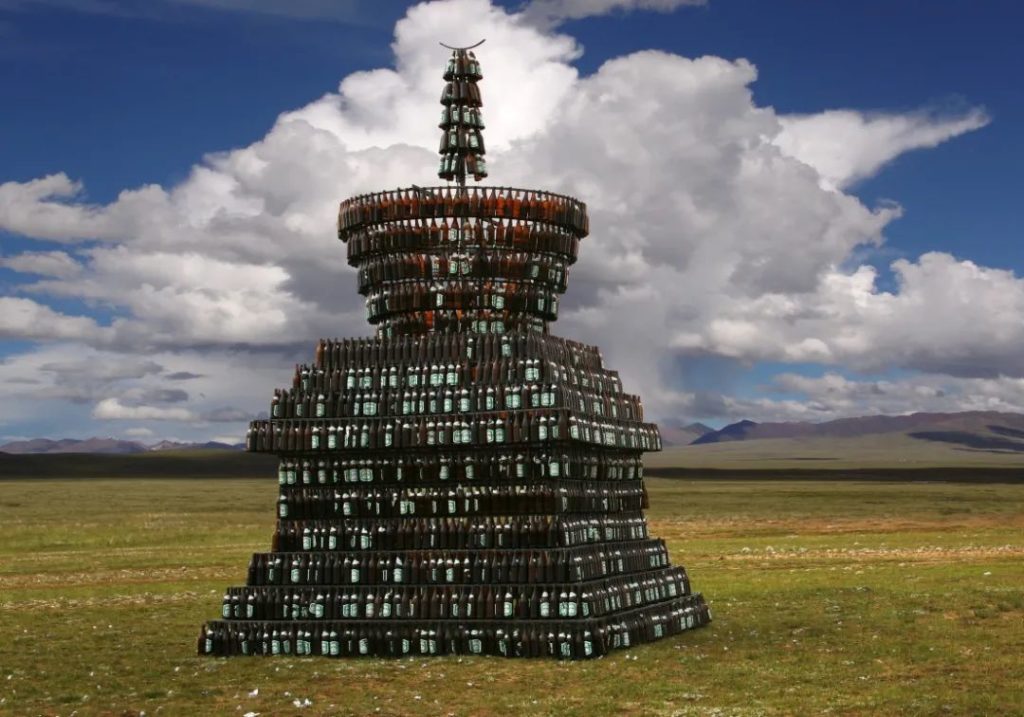 A few months later, the "Arak Stupa" appeared again at the "Scorching Sun" art gallery in Beijing's world famous art district Songzhuang, on the influential online platform CCARTD and in the academic journal "Asia-Pacific Art," the first of its kind in China. The installation set off a lively debate in the art world. Li Xianting who is generally referred to as the godfather of Chinese contemporary art wrote the following commentary: Modern culture, consumerism and secularism are eroding Tibetan culture, creating a kind of cultural mishmash and a shattered landscape; Yak Tseten and Tsekal's beer bottle stupa symbolises this cultural transformation, which actually starts from foodways."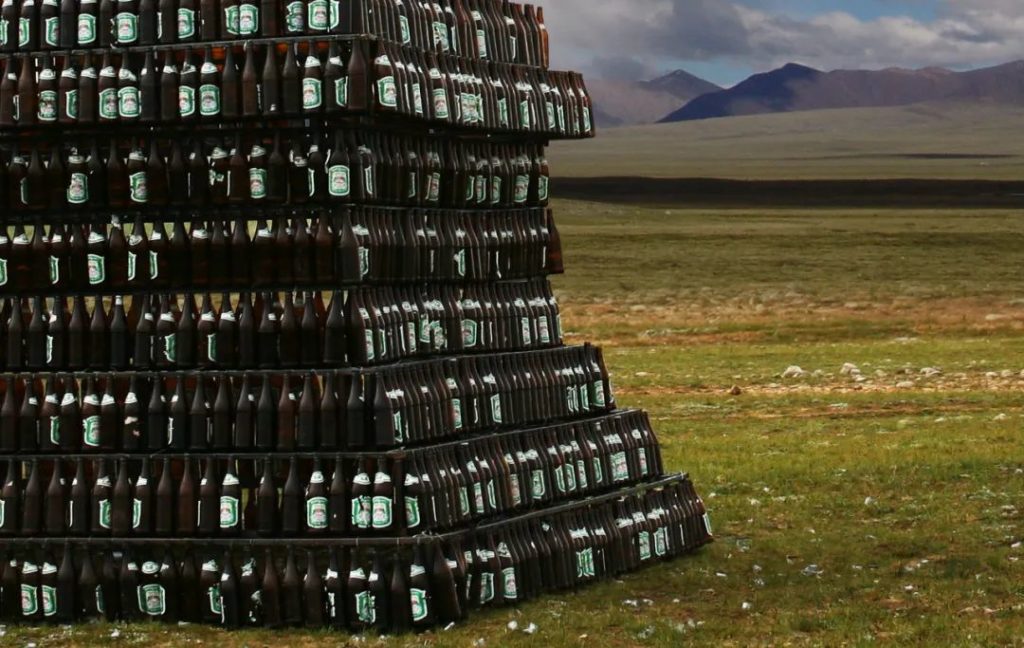 When you flip through Yak Tseten's profile, you will notice that this "Arak Stupa" is not out of the ordinary and also not really random.
Since 2004, after joining the Gedun Choephel gallery, Yak Tseten has brought several of his works to a number of important international exhibitions: the Tibetan traditional and contemporary art exhibition at London's Rossi & Rossi Gallery, the Peaceful Wind Gallery in New Mexico, the German tour of the Exhibition of Tibetan Contemporary Art, the Tibetan Contemporary Painting Exhibition of the Beijing Red Gate Gallery, and the Tibetan Contemporary Oil Painting Discussion Exhibition. He is highly regarded among many collectors at home and abroad; many of his paintings have been purchased by art collectors.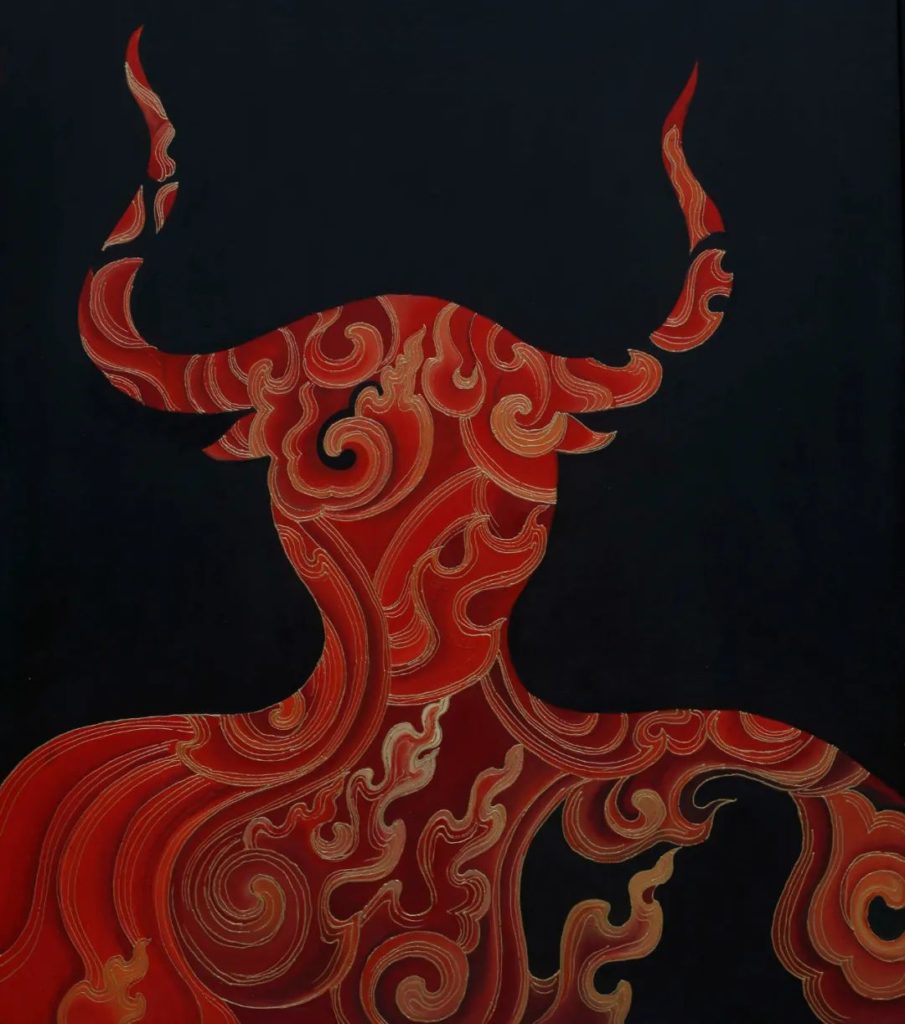 2. "The yak is my self-portrait"
A German art collector couple has been collecting Yak Tseten's paintings for five consecutive years.
But the artist and the collectors have never had any contact, there has just been mutual and unspoken trust. This kind of soul mate who will "appreciate whatever world you paint and understand whatever message you convey," is really most important and most encouraging for any artist.
In eight or nine out of ten cases, Yak Tseten's paintings involve yaks. To use his own words: "Painting yaks gives me an indescribable sense of happiness; this is why I have been focusing on them for 30 years."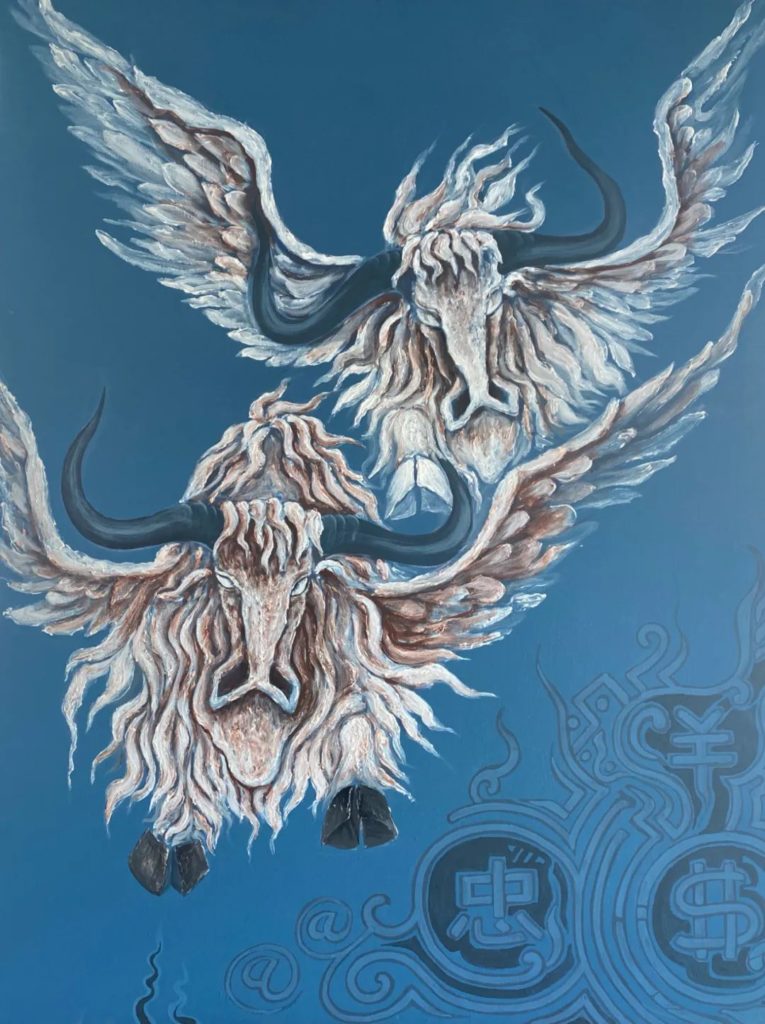 In his paintings, the yak sometimes appears as holy and pure, like a deity descending to earth; sometimes it looks like a hot-tempered yet brave and firm guardian beast with iron hoofs; other times, it looks gentle like water with its eyelids drooping and again sometimes it is blurred and obsessed, melting under blazing white flames. He has categorised these works into several series called "Ya Angels," "Strength," "The Golden Yak" or "Yak Liquefaction."
"Ya" is the transliteration of the Tibetan word for yak. In the ancient spiritual world of Tibetans, yaks represent the stars in the sky; both heaven and earth derive from yaks. Legend has it that Mt. Kailash's mountain folds are a yak's back. Yaks are both gods and demons; their powerful four limbs are intimidating, but their straightforward and loyal honesty corresponds to the spiritual characteristics of the Tibetan people. At the same time, yaks are also a source of nutrition and means of transportation in Tibetan people's daily lives. We can really say that the yaks' spiritual and material status is beyond measure. The 10th Panchen Lama once said: "Without yaks, there would be no Tibetan people."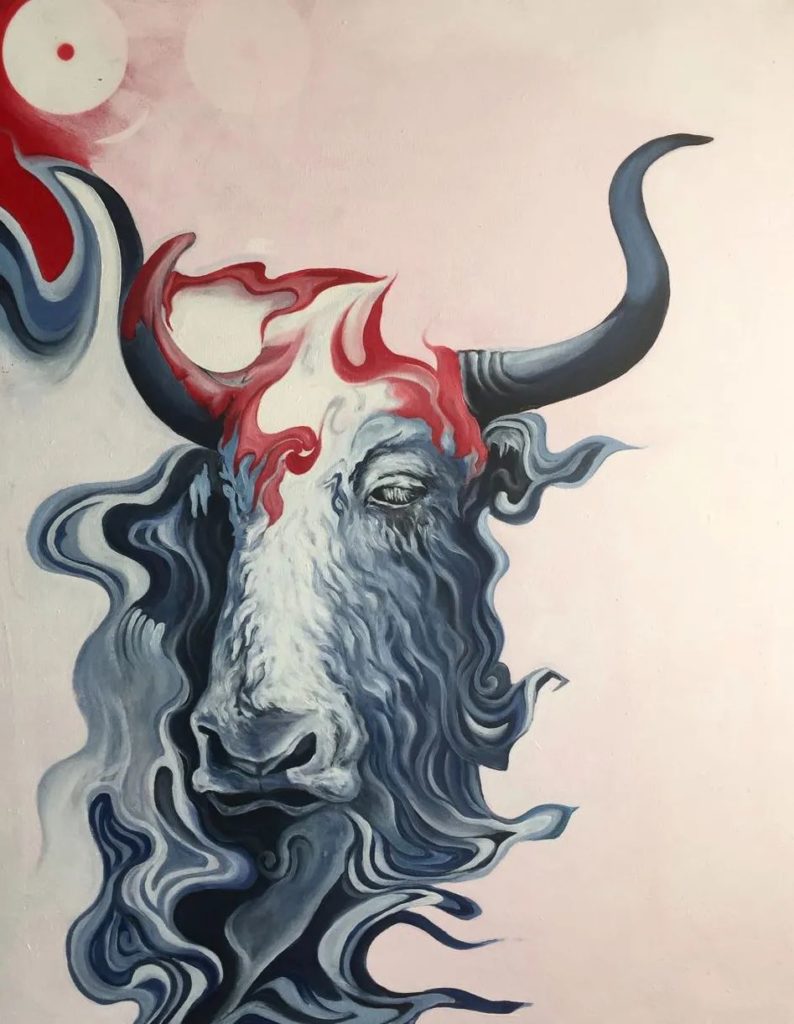 Yak Tseten's "Ya Angels series" originates from a legend that he heard when he was young. According to this story, whenever a yak is lost or encounters the unexpected in the remote and arduous valleys of the Plateau, another yak rises up from his group to guide his fellow yak and to struggle against evil. This is the "Ya Angel" hidden within any group of yaks. They are pure and beautiful, brave and good at fighting and they are the patron saints of all yaks. The "Ya Angels" in Yak Tseten's paintings appear to understand all living beings, they are as white as snow, fluttering their wings and rising high to break through the siege and save earthly life. After an initial shock, the audience will feel at ease and a wonderful sense of comfort. This is really quite remarkable.
The series titled "Strength" and "Golden Yak" are full of a majestic and awe-inspiring power. But from Yak Tseten's exquisite art, you can also sense the yaks' vast historical and cultural significance. An indestructible momentum that has been present since ancient times is conveyed, condensed on the old Tibetan paper, presenting an unstoppable strength. In contrast, the "Golden Yak" series is rather different; these paintings always include magical clouds, which relates to yaks' current precious identity but simultaneously endangered status. It is not hard to understand the deeper meaning that the artist wants to convey.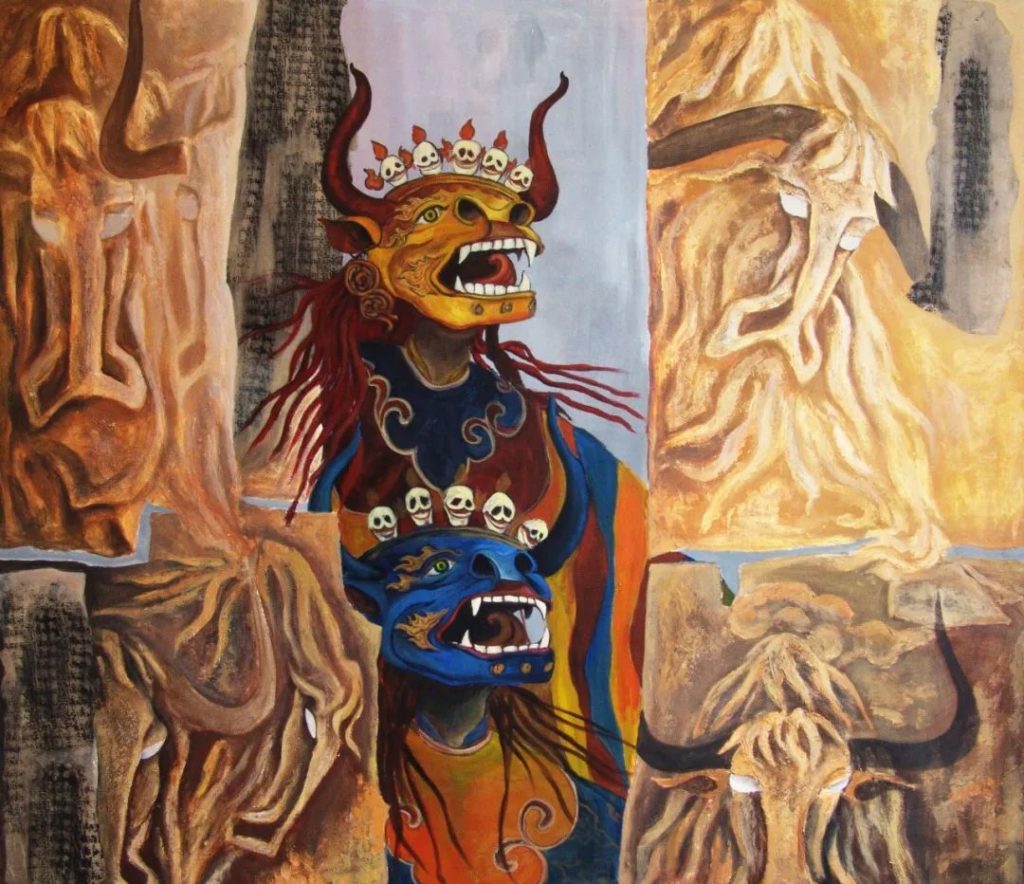 "Liquefaction" is a series that relies on Photoshop to process paintings. It uses a yak as the backdrop and, by means of "liquefaction," it expresses the collision and amalgamation of different cultures and the many shapes of people under the impact of globalisation. What specific forms do we see? There is no standard answer, we see the shapes that present themselves to us at the moment of looking at the painting. We can regard this as a new style of painting that touches us in our inner world and makes us stay on and enjoy the moment.
3. Reflection: Tibetan Contemporary Art
Yak Tseten has been painting yaks since 1985.
He had just graduated from the Tibet University. His graduation work was titled "Five Yaks Painting," which together with another piece "Magic Clouds of the Potala Palace" were published in "Tibetan Literature and Art" and "Contemporary Tibetan Art," respectively and determined his subsequent artistic journey.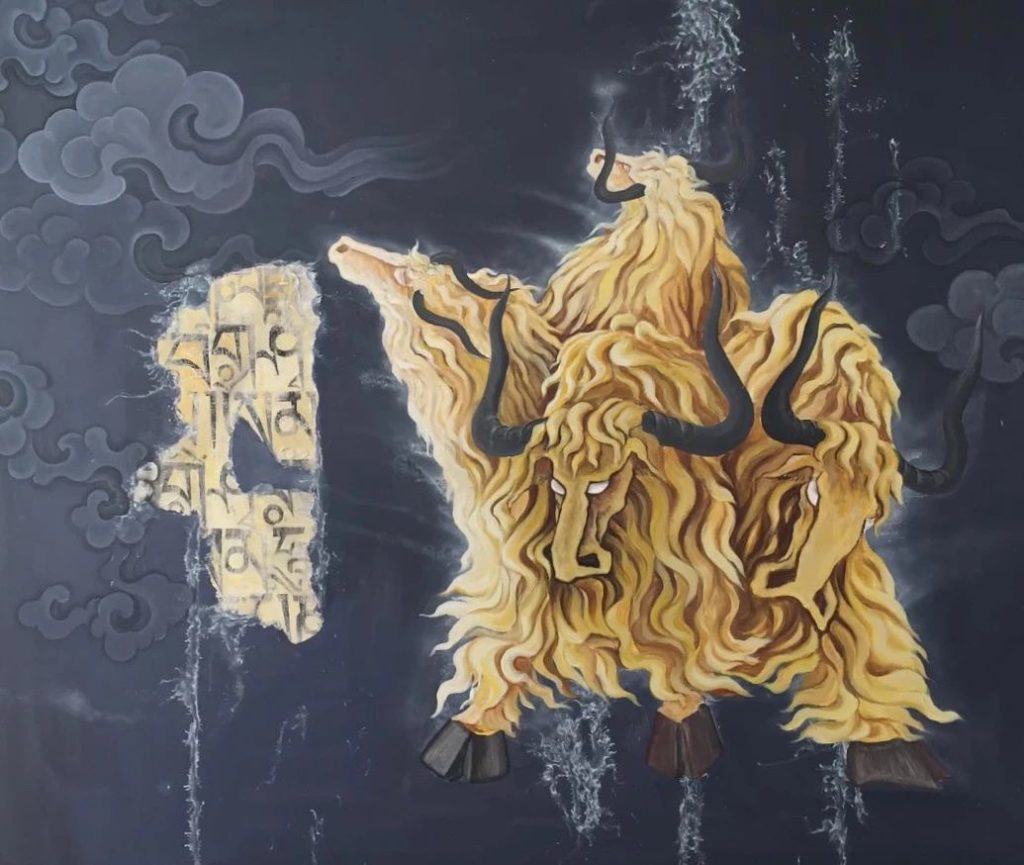 It was also at the end of the 1980s that Gonkar Gyatso and other teachers and students of the Tibet University established the "Sweet Tea House" school of artists which became the foundation for the subsequent development of Tibetan contemporary art.
In 2003, on the occasion of the 100th birthday of Gedun Choephel, the very first contemporary Tibetan artists guild–the Gedun Choephel Artists Guild–was established and was followed by the opening of the first Gedun Choephel contemporary art space one year later. The gallery's introduction reads: A group of children born in the 1960s and 70s experienced the death of Mao Zedong, food rationing and the Cultural Revolution. They passed on all that this generation experienced. They like to listen to rock music and drink beer all night, but they live on Tibetan land and precisely because they love (this land) and have a different understanding of contemporary art, they have come together. In 2003, on the occasion of the 100th birthday of Gedun Choephel, they jointly founded the "Gedun Choephel Artists Guild," as they felt they had the same unconventional spirit as Gedun Choephel did. This group of energetic young people did not only devote their lives to painting to make a living, but also to express and convey to the world their unique thoughts and feelings.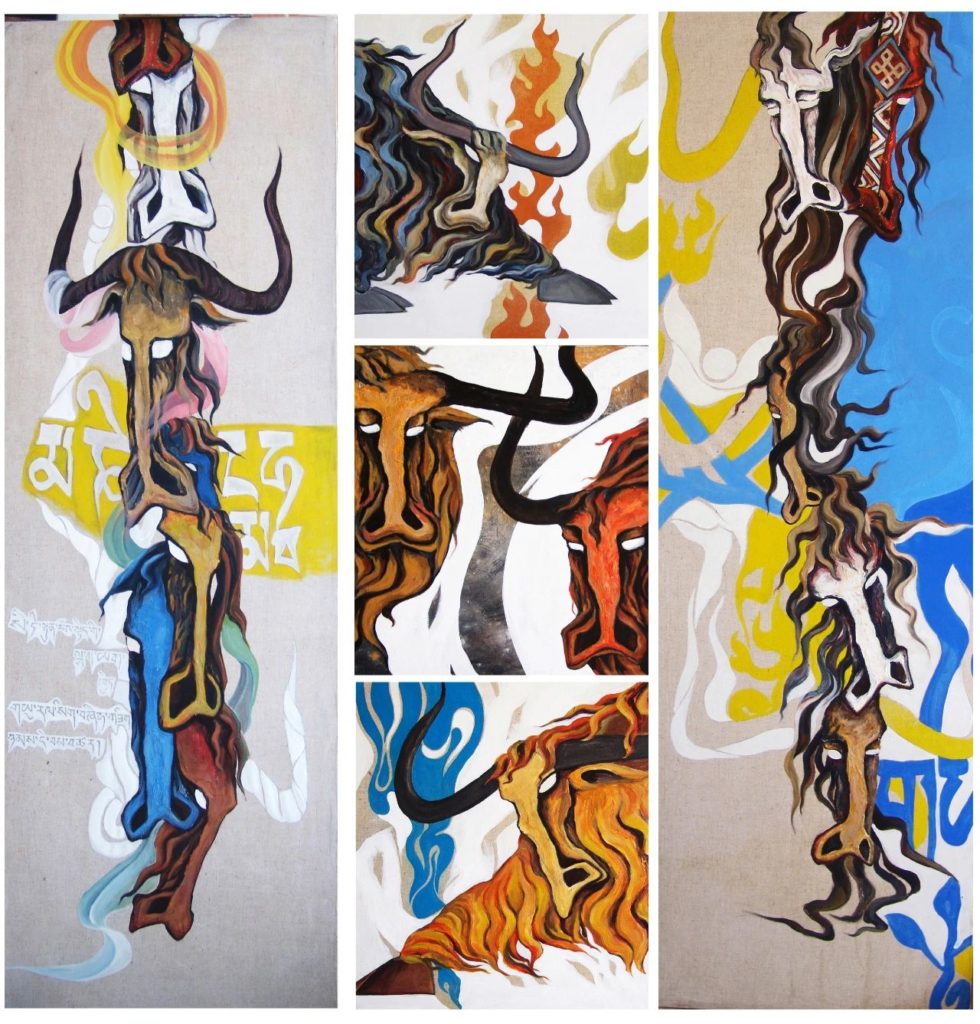 Having their own platform, the usually silent local Tibetan artists became active. Sticking to their principle of "presenting reality," they began studying and absorbing national and international contemporary art movements and their achievements and combining them with local elements to freely produce art works using all kinds of new media, like performing arts, photography, installations, and pop culture. Being among the first members, Yak Tseten and others paved the road for rapid artistic development.
Today's Tibetan contemporary art is opening up, showing itself in full bloom. From Tsewang Tashi's "Shangri-la" to Gonkar Gyatso's "Modern Reincarnation;" From Gade's "Ice Buddha" to Sherab Gyaltsen and Tenzin Yangzom's "Root Mandala Series;" from Yak Tseten and Tsekal's "Arak Stupa" to local fashion photography by Nyedron, a young woman born in the 1990s. Tibetan contemporary artists are currently enthusiastically embracing external cultural influences and freeing themselves from the control of ideology and consumerism, establishing their own independent artistic language and using a variety of vanguard means to innovate Tibetan art and culture. They proactively and bravely face up to the cultural, artistic and personal issues that they encounter along their way.①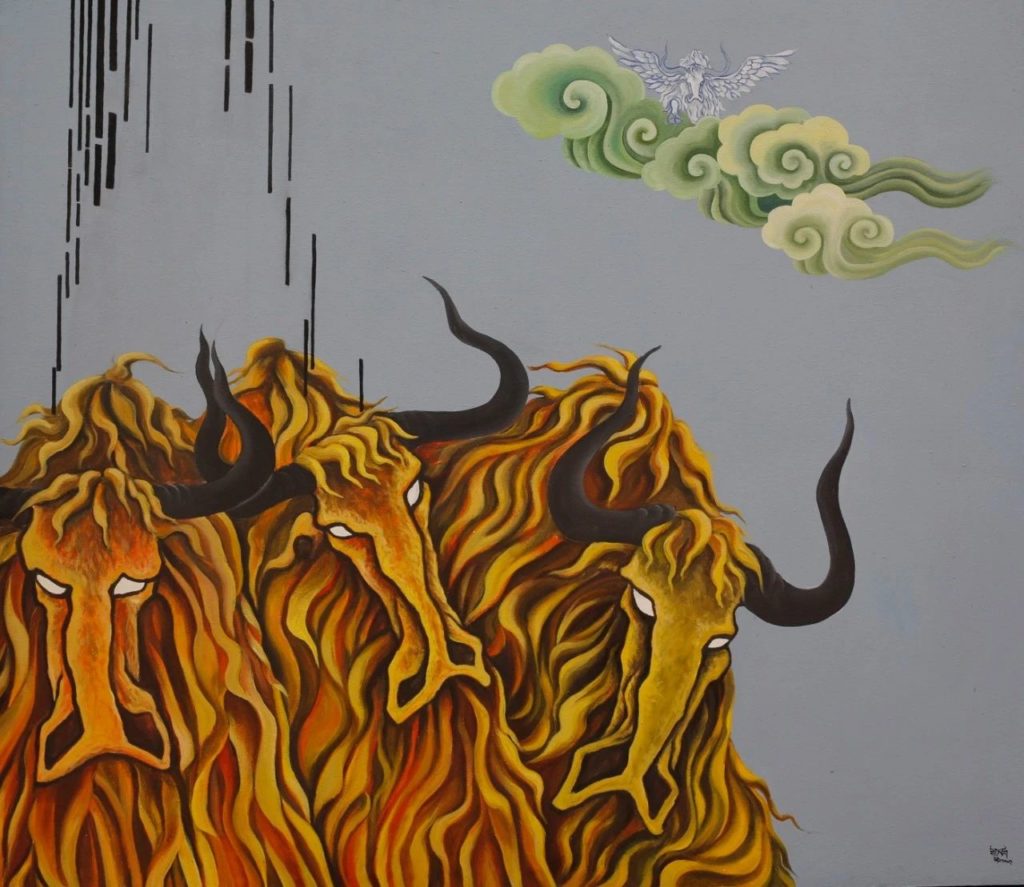 In 2020, due to the pandemic, the entire economy was in bad shape, but Lhasa's art market was even more lively than in previous years. In the second half of 2020 alone, seven art exhibitions were held in Lhasa. The reactions were very positive and what is particularly noteworthy is the emergence of local Tibetan art collectors. This is a subtle, yet important and exciting shift for the artist community. It means that in Lhasa, this ancient cultural city on the plateau, the art and culture market is developing in a positive direction, especially as people's spiritual and cultural needs are steadily increasing.
"The ultimate definition of human wealth is not gold and silver, but the works of artists," Yak Tseten said with a smile, "this is the best time for artistic expression."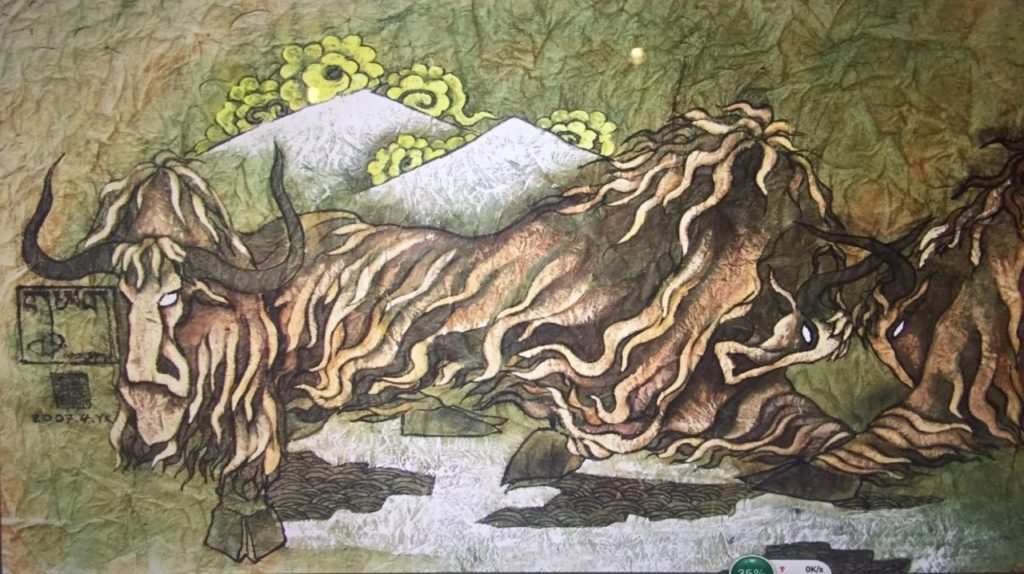 4. "But at the end of the day, I am a painter"
Yak Tseten is not only producing yak paintings and other art works, he is also a professional and well-known set designer.
In fact, before he retired, this was his official job. He was the chief designer of the TAR Tibetan Opera Troupe. The sets for the famous operas "Nangsa Woebum", "Pema Woebar", "Choegyal Norsang" or "Drowa Sangmo" were all designed by him. Before important annual festivals, he would receive various invitations to go to Qinghai, Gansu or other places to do the set design for classic Tibetan dramas, like "Songtsen Gampo" and "Thangtong Gyalpo". In 2018, he was awarded the "National Arts Fund Best Play Award" for his design of "Songtsen Gampo" in the Kanlho Autonomous Prefecture of Gansu province.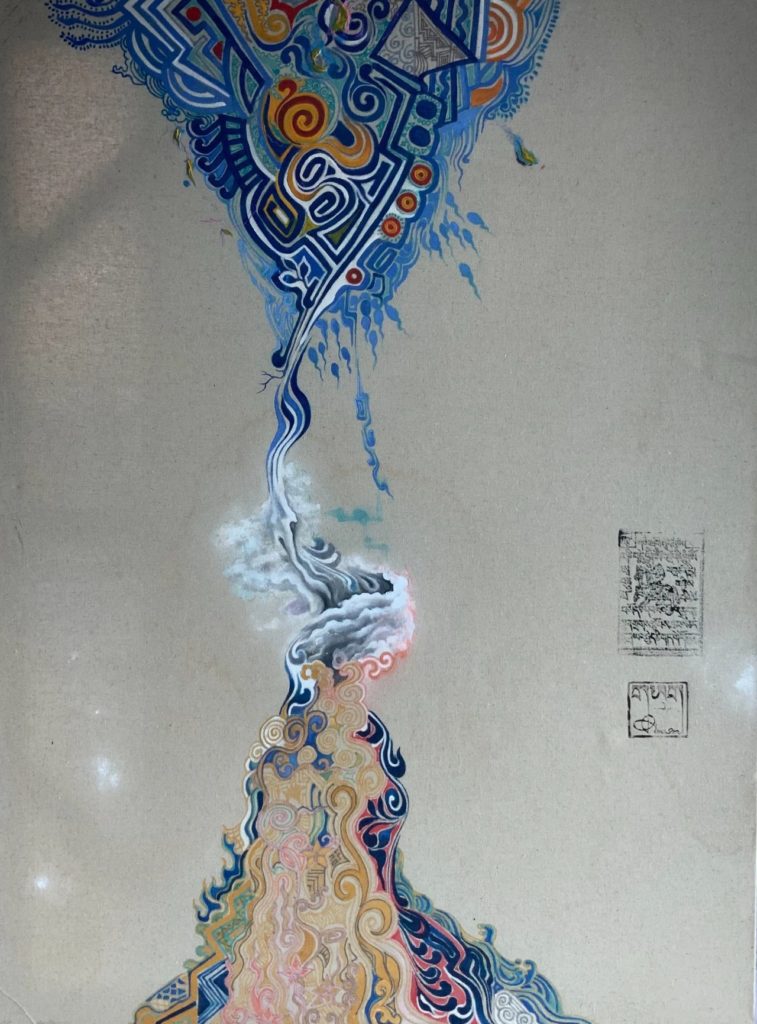 Yak Tseten has his own innocent and pure spiritual world, but he is not out of touch. His daughter likes Korean-style brands and so does he.
It is easy for him to innovate his works by playing with new media, he likes to keep up to date and quickly accepts new things. He tries out many new and even quite courageous art forms, because he is convinced that art needs to be diverse.
Occasionally, he would pause for a moment and sigh humorously: "sometimes I feel really depressed, because my interests are so wide, my curiosity is so boundless, I am afraid I will never finish anything!"
You can feel the great pleasure and satisfaction that artistic creation gives him.
"But at the end of the day, I am a painter," Mr. Yak Tseten says, "a painter who paints yaks." "Otherwise, why would I be called Yak Tseten?"②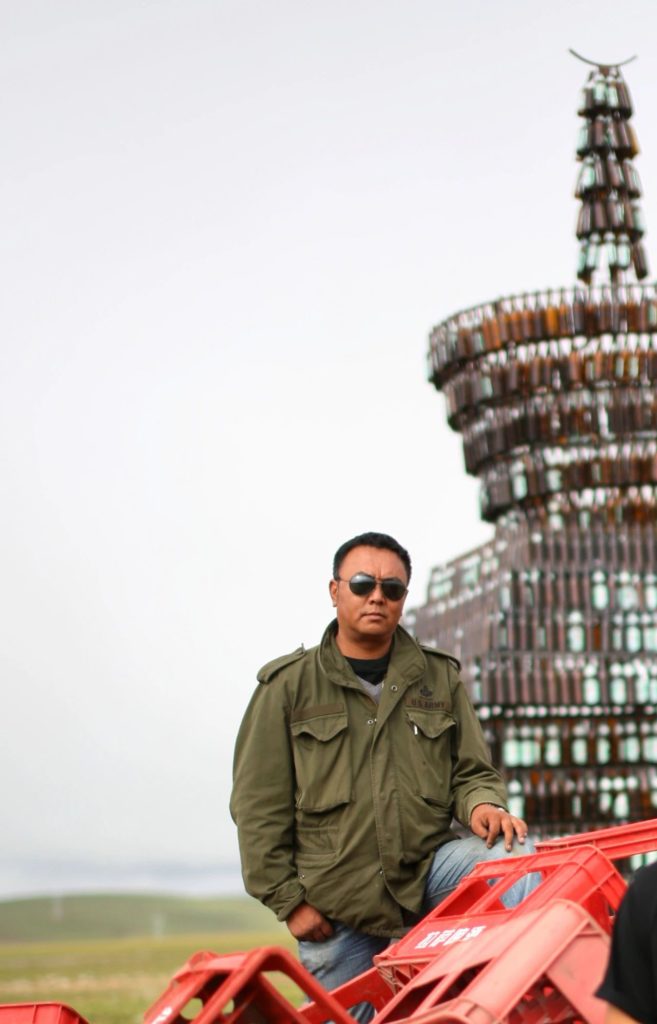 Finally, a little taster of what is to come. At the outset, I mentioned Mr. Yak Tseten's new set of illustrations that are both ethereal and traditional; they are related to the Sweet Tea House series that our readers love so much: the "Female Ghost of the Lhasa Tromsikhang Butcher Shop". So stay tuned!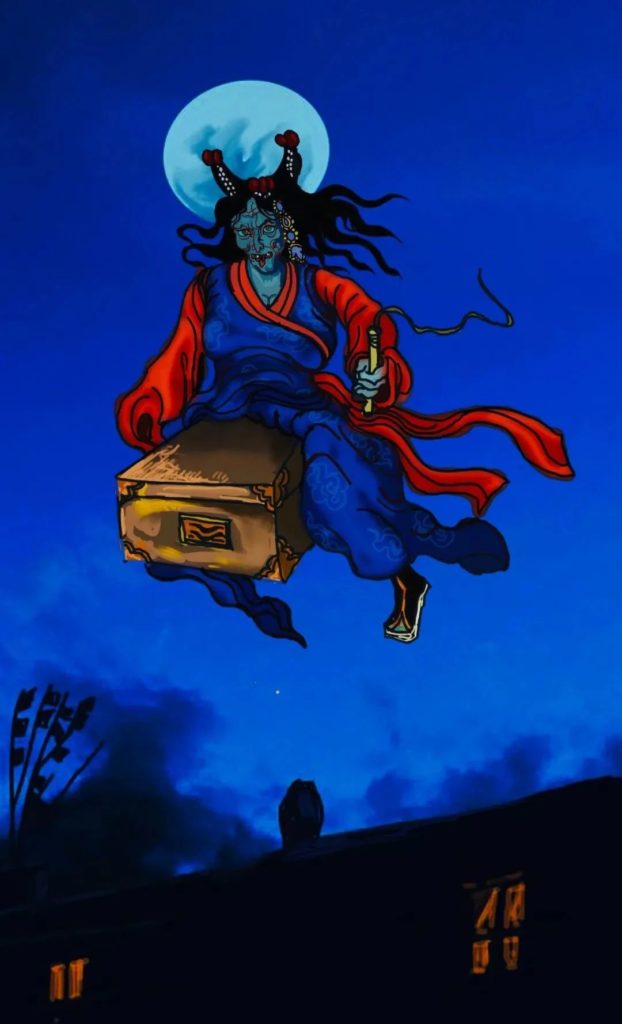 Footnotes:
① Reference: "Gedun Choephel and Tibetan Contemporary Artists" by Gandig
② His real name is Weidong, Yak Tseten is a pseudonym that he gave himself. It means "Yak longevity."