High Peaks Pure Earth has translated a blogpost by a Tibetan blogger from Amdo who keeps a blog on the Tibetan-language blog-hosting site called "AmdoTibet". The blogpost was written on June 1, 2011 and posted online on June 12, 2011.

In the blogpost, the blogger expresses concern after hearing that an airport will be built in his hometown, particularly over an increased military presence, quality of housing and the beginning of the urbanisation of the area.

The previous post on High Peaks Pure Earth about contaminated drinking water around Kumbum Monastery also addresses the problems for locals that intense development can bring. This report by the International Campaign for Tibet, also about Amdo, expands on the issues and states that "more than 30,000 farmers had been moved off their land […], in order to facilitate the expansion of Ganhetan Industrial District".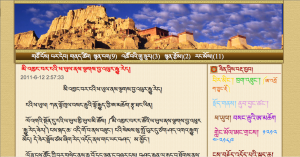 Screenshot of the Blog Hosted on AmdoTibet.cn
Before Long, Planes will Fly in my Hometown
My hometown is Amchok, the grassland on the southern bank of Sangchu River in South Gansu Prefecture. A few years earlier, people in my hometown were saying that in the near future there would be planes flying over our hometown. Since I heard these words, I have had pangs in my heart. But I haven't said anything about it as I thought it was just a rumour.
As months and years have flown by like a river, the rumour has become true and works have begun in my hometown before my eyes.
The news was announced in the Southern Gansu Newspaper. It was the year when I returned home just after I finished university. A notice was posted by a bank near my hometown, announcing the project had started. Finally this proved to me it was no longer a rumour.
The idle chatter has turned out to be true. The first step for planes to be able to fly over my hometown has commenced. During May 1, Labour Day holiday, I was back home. Some cadres, doctors, and some teachers arrived by car and visited every family with notices. They said that these papers were the official papers from the County government, and from tomorrow the project would be started. Also they said that some soldiers would guard the area and they warned us not to let the children play there. The people were asked to sign an acknowledgement and were given papers to sign.
Anyway, very soon planes will be flying over my hometown. Now there is another talking point in my hometown, people are saying: "after completing the airport project, our current homes will be destroyed completely and new buildings will be built because the current houses will be not be able to stand when the planes fly". These are the most reliable predictions of my hometown by people, based on what they know. In addition, building an airport could also be the first steps towards the building of a new city.
Evening of June 1, 2011