Having previously reported various closures and 'technical maintenance' incidents related to Tibetan language blogs, High Peaks Pure Earth is happy to report that the highly popular Tibetan language website www.tibetabc.cn is back online!
We haven't gone through each of the posts to see if any have been sanitised and cleansed of any inappropriate thoughts but just at quick glance, it appears that many of the previous posts are intact. Jamyang Kyi's previous posts haven't been removed either.
The return of the site is welcomed by netizens with many celebratory odes. All Tibetan netizens agree that the Tibetan language websites and forums are vital to the flourishing of Tibetan language and its use. The Tibetan creator of the website and other writers and intellectuals argue that making a Tibetan language that is vibrant and used daily, especially the written language, is the most important task of all. Without turning the Tibetan language into a language of everyday practice, its vibrancy will be lost.
High Peaks Pure Earth has translated two posts, which reflect the happiness felt by Tibetan netizens.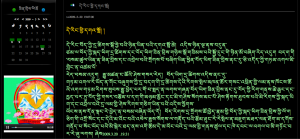 http://www.tibetabc.cn/u/sosang/archives/2009/200932019751.html
A Joyous Day 20th March 2009
Today is the day the Tibetan language blog has been re-opened. Over the last five or seven days, the blog has been closed. In my opinion, it is better not to post anything that "exceeds the limit" (gtam 'gal) if you are a real friend of the blog. Since everyone knows the reason, I do not have to tell you about this in detail. All the unsuitable comments on the blog will be deleted, but comments on the ten minor and five major sciences of Tibetan culture are welcome, especially on Tibetan literature. In order to keep the Tibetan language blog running; we appeal for your support for our work by posting comments that will bring only benefits for the blog.
Under this post a comment reads:



On the joyous day of 10 March in the Land of Snows, Golog Kunga Tsangyang (mgo log kun dga' tshangs dbyans) was suddenly arrested. At the moment he is probably in the city prison (grong khyer btson khang).
For this second posting, High Peaks Pure Earth has translated a celebratory poem: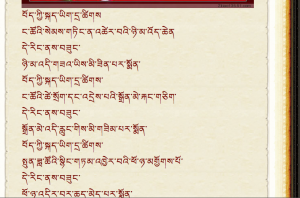 http://www.tibetabc.cn/u/xueyuhanzi/archives/2009/2009320195322.html
Tibetan language website
The radiating light of our hearts
From today
Lets hope that the light may not be eclipsed
Tibetan language website
The single lamp that is the thread of our souls
From today
I hope that it may not be blown away by the wind
Tibetan language website
The messenger for the souls of compatriots
From today
I hope that the noble messenger may be free of all obstacles.