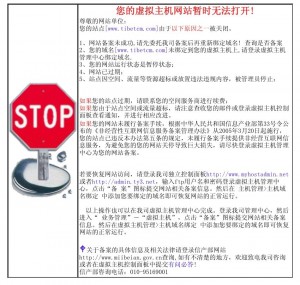 High Peaks Pure Earth has been thwarted again in bringing translations from Tibetan blogs to an English-speaking audience. We have lost access to two major Tibetan language blog and discussion forums. The usually active www.tibetcm.com has definitely been closed down, the photo above is a screenshot of the government closure notice. The very popular www.tibetabc.cn (which hosts Jamyang Kyi's blog, amongst others) is not loading now – no reasons are given.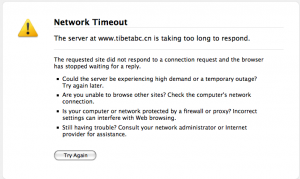 Having reported earlier that Tibetan blogs and discussion forums are suddenly undergoing "maintenance" in this sensitive period, High Peaks Pure Earth has also translated a blogpost by Woeser that was posted on her blog on 9th March 2009 and deals with disrupted communications. High Peaks Pure Earth readers are invited to draw their own conclusions!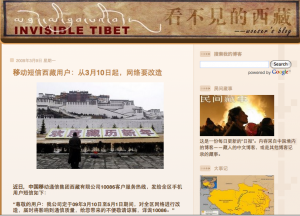 "China Mobile Texts Users: Network Renovations to Start March 10
"
by Woeser

Recently, the China Mobile Group Tibet Ltd. 10086 customer service hotline sent this short cell phone message to all its subscribers in the Tibetan Autonomous Region:
"Dear customers, our company has decided to renovate our network during the period March 10 to May 1. This will have some effects on the quality of communications. We ask for your understanding of the inconvenience this will cause. For more information call 100086"
It has been learned that from mid-February 2009, cell phone messaging service has been cut off in 18 counties of Ganzi (Kardze) Prefecture with Internet service being cutoff as well. Currently, Internet service has been restored only in Kangding County, however cell phone messaging remains blocked there. Cell phone messaging and internet service remain blocked in all the other counties of Ganzi Prefecture.
Moreover in Aba Prefecture, in the counties considered the most sensitive: Hongyuan County, Ruo'ergai County, and Rangtang County, internet and cell phone messaging service are also cut off.
All telephone calls to Tibetan areas within China from outside China are blocked.
Some private Tibetan websites such as the Tibetan's Culture Website tibetcul.cn and the Tibetan Buddhism website "Kamageju China Forum" have been asked to "close for maintenance".
Now that they have cut off Tibetan areas from the outside world and deployed many soldiers to Tibetan areas, what do they intend to do?