Following on from the huge popularity of their music video "New Generation", High Peaks Pure Earth has translated another song by Yudrug called "Waterfall of Youth – Dhondup Gyal".
The song was uploaded onto their blog on November 27, 2010 and is a paean to writer, poet and critic, Dhondup Gyal (དོན་འགྲུབ་རྒྱལ་ – 'Don rgrub rgyal). Dhondup Gyal was born in 1953 in Chentsa (གཅན་ཚ་ gcan tsha, Amdo, located today in Qinghai province) and is widely considered to be the father of modern Tibetan literature. Dhondup Gyal wrote under the penname of "Rangdrol", meaning self-liberated. This is indicative of his limpid nationalistic bent and can be taken to have both a Buddhist meaning and modern political connotations. The title of Yudrug's song is taken from Dhondup Gyal's groundbreaking 1983 poem "Waterfall of Youth" (ལང་ཚོའི་རྦབ་ཆུ – lang tsho'i rbab chu) that caused a sensation when it was published, both for its radical literary innovation and bold nationalistic sentiments.
In his essay "The Waterfall and Fragrant Flowers", Tibetan historian Tsering Shakya writes: "The poem fervently appealed to Tibetans to embrace modernism as a means of regenerating their culture and national pride, and beseeched the youth to shake off the past and march proudly towards their future."
The essay "The Waterfall and Fragrant Flowers", along with an English translation of the poem "Waterfall of Youth" featured in a special edition of academic journal "Manoa" titled "Song of the Snow Lion", published in 2000 by University of Hawai'i Press. In a review of "Manoa" published by "New Left Review", eminent literary critic Henry Zhao called "Waterfall of Youth" by Dhondup Gyal "powerful" and "somewhat Mayakovskyan in accent, conceived as a manifesto for a national literature."
As Shakya writes, "[…] Boldness in style and politics was characteristic of Dhondup Gyal's writings. For the first time, the possibility emerged that, through-the medium of poetry and fiction, a genuine discourse on Tibetan modernity could occur. At stake were the future direction of Tibet and Tibetan identity in the latter half of the twentieth century." Interestingly, the term "lang tsho" has no direct English translation. The word could be translated as "youth", but this does not fully convey its connotations − it rather refers to the peak of youthfulness. It is the period when young men or women reach their peak in physical development, and there is an implicit connotation of energy and vitality in the word. The torrent and the force of the waterfall are metaphors for the burning desire for freedom, modernism and innovation. The energy generated by the torrent of the Waterfall became a metaphor for the pent-up vision of the younger generation of Tibetans. After their innovative and modern hip-hop song and music video "New Generation", it seems as though Yudrug have adopted "Youth" as their signature theme, taking their cue and energy and inspiration from Dhondup Gyal's words.
High Peaks Pure Earth has also noticed a revival of Dhondup Gyal online in recent months, with many Tibetan netizens sharing his poems and photo on their blogs and social networking pages such as these images below: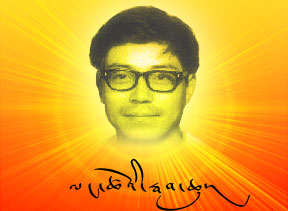 Waterfall of Youth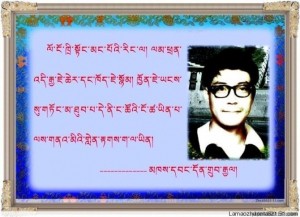 Excerpt from Dhondup Gyal's "The Narrow Path"
Yudrug's music video "Waterfall of Youth – Dhondup Gyal" has generally been enthusiastically received by Tibetan netizens. Comments on the video have typically praised both Yudrug and Dhondup Gyal, such as these on the Chinese language Tibetan site TibetCul:
I really support them, they are the essence of we Tibetans !!!!!!!!!

The bright shining star of Tibetan literature deserving of praise! The lyrics are lively, the singing is also passionate! Hope that Tibetan literary circles will forever be permeated by Waterfall of Youth!
The main criticism towards Yudrug is evidently that they mainly sing the song using the Chinese language:

If it were sung in Tibetan, it would be even better.

Why aren't you singing in Tibetan???
Dhondup Gyal committed suicide in 1985, he was 32. Below is the English translation of the lyrics to "Waterfall of Youth", High Peaks Pure Earth has not subtitled the middle part of the song, the Tibetan rap is lifted from the "Waterfall of Youth" poem. Similarly, the Tibetan at the start and end of the song are also taken from the poem and are indicated in italics.

"Waterfall of Youth – Dhondup Gyal"
Lyrics: Duozhihe
Composition: Yudrug (Green Dragon)
Performed by: Yudrug (Green Dragon)
Directed by: Duozhihe
The clear blue sky,
The warmth of the sun,
The fragrant flowers,
The majestic mountains-

Aima!

But even more beautiful than these,
a cascading waterfall
before a steep cliff
Your life has been full of legendary character
Your spirit is full of wisdom and divine light
Your story will be passed on by many generations
Dhondup Gyal, you are the pride of the people of Chentsa
You've opened the door to wisdom for our people
You've welcomed the ordinary people of a later generation
You've written something that has defined our past
You've set up an everlasting tablet on which to inscribe the future
Dhondup Gyal, Dhondup Gyal, Dhondup Gyal…
Although your life was very, very short
But your journey was very, very long
In the course of history
You are a single glittering pearl
(glittering pearl)
(Tibetan Rap)
Your youth was bursting with vitality
Your students have already filled the sky like peach blossoms
Your brilliant successors ceaselessly praise you
Dhondup Gyal, you are the pride of the Snowland
You've planted the seeds for a golden field here
You've draped an auspicious rainbow over this snow mountain
You've left a wealth of knowledge from yesterday
And opened a golden pathway for tomorrow
Dhondup Gyal, Dhondup Gyal, Dhondup Gyal
Although your life was very, very short
But your heart flew very, very high
In the vast darkness of the night
You are that one single bright shining star
(shining star)
Dhondup Gyal, Dhondup Gyal, Dhondup Gyal
The bright road
Pride in responsibility
Joyous life
Song of struggle

The youthful waterfall will not diminish
The water will never become impure

This is!
The waterfall springs from the voices of the youth of Tibet

This is!
The waterfall flows from the mind of the youth of the Land of Snows
Translation by High Peaks Pure Earth
[Ends]
Read Tsering Shakya's English translation of "Waterfall of Youth" here:
http://tibetwrites.org/?Waterfall-of-Youth
Read "Waterfall of Youth" in the original Tibetan here:
http://www.tibetcm.com/html/list_20/94dc4c3b995ab0fc3079d96d777ec7fc/
Read "Waterfall of Youth" in Chinese here:
http://reganglin.tibetcul.com/56426.html