High Peaks Pure Earth has translated a poem titled "Mourning" by a Tibetan blogger named Sengdor, the poem was posted online on October 11, 2011.

On October 7, 2011, two former monks from Kirti Monastery in eastern Tibet set fire to themselves in Ngaba county town and later died from their wounds. This string of self-immolations in Ngaba continue, with news of another self-immolation just yesterday, an emotionally distressing time for Tibetans inside and outside Tibet.

The poem "Mourning" is a response to these self-immolations and the post has received over 1000 views and 40 comments. To avoid repetition, High Peaks Pure Earth has translated just four of the comments below.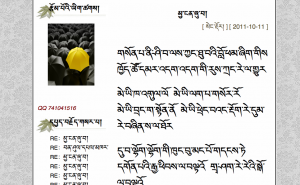 "Mourning"
By Sengdor
The sadness of living is more painful than death
Unbearable sorrow turned you all into glowing red skeletons
The mouth quivers with flames
The hands are pierced with flames
Flames burn in the breast
Rosary beads of fire scatter to the ground
Look at the smoke rising
from the monastery's golden roof
Look at the doors of each monk's cell
In every moment
After a storm bursts on one grassland
Another storm bursts on the other grassland
Following the direction of the wind
Dark shadows move accordingly

**********************************  Written on one night of October 2011
Comments:

#27. The light which is set on by the lives of the two heroes will shine their way and I believe the truth will eventually prevail. My condolences with a pulsating heart.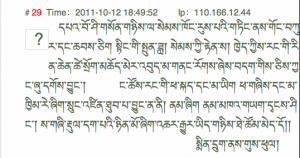 #29. I want to express my great respect to both the dead and living heroes. In the meantime, I want to say that the body, the base of the mind, should not be offered as a butter-lamp offering. If we were able to keep our language alive, protect the land of our father and house of our mother, the sky would turn into blue and the sun would rise from behind the clouds again. From Mindrug.

#30. A soul of determination disappeared in the grassland, warm blood washed over the snow mountain and a burden called for attention.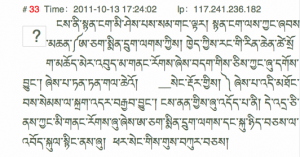 #33. I saw Mr. Gethiong and Sister Mindrug express their condolences. Thank you very much. Sister Mindrug said "It is important to keep your mind and that you should not offer your body as a butter-lamp offering." By Sengdor.