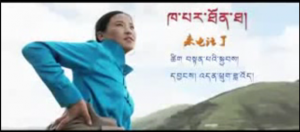 Screen Title of the music video for "Telephone Rang"

Following on from our earlier blogpost featuring two music videos about Tibetan unity, High Peaks Pure Earth has translated "Telephone Rang", another song on the same topic, this time by a Tibetan female singer called Lhakyi.
The singers of "Mentally Return" and "The Sound of Unity" sang about the unity of Tibetans from all three provinces of Tibet, U-Tsang, Kham and Amdo. In the song "Telephone Rang", Lhakyi imagines a day when Tibetans in Tibet are informed, through a phone call, of the return of His Holiness (also referred to in the song using various metaphors) and thus a day when Tibetans inside and outside Tibet are reunited.

The music video for the song has been on many Chinese video-hosting sites since March 2010 such as Tudou and Ku6 and is taken from Lhakyi's album "The Barley Carrying Girl". From the comments left by Tibetan netizens below the videos, it is evident that the song is popular and has resonated. Below are translations of selected comments taken from the sites mentioned above:
Great,
Your song is really nice.
We all are waiting for the return of our great teacher
Waiting………. Waiting……..
Keep it up! Really good, I feel proud that we have such a fine woman as yourself
Keep it up! You are the future of we Tibetans
Keep going, the future of Tibetans is you
Beautifully sung, forever in support of you Lhakyi, you are my pride!
You are our pride, I will forever support you
Well sung, I support you, keep it up
You are the best, I will support you forever, keep it up
Great!
Below is the subtitled video for "Telephone Rang" and, for those with slower internet connections, the MP3 file is below as well to be listened to or downloaded from SoundCloud. The English translation of the lyrics to "Telephone Rang" is below the music video.
"Telephone Rang"
Lyrics: Tenzin Gyab
Composition: Denkhrug Dawoe
The telephone rang, the telephone rang
The phone call was from the peak of the Land of Snows
A whisper said that the Snowlion is to return
Let the people of the Land of Snows enjoy and celebrate!
Tibetans within and without Tibet will soon reunite
The telephone rang, the telephone rang
The phone call was from the dense forest
A whisper said that the Forest Tiger is to return
Let ruddy faced Tibetans celebrate!
Tibetans within and without Tibet will soon reunite
The telephone rang, the telephone rang
The phone call was from central Tibet
A whisper said that His Holiness is to return
Let Tibetans from the three provinces enjoy and celebrate!
Tibetans within and without Tibet will soon reunite
Let Tibetans from the three provinces enjoy and celebrate!
Tibetans within and without Tibet will soon reunite