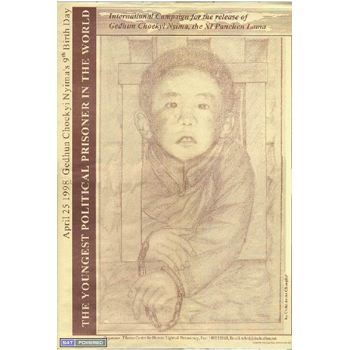 These two poems about the Panchen Lama by Woeser were written ten years apart. The original poems (written in Chinese) can be read here on her previous blog. The translations of the two poems are taken from "Tibet's True Heart", copyright 2008 Ragged Banner Press and are used here by kind permission. Below is a short introduction by Woeser.
Introduction:
One poem was written one day in December 1995. It was a day when I was working at my first position at the Tibet Autonomous Region Cultural Association when I received news about the new Panchen Lama being recognized, whereupon I immediately wrote this poem.
One poem was written one day in October 2005 when I'd finished reading "The Search for the Panchen Lama" by a female British journalist.
The Panchen Lama
If time can cover up a lie,
Is ten years enough?
A child matures into a clever youth,
But like a parrot, mumbles by rote
The phrases that will please his masters.
The other child, where is he?
The scar-like birthmark on his wrist recalls
His previous life, before, when for ten years
He sat trussed with tight handcuffs
In some Beijing cell no ray of light could reach.
What bruises mar him now,
The child no one hears from?
If there are nine levels to the darkness,
At which one are they trapped – he, and the other?
If there are nine levels to the light,
To which do they aspire – he, and the other?
Perhaps, in each phase of darkness and of light,
Where one is trapped, the other aspires.
Kunchoksum! The world's turned upside down,
That the pain of impermanence,
Of samsara, has struck home to the Panchen Lama!
12 October 2005, Beijing
December
1.
"Hear ye!" The big lie shall blot the sky,
Two sparrows in the wood shall fall.
"Tibet," he says, "Tibet is fine and flourishing!"
The furious girl will not bite her tongue.
Everywhere the monastic robe has lost its color.
They say: It's to save our skin.
But that one, oh,
The steaming blood poured out, the hot blood!
In the next life, who will grieve for him?
2.
Storm clouds! Doom!
In my mind's eye I see.
I know if I don't speak now
I'll be silent forever.
Sullen millions,
Lift up your hearts.
He was sacrificed once,
That man of deep red hue.
But as the tree of life is evergreen,
A soul is always a soul.
3.
A worse defeat!
Thouands of trees, blighted as never before.
The little folk are quiet as a cricket in the cold.
The pair of praying hands
Was chopped off
To cram the bellies of kites and curs.
Oh, that rosary unseen,
Who is worthy with a firm hand
To pick it up from the slime of this world?
December 1995, Lhasa