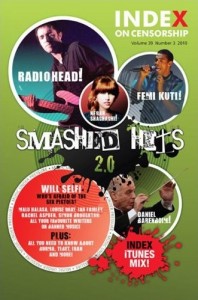 Cover of "Index on Censorship"Issue dedicated to freedom of musical expression

High Peaks Pure Earth is grateful to Index on Censorship for kindly granting us permission to publish their translation of Woeser's article "Tradition in Protest" as published in their Volume 39, Number 3, 2010 issue titled Smashed Hits 2.0 dedicated to musical free expression. We highly recommend the whole issue and it is available online for sale on Amazon.
Woeser has published the article in the original Chinese today over on her blog. The article is about Tibetan singer Tashi Dhondup, currently imprisoned for his songs. To read our blogpost from March 2010 about Tashi Dhondup and to see his music videos, see this link: http://www.highpeakspureearth.com/2010/03/torture-without-trace-five-songs-by.html
At the end of the article, Woeser recommends three of her favourite Tibetan songs.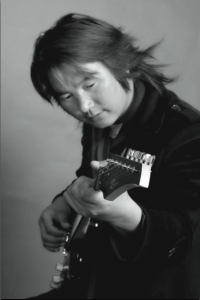 Tashi Dhondup
Performing political songs can lead to severe punishment in Tibet.
Woeser celebrates a singer who is not afraid to confront taboos.
"Tradition of Protest"
Until 2008, I had never heard of Tibetan singer Tashi Dhondup. Like many others, I first became aware of him because of one particular song about the protests spreading through Tibet. It described not only 2008, but also 1958 − the entire five decades of Tibetan suffering. The lyrics were short, but each line was explosive. What other Tibetan singer within China's borders has sung so plainly?
The year of 1958
Is when the black enemy entered Tibet
Is when the lamas were put in prison
That time was terrifying …
The year of 2008
Is when innocent Tibetans were beaten
Is when people of the world were massacred
That time was terrifying.
I listened over and over to that song, "The Terror of 1958−2008". The accompaniment Dhondup plays is crisp and pleasant, his voice full of painful memories and a desolation beyond his years − he is in his 20s. A friend of mine in Beijing, who is a musician, told me that he preferred Amdo and Kham to Lhasa when he visited Tibet, as he was enchanted by the mandolin-accompanied singers. He said that the mandolin −which originated in Italy− seemed to be more popular there than anywhere else in the world, with countless skilled Tibetan musicians. You hear it played not only in the countryside, but also by monks singing in monastery courtyards. Many fund their own simple recordings, a sign of real passion. The mandolin is now known by the Tibetan word dranyen, meaning guitar or lute, and instruments are decorated with bright local colours and motifs. Tibet has made the instrument its own.
Someone sent me a photo of Dhondup. Round-faced, with long narrow eyes, he appeared fashionable, dressed in black hunting gear with lightened hair. Apparently he used to sing songs of love and home: now that he was breaking the silence of a dark night, would he become a target for hunters? I heard that he was once detained and I would not have blamed him for opting to fall silent − falling silent at gunpoint is normal for us now, with many talented singers opting to stick to traditional songs and propaganda in exchange for fame. But Dhondup chose not to castrate himself that way − the next time he sang it was not one song, but 13. The album Scarred Heart sold 5,000 copies, selling out in many parts of Amdo. Tipped off that the police were preparing to arrest him for performance and distribution of "reactionary songs", Dhondup fled his home. He had just got married. Several days later, the road-weary policemen caught up with him in a Xining hotpot restaurant as he was drinking with friends and detained him.
One of his relatives is a monk at a renowned lamasery. He has access to the internet and told me over Skype that the album was available online, with videos of Dhondup singing on mountain-tops and grasslands.  "He looks great in Tibetan clothing, just like a star."  His admiring tone turned my sorrow into joy. I really wanted me, as if at a secret time we were burdened with the same fate. The lyrics brought tears to my eyes.
I've never seen the Dalai Lama
So I feel that I'm a poor Tibetan
I didn't join the protest in 2008
So I feel that I'm a useless Tibetan
I didn't hoist the Snow Lion
So I feel I'm useless even as a man.
The recordings banned in Tibet are of course not to be found in Beijing, but I could hear and see Dhondup online. Young Tibetan commentators praised him as an ethnic hero and applauded his courage. But as news of Dhondup reached the outside world and reports started to appear, the songs were deleted. At this point I met a Tibetan who had studied in India. It seemed as if he had appeared simply to translate the lyrics − I never heard from him again, very mysterious. He translated two songs into Chinese, and anyone hearing them could not fail to be moved. I noted down this passage:
The sorrow that a man of the Holiness doesn't return home
The sorrow that my fellow became separated
The sorrow that freedom doesn't come to Tibet
This is my pain without a wound …
This is considered a reactionary song. I remember at the end of 2008 the deputy head of the Lhasa Public Security Bureau announced the arrest of 59 "rumour-mongers" for "inciting ethnic sentiment". These particular rumours were spread by "illegally downloading reactionary songs, and selling them to the public on CD and as MP3 and MP4 files". But this may confuse many − the concept of "reactionary songs" is not a common one. It has its own unique meaning. As a Chinese commenter once said: "Many ask what totalitarianism means, but it's like asking what rain means − it's hard to express, but you know when you're caught in it." So when a Times reporter asked me what constituted a reactionary song, I could easily list at least ten. Perhaps she was only surprised by the strict ban on songs that merely mentioned our exiled spiritual leader. Straight-talkers like Tashi Dhondrup are rare, but he dared to sing:
Your holiness Dalai Lama
Please no longer be a wanderer
There are many pious people in Tibet
We are always waiting for you by the side of your throne.
Other reactionary songs are more oblique, using a white tower or golden sun to refer to the Dalai Lama. If we view reactionary songs as a product of the past 50 years, it has clearly already become a tradition: a tradition of protest, a tradition of not submitting, a tradition that spreads endlessly. Many of these songs are written by Tibetans in exile, but also by those within China's borders − at all times and in every region, not just today or only in certain cities or villages. Some songs are blunt and immediately banned, some more subtle and so tacitly allowed to circulate. It would be an interesting topic for an academic study. But for us −that is, for my generation− memories of reactionary songs go back to the 1980s, such as these popular lyrics from 1989:
We haven't bought India
Nor sold Lhasa
The Dalai Lama is not homeless
The Norbulingka will be yet more splendid
We Tibetans are looking forward
And in one or two years
We'll return in freedom
I've been told that normally servile Tibetan cadres from the local Academy of Sciences once got drunk at a festival celebration and choked back tears as they sang these words.
It seems normal to us now when the authorities stamp on reactionary songs. But only in Lhasa did they arrest as many as 59 at once for distributing music, and I heard they were mostly students. What was the purpose? Were they so angry at the popularity of these songs that a major arrest was necessary to serve as a lesson to the rest? Or could they not come up with any splittists  and had to make downloading a few songs of home and the Dalai Lama into a major crime? Or are those who rely on the anti-splittists struggle for their living, creating enemies for the great Party?
Dhondup was swiftly punished − sentenced to 15 months of re-education through labour and sent back to his home village, once populated by nomadic herders. One day a Tibetan friend of mine, whom I hadn't seen for a long time, came to visit me. He is a fine poet in our native language and has travelled widely. But I had no idea he was also related to Dhondup. However, the Dhondup he spoke of was a wayward youth who liked to get drunk, sing, and chase grassland girls. At a meal to celebrate his release from detention for singing "The Terror of 1958-2008", he even needed stitches after a drunken fight with a young Rimpoche (reincarnated Tibetan lama). Not without pride, my friend told me: "He's a hero now. When I ask at roadside stalls in Xining if they've got his songs they make sure I'm not police or undercover, then pull out a big bag full of his recordings. They're all copies of course."

Woeser's playlist:
The Terror of 1958-2008
Tashi Dhondup
Available on vimeo.com
Grief
Kunga
Available on YouTube
Chak Sum Tsel
Phurbu T Namgyal
Available on YouTube