High Peaks Pure Earth has translated a blogpost by Woeser written on May 31, 2011 for the Tibetan service of Radio Free Asia and posted on her blog on June 5, 2011.
Woeser first started writing about the case of Tibetan businessman, philanthropist and environmentalist Karma Samdrup in July 2010, revisit her article "Remember the First Time I Met Karma Samdrup" here. On June 24, 2010, Karma Samdrup was sentenced to 15 years in prison and not long after, his brother, the environmentalist, Rinchen Samdrup was sentenced to 5 years in prison.
In the blogpost below, Woeser looks at the impact of the arrests on the rest of the family, particularly their mother, and also provides an update on the situation of Karma Samdrup's wife, Dolkar Tso, who played an important role in disseminating information on their cases through regular blogging.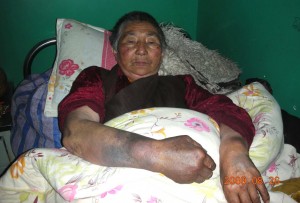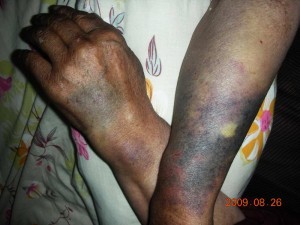 The photos show Karma Samdrup's mother, seriously wounded. In August 2009, Chamdo district officials and the police went to Karma's home (Gonjo county, Zirong village) and arrested Karma's brothers, Rinchen Samdrup and Chime Namgyal, not only ransacking the house in a search and confiscating possessions but also using clubs to beat Karma Samdrup's over 70 year-old mother, she was hospitalised for several months and is still very weak.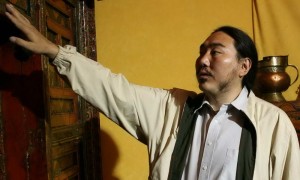 Photo of Karma Samdrup, taken in 2007. Two years later he would be framed and arrested.
"The Tears of Karma Samdrup's Mother"
By Woeser
Karma Samdrup is falsely under arrest, he has been for one year and 5 months already. Do people remember who he is? He is the Karma who is referred to as the "King of Heavenly Beads", the Karma who set up the first non-governmental environmental protection organisation, the Karma who put a lot of effort into preserving Tibetan collective memories by collecting Tibetan cultural artefacts. Last year in June, during those extremely disturbing days, various accusations were fabricated and made public to frame him, and the law of this country failed to pass a fair and impartial judgement.
It is a forlorn situation. People helplessly witness this miscarriage of justice that had taken place, they witness how those evil creatures who had fabricated Karma's wrongdoings, sentenced him to an entire 15 years in prison, they witness how he is wrongly put in jail, somewhere far away in the land of sandstorms − Shaya County in Aksu Prefecture, Xinjiang, a county which is just one enormous prison.
Karma was by no means the only person to fall into such imminent danger. Almost at the same time, another man of Karma's family followed him into jail and was sentenced to reeducation through labour, for a period of no less 5 years. And in the summer of two years ago, evil officials even went to Karma's hometown, accompanied by military police, and arrested Karma's older brother Rinchen Samdrup and his younger brother Chime Namgyal, and not only did they ransack chests and cupboards and confiscated possessions, they also used clubs to beat his mother who is over 70 years old. I have seen pictures of the severely injured old woman, her unbelievable swellings, her purple, even suppurated large bruises, the doing of the "People's Army".
Recently, I heard some news about Karma's mother which made me really sad. She only knows that her three sons have been imprisoned but she does not yet know that Karma has been sentenced to such harsh punishment. Nobody dares to tell her the truth, she would not survive it. Karma's wife, Dolkar Tso, comforts her by telling her that Karma took refuge abroad and his mother always warns her to never let Karma return home. During recent phone calls, she choked with tears; the normally always strong old lady is more and more unable to bear the pain.
It is reported that two years ago, a work team made up from cadres and police was stationed in the village and after the three brothers were arrested, the team used different methods of coercion to isolate Karma's entire family. For instance, when villagers fall ill and need to go to Chamdo or Lhasa to get treatment, they need to obtain an official approval from the working team, for which the villagers will even have to sign and furnish with a fingerprint a separate document. But what kind of document is this? It contains vast amounts of misinformation vilifying Karma's family, urges people not to appeal to the higher authorities and forbids anyone to support Karma's family etc. Any villagers in need of taking out a loan or reissuing a lost ID card will need to face these same demands.
I entrusted someone to go out and ask Dolkar about the situation and she choked with sobs and said only one single sentence: There are only women left at home, why don't we just give up?
Indeed, this benevolent, widely respected large family has only women left in its household to take care of things. I have previously met Rinchen Samdrup's daughter who had hoped to leave home and become a nun. She had helped her parents for many years to rescue valuable scriptures but the discs and computers on which they had saved the data were all confiscated by the police. After her father had been sentenced to five years in a Lhasa prison, she was stricken by heart disease at this very young age.
Karma's wife, Dolkar, tried everything to keep this traumatic shadow away from her two daughters who up to the present day are not aware of the real situation; she also took over a responsibility which she had never shouldered before, carrying on her husband's business. Besides that, a very important big event in her life is visiting her husband in prison. Since last year, she has already visited Xinjiang eight times. But after Karma was sentenced, over the course of one entire year, she only saw her husband three times in the law court and she could hardly recognise his tortured body.
"During our meeting, we could only communicate in Mandarin"; this does not mean that the Tibetan couple was not capable of communicating in Tibetan, it rather means that the authorities did not allow them to speak Tibetan, so during the half an hour of authorised visiting time, Karma could only use broken Mandarin to talk to his wife. Now Dolkar's greatest hope is to fight for Karma being transferred to a Tibetan prison to serve his sentence, which would at least allow him to speak Tibetan. But she can only visit her husband once every three months and the last meeting was suddenly cancelled without any reason. She could do nothing but to return her plane ticket that she had bought a long time in advance.
May, 31, 2011
The photos below were taken on August 31, 2009. They document how a few days before, Chamdo district officials together with the police had come to arrest Karma Samdrup's brothers Rinchen Samdrip and Chime Namgyal, ransacking the house during their search and confiscating items.