High Peaks Pure Earth has translated new poetry that was posted online on a TibetCul blog on November 19, 2011.
The poems were submitted by members of a poetry group who all wrote using the same title, "Straying Far From Myself". Only one poem by Dechen Hengme is being posted today and readers may remember another poem by the same author titled "I Am Tibetan" posted on High Peaks Pure Earth on March 5, 2010.
Check back next Wednesday for more poetry from Tibet!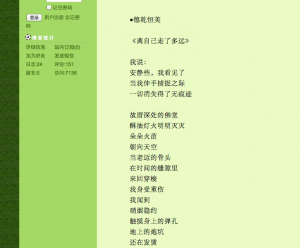 "Straying Far From Myself"
By Dechen Hengme
I said:
Be quiet, I have seen
But when I reach out to capture
All has disappeared without trace
In the shrine room deep in the old house
The glimmer of the butter lamps are flickering
The flames
Are headed for the sky
When the aged bones
Shuttle back and forth
In the gap of time
I am badly injured
I can smell
The faint smoke from guns
I can touch the bullet holes on my body
The pit of bullets in the ground
Is still burning hot
In the night
I sleep in the haystack
I wake up
On the riverbank of Machu's summer
Their figures flash
She dives into the bottom of the river
Comes up with a cobblestone in her mouth
Grinning at me
Completely unaware that
Her clothes are soaked through
Time lapses
People become old
The slope at the entrance of the village
Cannot be climbed up anymore
Then let's just lie down on the riverbank
Listen to the sound waves of the river
The never changing sound
Over centuries
Washes away ignorance
I am like a blind person
Walking through the grasslands
Temples
Jungle and buildings
But I have never noticed that
Everything seems too late
When I turn to leave
The footsteps
Are as heavy as rock
The spoken word
Has frozen in the air
I try hard to make a sound
Towards the direction of the wind
I tell myself
To slow down
To pay attention
To the changing wind
Deep in the jungle
On top of the mountain
The air is circling
The birds turn silent
From far away
I see them
Carefully wading across the river
Filing into the temple
In the backbone of the mountains
Looking ahead
Villages are blossoming under the clouds
Cooking smoke blends into the clouds
Mountains stretch into each other
To withstand the cold
Those disappeared images
Are reciting songs and poems
In the secret garden
Wind is rising
Rain is falling
Without a rest
I run down the hill
Do not know any
Of the inhabitants residing down the hill
In the night
I can
Sleep in the haystack
I can hear
The sounds of Machu
Be quiet
I have heard…
But when I reach out to capture
All has gone without trace
November 18, 2011 in Tsongkha