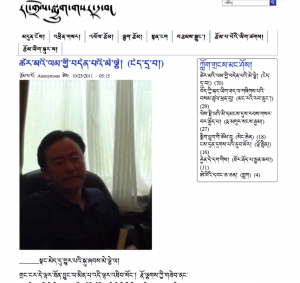 Screenshot of the posting as it appeared on Rdrol.Net
High Peaks Pure Earth has translated a poem written by an anonymous Tibetan blogger that is dedicated to detained Tibetan writer Choepa Lugyal. The poem was posted online on October 25, 2011. Three reactions to the poem have also been translated.
According to the Tibetan Centre for Human Rights and Democracy, Choepa Lugyal was arrested in Lanzhou, capital of Gansu province, on October 19, 2011. Choepa Lugyal's penname is Me Che, which literally means "tongue of flames" but can also mean a small smoldering fire or amber. This poem has since been taken offline, perhaps due to the political sensitivities surrounding not only the detention of the writer but also the reference to fire and flames, evoking the images of the recent self-immolations in Tibet.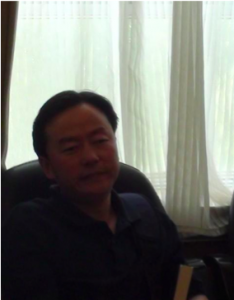 "The Truth of Flames on the Thorny Path"
—To Me Che who is ignored
The surroundings are cold and shadowed by darkness
The flame of truth is burning in the iron tent
But the flame is so humble
There are no windows in the tiny narrow house
There is no scale to measure reality
Although you have so much hope on the outside, beggar!
No one can quench your thirst
Therefore, the only way to solve your suffering of hunger and thirst
Is to believe in non-foolish karma
If you meditate on the karma of cause and effect, you will obtain realisation and never turn back
Nonetheless, there are always tears in the eyes of the old mother; the beloved wife swallows the sorrow into her stomach and tenderly touches the hairs on the head of the little boy
Do you see that?
The wide lonely land
The pure blue sky
Standing at the crossroads
I am drinking lunchtime tea
But I can neither urinate nor defecate
Thinking of going to see a doctor
Dialectic poetry emerges in the mind… …
Comments: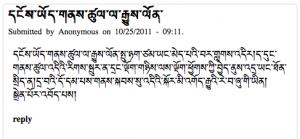 1. Since the situation is uncertain for the time being and we are not sure about the negative and positive effects it may bring by popularising the incident. Therefore, it is not proper and I appeal to the administrator not to post such works on the blog.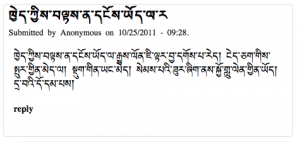 2. How do you think one learns about reality? We are neither popularising nor complaining. We are just singing sad songs. By the blog administrator.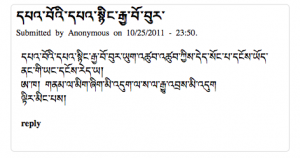 3. It is true that the hearts of the heroes have been chased out by the storm. Yes! The sky has no eyes, the earth has no karma.
This post is also available in:

English