High Peaks Pure Earth presents a translation of a new poem by Woeser titled "Helpless" that was written and posted on her blog on January 17, 2012. Many thanks to the translator David Cowhig for permission to publish here.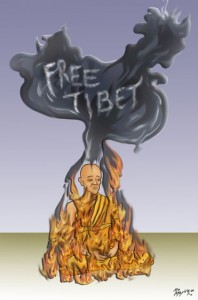 "Helpless"
By Woeser
I take a book
Read a few pages and set it aside
Outside my window, Beijing
Filled with feelings of Doomsday
In the mists, I cannot see
Tall buildings not so very far away.
What really grabs me lies
Much further away,
Fearless clansmen,
Amidst the flames, will they be
Hit by red bullets?
January 17, 2012
Note: On January 14 this year, a Ngaba monk self-immolated and afterwards was beaten to death by police. Since February 27, 2009, 17 Tibetans inside Tibet have self-immolated, already 12 sacrificed their lives. 4 were taken away by police, their whereabouts are unknown and it is not known if they are dead or alive; 1 person is severely injured and is in the monastery.