High Peaks Pure Earth has translated a poem by Woeser that was posted on her blog on April 17, 2011. Woeser's poem is dedicated to Lobsang Tsepak, a monk of Kirti Monastery, Ngaba, who was studying at Beijing's Central University for Nationalities and was arrested on March 25, 2011 for unclear reasons.

Woeser has previously written poems dedicated to Tibetans who are missing or imprisoned, see these "Two Poems for the Panchen Lama" and also "Secret Tibet".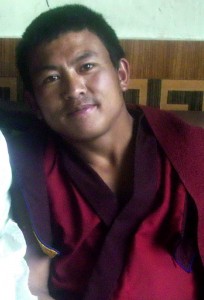 Lobsang Tsepak, from Amdo, Kirti Monastery monk, 26 years old.
"Only This Useless Poem, Dedicated to Lobsang Tsepak"
By Woeser
1.
Today is already the twenty third day.
Yet on a certain day, I read a poem called "Disappeared",
At once what I thought about was you.
You were disappeared on the afternoon of the 25th of last month,
I only have teardrops, write poems, have no other choices.
2.
Like a film needs empty frames,
My feelings, sometimes when they are disorderly and numerous,
Flash some illusory picture frames:
Flowers inundating the horseshoes, the black tent on the grassland,
Prayer flags blown by the gentle wind, bird and beast being released,
All this beautiful scenery I have seen in my homeland,
In fact, now in this most difficult time,
Such as you, it seems you have evaporated from the world.
3.
The absurd is the reality,
I have become my own helpless poison,
But you, have actually turned into a sacrificial offering by drinking poison.
When closing my eyes, all I see is you,
That year in March, flames spread across the Land of Snows,
Compatriots carried the protesters whose blood was shed back to the monastery,
Worshipping them in the sacred temple of one's heart.
4.
"March is the cruellest month."
A refined foreign journalist said that to me,
He went to Tibet during two Marches, it seems he saw something.
It again seems he didn't see anything at all.
But he clearly fell into one of the traps of the thirty six stratagems.
"Did you say, 'Tibetans emit wolf-like sounds when they cry out'?"
Embarrassed, he revealed a look which showed his pride was injured.
5.
Akhu [1] Tsepak, where are you?
Have you been brutally detained and escorted with force to your home of Ngaba?
Or been held in a dark room, suffering the torment of others which makes one's blood boil?
I have heard one Akhu's experience of torture and being extorted a confession,
He was hung upside-down and beaten, with three ribs broken,
Changes in weather led him to huddle up in pain,
Ah, I forgot to ask him, it recently snowed in eastern Tibet, is he safe and sound?
But who can I ask, to know the whereabouts of Akhu Tsepak?
6.
"We live, deaf to the land beneath us,
Ten steps away no one hears our speeches"
This sentence, is by a poet of conscience who died under Stalin [2],
It is also a portrayal of China at its heyday.
Late at night, I incoherently reveal:
"I don't know if it's of any use but I will still say it.
I know for a fact, that it's useless to say it…"
Those friends from "rangwang lungba" [3], say sonorously:
"They always want to make people think that speaking out is useless.
But we must not stop speaking out!"
7.
Both my hands are empty
But my right hand grasps a pen, my left hand holds memories.
At the moment, although the memories wish to be expressed through the pen,
But between the lines, endless flow of tears is for
the trampled dignity.
8.
The gaze of hell is too long,
Very possible we'll be eaten up by hell little by little.
Are you open to compromise?
If so, tell us your conditions and we will listen,
If they might lead to his safe return.
But I suddenly remembered a gloomy afternoon,
A gloomy hired thug, started to speak ferociously:
"You, could you, not write about Tibet?"
9.
If I don't write about Tibet, there are no poems.
Just like if it weren't for Tibet, Akhu Tsepak,
would not be disappeared.
If it weren't for Tibet, Akhu Tapey [4] and Akhu Phuntsog [5],
wouldn't have self-immolated.
And moreover, this list of names, could be very long, very long ……
And this "Xizang" – –
Of course, the complete name is "Tibet".
Started writing on April 4, 2011
Finished on April 17, 2011
[1] "Akhu" is an honorific term for a monk used in Amdo
[2] These lines are by the Russian poet Osip Mandelstam. He was a Silver Age poet (late 19th to early 20th Century), a talented and outstanding poet. He was charged with counter-revolutionary crimes, arrested twice, exiled for many years, attempted suicide several times, on December 27, 1938, he died in a correction camp.
[3]"Rangwang Lungba", Tibetan, meaning a "free country"
[4] On March 16, 2008, in Ngaba, monks and lay people took to the streets in protest but were harshly cracked down upon by armed forces. Therefore, March 16 is the anniversary of this repression. On February 27, 2010, 24 year old monk from Kirti monastery, Tapey, self-immolated in protest on the street in Ngaba, he was shot by police, maiming his legs and right arm, to this day he is still confined in the military hospital.
[5] On March 16, 2011, 20 year old monk Phuntsog from Kirti Monastery self-immolated on the street in Ngaba, he shouted slogans "Let His Holiness Return!" "Freedom for Tibet", "May His Holiness Live for 10,000 Years!", he was beaten by special police, armed police and undercover police. On March 17, 2011, at 3 am, Phuntsog passed away. Monks and lay people staged a protest march and military placed the monastery under siege, there were many arbitrary arrests and more than 2500 Kirti Monastery monks faced disaster.