High Peaks Pure Earth presents new English translations of poetry by detained Tibetan writer Dhi Lhaden aka Thupten Lobsang Lhundup, translated by Bhuchung D. Sonam. The first three poems are new translations and the subsequent poems were published in the collection "Burning the Sun's Braids".
According to a recent report by Radio Free Asia, Lhaden has been held in a detention centre in Chengdu since June 2019 when he was taken into custody. At the time, he had been working at a private cultural education centre. His family members have not been allowed to visit him and his case is still pending.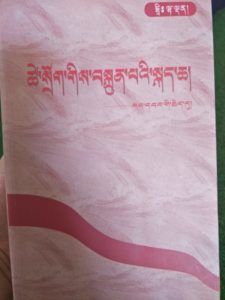 Dhi Lhaden's book, Tsesog Gi Tunpai Keycha or Life and Death Testaments – which contains a series of essays and poems on the violent crackdowns on Tibetans protesting across Tibet in 2008 – was published in Tibet. The volume was reprinted by the Dharamsala-based Tibetan Centre for Human Rights & Democracy (TCHRD) and released to mark the third anniversary of the 2008 uprising in Tibet and the Sixteenth Session of the UN Human Rights Council in Geneva, Switzerland.
His book, Tungol Trimtuk or The Art of Passive Resistance, which explores themes such as the rule of law, freedom and non-violence, was published and distributed also by TCHRD in 2015. 
Dhi Lhaden was born in 1980 in a small village in Pema Dzong in Golok, Eastern Tibet. At the age of eleven he became a novice monk at a local monastery and later studied in Central Tibet at Lhasa's Drepung and Sera monasteries.
Thank you to Bhuchung D. Sonam la for the translations and for writing the above introduction. In addition to Dhi Lhaden's detention, there is still no further news on the arrest of monk and intellectual Go Sherab Gyatso who was detained in October 2020, also in Chengdu. Finally, on March 23 this year, Gangkye Drubpa Kyab, a writer and poet, also known as Gangme Thak, was arrested in Serthar, Kardze Prefecture, according to Radio Free Asia.
 
"Circumambulation in the Whirlwind"
By Dhi Lhaden
Translated by Bhuchung D. Sonam
When the cold piercing wind
Blows in the skies like hordes of unknown soldiers
The bells of tsuglakhang cry like
A sentry looking into a far distance,
Did they see an impending danger or
Were they worried about something else?
Whatever it might be, how many
Sleeping beings did they wake up with their cries?
What could disturb a sound sleep more than loud noises?
White clouds travelling in the far horizon
May not have the fragrance of me and my friends,
But the dust that shakes up the entire space is
Complicated like the point of views of my friend and I.
My true desire is not for the ceaseless dust
But the ageless nature of the white clouds
A plastic bag randomly chased by the whirlwind
Suddenly flew passed above our heads, likewise
The old man helplessly chased by his faith, quickly
Passed in front of me and my friend
My friend and I curled up in cold
Inhaled dust in mouthfuls like a tasty soup,
The dust storm that was blocking our path
Receded in stages like my friend's hairline
"Remembering the Warriors"
By Dhi Lhaden
Translated by Bhuchung D. Sonam

(Written after a visit to the place where the battles between Hor and Ling were fought)
Dharto Tsole1
On this vast ancient grassland
Which warrior had his bones cracked?
In this place sandwiched between the winds of history
Though there are no sounds of warriors fighting battles today,
It is said that their names mingle with winds, and
That one can see rust taint the tips of arrows and swords
Sanak Gongma2
In this grassland where women displayed their elegance and charms
It is said which warrior had his flag installed there
In this place clustered with temples and stupas
Though no flagpoles of the warriors are visible today
The Tibetan alphabets are chanted high like
Birds soaring to the banks of a lake
Sengdruk Taktse3
Though you have many singing eulogies from faraway lands
Though you have many gazing deeply at you from nearby places
But ultimately, you will have to find your lost self again …
Translator's Notes:
Dardo or Dartsedo (Ch. Kangding; also Tachienlu) is the historical border between Tibet and China, where the Battle of Dartsedo was fought in January 1701 between the Qing and Tibetan armies over the control of the strategic border town.
Sanak Gongma, literally 'black hill', is located on the right side of Gesar's palace Sengdruk Taktse. It is here the incense offerings are made to the holy mountain Machen Pomra.
Sengdruk Taktse is the famed palace of the King Gesar of Ling. It is located in Darlak County, Golok in Eastern Tibet. Some scholars believe that it was built around 1044.
"She Who is Remembered Again"
(The Snowlander of My Heart)
By Dhi Lhaden
Translated by Bhuchung D. Sonam

The sad tales of her past
Like her hair is truly long, and yet
I pray that her everyday life
Like her eyes is pure and clear
Today re-remembering her, a teardrop
A teardrop dampens her heart,
A crystal clear teardrop that
Puddled in the depth of my heart
Ever since the leaves of my affection is soaked in her tears
Since the day I've developed affection for her
My mind has been clean and clear like a river
Such as the one that bears eight great qualities,
This is either her gift of elegance and splendour to me, or
The ageless affection I hold for her
When she who resides in the depth of my heart
Gently chants a few wandering conversations
My hands stretch to her direction, and may
Softly stroke her dark braided hair, and then
She may let out her past stories into my ears
What my eyes would behold then
Won't be the elegant splendour that she bestowed to me
But the life that she lived
Thus,
Under whose oppression was she crying?
Thus,
In which single-parent house a low laughter is coming from?
It is likely that the cycle of the sun and moon will wear her out
On the day she is worn out
It is possible that the teardrops will curse the past life
However … at the moment
There are many who caress her face but
None who truly cares about the life she is living
Therefore, each time I see the tragedy of her sad life
My mind becomes like her future life
No, her future life resembles my empty, empty mind.
"Talking Resistance"
By Dhi Lhaden
Translated by Bhuchung D. Sonam

Those who talk big in front of their fathers and uncles
Those who flex their muscles with their people
Those who are shameless with their mothers and aunts
Those who say that they have no regret
Losing their lives for the vast grasslands or
For a land small as the palms of their hands
Where did they run away to today?
"My Vision Of The Potala"
By Dhi Lhaden
Translated by Bhuchung D. Sonam

The Potala resembles a freshly cleaned plate
The fearsome military guards like tigers and leopards
Are even devouring the butter lamps,
Sparing nothing.
Potala, having been cleaned of everything
Resembles a freshly-ambushed battleground.
Climbing down from each stone staircase stretching from the top to the bottom
One can witness the footprints formed from sweat, blood and tears.
Looking over from the banister extending from the bottom to top
One can hear laughter of people shackled and chased with whips.
Looking up from the square in front of the Potala
I get this feeling:
Potala, decked up in bright colours
Resembles a woman of low virtue.
Seeing its gaudy and garish style
Its character may change.
I am terrified.
Potala, turning into a boulder, and
Seeing it shine brightly amidst the crowd
Like the sun and moon above,
It may remain in people's hearts for ages.
I am elated.
Whatever the case may be,
The Potala in my eyes is
Not the Potala mentioned in sacred visions and mythical tales,
The Potala in my eyes is
The one built with sweat and blood of our ancestors.
The Potala in my eyes is
Very close to us.
The Potala in my eyes
Is not the one in the hands of rich people.
It is the one heavily guarded by the Red Army.
The Potala in my eyes is
Very far from us.
"Do You Know The Tales Of Our Forefathers?"
By Dhi Lhaden
Translated by Bhuchung D. Sonam

To my niece Gangzum,
Before the sun's rays hit the smiling peaks
You are ready to hit the road.
Following the hooves of yak singing a sad song
With the day's provisions stored in the fold of your chupa,
This is when my heart turns weak like the tunes of your song.
If you have to spend your life
On the plateau like animals in the wild,
I never want to say 'Farewell' and leave.
Instead if
I can turn you into a student holding a book and a pen
Will you be a girl in the service of our country?
Will you be a woman who loves her people?
Let me ask you:
Do you know the troubled tales of your forefathers?
Did you see their footprints in the mountains you roam?
Do you recognize the mountain peak
Where your forefathers' vital blood dissolved?
Write this single word called 'Freedom'
On the mountain peak where your forefathers have
Shed tears for livelihood and
Sacrificed their lives for their rights.
This will be your first proof to be with the people of the world
On an equal footing.
"Crime of Love"
By Dhi Lhaden
Translated by Bhuchung D. Sonam

Because I have affection, because I have memory;
Because I have human blood
Someone eavesdrops on me.
For the sake of freedom,
For the sake of right,
For the sake of truth,
I acknowledge them.
However, they said
My head should be a little lower than the leader,
My voice a little less deceitful than the lama.
Every now and then they order me to say 'Yes'.
But no, from now onwards
I will raise my head a little higher,
My voice a little more honest,
And, every now and then I will say 'NO!'
"Mourning"
By Dhi Lhaden
Translated by Bhuchung D. Sonam

Today, brothers of the Land of Snows
Are marching towards you
Each holding a white scarf wet with tears…
Today, women of the Land of Snows
Are gazing at you
Bearing butter lamps burdened with messages…