Tibetan netizens are really having heated debates about Losar, Tibetan New Year celebrations. The Tibetan language internet forums and blogs are full of posts diccussing the issue. Most of the posts are opposed to the celebration of Losar this year.
There are two points about Losar, the first issue is whether Tibetans should celebrate Chinese New Year or not and the second issue about whether it is appropriate or not to celebrate in light of last year's events. Some of the posters argue that particularly in Amdo, that Chinese New Year has always been celebrated and this year is no exception. However, some netizens argue that all the Tibetans should institute a common Tibetan New Year and adopt the date celebrated in Lhasa.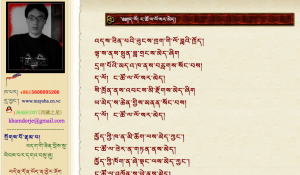 The posts are too numerous to translate, here High Peaks Pure Earth has translated two posts written in Tibetan entirely in verse. The first post (photo of the blog above) by a blogger named Cham med sha (khyams me zhags) is titled 'This year, No Losar for us' (nga tsho la lo sar med).
The second post is on a blog called Kyi! Kyi! My Tibet (Kyi! Kyi! Nga yi bod). This is also written in verse, in a sarcastic style and the blogger writes "This is written on behalf of the people of Dechen", (bDe chen pa'i tshab tu brigs). The title of the verse is "We are not Tibetan" (Nga tsho Bod pa min). High Peaks Pure Earth readers will remember that Dechen, in today's Yunnan province, is now formally named Shangri-la by the Chinese and has become one of the major tourist destinations in the area. Now, Tibetans have modified the name and added an adjective Khu sim meaning "silent" to the name. Khu sim Dechen (Silent Dechen) is used on account of the fact that last year, Dechen was one area where there were no protests. Hence the satirical tone of the verse.
This year, No Losar
Last year was washed by blood,
In Lhasa, countless compatriots
Were fallen under a piercing arrow,
This year, no Losar for us,
In Sichuan, countless people
Buried under the earth,
This year, no Losar for us,
There is only the word "no" on your lips.
We are speechless,
You are filled with anger
We have no bitterness
For the sake of the deceased valiant heroes
Let us offer our regrets.
For the deceased people,
Let us make offerings
Therefore, This year
How can Losar be celebrated?
Unequivocally! No.
To celebrate is like a mindless beast,
Furthermore,
An aeroplane crashed against a cliff,
This year, no Losar for us,
A train crashed,
This year, no Losar for us,
Even more, it's endless,
Snowstorms covered the high lands,
This year, no Losar for us,
Drought in the low lands,
This year, no Losar for us,
Smile covered countenance,
A deceitful expression,
A sign of a defeat
It is a smile of fear
Adorned with a smile of happiness,
Actually, this is a false smile
Covering dishonesty,
You are thoughtless of the people,
You pay no heed to the world,
Have you looked at the world?
You have not tread the modern path,
Mind is filled with sadness
And suffering,
Therefore, because of our anguish,
Let's not partake in Losar this year.

We Are Not Tibetan
Written on behalf of the Tibetan people of Dechen
Didn't hear what happened in Lhasa last year
No idea what is happening there today,
Shortly, it will be Chinese New Year,
Preparing to celebrate,
Don't know if Tibet is stable or not
Cannot see Chinese trickery,
Anycase, in a day or two it will be Chinese New Year,
Will joyfully celebrate,
In a few days time it will be Chinese New Year,
Will decorate the altar with meat and beer,
Will sing and dance
Celebrating joyfully,
In a few days time it will be Chinese New Year,
Welcome Losar with songs,
After singing the songs,
Cast them out from the Tibetan race.
Comments:



These people are really as fickle as butterflies.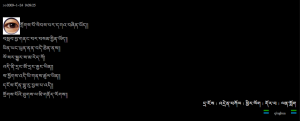 Friend thank you for visiting,
Thanking of your advice,
However, the news from Dechen, Yunnan,
Is the people of Dechen will not be celebrating Losar,
This is the honest truth,
This is written in the style of a song,
Friend don't be offended.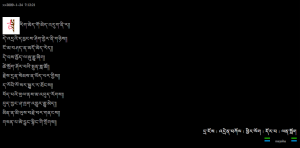 Living without seeing and hearing,
Dancing and singing songs like this,
It's pointless to say these things,
I have one thing to say to you,
Compatriots who lost their lives
Remember them in the heart,
Throw away this year's Losar,
Don't cast them from the Tibetan race,
Flesh and blood cannot be changed,
The people can be transformed
Can you hear, my heartfelt friend?