High Peaks Pure Earth has translated a poem originally written in Chinese by a Tibetan calling themselves Mu Di, 牧笛, meaning "reed pipe".

This poem was originally posted by Tibetan writer Woeser on her blog on February 15, 2010 along with several other poems of the same title. High Peaks Pure Earth has now translated all of the other poems and prose pieces that appeared in that blogpost:

I Am Tibetan by Gade Tsering
I Am Tibetan by Adong Paldothar
I Am Tibetan by Dechen Hengme
I Am Tibetan by "Son of Snow" Dhondup

The poem below forms part of the series of poetry and prose pieces on High Peaks Pure Earth titled "I Am Tibetan".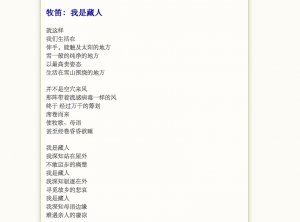 "I am Tibetan"
By Mu Di 

Just like this
We live in a place
As pure as snow
A place where
You can touch the sun when you stretch out your hands
We live
In the most noble posture
In a place surrounded by mountains capped with snow
The wind that finally swept across our motherland
Did not come out of thin air
After careful planning and preparations
Carrying flu-like viruses
It lulled pastorals, our mother tongue, and even sutra volumes to sleep
I am Tibetan
I know well of the pain
Of standing outside the house but not daring to take a step
I am Tibetan
I know well of the sadness
Of being expelled from the motherland and searching for one's own hometown
I am Tibetan
I know well of the misery
Of not being able to meet relatives who speak the marginalised mother tongue
We are all Tibetans. There are
No dreams that will last forever
No roads that lead to cliffs
No homes that cannot be found
As long as we walk hand in hand
Because we are all Tibetans