High Peaks Pure Earth has translated a poem originally written in Chinese by a Tibetan university student on March 10, 2010 and posted on his TibetCul blog on March 19, 2010. According to the blog, the student calls himself Huare Yinggya, meaning he is from Huare, an area in Amdo in today's Gansu province.
Although his blog is still active, this poem has since been removed from TibetCul, the original link http://duoyingjia1987.tibetcul.com/84737.html does not work.
The poem is an interesting meditation on discovering Tibetan Buddhism at university and closely related to Tibetan identity. Hence this poem fits well into the loose series of postings on High Peaks Pure Earth titled "I Am Tibetan".
As the original post is no longer available, the original Chinese is copied below the English translation.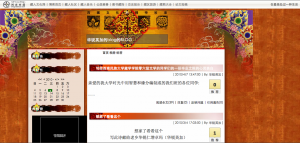 Screenshot of Huare Yinggya's Blog
Thoughts on Tibetan Buddhism by a university student who 
has studied Tibetan since elementary school and is about to graduate
By Huare Yinggya
It wasn't until university that I started to systematically study our Tibetan nationality's broad and deep traditional culture;
It wasn't until university that following the teachers' hard work started guiding us to an ocean of knowledge;
It wasn't until university that the extraordinary ambition of youth started to have free rein;
It wasn't until university that I started entering the scripture halls of Buddhist learning.
It wasn't until university that I knew such different people are living in the world;
It wasn't until university that I knew wonderful mysteries are aglow within science;
It wasn't until university that I knew the place for exerting myself;
It wasn't until university that I knew the warm sense of home when wandering.
It wasn't until university that I felt spiritual power is needed in life;
It wasn't until university that I felt the guide of interest is needed in study;
It wasn't until university that I felt mutual tolerance is needed in love;
It wasn't until university that I felt considering the true meaning of life is needed in time.
It wasn't until university that I loved to read books that burst with wisdom;
It wasn't until university that unawares I studied Buddhist scriptures;
It wasn't until university that I fell madly obsessed into the Buddhist ocean;
It wasn't until university that I sighed with my own boundless happiness.
It wasn't until university that I considered the ocean of suffering taught in Buddhism;
It wasn't until university that I considered the connections between Buddhism and life;
It wasn't until university that discovered I am full of courage;
It wasn't until university that I studied the original forms of Buddhism.
It wasn't until university that I concluded Buddhism is not a shallow religion;
It wasn't until university that I concluded Buddhism is a high philosophy;
It wasn't until university that I experienced Buddhism gives us a lifetime of happiness;
It wasn't until university that I could say Buddhism is the world's highest teaching.
It wasn't until university that I thanked our ancestors for leaving us the best teaching;
It wasn't until university that a devout faith arose for the lama in my hometown;
It wasn't until university that a responsibility was fostered to struggle for the people;
It wasn't until university that I started chanting Buddhist mantras.
It wasn't until university that I lamented the rarity of the soul of life;
It wasn't until university that I discovered helping others is life's greatest happiness;
It wasn't until university that I understood the philosophy of a water drop entering the ocean;
It wasn't until university that it was affirmed the joy of studying Buddhism comes only when caring for others.
I have graduated into the bosom of my alma mater;
I have graduated and it is tinged with slight tears;
I have graduated and hope you will all walk my path;
I have graduated and await all your eternal happiness.
I have graduated and am but one member of society;
I have graduated and am still a child of my alma mater;
I have graduated and am still as compulsive;
I have graduated because of pride in my nationality.
I have graduated and blood beats through my bosom;
I have graduated and I consolidate Buddhist thoughts;
I have graduated and undertake a holy mission;
I have graduated and I preach the poetry of Buddhism.
Dotsang Yinggya from Huare, poetry student, written in the Chengdu branch office of TibetCul
March 10, 2010