Following on from our blogpost from yesterday, High Peaks Pure Earth has continued to monitor online reactions to the earthquake in Tibet by Tibetan netizens.
Many expressions of grief and solidarity have appeared online on blogs and social networking sites in the forms of photos, poetry and statements. The photo below has appeared on several Tibetan blogs such as this blog here and also on Tibetan writer Woeser's blog.
Om Mani Padme Hum Om Mani Padme Hum
For our Yushu brethren
Serthar Buddhist Institute at Larung Gar have set up a Yushu earthquake rescue team, 1000 monks will set off for the disaster area on 15th!
My dear compatriots, a catastrophe once again descended on the children of the snowland, mercilessly robbing the lives of our vivacious brethren
In times of great difficulty, every one of us Tibetans must join hands in solidarity and go through the crisis together
Offer prayers to those compatriots who left us due to the disaster
May the three precious jewels of the Buddha, Sangha and Dharma lead their souls to the most pure and holy rebirth
Offer our greatest regards to our compatriots in the disaster area
All of us Tibetans will be forever with you
The same Tibetan blogger also posted a poem written earlier today, April 15, 2010, that mourns for victims of the earthquake and at the same time calls for solidarity: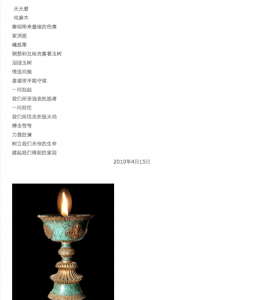 Song of Sorrow
Days without love
Numbing
Dawn brought the darkest pain
Home has faded away
Soul has been orphaned
Grouted metal and rubble filled Yushu
Yushu wet with tears
Fellow brethren
Those in the ruins can not be kept waiting
Stand together
With strength we will bring peace to the dead
Go forward together
With our belief we will subdue heaven and earth
Fight the elements
Turn the tide
Establish our everlasting existence
Build up our bright future home
April 15, 2010
The poem prompted this exchange in the comments section:
We can not change the fact that the disaster has struck, let us unite to help our fellow compatriots and loved ones to build up their homes! We shouldn't be left with only feelings of regret, I hope that this unfortunate incident will make us more united!
[Reply] Only united can we Tibetans stand among the nations in the world
Strangely, the main Tibetan language blog-hosting sites are down. One Tibetan language site that is accessible carries photos from the earthquake area and has provoked the following two comments by Tibetan netizens:
http://tbyouth.org.cn/article/news/2010/04/15/455/
I mourn all the lives of my fellow Tibetan countrymen lost in this earthquake. We must share both happiness and suffering together. With one heart we must face this natural calamity.
I deeply mourn the lost lives of people in Yushu in the earthquake. We should consider yesterday's calamity as a natural disaster and work hard on tomorrow's victory and happiness. With all our strength we must continue to survive.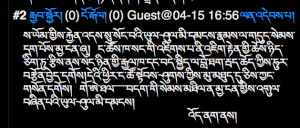 High Peaks Pure Earthwill continue to monitor Tibetan netizen reactions and post them here.