It has been reported both by Chinese state media and Western media that a 7.1 magnitude earthquake struck in Tibet early this morning, April 14, 2010. Whilst Chinese media refers to the affected area as the Tibetan Autonomous Prefecture of Yushu (玉树) in Qinghai province, Western media has been calling it Western or North Western China inhabited by "ethnic Tibetans" or part of the "Tibetan plateau".
In fact, the area known in Tibetan as Kyegundo (སྐྱེ་རྒུ་མདོ། skye rgu mdo) is considered by Tibetans to traditionally be part of Kham, eastern Tibet. Although spelt Kyegundo, when spoken it sounds more like Jyekundo. This Google map shows the position of Kyegundo in relation both to Lhasa and also to the provincial capitals of Qinghai and Gansu, Xining and Lanzhou, to the north east.  Here is the link to the map on the website of Tibetan and Himalayan Library, an excellent resource site.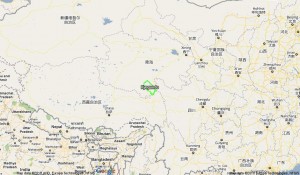 Whilst media reports on the technical details of the natural disaster and the ongoing aid efforts, High Peaks Pure Earth has been looking at the online responses by Tibetans as expressed on blogs and social networking sites.
Just hours after the earthquake, Tibetan netizens were expressing their grief and anxiety. These Tibetans wrote the following status updates on a Chinese language social networking site for Tibetans and seem to be mostly Tibetan students based in Chinese urban centres: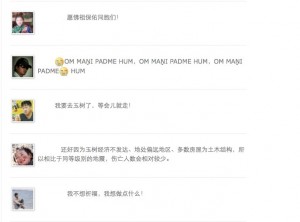 The status updates read:
May the Buddhas protect our brethren!
Om Mani Padme Hum, Om Mani Padme Hum, Om Mani Padme Hum
I want to go to Yushu, I'll go there soon!
Fortunately, due of economic underdevelopment in Yushu and the remote location, most housing would only be buildings for officials, so compared to earthquakes of the same level in other areas, the number of casualties would be relatively small.
I don't want to pray, I want to do something!
One netizen anxiously writes:

All of my relatives are in Yushu, I can't get through to them, so anxious! hope they are ok
This netizen then wrote a short poem about her feelings: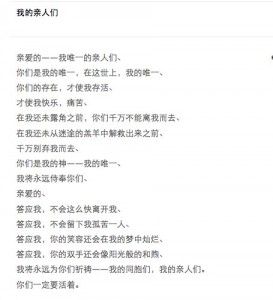 My Loved Ones
Dears, my only relatives
You are my everything, in this world, my everything
It's only because of you that I live
It's only because of you that I can feel joy, sorrow
Before I get there, you mustn't leave me
Before I rescue the lost lambs
You mustn't abandon me
You are all my guardian spirits — my everything
I will always serve and revere you
Dears
Promise me, you won't leave me so soon
Promise me, you won't leave me alone
Promise me, that I will still be able to see your bright smiles in my dreams
Promise me, your hands will stay warm like the sun's rays
I will always pray for you, my brethren, my loved ones.
You all must stay alive.
Today, the most popular Tibetan blog portal TibetCul has a black and white banner on its website to commemorate the earthquake: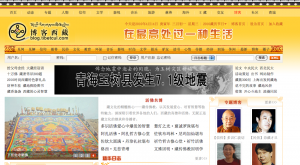 High Peaks Pure Earth will continue to monitor Tibetan netizen reactions and post them here.