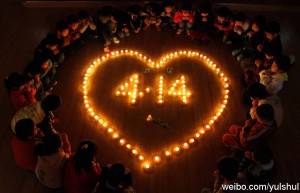 Popular photo on Tibetan blogs commemorating the earthquake of April 14, 2010

It's been a year since a devastating earthquake struck Kyegundo (Ch: Yushu) in eastern Tibet on April 14, 2010. To commemorate the first year anniversary, the Tibetan blogosphere has been awash for the past two weeks with blogposts, photos and poems remembering the incident. High Peaks Pure Earth has translated a poem written for the anniversary by a female Tibetan blogger called Lhakyi Dolma and posted on her blog on April 1, 2011. 
The recovery programmes are still ongoing, those who wish to donate to this important work can visit the pages of Tibetan Village Project in the US and Tibet Foundation in the UK.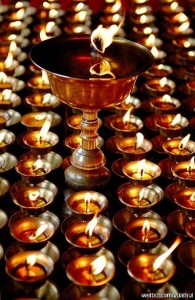 Popular photo on Tibetan blogs commemorating the earthquake of April 14, 2010
Blessings for Yushu
— Written for Yushu on the first anniversary of the earthquake
A thousand butter lamps are lit for yesterday
Palms together in prayer, contemplating your name
Looking to the Source of Three Rivers from afar
That pure earth nurturing ten thousand souls
Gently carrying along my initial greeting
Yushu, are you well?
A stick of incense is burned for today
Facing the Buddha statue, offering thanks from the heart
Olive green, maroon red
You are the most faithful protective deity of the Land of Snows
Offering a pure white khata
Turning deep kindness into strength
Let the sun's warm ray
Carry along a greeting
Yushu, are you well?
Observing the dawn and dusk of Batang's grasslands
You can still dance with your long sleeves
You can still recite "Gesar"
If there are smiles, let them blossom
If there are tears, let them float
The earth embraces us
We embrace today
We calmly passed, scattering seeds and growing
Looking up at the source of Three Rivers
Gently carrying along my greeting
Yushu, are you well?
Prostrating, praying for the welfare of living beings
Spring's recovery accompanied by the heartbreak
But the heart that is brave, can only carry on towards happiness
Sacred mountain Gardo Jowo still shines like silver
Flowers will still bloom, eagles will still take flight
Glaciers, snow mountains, pastureland, cows and sheep
Have been the mark of this land all along
The quiet greeting caresses and soothes the pain
Yushu, are you well?
The strong Khampa children possess power bestowed to them by the ?plateau
Tomorrow's happiness is already underway
The sun rays always greet us from ahead
Blessings for Yushu
Gently carrying my greeting
Yushu, take good care of yourself
April 1, 2011
Chabcha