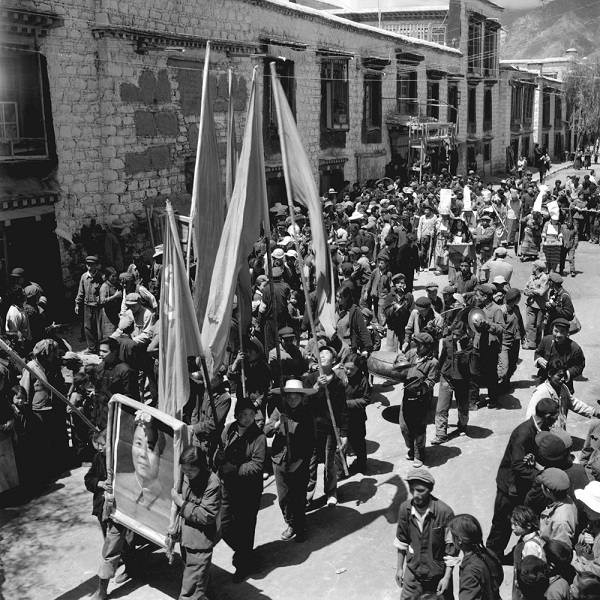 High Peaks Pure Earth has translated a blogpost by Woeser, originally written for the Mandarin service of Radio Free Asia and published on her blog on December 7, 2017.
This is the third essay in a long series of posts about the Cultural Revolution in Tibet. The subsequent posts will be published in the coming weeks. See parts one and two of the series here: http://highpeakspureearth.com/2018/the-cultural-revolution-has-by-no-means-ended-part-one-by-woeser/ and http://highpeakspureearth.com/2018/those-who-took-photos-of-the-cultural-revolution-in-tibet-by-woeser/
See the original 2016 New York Times piece in English that sparked this series here: https://www.nytimes.com/2016/10/04/world/asia/tibet-china-cultural-revolution-photographs.html

"About the Photos Taken and Published by My Father":
An Interview That Made Me Continue to Think About the Cultural Revolution in Tibet – Part 3
By Woeser

"Forbidden Memory: Tibet During the Cultural Revolution" published by Locus in Taiwan in its original edition from 2006 and new edition from 2016, includes almost 300 black and white photos taken by my father, Tsering Dorje, portraying the Cultural Revolution in Tibet, mainly during the years between 1966 and 1970, from the beginning to the height of the Cultural Revolution; there are also some photos taken during the latter and slightly less violent years. My father mainly used his 120 Zeiss Ikon. In the 1950s, he was a young second lieutenant in the PLA and he used two years of savings from his military provisions to purchase it at a store opened in the Barkhor by Nepalese people. He started being interested in photography from a very young age and having his own camera nurtured this interest even more; he spent his own money to buy film and built his own darkroom to develop them. To put it simply, he was obsessed with photography.
In August 2016, the Chinese edition of the New York Times published an interview series with me. The interviewer was the journalist Luo Siling who asked me a question that also interested many other people: how did your father manage to take these photos?
Let me begin by giving a very brief introduction to my father's life. In 1950, Mao Zedong ordered the People's Liberation Army into Tibet, and on the way it passed through my father's hometown, Derge, which is in the present-day Kardze Tibetan Autonomous Prefecture in Sichuan Province. At the time my father, who was only 13, was sent away by his Han Chinese father to enlist in the PLA. His mother was a local Tibetan. During the Cultural Revolution, my father served as an officer in the political department of the Tibet Military District. From 1950 until 1980, the PLA's power within Tibet was extraordinary, Tibet was always under strict military control. I suppose he was able to take photos because of his privileges as a PLA officer. My father was a professional soldier and extremely disciplined and compliant. They were extremely particular about these things, even his notebook had to be handed to the higher authorities for checking, each page had a number and none could be missing. He took so many photographs, so if he had been an officially appointed photographer, he would have most certainly had to present the photos and negatives to the higher authorities. But he kept all of them, which means that he was not officially ordered to do so.
At the time, not many people owned a camera and people with a camera who were also able or let's say allowed to take photos of public events were even less common. There were only a few in Tibet, photojournalists from Xinhua, the "Tibet Daily", the Tibetan People's Radio Station, the Tibetan correspondent post of the Central Newsreel and Documentary Film Studio, the "Plateau Soldier Post" that was run by the Tibet Military District political division etc. All of them were very active during the Cultural Revolution, making documentaries, taking photos, writing reports. But in the newspapers and magazines at the time, we would not see a single photo showing the smashing of a monastery or the denunciation of "monsters and demons." I looked through the "Tibet Daily" from 1966 to 1970 and did not find a single photo like that. In fact, we also don't see any in today's media. Today, some photos of the Cultural Revolution have appeared, but they merely show scenes of mass gatherings, but nothing about destruction or denouncings.
In "Forbidden Memory: Tibet During the Cultural Revolution," there is one of my father's photos showing the denouncing of a Tibetan aristocrat and monk in the Barkhor, in which we see three other people also taking photos. Two of them have been identified, one was a "Tibet Daily" journalist and the other from the Tibetan sub-division of Xinhua. This shows that apart from my father, there were others taking photos of the Cultural Revolution in Tibet, it's just that these photos were never made public. Today, there are four or five photographers who are officially regarded as the most authoritative photographers who took many photos of important events in Tibet, such as the PLA entering Tibet, the so-called "democratic reforms," the Sino-Indian war, the People's Communes etc. etc., even the Cultural Revolution. Their photos were even–one by one–made public, but none show the smashing of monasteries or the denouncing of "monsters and demons." These were just explained with a few added words, but never actually portrayed photographically.
In the book "Tibet Remembered" that was also published in 2006 by Locus in Taiwan, I especially included an interview with my mother. She was born into a "serf owner agent" family in "Rear Tibet", so she belonged to a marginalised group during the Cultural Revolution. She explained it to me like this: "When the Cultural Revolution just started, your dad … would always take his camera and run around taking pictures and it wasn't just for work, because he was the section chief of the frontier communication department and not a photojournalist, but he really liked photography. … Once your dad came home and told me that today, Red Guards were smashing the Jokhang Temple. He also said that even though there were Chinese among them, many of those who used hoes to break the golden roof and smash Buddhist statues were young Tibetans from Lhasa; they were extremely enthusiastic, yelling until they lost their voices. I remember his facial expression that was all but happy."
The New York Times interviewer also wanted to know what my father's photos showed. I said: Mostly mass meetings and "incidents." By mass meetings I meant large-scale gatherings such as the celebration by tens of thousands of Chairman Mao's launching of the Cultural Revolution. Incidents included the destruction of temples and denouncing of "monsters and demons." On the one hand, they really exposed the calamity that the Cultural Revolution brought upon Tibet, on the other hand, they also exposed some specific people, including some of the Central Government's leaders in Tibet, the founders of the Lhasa Red Guard movement, various Red Guards and enthusiasts as well as the denounced Tibetan aristocrats, the high-level monks, officials, business people and so on. In fact, in my investigations most of my efforts were focused on these people, because it's through them that the photos have their greatest value. I have never counted how many people I have found on these photos, but there are many. Over six years, I interviewed about 70 people in the photos, mostly Tibetans, but also Chinese and Hui.
The interviewer further asked how many of my father's photos were actually preserved? According to my memory, my father's Cultural Revolution photos can be divided into two periods: the first period focused mainly on Lhasa and includes about 300 photos; during the latter period, my father was transferred, so we moved to eastern Kham, where he also took several hundred photos or even more. In "Forbidden Memory: Tibet During the Cultural Revolution," I divided the photos into five categories: 1. The smashing of old Tibet: including "the destroy the Four Olds" campaign, the destruction of monasteries, the denouncing of "monsters and demons" and name changes. 2. The inner struggles within the rebel faction: referring to the movements of the main two rebel factions. 3. The Dragon in the Land of Snows: referring to the Central army, the strongest power in Tibet; cities, villages and pastures were all put under military supervision, starting to kill the rebel factions. 4. Mao's new Tibet, including the establishment of revolutionary committees and people's communes as well as the Mao cult. 5. An epilogue, referring to the end of the Cultural Revolution.
Finally, the interviewer asked another very crucial question: What was your father's goal when taking these photos?
This question is actually not easy to answer. In fact, I have discussed this with my mother on numerous occasions. When writing the text for "Forbidden Memory," I often wondered: Why did my father take these photos? Why did he keep them? He was a very meticulous person, placing every negative into a special envelope, clearly labelling them. He placed the negatives portraying the Cultural Revolution and related history of Tibet separately into a special box. I saw these photos when I was very young and they left a deep impression on me. My mother believes that my father simply loved photography and would just capture whatever he encountered. But I don't think it is this simple, because why then would he have kept them separately? When my father passed away, I was 25 years old, immersed in poetry and literature. I did not yet pay attention to this topic and never talked to my father about this, something I will sadly never be able to rectify. When, many years later, I used his camera and returned to the places where he had taken his photos, I felt as if he was standing next to me and thought that when he captured the Cultural Revolution, he must have had his reasons. He just did not say them out loud. He was not an official photojournalist, he took these photos because he himself wanted to. He must have had the intention to record these events and scenes with his camera. For whom he was recording them, I am not able to say. He was a PLA soldier, a CCP member and before his death he was a Lhasa military sub-district commander, so I am really not able to say what his intentions were. But I have always believed that he had his reasons and thoughts when taking these photos and then carefully preserving them.