High Peaks Pure Earth has translated a letter of appeal written to government officials on June 25, 2010, by Dolkar Tso after learning that her husband, Karma Samdrup, was sentenced to 15 years in prison for charges of alleged tomb-robbing and dealing in looted relics. 
The letter of appeal was posted online on the blog of Karma Samdrup's lawyer, well-known Chinese civil rights lawyer Pu Zhiqiang on this URL: http://puzhiqianglawyer.blog.sohu.com/155565868.html However, this post is now inaccessible. The letter can be read on Woeser's blog where it was re-posted in full on June 29, 2010.


High Peaks Pure Earth has posted several translations of blogposts by Dolkar Tso.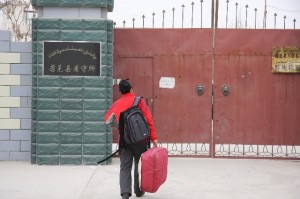 To the honoured reader:
I am from the town of Jyegu in the Yushu Prefecture of Qinghai Province, my name is Dolkar Tso. Not that long ago, I was just an ordinary housewife, a happy wife and mother. My husband's name is Karma Samdrup; he is from the Chamdo District of Gonjo County and for a long time had dedicated most of his energy to protecting culture and the environment, he was widely respected. We have two lovely daughters together who are lively and kind-hearted and who currently go to a primary school in Chengdu. But now, my innocent husband has been sentenced to 15 years in prison accused of "robbing ancient graves", our two unaware daughters still hope for a phone call from their father day and night. The past year's earthquake and many other unexpected events have gradually destroyed our simple but happy family.
If my husband had really broken the law, I would by no means beg for leniency on his behalf; but we −all his relatives, friends and I− have known Karma for many years, and especially after his three-day trial from 22 to 24 June, we are more convinced than ever that Karma is innocent; he is no criminal.
Karma was born in a remote mountain village, never received any formal education but has always been kind-hearted and intelligent by nature. Starting from small business activities in his childhood, later on, he turned into a respected and well-known businessman. Nevertheless, compared to those wealthy contemporary families, our family still looked quite poor. This is because Karma invested all his hard-earned money into his activities of protecting culture and the environment. He also built bridges, renovated schools and supported widowed elderly people in his hometown. He also set up the "Three Rivers Environmental Protection Group", which has been awarded many prizes of special honour. Moreover, he was very devoted to the protection of cultural antiquities and established the "Tibet Gzi (Heavenly Beads) Road Cultural Communication Company Limited". He often cooperated with provincial museums and even managed to sign an agreement with the China Tibetology Research Centre preparing to donate 200 cultural items to the state. He has always dedicated everything to the harmonious existence between different people and between people and nature and has always believed that the protection of culture and the environmental go beyond the notions of nationality or state. For this reason, he has received varies different awards from the government. He has always obeyed the law, has always loved the country and his family and has gained trust and respect from friends of different ethnic origins. He particularly liked to make friends with inland intellectuals; he liked to study radiant Han culture and never entertained any separatist thoughts. His friends and relatives all think that his words and deeds have always represented the unity of ethnic nationalities and that he is in fact a role model for law-abiding citizens. But this person was taken as a captive, was tortured to confess to an extent that I couldn't trust my own eyes when I was at the opening of the trial on June 22 and saw the tall and heavyset, even a little chubby Karma was now skinny and small, his body was crooked so that we already started shedding tears like rain before he had even started telling us about the cruel torture he had suffered. I already more or less knew what he had gone through, but when we heard his statement about how he had been forced to wrongly confess by means of numerous different methods, how he had been tormented day and night, we just couldn't bear it any longer up in the public gallery. In the past half year, he led a life that wasn't worth living; he often bled through the seven holes in his head and fainted, he did not have any food, was not given any time to rest and we only found out at the court that his left ear had almost gone deaf, his vision was blurry and his whole body was in agony. Yet, with a determination, which we are unable to imagine, he persisted in not telling lies, but in remaining an honest person, something, which made his friends and relatives feel proud and shaken.
For a housewife coming from a family like mine, this trial was so obviously not fair. The collegial panel only listened to the words of the prosecutor and turned a deaf ear to the questions of the defending advocates. The prosecutors' proceedings revealed too many loopholes and the evidence, which they submitted was contradictory and full of flaws, making him a suspect on false grounds. But when Karma and his defenders requested evidence or wanted to call in a witness, which are all very legal requests, they were refused. According to the sentence, Karma should stay in prison for 15 years; this is so unjust and signifies the loss of any impartiality. Just as Karma said in his last statement, how can a person who protects antiquities and feels sad every time any cultural artefact is being destroyed be accused of "destroying ancient graves"? How can a person who grew up with traditional customs that taught to be superstitious about tombs be so defaming and "sell coffins and dried corpses" or "rob ancient graves"? We really don't understand how Karma can endure such immense misfortune when we have such an advanced Party and Government and wide-ranging legal system in place?
Recently, our country has promulgated new laws and regulations against giving false evidence thus, strengthening citizens' rights, putting an end to unjust cases out of pure hatred. This makes me feel very hopeful that the collection of evidence and investigations are being carried out according to the law and I believe that justice will be done to Karma. He has been serving his country for all his life and will certainly keep doing what he can do, will not strive for idealism and contribute to society.
Today, the heavy burden of the family, the business and the lawsuit entirely rests on my shoulders. Our innocent children still don't know what calamities their dad is experiencing. Apart from Karma, his older brother, Rinchen Samdrup, and his younger brother, Chime Namgyal, were also arrested in August last year. To the present day, the older brother's trial has not commenced and the younger brother was transferred to a hospital under strong surveillance on 11 June due to his disability. A different cousin was sentenced to one and a half years in prison for "being the instigator of a group of villagers appealing to the higher authorities" at the end of last year. Yet another cousin, Rinchen Dorje, was also seized by Ku'erle (in Xinjiang) city police in connection with Karma's case and his whereabouts remain unknown. Already 5 family members have been arrested, every time I think of the peaceful life in the past, I cannot help but feel sadness welling up.
I earnestly request the respective departments to urge the local law enforcement offices to strictly follow the law and I also call for treating a good person like Karma in a humane way. A case like this can also stand as a model case in accordance with the newly promulgated laws and regulations. It will not only give back an honest person who has endured cruel punishment his legitimate right to live, it will also be a valuable experience helping to prevent similar cases in the future. But most importantly, it will be a great encouragement for people from all nationalities to do everything for the unified and harmonious existence of all nationalities.
Once more, I earnestly request the officials in charge to pay attention to this case and to pay attention to Karma Samdrup. For this I show my highest respect, appreciation and compliments. Tashi Delek!
Dolkar Tso
June 25, 2010