This article continues a
series of blogposts
written by Woeser
from Lhasa
 and focuses on a type of person, commonly Chinese, called a 藏漂 (zang piao), a "Tibet Drifter. This term also describes a social phenomenon that started in the 1980s typically of disaffected youth eager to break out of their own society. These "Tibet Drifters" often travel to Tibet and, taken in by the beauty and the "otherness" of the environment, find themselves unable to leave. 
The term "Tibet Drifter" does not seem to have a negative connotation in Chinese, these people clearly see themselves as
versions of Jack Kerouac's "Dharma Bums"
. However, Woeser's disdain for this type of person is evident as described in the article, as is her unwillingness to be associated with them.
Woeser begins by referring to a blogpost she read about
"Tibet Drifters" on TibetCul.com
. The original blogpost, as she says, refers to several "Tibet Drifters", including herself. The others mentioned in the original blogpost are various writers and artists including Ma Yuan, Jiang Bao, Lan Bing, Er Mao, Dhondup, Ugyen Tsering, Zhang Zhizhong and Sebo.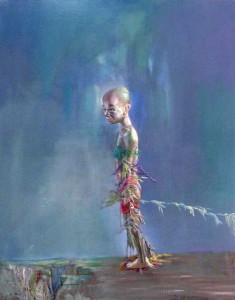 New work by Tibetan artist Tsering Nyendak 
(Photo taken in the Gedun Choephel Art Gallery)
"Who is Really Safeguarding Lhasa?"
By Woeser
On the blog of the founder of the website TibetCul, Wangchuk Tseten, I saw an article titled "Who is Really Safeguarding Lhasa?!" I was surprised that it praised the group of "Tibet Drifters" those "faithfully safeguarding Tibet", even as the "patron saints" of Lhasa. Although the group of "Tibet Drifters" in the article is somewhat different from the "Tibet Drifters" as they are commonly referred to today − it is made up of different people, it does not only include "all kinds of people from other countries and places who live in Lhasa", it also "embraces Tibetans from other areas of Tibet". Yet, every single one of these grand sounding words such as "faithfully guard", "safeguard" or "patron saints", which the author uses to refer to these people is really rather preposterous.
I was also mentioned and portrayed as one of "safeguarders" but I really cannot agree with this. First of all, I am not at all involved with the "Tibet Drifters". For me, since I was born in Lhasa and then as a child left the city with my parents; since I insisted on returning during my youth and felt indebted to the 10 years of compassion which Lhasa had given to me; since I was once more forced to leave the city and live away from home forever longing for Lhasa, I have always felt that I was a girl from Lhasa. It is true, I am just one out of many who possesses the intimate bloodline and who possesses the generational karma, my devotion to Lhasa is like the fundamental devotion to a guru, I long for Lhasa like one longs for one's own mother. I do not dare to falsely declare that I am Lhasa's "patron saint".
Who is really safeguarding Lhasa? This is an interesting question in the first place and its answer varies with each individual. For example, that dictator who in the past, turned Lhasa's temples into ruins and today, turns Lhasa's houses into department stores, uses guns giving an answer that is voiceless but intimidating. However, those who genuinely guard Lhasa are by no means those invaders relying on their weapons, money and the populace. It is also not those slavishly dependent eulogists, those self-indulgent well-off literati or the subservient office workers. It is even less the gold diggers circulating hooliganism, the frustrated searching for the last straw or all kinds of people who treat Tibet as gold which they vigorously apply to their faces so as to prettify themselves.
Lhasa is a place, which in its own memory possesses all that life has to offer with all changes. How can a person who does not know anything about Lhasa's memory and whose sheer survival depends on Lhasa like a parasite, have any reason or face to indulge in empty words like "faithfully guard" or "safeguard"? Do you know the nature of the escape that happened one night about 51 years ago at the Dalai Lama's summer residence, Norbulingka? Do you know how the Kaling Kushu stupa on Barkhor North Street was smashed on a summer's day 43 years ago? Do you know why on a sun-drenched day 39 years ago, the Buddhist nun Trinley Chodon was on public trial and executed by shooting? Do you know the feelings, which 10 or 20 young nuns in Drachi prison sung about in prison? Do you know how many nuns have been expelled, how many Tibetans went missing two years ago, in the year of the rat? Do you know in the old town, how many soldiers are patrolling in the alleyways, on the streets and on Tibetan people's roofs at this very moment?
Despite Lhasa being bruised and broken, for centuries there still exist countless Bodhisattvas, countless outstanding sons and daughters deeply hidden in the centre of Lhasa just like the scriptures and mini-statues put into the stupas or statues relentlessly continuing to bestow upon us the blessing filled with tears. Lhasa people, who have lived there for generations, are still passing on the spirit of Lhasa in their own humble and unexaggerated way. With respect, I have encountered many elderly and middle-aged people who are hidden in the gracious and pleasant sounding Lhasa dialect. One old man has spared no pains to again and again take me through today's Lhasa, searching for past stories. This made me understand how much we have already lost, how much we are currently losing and what we should cherish. There are also young people from Lhasa who start to take action. For example, a video has been circulated on the Internet; the narration in the background is the poem titled "Let Us All Speak Pure Tibetan", recited with deep expressions using the Lhasa dialect.
As for the currently quite popular "Tibet Drifters" and those middle-class inland people who call Tibet a "spiritual home", it is just like someone commented: those people are in fact quite unfamiliar with the suffering Tibetans endure; perhaps they are even totally oblivious to suffering. Some "Tibet Drifters" have said to me that "Tibet Drifters" do not specifically have anything to do with Tibet, no matter in which place they "drift", they are always the same. But I have encountered those "Tibet Drifters" sitting at the main entrance of Jokhang Temple laughing, giggling and snuggling up to each other. Cigarettes dangle from their lips; they drink beer and sunbathe while watching Tibetans prostrating. They gaze and stare and while laughing and giggling, they also go and prostrate a few times as if it was just some kind of game, just some type of popular amusement.
Lhasa, March 23, 2010