High Peaks Pure Earth has translated a letter to Go Sherab Gyatso that Jamyang Kyi wrote on 25th July 2008 and posted on her blog on 31st July 2008. In an earlier posting, a letter to her friend Norzin Wangmo, Jamyang Kyi had said "Go Sherab Gyatso (sGo she rab rgya tsho), the one you were enquiring about, was arrested a few months earlier. His phone has been cut off and we have no idea about his whereabouts." From this blogpost, we know that Go Sherab Gyatso has been imprisoned but we do not know more than this.
Go Sherab Gyatso is the author of the book "We Need To Wake Up" (Nga Tsho sad ran), published in 2007 by Gansu Nationalities Press. Follow this link to see the index of the book in Tibetan.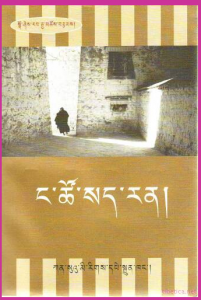 We Need To Wake Up

by Go Sherab Gyatso
Jamyang Kyi mentions other intellectuals such as Arig Dolma Kyab, Golog Palchen Gyal, Norzin Wangmo and Woeser. For our European friends, here is a translation of the blogpost, in French, by the team at www.tibet-doc.org.
*Update January 6, 2009*
Many thanks to a High Peaks Pure Earth reader in China who informed us that Go Sherab Gyatso has since been released and is back at Kirti Monastery.
"To Go Sherab Gyatso la" by Jamyang Kyi
At that time, no one expected the possibility for sudden events to occur and I never thought that I would be taken away and denied the right to utter three words or take three steps forward. At that time you said that you had been accused of horrendous political crimes and had been sentenced to 3 years in prison. I  deeply regretted that three prime years of your life would be wasted in prison. I had hoped these three years would turn into a beneficial experience.
At the time when I was kept in 'Ping An' detention centre for two days, this thought came to my mind again and again. I was regretful and ashamed for feeling it was hard to pass even two days in detention. In my mind I wondered how you would endure three years. Whatever the reasons may be, if one hasn't experienced detention, then it is not easy to make assumptions.
I respected those brave men and women who sacrificed their life and those who are within the walls of prison fighting for our nationality, especially talented Arig Dolma Kyab (a rig sgrol ma skyab). I deeply admire and respect this brave young man. And I realized that as for myself I am small-minded and not brave. In your case, you were imprisoned not once but twice. Your late father was labelled with political crimes and had to leave his own beloved place of birth. Your father died thinking of his beloved home in a foreign country. Thinking of it sometimes, the feeling of deep sadness falls to the ground.
The saying that behind every brave man there is an intelligent woman is true. Even when the situation was hopeless and desperate, your father had to leave and become a refugee. Your mother stood strong and encouraged and emboldened you. Like the saying goes, a half of the clothing is the shoe and half of a couple is the wife. She took the responsibility of both parents and raised you healthy and strong, mentally and physically. You are truly the son of a brave father and an intelligent mother. I would not be able to compare between your parents who is the more important or who is more courageous.
Among us, the diamond-like precious brave men and women are beaten against the rock and ground into the soil one by one. In these dark times how many of the brave and capable young men and brave mothers will be destroyed. Thinking carefully, how could all this be happening? Our men slept and the enemy took over, and women slept and the work overwhelmed us. And you uttered the unblemished truth, "We Need To Wake Up".
As for the men who haven't woken up yet, it is enough to respect and remember those who stand at the forefront. Doing so will affect future generations and inspire them. Otherwise, without respect and admiration for the brave people, there is no forward path for our nationality.
For those willing to listen, I always repeat the story of brave men and women. Even to my five-year-old daughter, I told her the story of brave Tsering Woeser (tshe ring 'od zer) and Arig Dolma Kyab (a rig sgrol ma skyab).
Brothers and Sisters! You are always in the depth of our heart. You, brave Norzin Wangmo (nor 'dzin dbang mo), Golog Palchen Gyal (mgo log dpal chen rgyal). And many more whom I don't know by name, I have been waiting with great hope that you will be released someday. This is not just my hope, it is the hope and prayer of six million Tibetans.
Comments:
Congratulations and admiration to Woeser and Dolma Kyab, even a mountain cannot obstruct your pa
My respect to the heroes and heroines of our nationality!
Respect to them from the depth of my heart.
Jamyang Kyi. Sometimes you made me laugh and sometimes you made me shed tears.
We are like an insect under the feet of a power that is reckless and lawless. Even if we raise our voices about our suffering for three hundred and sixty days, it will not be heard. I express my respect to you from the depth of my heart.
Sister Jamyang Kyi. I read your blog. There is no end to the tears, there is no limit to the space, everyone is thinking of them. From my depth of my flesh, I remember them, and from the crown of my head, I respect the brave Tibetans.
I would like to request more essays like Go Sherab Gyatso's "We Need To Wake Up"to readers. Even though I would like to read it, I have yet to get hold of it.
Sister, this is the truth. We should really appreciate and respect the brave Tibetan men and women. Like Uncle's advice "We Need To Wake Up", I pray and hope that we will wake up and walk on our own feet soon.
You are inflicted with so much hardship.
You have suffered immensely and I cherish you in my heart.
Sister. It is our pride that we shower you with admiration of flowers for your courage and sacrifice. Yet, one thing that is sad is that our writers stick to their crooked thinking and look for someone's mistake.
Sister. Thank you.
First, I would like to welcome Jamyang Kyi for her safe return. I and all our brothers and sisters share the pain and suffering you and Go Sherab have undergone.
Like you mentioned, you and the rest of the brave brothers and sisters who were taken away, shackled and denied the right speak to three words and walk three steps, such a thing is unimaginable in free countries in the western world.
My brothers and sisters, this is not an unchangeable precept. You have, for the sake of the happiness and freedom of (our) nationality, sacrificed your own interests. And to me that is a true hero. Hearing that Sherab, one of the exemplary monks of the 21st century has been taken away in secret brings inexpressible pain.
Greetings!! Even though, this is somewhat late, it is coming from the depth of my heart. Ping An Detentions centre. Ha ha!!

(Ping An, ?? in Chinese, translates into English as 'safe')

How are you Jamyang Kyi la? I am an ordinary boy who likes listening to your songs. Your song commemorating the 10th Panchen Lama is very special for me and has left an inexpressible impression. This is the first time I am looking at your blog and even though I wasn't able to comprehend everything in-depth, I can sense your composition expresses the fate of a nationality, thank you for this. (I hope) in the future that we can get to know each other, Tashi Delek.
After the incident, I bought your book on my way home. I hadn't paid much attention to these ideas before. But this year gave me a lot of ideas and changes in my way of thinking. I made myself examine my way of thinking. I would like to thank you and pray for your success.
Amidst the torture and blood, if we can win our truth.
And if we can materialize our hope by our lives' effort,
Their heart will be warmed, as life is wrapped with hot blood,
Even if their heart is wrapped in the darkness, they will see the rays of light.
I would like to congratulate you on your release.
In our case, "if a man lays still for too long, he is defeated by his enemies and, if a woman lays still for too long, she is overwhelmed by household tasks". It is naked truth expressed elegantly. Thank you. I am extremely happy that you have been released.
After leaving Xining Hospital, I have shared Go Sherab's advice with my collegues and students. It was like medicine to their mind. According to your advice, I have also completed putting together the book on new vocabulary in Tibetan. Like you said, if you cannot speak Tibetan, you are not a true Tibetan and you have lost the pride of being a Tibetan. I would like to request your continued advice and thank you for bringing your book to our attention.
I have no means to help you. Yet we share the same fate. Whenever we are weeping helplessly, it remind us of our karma.
Go Sherab is a person who doesn't know how to think according to the 21st century. He is a convict who disrespects the grateful Buddha, parents, lamas and monastery. It is difficult to establish that he is a Buddhist. The reasons are evident if you look at his book "We Need To Wake Up".