High Peaks Pure Earth has been following the news about the detention and mistreatment of young Tibetan writer Pema Rinchen that has been coming out via Woeser's blog and Twitter. The full translation of Woeser's blogpost of July 7, 2011 is below, a blogpost that was summarised by Beijing based American journalist Paul Mooney on his blog on July 8, 2011.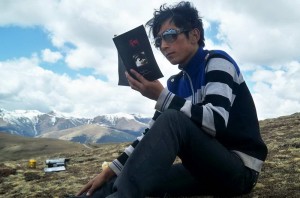 High Peaks Pure Earth has also translated a poem by Pema Rinchen titled "We, Who Are Ruled By Others" that was published in his volume "Look", the reason for his detention:

"We, Who Are Ruled By Others"
By Pema Rinchen
The greed of the red army created a path of blood in the Snowland
By enacting the laws of hell, the tranquil life was tossed aside.
The face of the nation is circled by deceit
Robbed of minerals, the pure land has been wounded.
The past years and months is a history written in blood,
Tears of sadness mark the present ,
What comes in the future is fallen in fear.
Hearts of kinsmen of the Snowland are suffering unbearably,
Evoking beneficent deities, if you have the power,
Timely, see  the joy and sorrows of the Snowland,
The  hopeful people who aspire for justice,
It is time to change the fate of the Tibetans
Don't enchant us with sweet words
without practice,
Melodious sounds of freedom and democracy are empty words.
The debts of hatred and animosity created between the red and white stars
Until this is dispelled, a peaceful time will not come,
Even if I have to carry the weight of Chomolungma, or wait till the waters of Kokonor dry up,
It is my oath to oppose the red government.
"Tibetan Writer Pema Rinchen Detained on July 5, Severely Beaten" 
By Woeser
The 25-year-old Tibetan writer Pema Rinchen (pen-name Poison Thorn) is from Drango County in Kardze TAP, Sichuan Province.
On the afternoon of July 5, Pema Rinchen was taken away by Drango County PSB officers. He was severely beaten. The next day (July 6) he was taken to Drango County hospital for emergency treatment.
When his family from Longda Village in Kaliang Township in Drango County heard the news, they rushed crying to the hospital, but PSB and PAP officers outside the ward barred the way and wouldn't let them in. It isn't currently known whether Pema Rinchen is dead or alive.
Pema Rinchen had been a monk in his childhood, but then began writing at home, and is a relatively well-known Tibetan-language writer in the Kham region of eastern Tibet. Earlier this year, he self-published a Tibetan book called "Look", which was a consideration and critique of the Chinese government's policies and practices in Tibetan areas, and of their suppression of Tibetans protesting across all of Tibet in 2008, and of their actions during the Yushu earthquake. Furthermore, Pema Rinchen had also interviewed some Tibetan who were tortured during the 2008 protests.
Two thousand copies of "Look" were published. Prior to being detained, he had travelled all over Tibet and given away almost all copies.
On the afternoon of July 6, Drango County PSB gave Pema Rinchen's family a certificate of detention, claiming Pema Rinchen had "incited ethnic enmity", and that he was now "held in Drango County Detention Center". The names of the people handling the case are Hui Xiaolin and Dorje Rinchen.
Last month, my blog published the report "Documenting 10 Tibetan writers and teachers detained, arrested and imprisoned by the Sichuan authorities" on how there has been no easing up of the suppression of Tibetan intellectuals, and how it is in fact getting much worse.
Therefore, the international media, International Pen and international human rights organizations are asked to once again take note, to call for help and to provide assistance.
Finally, below a translation of an update written in a tweet of July 8, 2011, by Woeser:
Latest information received: because information about the detention and beating of the Tibetan writer Pema Rinchen is now known in the outside world, the authorities in Drango County in Kardze Prefecture, Sichuan, suspect it was his family [who leaked it]. Pema Rinchen's Uncle has been subpoenaed and subpoenas will continue tomorrow. And as of today the family still can't see Pema Rinchen and don't know what condition he's in.
This post is also available in:

English