High Peaks Pure Earth has translated a blogpost by Woeser originally written for Radio Free Asia and posted on her blog on June 8th 2009.
Since the protests in Tibet that started last year in March, some Chinese lawyers have emerged publicly in support of Tibetans. As Woeser has written below, high-profile cases such as the case of Phurbu Tsering Rinpoche in Kham and of Labrang monk Lama Jigme have benefitted from their involvement.
Amnesty International also reports that amateur Tibetan filmmaker Dhondup Wangchen "now has legal representation of two family-appointed lawyers" but the outcome of his case is still unknown.
For more background, please read this article from the Washington Post of June 26, 2009 and this article from February 20, 2009, presents the official Chinese position.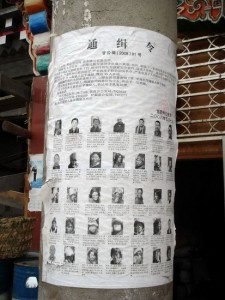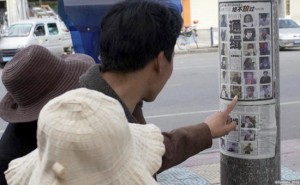 The top photo shows arrest warrants that were put up on the streets of Lhasa last year on March 26, 2008. The photo below shows arrest warrants that were put up in May 2008 in the northern part of Kham in a small town called Mani Gango. No such warrants have been seen in Amdo as yet.

"Tibetan Lawyers: Why Don't They Come Forward?
"
By Woeser
On May 31st, more than 20 Chinese lawyers were running the risk of ceasing their professional activity temporarily or indefinitely. After the "Tibet Incident" last year, among them, 8 lawyers, together with 13 other lawyers, had jointly signed a petition which openly stated that they would provide such legal service as representation and defence for Tibetan people who were being detained. These 8 lawyers are: Jiang Tianyong, Cheng Hai, Li Xiongbing, Li Dunyong, Li Jinglin, Liu Wei, Peng Jian, Wen Haibo. At that time, the 21 signatory lawyers received a tough warning from the authorities, and have been prohibited from interfering in the Tibetan legal cases; all the law firms where the lawyers work have been forbidden to accept the entrust of the Tibetans by the Bureau of Justice, and they also received a warning stating that they would be temporarily prevented from taking the annual examination for registration. Lawyer Teng Biao has had his lawyer's licence suspended; Jiang Tianyong has been temporarily prevented from taking the annual bar examination for registration; the President of the Bar Association of the municipality of Beijing has said: "We must use our wisdom to take the means of livelihood of the signatory lawyers away".
In addition, one of the reasons stated by authorities for preventing signatory lawyers from participating in the trial of Tibetans was that "lawyers were in sufficient numbers in Tibet and that there was no need for the help of lawyers from other regions". This is true because in the Tibetan areas, for the Tibet Autonomous Region alone, according to the report by Tibet TV of December 20, 2008, there were 94 practicing lawyers and 17 law firms. However, what really is a shame is that during the "Tibetan incident" last year, those Tibetan lawyers not only did not sign the petition but did not provide genuine and meaningful legal aid for Tibetan people who had been arrested either.
Ordinary Tibetan people have always lacked the consciousness of their rights and of how to safeguard their rights. Especially when there is high political pressure, because of extreme fear, they will not dare to fight for their own rights. Conversely, authorities excel in having tribunals appointing barristers. In other words, the authorities claim that Tibetans in custody have defence lawyers, in reality, these lawyers exist in name only. For instance, last year on May 2, Chinese official media released an article referring to the procedures of Tibetans being tried in the "March 14 Lhasa incident". The article stated that there were 31 lawyers defending 30 accused. In fact, they were all barristers designated by the tribunal. In addition to the local Tibetan lawyers appointed, they also nominated two Beijing lawyers who had not signed the petition. No one would be fooled by the outcome of such a trial. A good example is the description made by Tibetan lawyer Migmar Dolkar of her meeting with the defendant Lobsang Samten: "When I entered the prison, two doctors were examining suspects who were detained. At that time there were more than ten suspects waiting to see a doctor, and in addition there were two people who were on a drip." It sounds as though Tibetans in custody received quite good medical care. However, according to polls carried out on some people who had been released, all the Tibetans in custody have suffered different degrees of beatings and abuse. Some monks and ordinary people were injured or even died or lost their minds following beatings. Some Tibetans who became critically ill as a result of beatings were sent to hospital for treatment but were threatened by the local police who prevented them from telling anyone that they had been tortured to extort confessions.
The 21 lawyers from Beijing and other places, who signed a petition to support Tibetans who were in custody, not only had to face pressure from authorities, they also had to face pressure from netizens. A few Chinese radical nationalists sent messages to the general mailbox of the supportive lawyers, insulting and threatening these lawyers: "… wait until I catch you animals, see how I'll punish you, go ahead and be in the limelight. Whoever comes forward to defend Tibetan terrorists, I want your life or the life of your family members…" It is really a pity, even if one would seek the limelight, it should be the local lawyers in Tibet to do so. But where are they? Why is it that Tibetan lawyers could not do what lawyers from Beijing and from other places achieved? Was it because the latter had more courage? Or was it because authorities were watching Tibetan lawyers more closely, and all lawyers are not on an equal footing? Though they are all lawyers, when Tibetan lawyers were informed about the fact that lawyers from Beijing and other places used the law in order to preserve the rights of the Tibetan people, was it with peace of mind or with shame?
In fact, many Tibetans really need to cooperate with lawyers, and obtain their legal aid. Recently, two trials taking place in Amdo and Kham, namely the trials of Phurbu Tsering Rinpoche and Lama Jigme, have had excellent results, thanks to the brave participation of two Beijing lawyers, Li Fangping and Jiang Tianyong. Let us pay tribute to them! We should also pay tribute to other human rights lawyers who are willing to assist Tibetans. We also look forward to seeing the rise of other similar genuine human rights lawyers who would become involved in cases of Tibetans enduring biased treatment.