High Peaks Pure Earth has translated a note from Tsawa Danyuk that Jamyang Kyi posted on her blog on 2nd January 2009 (photo of the blogpost below). It appears that this writer is either missing or has fled abroad. We are not certain if Tsawa Danyuk is another blogger or whether the note was sent to Jamyang Kyi. It is apparent from the note that he had been accused of unknown crimes for writing or saying some words.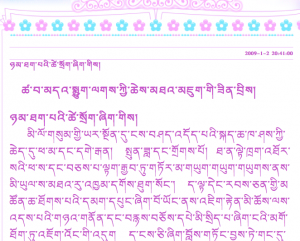 What is interesting is that since March 2008, a number of Tibetan writers and bloggers have been accused of political crimes by the authorities and have disappeared or gone underground. Another point to note is the growing admiration for Jamyang Kyi amongst her readers and followers. The comments on her blog are filled with words of admiration and affection to her.

The Very Last Note from Tsawa Danyuk (Tsha ba mda' smyug)

By a tormented soul
Because of a few words I had said three years ago, I had to leave my beloved parents, teachers and friends. I even had to depart the land, where my umbilical cord is buried and be tossed away like sacrificial cake (gtor ma) from my native land.
Now I endure pain and suffering beyond worldly imagination inflicted by an army equipped with modern technology. What do I have to sacrifice? Where do I escape? Am I not allowed to remain on this earth? What crime have I committed? I begin to the think that even the gods are not being fair. I cannot comprehend! I am confused! I am laughing!
Notice: The above short note was written by Tsawa Danyuk on 29th April 2008
Comments:


Are you the writer of this blog?






Compatriot. Indeed, yes, I am the writer of this blog whose name begins with Jam. Thank you from the depth of my heart for visiting my blog all the time.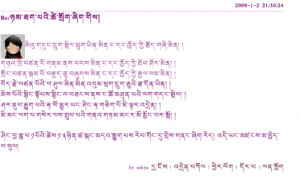 Whether the first six Tibetan primordial beings are monkeys or not is not our topic of debate.
Whether Nyatri Tsanpo descended from sky or not is not our (debate) to be won and lost.
Whether Songtsen lived into his eighties or not is not about victory or defeat.
Whether we are living up to the legacy of Tibetan kings is the question for the six million Tibetans.
Embrace the courage of our ancestors to our hearts and hold our hands together.
The agile horse running east and west, yet what is the use of a single horse?
Like the elegant saying, that united hands are gold, this is the path we should stride.
This was written in the Wood Bird Year, on the 23rd of the 1st Tibetan month. Tsawa Danyuk wrote this in Rebkong. I offer this to Jamyang Kyi.







The descendants of red-faced Tibetans call out the name of Tsawa Danyuk.







You are the flower of my life
You are my heart's choice,
Forever my affection and love to you.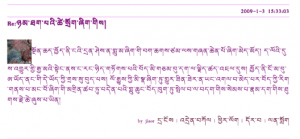 In the past I only thought of you as a singer. Yet, this year when the tide of time turned against us, I have scaled the strength of all the known Tibetans. And you are one of the most courageous Tibetans in the face of this difficult time and undeniably you have become a historical person. For being the voice of many educated Tibetans and raising the voice of truth through your writings, I would like to thank you from the depth of my heart.







Because of this oppression, I wouldn't be able to close my eyes even if I were dying.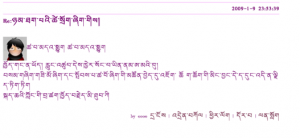 Tsawa Danyuk, Tsawa Danyuk!
Where are you? Have you been blown away by the storm?
A symbol of intelligent mind and brave heart
Forever present in (our) conversation,
Will never be forgotten.