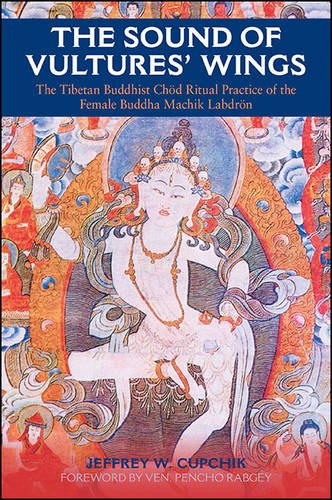 To be published by State University of New York Press in early 2019 as part of their Series in Religious Studies, The Sound of Vultures' Wings by Jeffrey W. Cupchik offers the first in-depth exploration of the music of the Tibetan Chöd tradition, which is based on the liturgical song-poems of the twelfth-century Tibetan female ascetic Machik Labdrön (1055–1153). The book contains a foreword by Pencho Rabgey.
From the State University of New York Press website:
Chöd is a musical/meditative Vajrayāna method for cutting off the root of suffering, namely, egoic identification with the body, or the belief that the "I" is the locus of the "self." Chöd is regarded by many Tibetan Lamas as one of the most effective Buddhist practices for spiritual and social transformation. Jeffrey W. Cupchik details the significance of the complex, interwoven performative aspects of this meditative ritual and explains how its practice can bring about experiences of insight and inner transformation. In doing so, he undoes the notion of meditation as exclusively an experience of silence and stillness.

Order the book on Amazon here:
https://amzn.to/2QQMJfL