High Peaks Pure Earth has translated an event notice originally published via the Snowland Youth Magazine WeChat channel. The notice was for an event at the Geometry Bookstore in Xining during which nine Tibetan women entrepreneurs introduced their work in the form of short presentations.
Below is the poster for the event, organised by the Snowland Youth Magazine: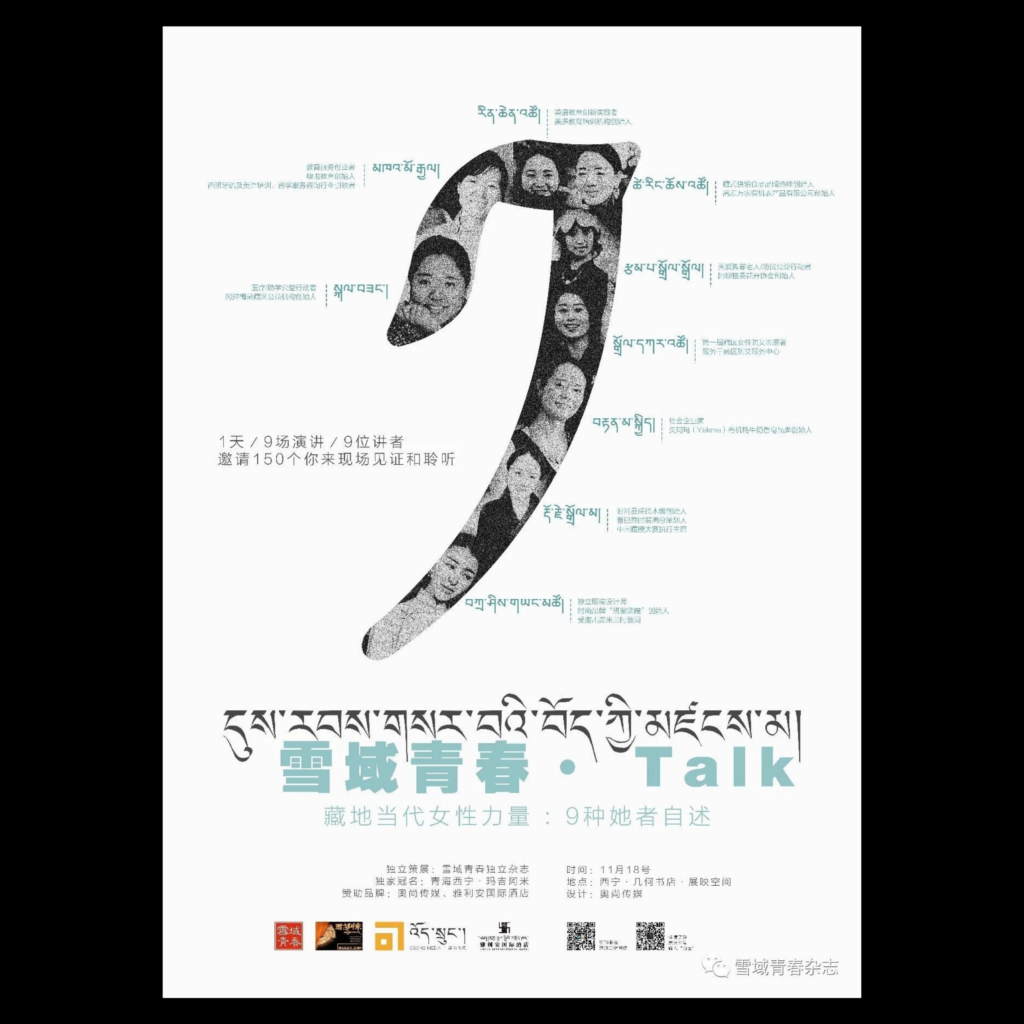 Even though the event took place in November 2018, it is still interesting to know of these nine Tibetan women and to read the summaries of their work. The piece introducing the event describes the organisers' motivation to put on the event:
Make Tibetan voices heard
Recognise the power of women

The essence of social interaction is a connection between people's hearts, it is about the exchange of deep emotions. Our vision is precisely to provide a public platform for social interaction through exciting and deeply emotional presentations.
Recently, the shocking news broke of the murder of vlogger Lhamo by her ex-husband garnering a lot of media attention. Last year, we published a guest post by Francoise Robin about domestic violence and the murder of Tsewang Lhamo. Here at High Peaks Pure Earth we will endeavour to profile women writers in future posts. We acknowledge that in a recent translation we posted discussing Tibetan literature, it regrettably did not feature the voices of any women. 
Below is the event notice and profiles of the entrepreneurs.
The Power of Contemporary Tibetan Women
It is all too evident that Tibetan society is accumulating the power of change. Malpractices and prejudice that have been continuously passed down for thousands of years are slowly transforming. With the development and progress of society, accelerated globalisation and a wave of entrepreneurial undertakings, Tibetan lifestyles are also gradually diversifying. 
Through various online and offline channels, young people are more and more coming into close contact with the vast outside world and its new values and ideas. We contemporary Tibetans have never had this many life choices before, we have taken root in every single corner of the world. 
Under this transformation, previous patriarchal ideas are also bound to be broken up. However, the protagonists who have discursive power in all kinds of societal positions are still mainly men. And this is why we are holding this lecture event, which is designed to give the stage to women; because we believe: women can also be heroes. 
Modern women no longer only possess traditional virtues and are gentle and beautiful, they also know how to take care of their own lives and careers. In the age of "her", entrepreneurship has become an economic focal point; at the same time, women are demanding gender equality and more opportunities for self-fulfillment. The caring and sympathetic character of women is currently obtaining tremendous public recognition through new media and other new forms of life. 
The new generation of Tibetan women have been a particular focus of attention. They are the best actresses in the Chinese speaking world, the first to win a medal at the Olympics and they are leading figures in the entrepreneurial environment of Tibet. They also make everyone come into closer contact with traditional Tibetan arts and crafts and they touch countless people with their Tibetan songs. These all belong to a new generation of Tibetan women. It is the beginning of the rise of women from the Plateau. 
One Day, Nine Presentations
Under the title of "The Power of Contemporary Tibetan Women", the Snowland Youth Talk invites nine Tibetan women from charity, fashion, education and other areas to give a presentation about their professional and personal undertakings, their accomplishments and life stories. 
They come from all walks of life, but what they have in common is that they have all surpassed simple individualistic aims and engage in work that benefits society. We hope that each presentation will appeal to other women to also value their own power and express their own values and establish their independent public and life values. 
Nine Presenters, 150 guests
We invite 150 of you to come and listen to the presentations and to reflect from different societal and individual perspectives. We welcome you to ask questions and engage in discussion after each presentations. 
You should not just passively receive information, but actively express yourself. We are looking forward to welcoming a large number of voices engaging in the topic of Tibetan women. 
The Nine Presenters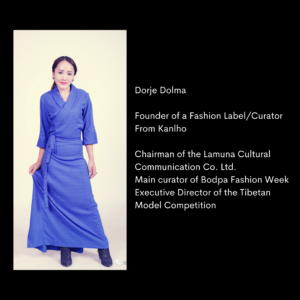 Dorje Dolma
Tibetan Model has signed 38 models who have won first and second prizes at international competitions, represented famous national brands and appeared in movies and on TV. 
Between 2016 and 2018, she successfully organised three Bodpa Fashion Weeks, two China Tibetan Model Competitions, two forums on Tibetan fashion culture and one five-country traditional garment show; she has also participated in the Chinese international fashion week and a promotional event of a famous brand. 
During the same time, the Silk Road Bodpa Show was launched and promoted in seven first tier cities (Beijing, Shanghai, Guangzhou, Shenzhen, Chengdu, Tianjin). 
In 2018, she was invited to participate in the Litchi International Fashion Week hosted by Jiangsu TV's "Women" channel and she cooperated with Shandong TV to record the Bodpa Show.
In March 2019, she is planning to hold an international Bodpa Fashion Week in Chengdu–the Tibetan-Qiang-Yi Cultural Corridor Fashion Week.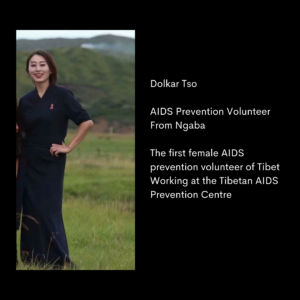 Dolkar Tso
2008: Graduated from Qinghai Normal University
2008-2012: English teacher at Tibetan middle school in Khyungchu County
In December 2012, she became the first female AIDS prevention volunteer; based in Chengdu, she has been responsible mainly for the minority areas of Sichuan province, but also working in the neighbouring provinces of Yunnan, Gansu and the Tibet Autonomous Region. 
The "Tibetan AIDS Prevention Centre" has already organised seven volunteer trainings for minority volunteers, training a total of 800 people. There are 512 volunteers from ethnic minorities engaging in AIDS prevention missions, including 28 professional volunteers who have been engaged in AIDS prevention education; more than 2 million bilingual copies of AIDS prevention teaching manuals have been disseminated and more than 1 million bilingual CDs produced. One large-scale charity event was organised and five AIDS prevention missions were launched. 
The missions covered five provinces with Tibetan people and reached out to 720,000 people who attended 2-hour-long classes. A related WeChat account already has 203,015 followers and is increasing by around 200 per day.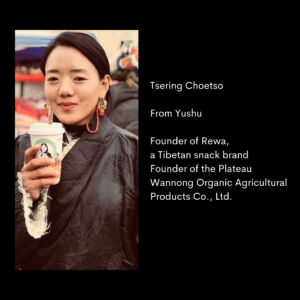 Tsering Choetso
2009: Graduated from the Tibetan class of Minzu Normal College of Qinghai Normal University
2013: Graduated from the Asian School of Economics and Management with a degree in Business Administration
In 2017 she co-founded the Rewa Food Trading Co., Ltd. and worked towards creating the largest snack company in Tibet. The first product in the market was "Rewa Tibetan Tea", mainly made from tsampa. It is already sold in most Tibetan areas and highly recognised by many customers. She is planning to promote more snacks based on traditional Tibetan materials. 
In 2018, she founded the Plateau Wannong Organic Agricultural Products Co., Ltd and worked towards selling organic products from the plateau in many first tier cities and thus benefiting tens of thousands of farmers. In the same year, she planted 500 hectares of organic potatoes in the Yushu Drichu River area.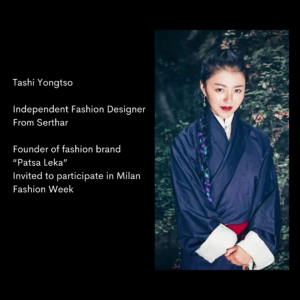 Tashi Yongtso
2016: Founded her own fashion brand "Patsa Leka"
2017: Invited to participate in the Milan Fashion Week
2017: Awarded the Sichuan "Golden Panda" excellency award of innovative design
2018: Appointed guest lecturer at Lhasa Professional Clothing College 
"I hope to become an influential Tibetan designer, this is the position I see myself in. The transmission and development of traditional garments requires people with boundless drive for innovation. Garments are the essence of a person's or even a group's culture. When you wear something you attach a personal label to yourself. I really hope that everyone can find a piece of clothing that really represents themselves!"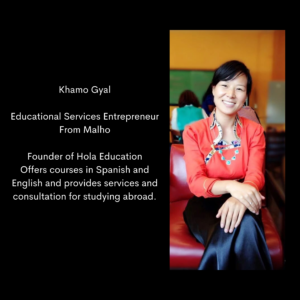 Khamo Gyal
2011: Graduated from the Universidad de la Habana, Havana, Cuba. She received the annual "award of best graduate of the year" from Havana University as well as the "Comprehensive Excellence Award" of the Spanish as a Foreign Language Department and a "golden diploma."
2013: Visited the University of Virginia to study international entrepreneurship. 
2016: Returned to Xining to found "Hola Education", mainly offering educational information services, study abroad consultations and training in Spanish and English translation. 
Within the past two years, the organisation has already trained over 300 people.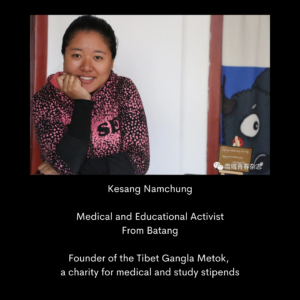 Kesang Namchung
In 2011, in her second year at Sichuan Agricultural University, she managed to organise and initiated a volunteer team through online activities. 
In June 2014, the team officially formed the Tibet Gangla Metok charity, dedicated to improving the lives and living environments of impoverished groups. The organisation mainly raises funds to cover the treatment of patients who could not afford medical treatment due to family poverty; for this, they cooperated with medical professionals from Dartsedo, Chengdu and Beijing. At the same time, they also support students from poor families who cannot go to school.  
Over the past seven years, in accordance with the specific needs of people and specific situations of poverty, they have planned and implemented over 100 successful public welfare activities; two projects have been operating for more than four years. Up to now, 700 million Yuan has been raised and over 6500 people have benefitted from assistance. Related activities have been reported by the programs "CCTV goes to the grass-roots" and "Immediate" as well as by a number of other private media outlets. 
In 2016, their organisation was selected by the regional department for Poverty Alleviation as one of the top ten poverty alleviation organisations in Kardze Prefecture. 
In the same year, as the only representative of the Tibetan area in Sichuan that was selected as one of the top ten poverty alleviation organisations, they also became the only public welfare organisation in the Kardze area of Sichuan supported financially by the Central Government.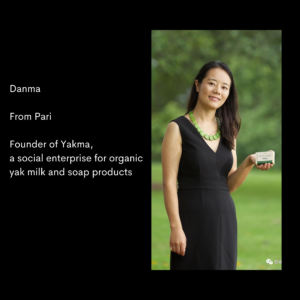 Danma
Studied Public Communication and Social Work at the University of Technology, Sydney. In 2015, she returned to Pari and established the first local social enterprise called Yakma. It produces natural handmade soaps based on Australian essential oils and Yak milk from Pari.
In 2016, the soap began to be sold in Shangri-La. Today, Yakma soap is being appreciated by customers in the US, Australia, Belgium, Sweden etc. Yakma cooperates with the American Smithsonian Institute, the Rubin Museum of Art in New York and with many organic food companies in Boston, Oxford, North Carolina and others. 
Yakma's yak milk originates from the clean pastures of the Gansu area and is manufactured by hand by local women. "The goal of our enterprise is to rouse women's self-confidence and their economic independence, giving women in our hometowns an opportunity to have a stable source of income."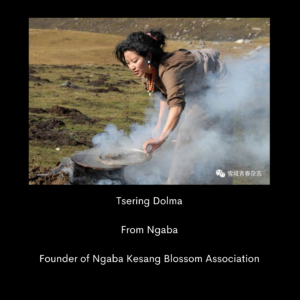 Tsering Dolma
She currently holds a post at the Ngaba County People's Court. She is also a member of the Ngaba Prefecture photography association and of the Ngaba Prefecture writer's association. She has been taking care of widows for over twenty years and been assisting impoverished children to be able to complete an education. In 2008, she officially launched the Ngaba Kesang Blossom Association. 
The Association provides help to orphans and widows as needed, purchasing life necessities, clothing and food. They also cut hair of the elderly, wash and change their clothes, communicate with them, help them with doctor appointments or take turns visiting them in the hospital. They also recite prayers in monasteries for the deceased. Of the over 60 elderly that received assistance, the majority lives in Ngaba, but there are also some from Dzoege, Dzamtang, Chuchen and Barkham. 
The Association has also been helping poor families with daily life and financial assistance for children to got to school. They have found individual sponsors for over 30 students (from primary school pupils to graduate students at Minzu University of China). Further, in cooperation with the county government, they built new houses for over 20 children from difficult family backgrounds and orphans.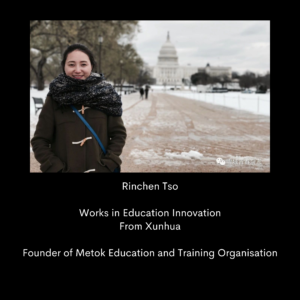 Rinchen Tso
Graduated in Tibetan and English from the Minzu Normal College of Qinghai Normal University in 2010. Between 2011 and 2014, she studied English as a foreign language at at Silliman University, Philippines. In 2017, she left for the US to participate in a training on Tibetan entrepreneurship at Virginia University. In September 2015, she established the Metok Education and Training Organisation. 
Metok Education is an English language school with an outstanding team of staff consisting of returnees and foreign teachers. Over the past three years, they taught over 400 students, of which three went to study abroad, five went to do PhDs, 15 became graduate students, seven entered special undergraduate programs and 31 passed grades 4 and 6 of the university English examination.
Every summer, Metok organises a Natural English School. They independently designed a set of language events with the teaching team consisting of native speakers and returnees speaking Tibetan, Mandarin and English as well as a body of cultural consultants. The idea is to create an authentic English learning environment in the Qinghai Tibetan region and thus arouse student*s interest in language learning. At the same time, the students participate in and experience the daily farming life on the pasture, thus coming into contact with a new environment and gaining a better understanding of local culture, which will benefit their own lives. 
Time of event: November 18, 2018
Place of event: Geometry Bookstore, Xining