High Peaks Pure Earth has translated a blogpost by Woeser originally written for Radio Free Asia on June 26, 2009 and posted on her blog on June 30.

In this article Woeser re-visits the theme of her earlier blogpost titled 'Tibetan Lawyers: Why Don't They Come Forward?' dealing with the issue of legal rights for Tibetans. In the weeks since the blogpost was written, Chinese lawyers have been in the news as Beijing shut down an independent legal research centre that, amongst other activities, published an insightful report and enquiry into the events in Tibet of 2008 that boldly spoke against official state narrative.
It has also since been reported that another Beijing lawyer, Li Dunyong, was barred from representing Tibetan amateur filmmaker Dhondup Wangchen who faces charges of 'inciting separatism' for making a documentary.
Finally, for more on the five monks from Labrang monastery who escaped to India, see this article from the New York Times published on June 20.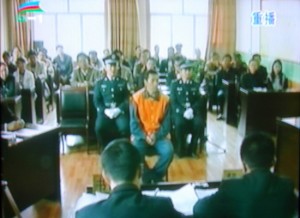 The photo shows a closed trial after the verdict has been passed, as broadcast on Gannan TV (TV of southern Gansu province), where two Labrang Monastery monks Tsultrim Gyatso and Thabkhay Gyatso were on trial. This is a photo of the television screen taken by a local Tibetan so it's not very clear.
"The Chinese and Tibetan legal contexts: which is worse?"
By Woeser
Last month, two Tibetan monks were again punished by authorities because they took to the streets during the protests in March last year. The sentence was extremely harsh and they had to pay a tremendous price: Tsultrim Gyatso was condemned to life imprisonment while Thabkhay Gyatso was condemned to a fifteen-year jail sentence. In reality, these two monks from Labrang Monastery were not the only ones to receive this kind of harsh punishment. News coming from the whole Tibetan territory confirms that up till today, many Tibetans still remain in detention, and many Tibetans are still sentenced secretly. This was notably the case in Jomda County, Chamdo Prefecture of Tibet Autonomous Region, where six monks have recently been sentenced to 12 to 15 years imprisonment.
Faced repeatedly with hard times, Tibetans can only accept their fate and endure adversity. For instance, since they were arrested and condemned, more than a year ago, Tsultrim Gyatso and Thabkhay Gyatso's family have not been allowed to visit them in prison, or to attend their trial. In addition, the two monks have been tortured during their imprisonment so that they would confess, and have been compelled to take a lawyer appointed by the authorities for their trial. In the meantime, five monks from Labrang Monastery were able to flee to Dharamsala. Even though it was a very painful experience, this is extremely lucky since the monks would have otherwise run the risk of being detained and condemned to the same kind of harsh sentence.
Even though the main reason that his license to practice law was revoked was that he represented two Tibetans who had been detained during their trials, lawyer Jiang Tianyong, who has just been prevented from taking the bar examination for registration, still spoke bluntly to foreign media: "As Chinese citizens, Tibetan monks should enjoy legitimate legal rights that entitle them to an open and fair trial as stated in the law. Even if the Chinese authorities want to prove that China is a country of rights as they say, then they should provide the defendants with an open and fair trial, to show how China protects the legal rights of the defendents, instead of merely announcing the sentence."
In recent years, in China, a group of courageous human rights lawyers have assumed safeguarding rule by law, defending human rights, protecting the citizen's legal rights and safeguarding justice as their own responsibilities. They have been active in providing legal services for public welfare and for safeguarding citizen's rights, including freedom of speech, freedom of belief, racial equality, human rights workers' rights, ethnic minorities' rights, rights of equality, the right to information, the right to participation, the right to supervision. However, they have been considered by the Chinese political and judicial system as well as by special interest groups as a challenge, and have continuously been attacked and criticized. Recently, authorities have acted very harshly towards these lawyers, and at once have revoked the license of more than a thousand lawyers, stating that they failed the bar examination for registration. This created a sensation in news around the world.
Even if lawyers face the risk of having their license suspended, such as Jiang Tianyong and Li Fangping, they still fight for the statutory rights of Tibetans who are not being treated fairly and speak on behalf of silent Tibetans. This already is very valuable. What is really moving is that when I sent an article that I wrote not long ago entitled "Tibetan Lawyers, Why Don't They Come Forward?" to lawyer Jiang Tianyong, he, who is in a difficult situation, said tolerantly, "I can understand my fellow Tibetan lawyers, they have no space or opposition margin, once they are hit, then it's over, they cannot be lawyers any more". In fact, when I heard these words, I was extremely sad. Thus it can be seen that the Tibetan legal context is far worse than the Chinese legal context.
It must be said that in real life, many of us do not understand at all, as citizens, which rights we are entitled to enjoy, or how many rights we have. Also, what does the legal system, often described as holy and sublime, eventually mean as far as citizens are concerned? I wrote in a previous article that many Tibetans have always lacked the consciousness of their rights and of how to safeguard their rights. Especially when there is high political pressure, because of extreme fear, they will not dare to fight for their own rights. However, whatever circumstances may be, we must understand what our rights are as human beings, even if under the system in this country, human rights have already been cut down greatly. We must not only understand, but also fight for and most importantly defend our rights. This is because human rights are strongly linked to human dignity and humans' intuitive knowledge of what is right or wrong. Therefore, human rights are worth fighting for.
Beijing, June 24, 2009