High Peaks Pure Earth is posting the translation of a blogpost originally written for the Tibetan service of Radio Free Asia by Woeser on July 7, 2011 and posted on her blog on July 14, 2011.
In this blogpost, Woeser writes about the extravagant preparations in Lhasa for the 60th Anniversary of the "Peaceful Liberation of Tibet", as the Chinese government likes to refer to it. The blogpost continues on the theme of "dressing Lhasa up" and covering it with "make-up", a theme Woeser first touched upon in the December 2010 blogpost, Can Lhasa's Image Be Formed by "Dressing Up"?
At the time of writing the below blogpost, it was unclear what the celebrations in Lhasa would look like or even when they would be held. In the end, the "celebrations" were held in Lhasa on July 19, 2011, with China's next top leader Xi Jinping presiding over events.

Woeser mentions the "Red Songs", readers may be interested in our earlier post about the "Laundry Song", including one version as performed by Xi Jinping's wife Peng Liyuan.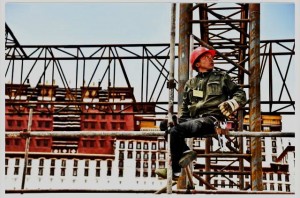 Superficial Preparations for the "Great 60th
Anniversary Celebrations"
By Woeser
On May 23, 1951, Kashag officials including Ngapo Ngawang Jigme were forced to go against their will and sign the '17 Point Agreement' in Beijing. In Phuntsog Wangyal's memoir is the historical recollection: "After the Tibetan side's angry reaction, Li Weihan also became angry, and said 'If that is what you think, then simply pack your things and go!' The implication was very clear, that the People's Liberation Army would use armed force to liberate Tibet." Li Weihan was the official sent to negotiate by the Chinese government.
Sixty years have passed. In accordance with the Chinese government's custom of "small celebrations every five years, big celebrations every ten", this year is to be a very grand celebratory day for what is called the "Peaceful Liberation of Tibet". What people on the outside found confusing was that it wasn't held on the scheduled date of May 23. It wasn't in fact cancelled; rather, it was postponed. People heard that Tibet officials had said that it was more in accord with Chinese characteristics to have bigger and better celebrations. It's just that no one knows what the precise date is going to be: some have said July 23, others have said early July. It seems this is an enormous secret.
Everyone though has said that the reason for the delay is to make various superficial improvements. According to official reports, there are a total of 72 "great celebration projects" in the Tibet Autonomous Region at a total cost of more than 2.526 billion Yuan (US$ 392 million). 27 of these "great celebration projects" are in the Lhasa Municipality, with a total spend of 1.094 billion Yuan (US$ 170 million). Rather like "dressing it up" to be the belle of the ball. Make-up is being applied everywhere in downtown Lhasa, and it is Tibetan-style make-up that is being applied; there is digging going on everywhere, as though the whole city is being turned over. At the entry to the old city, something like Sanlitun in Beijing − a "Lhasa Times Square" is nearing completion. In front of the Potala Palace, temporary stands are being built by workers with badges around their necks reading "Temporary Worker Permit, 60th Anniversary of the Peaceful Liberation of Tibet".
And in the rural counties in the suburbs of Lhasa, all of the villagers homes next to public roads have had to be demolished − even if they were built in recent years − and new two-room homes have had to be completed by early July; while on the roof a red flag must be flown, and on the walls inside, portraits of Chinese Communist leaders must be hanged. The authorities allocated 25,000 Yuan (US$ 3900), and supplemented another 10,000 Yuan (US$ 1500) when construction was finished, with the remaining cost borne entirely by the farmers themselves. In the original homes, one floor was a pen for livestock, but livestock pens are not permitted in the newly built homes. The farmers therefore have to consider selling their livestock, and their traditional lifestyles are therefore facing change.
And then there are the Red Songs, like the Red Songs from the Cultural Revolution era such as "The Liberated Serf Sings a Song", or the Red Songs cooked up today such as "Eternally Sing Songs of the Mountains for the Party to Hear". I watched a Red Song competition held in the Lukhang in central Lhasa and broadcast by Tibet TV. There was a performance troupe comprised of retired cadres, their deeply wrinkled faces daubed a far too-gaudy red; there were elementary school children holding the five-starred red flag, the red scarves around their necks searing my eyes; there were young male and female civil servants dressed as PLA soldiers who'd traversed the great snow mountains and crossed the vast grasslands, or dressed head to toe in red Tibetan clothes. Officials sang along with the songs as they beat out the time, apparently thrilled to be putting on such a spectacular political show.
I heard that all work units and schools have been nervously rehearsing their marching, parading and formation gymnastics. On the other hand, they've also been on strict guard. Prior to the end of July, foreigners are forbidden from entering and traveling in Tibet, and in particular, the foreign media are forbidden. Some of the foreign media have asked, "What on earth is China hiding by limiting foreign tourists going to Tibet?" It was recently seen on a Sina Weibo microblog that the Potala Palace will be closed from July 17 to 25, that all tour agencies will suspend trading, tour buses etc will have to cease operations, and special security measures are being put in place at Lhasa's Gongkar Airport. A Han Chinese tourist going travelling in Lhasa left a comment on Twitter that read, "I've heard Tibet is under Martial Law again to celebrate the Peaceful Liberation of Tibet". Online friends joked: "This ironic drama is forever being played out", and it is a drama of "peace among a paramilitary throng, peace under the barrel of the gun".
However, my guess is that the more important reason is that the Chinese Communist officials in Tibet deliberately wanted to hold the "Great 60th Anniversary Celebration" after the 90th anniversary celebrations of the Chinese Communist Party in Beijing. Everywhere in China, birthday celebrations for the Chinese Communist Party were imperially decreed. Particularly vulgar was Hefei, the provincial capital of Anhui, where a 4000 metre-long bolt of red silk was used to wrap trees, turning an entire street red, obviously forgetting in Chinese history that before the demise of the Sui Dynasty there were wasteful ways of bounding trees in silk. And actually, last year in Lhasa for the March 28 "Serf Emancipation Day", silk was used to bind up trees in the Lukhang but then it was more to show off the blood-red hues of the authoritarian regime.
July 7, 2011