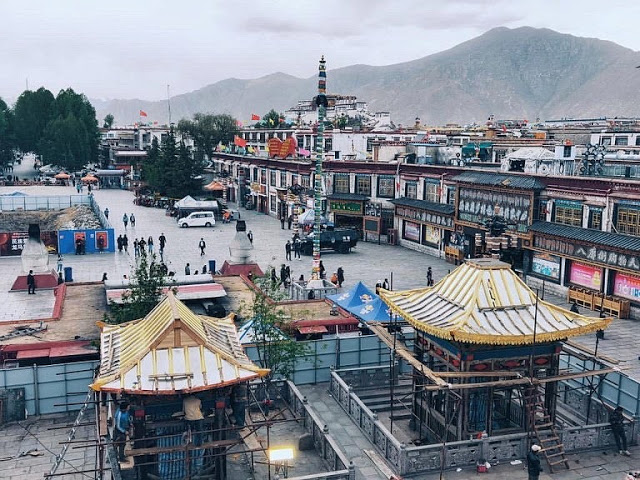 High Peaks Pure Earth presents an English translation of a blogpost by Woeser, originally written for the Mandarin service of Radio Free Asia on May 7, 2020 and published on her blog on May 10, 2020.
Please note this is the second of a two part essay. To read the first part, with a short introduction, please follow this link: https://highpeakspureearth.com/2020/shocking-during-the-epidemic-two-chinese-style-pavilions-appear-in-front-of-the-jokhang-temple-part-1-by-woeser/
For a previous article by Woeser detailing the museum in Lhasa housed at the former site of the Yamen for the Qing Government Minister stationed in Tibet, please follow this link: https://highpeakspureearth.com/2014/the-revised-history-of-the-former-site-of-the-yamen-for-the-qing-government-minister-stationed-in-tibet-by-woeser/
"Shocking: During the Epidemic, Two Chinese-Style Pavilions Appear in Front of the Jokhang Temple (Part 2)" By Woeser
Judging from the current state of the two stele pavilions being put up in front of the Jokhang Temple, they very much look like the two Chinese-style pavilions in front of the Potala Palace; but perhaps they are hollow; also it does not look as if they have walls or doors; but it is difficult to tell because they have not yet been completed. In any case, they are much too big and use up a lot of the originally not very wide space in front of the Jokhang Temple; crammed together with the recently-built light shed, they make the temple look cramped and ordinary, as if it had fallen from the praying platform where tens of thousands of devout Buddhists go to silently worship.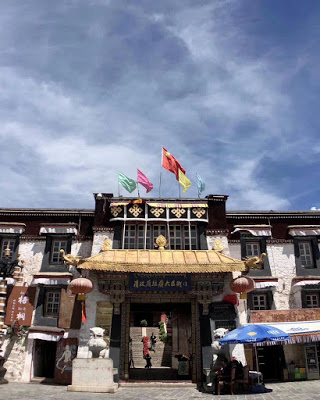 In November 2000, Lhasa's Jokhang Temple and its surrounding environment were inscribed in the UNESCO "World Heritage List" based, according to the evaluation, on its architectural characteristics, its history, political importance and natural environment; the report stressed "the beauty and originality of the architecture of these three sites, their ornate decoration and harmonious integration in a striking landscape…" In 2004, at UNESCO's 28th World Heritage Committee Meeting, several decisions were made regarding Lhasa that emphasised the necessity to protect Lhasa's old town, stating that "except in exceptional circumstances, demolition should be stopped … Any necessary replacement buildings should be in keeping with the historic character of the area…"
But what does reality look like? Over the past years, the Jokhang Temple and Barkhor have continuously been transformed into a touristy theme park, which included the demolition of many historical buildings, the displacement of local people and the clearing out of some of the street vendors that were part of the kora; the area has been given a new narrative, including the building of a luxurious "Qing Minister's Yamen," or the "Gendun Choephel Memorial Hall" and the transformation of the Nangtseshar in northern Barkhor (the Lhasa city courthouse under the Ganden Phodrang) into a "patriotic education base." There is a Pizza Hut and a KFC on the kora path and recently, a Cultural Revolution-like red propaganda sign was attached to the traditional Tibetan-style buildings on the western side of the Jokhang Temple square as well as many Chinese flags and security cameras. Lhasa's and even the entire Tibet's important spiritual places, including the Jokhang Temple and Barkhor, are all losing their traditional characteristics, are being transformed and are increasingly becoming detached from local traditions and history and have little to do with local people's customs and everyday life.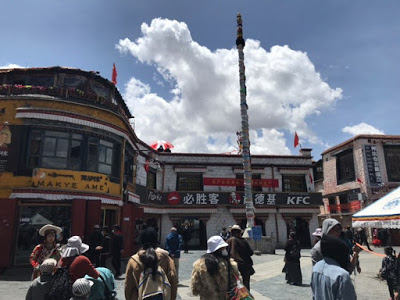 In May 2013, around a hundred international Tibet scholars who had been closely following the damage inflicted upon Lhasa's old architectural landscape, expressed their concern about Lhasa "turning into a 21st century tourist city and losing its unique character and intrinsic traditional culture." They wrote an open letter to President Xi Jinping and UNESCO: this form of destruction is currently "creating what appears to be a contrived tourist village and making the organic Tibetan presence and way of life in the Old City a thing of the past." "Modernization and preservation need not be mutually exclusive. There are culturally sensitive ways to modernize ancient city quarters and preserve traditional buildings. But what is happening in the Old City of Lhasa appears first and foremost to have been undertaken with commercial rather than cultural goals in mind. This is not just a Tibetan problem; it is not just a Chinese problem. It is an international problem." Sadly, however, no matter how hard one tries, it is always in vain.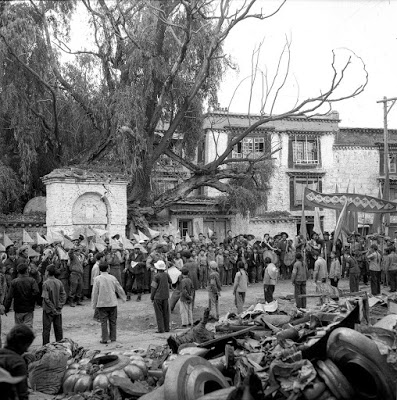 The two stele pavilions that started to emerge in front of the Jokhang Temple brought up some memories in me, memories that are related to the disaster that engulfed Lhasa during the Cultural Revolution and that my father captured with his camera: namely, the destruction of the lush willow that used to be standing around the "Tang and Tibet Treaty Stele", the "Smallpox Stele" and one which is uninscribed. It is said that this willow was planted by a strange woman who had come from the far away Tang Dynasty capital Chang'An to Lhasa over 1300 years ago. This strange woman is Princess Wencheng who is nowadays often part of an exaggerated political myth. On that day of "destroying the four olds," this willow was cut down, piled up on the Jokhang Temple square and used to burn Tibetan prayer flags, texts and prayer wheels. Shortly afterwards, when the two "revolutionary factions" started to battle each other, they used not only catapults made from cattle fur to throw stones, but also hexachlorocyclohexane as weapons. They sprayed this fertilizer onto people's heads and also onto the branches of the age-old willow. And so this old tree died and from that moment only continued to live on in books and legends; all that is left is a withered tree stump. The sparse willow that we see in the same spot today was actually planted by some unknown person after the Cultural Revolution; as a substitute called "Tang Willow" or "Princess Wencheng Willow," it is clearly just fake.
Karl Marx, the CCP's fore-bearer, once said: "History repeats itself, first as tragedy, second as farce." But history repeated itself very quickly, leaving the observer who does not want to see tragedy or farce crying without tears. Precisely starting from seven years ago, when the large-scale reconstruction project of the Jokhang Temple surroundings and the Barkhor kora path started under the name of "municipal construction," there have been no more pilgrims coming from Kham and Amdo, there have been no more pilgrims offering thousands of butter lamps; instead, there have been many snipers on the rooftops and armed people wearing masks patrolling the kora path; there have been many new pompous shopping centres opening up one by one, showing off their inflatable red columns floating in the wind, exuding a crude atmosphere of invasion… And today, another one of those "municipal construction" projects has started; from photos shared online, we not only observe a very similar scene, we also see masked people in black clothes next to the old flag pole, looking down in a sinister way at the also masked men and women who silently walk along the prayer path with lowered heads…
The pandemic that started in the Chinese city of Wuhan is wreaking havoc and there is no end in sight. It has cost over 200,000 people's lives and it is already described as a world war. The two Chinese-style stele pavilions that appeared in front of the Jokhang Temple during the pandemic alongside many other still unknown "new objects" confirmed the lines that I wrote in my long poem about the epidemic: "There is no land that remains untouched/ there is no epidemic that is not frightening, but there is another epidemic that spreads," and "we are all controlled under the same roof/ we have all lost our voices and tears/ like being trapped in a life of turmoil."
Beijing, May 1-3, 2020.