High Peaks Pure Earth has translated a blogpost by Woeser written on September 1, 2011 for the Tibetan service of Radio Free Asia and posted on her blog on September 7, 2011.

The blogpost was written once Woeser arrived in Lhasa and is a continuation of Woeser's summer travels to Lhasa, through Amdo and Kham. The post below is the follow up to: "Over One Year After the Earthquake, A Rushed Visit to Yushu". At this time, Woeser was also tweeting her impressions from the journey and the tweets contain some important information. Below are translations of three tweets from August 3, 2011.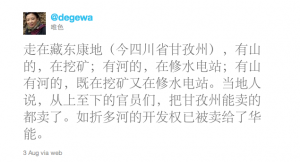 I've been travelling through Eastern Tibet (modern-day Kardze prefecture in Sichuan Province). Where there are mountains, they're digging mines; where there are rivers, they're building hydroelectric stations; and where there are mountains and rivers, they're digging mines and building hydroelectric stations. One of the locals told me that the officials, from high to low, are selling whatever there is in Kardze that can be sold: the development rights for the Zachu River have already been sold to the Huaneng [Power] Company.

A large-scale hydroelectric station is being built on the road between Dartsedo and Luding, with appalling results for the environment. The locals are already calling Luding a time-bomb.
According to reports, on the 29th [July] Tibetans in Kardze were arrested when they once more took to the streets shouting slogans for the Dalai Lama's return. The Tibetans adopted the method of drawing lots to see who would go out on the streets to shout slogans and distribute leaflets. As for those who might be arrested, once they were detained the other Tibetans would furnish assistance to their families for their livelihoods. Since June more than 60 Tibetans have been arrested for this form of resistance.
"Sershül Monastery In Recent Years"
By Woeser
Heading eastwards from Yushu, we arrived in Sershül. This means that we had crossed the Qinghai border into Sichuan. Of course, this is according to today's administrative subdivisions.
Sershül's name derives from the local Gelugpa Monastery: Sershül Gön (Sershül Monastery). One summer many years ago, W and I had passed through here and hurriedly paid the monastery's head a visit. At the time, the abbot was about 30 years old, he was refined in manner and spoke fluent Mandarin. Last year, after the Yushu earthquake, I spotted his figure among the tens of thousands of monk helpers. He led the monks to rush in and help and even donated thousands of Yuan to the disaster victims, which were originally put aside for the renovation of the Prayer Hall.
The first story in my recently published new book, "Tibet: 2008", is called "The Spirits Surrounding Sershül Monastery", which relates to four photographs that had first been published on my blog. The photographer is a Westerner whose name I do not know; they were taken on July 30, 2008 and the location is precisely Sershül Monastery. According to the information provided by the friend who had sent me those photos, this Westerner, when he travelled here, had not anticipated to be confronted with this stern reality, so he secretly took photos.
The four photographs constitute a consecutive scene. For example, one photo shows the monastery calmly situated in the midst of snowy mountains, exuding the beauty of being cut off from the world; furthermore, the photo shows over 50 dark silhouettes gloomily moving past the front of the stupa. Those are not spirits, but soldiers, holding weapons, carrying shields and one person even carries an oxygen mask, obviously to protect him from any reactions to the high altitude. The person walking up front, on the other hand, waves the five-starred red flag, which in the middle of the snowy mountains is quite eye-grabbing, yes, even blindingly bright.
I cherished the memory of this photo and in July this year, I visited Sershül Monastery. The Prayer Hall, stupa, as well as the long row of prayer wheels looked exactly as they did on the photos. The only difference was that the photos showed many of these ghostly soldiers, which did not exist when I was there; this made me feel satisfied. We stopped over here for a little while. The vehicle that had followed us in Yushu had gone, presumably because this was at the border area of the two counties, which meant that the Sichuan police car had simply not yet arrived, giving us a short period of free time.
This is also how I came to know that this summer, the monks fromSershül Monastery had launched an action to protect their mother tongue, which was mainly about going to surrounding shops and restaurants, distributing boxes asking Tibetan monks to speak pure Tibetan or else speak pure Mandarin; they did not allow them to mix the two together and anyone speaking a mixed language would have to put money into this box as a punishment.
I heard that the influence of this activity was quite vast, reaching out into other regions; even to the point that the local authorities sent in a team to confiscate the boxes with the money, threatening that they would repeal the monastery's Buddhist School. The abbot's Father had originally become a monk when he was young but, in the 1950s, he was forced to leave the monastic order and started a family and had children. After the Cultural Revolution, he returned to the monastery, becoming a virtuous and prestigious lama. His health was always very good but when the Buddhist School was faced with this misfortune, he suddenly became sick and quickly passed away. Under pressure from the numerous protesting devotees, the local authorities had no choice but to withdraw their plans; people all said that this was because the abbot, with his own body, held back the evil conducts, an act of fearless d?na, the highest level of d?na.
Just as a I wrote in the opening words to the story about Sershül Monastery: "There are many things that only a few people know of. There are many facts that only a few people understand." Let us not mention the 2008 protests that erupted in many areas all across the Tibetan regions, if I had not travelled here myself, and learnt it directly from the abbot's stories, I would never have known about the monks of Sershül Monastery fighting for the Tibetan language. I also found out that the person I described in my story − "During the Tibetan Year of the Earth Mouse, at the beginning of Autumn, I heard about one of Sershül Monastery's Rinpoches, referred to as Thupten Nyandak who was put under house arrest for publicly addressing matters that the local authorities did not like to hear" − was in fact the abbot. What I need to add is that at the time, at a specially arranged meeting by the local authorities with high-level monks, he was almost punished for too bluntly raising his points of criticism.
Lhasa, September 1, 2011