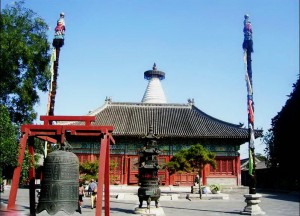 High Peaks Pure Earth has translated a blogpost by Woeser written on June 15, 2011 for the Tibetan service of Radio Free Asia and posted on her blog on June 22, 2011.
Following on from Woeser's blogposts about her trip to Chengde and various observations, the following blogpost focuses on the White Stupa Temple in Beijing, also known as Miaoying Temple, all places that have an historical connection with Tibetan Buddhism.
After reading this post, readers may be interested in this 2007 poem by Woeser titled "Remembering a Battered Buddha".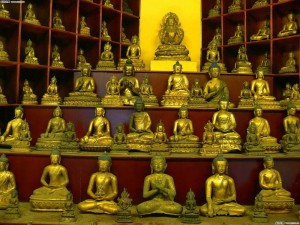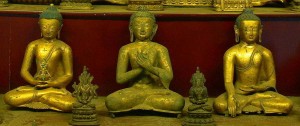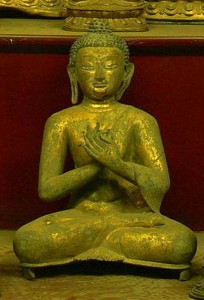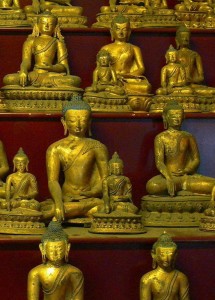 "Seeing Damaged Buddhist Statues at White Stupa Temple in Beijing"
By Woeser
I still remember an article published in The Times three years ago, saying the following sentence: "the Games have sealed the fate of an old Beijing that had survived the wars and revolutions of modern Chinese history. The bulldozers and developers have already wrecked swathes of the imperial capital…" A Chinese architect believes that today's Beijing, in pursuit of large-scale development, "is a city that has already lost its historical context". Yet, after living in this city for so many years, I have come to realise that among those historical sites that are still standing, one comes across many treasures of Tibetan Buddhism everywhere.
When the Mongols ruled over China they turned Beijing into the imperial capital and it remained so during the following Ming and Qing Dynasties; their rulers were all followers of Tibetan Buddhism. This is how the schools of Tibetan Buddhism, such as the Sakya, Kagyu and Gelugpa Schools, spread to and were propagated in far-away Beijing; they also served as the masters of the Emperor and his relatives, who received their blessings and support. Hence, in Lama Temple, the Forbidden City, the Summer Palace, Beihai Park, White Stupa Temple, Dajue Temple, Xihuang Temple and the Eight Great Temples, all enshrine relics of those times.
But actually, I would like to discuss a slightly different matter. A Lama who often visits Beijing told me that the White Stupa Temple features a Thousand Buddha Palace Hall, which is home to thousands of large and small metal Tibetan Buddhist statues; there is no doubt that they all come from Tibetan regions and were forcefully moved to Beijing during the Cultural Revolution and only the most precious and golden ones were classified as national treasures, the rest were, one by one, melted down for industrial use. However, as there had been so many, even after the end of the Cultural Revolution, quite a few of them survived and were subsequently given to the White Stupa Temple; unfortunately, today, almost all of them are shattered or damaged.
I have been to White Stupa Temple twice and have carefully observed every single one of the all so familiar Buddha statues. I found a Padmasambhava statue without its Vajra, a Manjushri statue that had lost its cut-off double-edged sword and its open book of wisdom; I also saw an Avalokitesvara statue without its altruistic finger of compassion and many Buddha and Bodhisattva statues whose faces were totally damaged, who were missing arms or legs, and whose thrones were largely destroyed. It was an extremely distressing experience. I went to ask the a member of the Temple management who first tried to deny that this damage had even anything to do with the Cultural Revolution, but when I, one by one, pointed out every single ruined part, he admitted in a low voice that at the time, everything had just been carelessly tied into bundles, dumped into hemp bags and sent over to Beijing; but he also insinuated that he thought it was lucky that every thing could be "rescued" in time.
I remembered that for my book "A Memory of Tibet", published a few years ago, I interviewed a scholar from Lhasa who, during the Cultural Revolution, was studying at the Central University for Nationalities in Beijing. He recalled that back then "many Buddhist statues were taken from Tibet to other parts of China and many of them were collected in a huge outdoor depot in Liuyuan (Gansu Province)… I went to this depot with a driver to load something onto a ship and saw that half of it was filled with messily piled up Buddhist statues; there were so many, and all of them had been taken from Tibet just to be carelessly stacked up in an outdoor depot… I heard that they were going to melt them down and turn them into steel. Perhaps there are still some left but I do not know where they took them in the end. Oh, so many Buddhist statues, I will never forget this moment."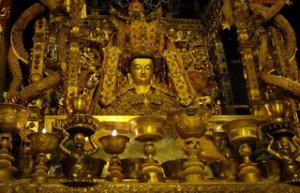 During the interview, I also came to know that the metal statue Jowo Mikyo Dorje in Ramoche Monastery in Lhasa has lived through many changes; it was broken into two pieces during the Cultural Revolution. Its upper body part was moved to and neglected in Beijing until the Tenth Panchen Lama found out about it and sent someone to reclaim it. He then also reattached it to the lower body part that had been lying abandoned somewhere in a storage space in Lhasa and wrapped the statue in bright and golden silk; it looked exactly as it used to, one could hardly make out the serious damage that had been inflicted upon it and it was being worshipped again. Last year on March 14, when I went to Ramoche Monastery, I gazed fixedly upon this delicate looking Buddhist statue and suddenly tears started rolling down my cheeks; I reverently and respectfully prostrated three times.
Another matter I would like to raise is that in Beijing there lives a collector who has the reputation of being "the one with the largest collection of Tibetan Buddhist statues"; he obtained all his objects during the Cultural Revolution when he also happened to be a soldier in the Amdo region. This historical period deserves to be studied in great more depth. Between 1950 and the beginning of the Cultural Revolution, in the whole of Tibet more than 6000 monasteries were more or less destroyed and out of the incalculable wealth that had been collected in these temples, millions of precious Buddhist statues were ruthlessly plundered. The People's Liberation Army and the cadres were the main plunderers and destroyers, and hence today, many of them can "adorn themselves" with the fame and fortune of being so-called "collectors".
June 15, 2011
This post is also available in:

English