High Peaks Pure Earth has translated a blogpost written by Woeser on July 3, 2010. The blogpost is mainly made up of private photos taken of Tibetan environmentalist Rinchen Samdrup who was sentenced to 5 years in prison on charges of "incitement to subversion". 
The sentencing of his younger brother Karma Samdrup to 15 years in prison the previous week had already attracted the attention of international media and Woeser has written about how she personally has known the brothers for many years.
In the blogpost, Woeser refers to the book "Heavenly Beads", written by Liu Jianqiang and published in 2009 by Tibet People's Publishing House, in which several Tibetan environmentalists were profiled, including Karma Samdrup and Rinchen Samdrup. Read a review of the book here on ChinaDialogue.

This blogpost has also been translated into Tibetan and can be read by following this link.

The Sacred Texts He Saved and His CDs Destroyed!
By Woeser
Today, July 3, Rinchen Samdrup, elder brother of unjustly sentenced to 15 years "King of Dzi (Heavenly Beads)" Karma Samdrup, was sentenced to 5 years in prison by the Tibet Autonomous Region Chamdo Intermediate People's Court on charges of "inciting splittism".
I dug out my photos of summer 2004 taken in the Karma Kunsang area of Lhasa, photos of Rinchen and his family. In fact, some of these pictures have already been posted on my blog. But I want to post some more, I'd like people who see these photos to understand what kind of person Rinchen Samdrup is.
And I particularly want to add that Rinchen Samdrup and his family, over a period of more than 10 years have made great efforts to save the major achievements of Tibetan Buddhism of Changchup Dorje and all of his precious texts, they entered everything into the computer word by word and put them on discs, after the police raid, the evil officials confiscated everything and it is said that  everything was destroyed by fire!
What this means, needless to say, is that I am left extremely outraged.
Those who do evil, remember well, the judgement of karma, like justice, has a long reach.
*******
Rinchen Samdrup is a former monk, even now a devout believer and practitioner, familiar with Buddhism and Tibetan medicine and the only doctor in the local village. He is also a talented folk artist, poet, thangka painter, builder of stupas, manuscript board engraver, all of which he is good at. Spread over the floor are the pages of the major achievements of the great master of Tibetan Buddhism Changchup Dorje, the founder of Nyangla Temple, including Buddhist and Tibetan medical texts, due to the passage of time, many are damaged and only half are remaining having been destroyed during the Cultural Revolution.  Over the last 10 years, Rinchen Samdrup wracked his brains and tried every means to save them. During a trip to Lhasa, he saw a computer and became very excited, he stayed in Lhasa to learn computer skills in the hope that he could enter the scriptures into the computer and preserve them forever.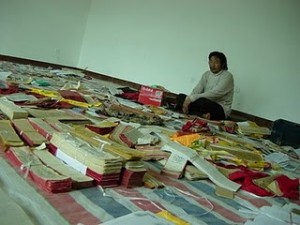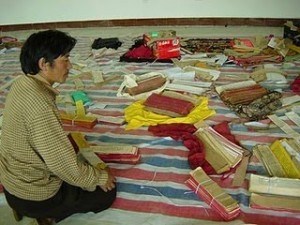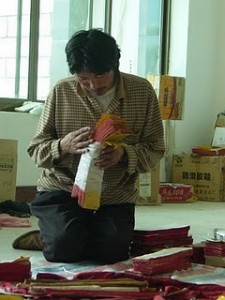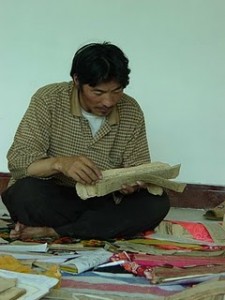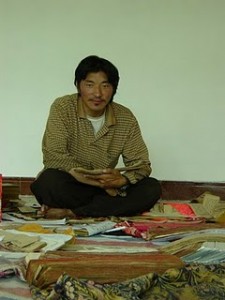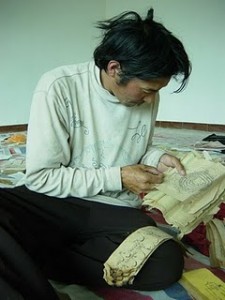 According to the introduction of "Heavenly Beads" (by Liu Jianqiang, published in 2009, has now been taken off shelves and is a "banned book"): The 8000 pages of the main achievements of the great master of Tibetan Buddhism, Changchup Dorje, are mainly in the areas of meditation practice, as well as Tibetan medicine, he developed over a hundred kinds of new medicine which had never been recorded in medical texts. In addition he himself created and documented more than 170 kinds of stupa styles, some of the stupa styles had never been seen in Tibet.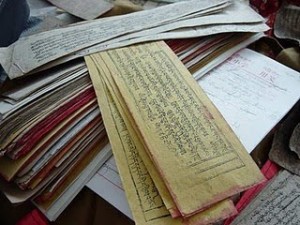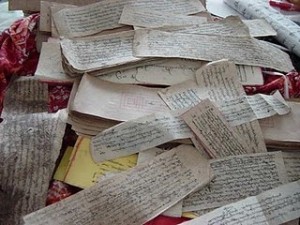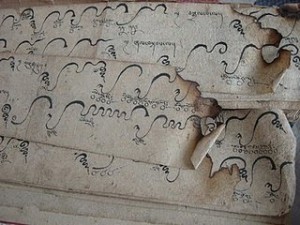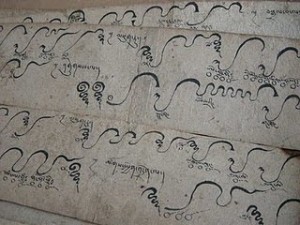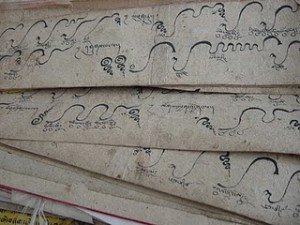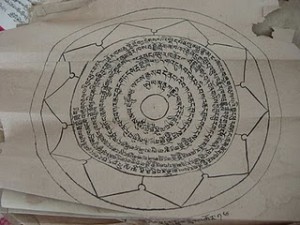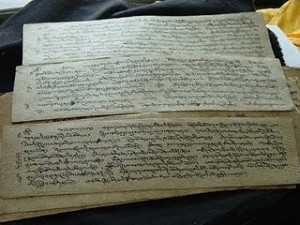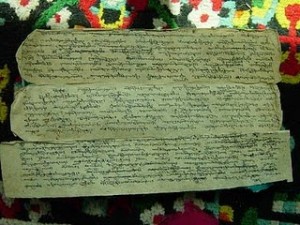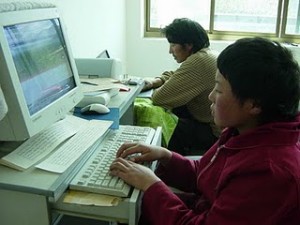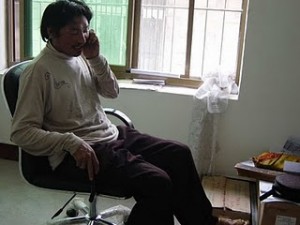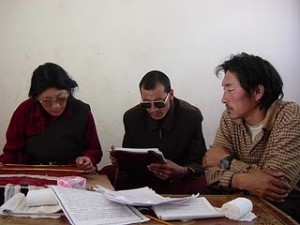 Wang Lixiong and I stayed in Lhasa's Karma Kunsang area in a Tibetan-style courtyard for a month, we happened to be neighbours with Rinchen. We often would see each other, Rinchen had a lot of problems with his computer and would always ask Wang Lixiong for help. I would enjoy listening to Rinchen's stories, especially about the legends of Changchup Dorje. The thoughts and achievements of Changchup Dorje and other great lamas became the source of wisdom for Rinchen, he often spoke of these masters with gratitude. These are photos of Rinchen showing me tracings of stupas, outside the window is Lhasa's important sacred mountain Bhumpa Ri.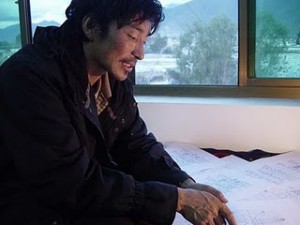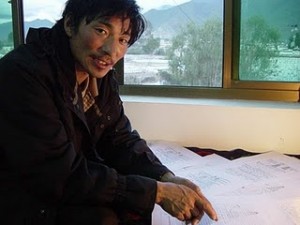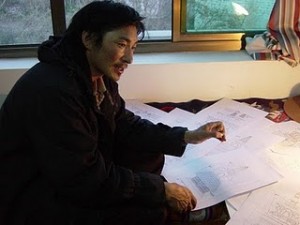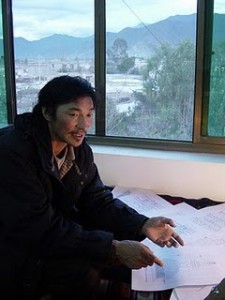 These are the tracings of stupas from the texts of Changchup Dorje by Rinchen Samdrup, now where are these tracings today?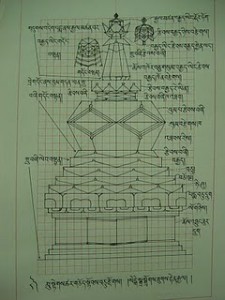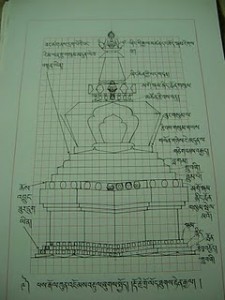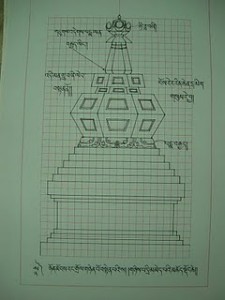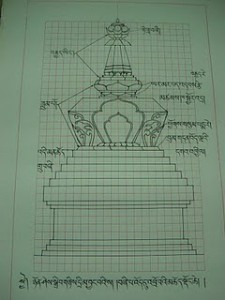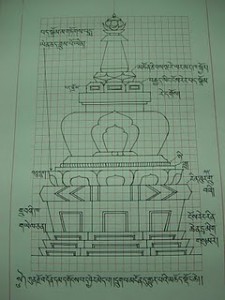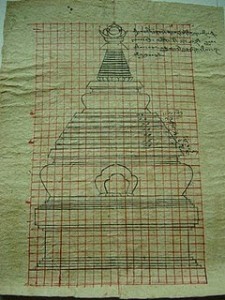 (All of the above photos were taken by Woeser in the Summer of 2004)