High Peaks Pure Earth has translated a blogpost by Woeser that was originally written for broadcast on Radio Free Asia on November 17, 2010 and posted on her blog on November 25, 2010.

In this blogpost, Woeser reflects on her stay in Lhasa and paints a vivid picture of the military presence and the changes to the face of the city.

This blogpost was the first to be uploaded onto Woeser's blog following a coordinated cyber attack on her blog, Twitter, Facebook and GMail on November 23, 2010. At the time of writing, all accounts, except the GMail account, have been restored.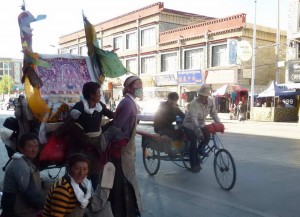 The prostrating man and woman are from Ngaba in Amdo,
across the road are the armed soldiers positioned there day and night.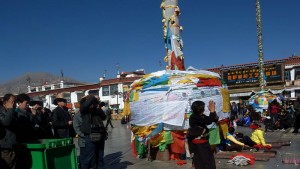 All visitors to Lhasa take photos of the prostrating pilgrims,
not far from them on the rooftops are the armed soldiers.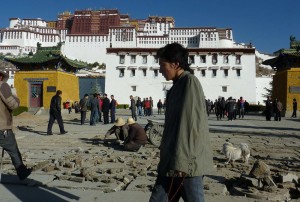 Renovations outside the Potala Palace, replacing the slabs.
The nine dragon wall and red lanterns behind Potala Palace.
(The above photos were taken by Woeser in October and November 2010)
"Returning to Lhasa to Witness the Current Situation"
By Woeser
In early October, I left Beijing for Lhasa to visit my family. I stayed there for over a month. While I was there, I obtained first-hand information about the notable and subtle developments and changes that occurred over a series of sensitive days, weeks and months in Lhasa. These transformations could be felt everywhere in the city. For example, the first few days I was in Lhasa, I had the impression that everything was taking a turn for the better since the sentries who had been positioned at the Sholgrong Sar Road intersection were gone. Of course, walking around the Barkhor in the middle of the night, one would still meet guards standing back-to-back or over 60 armed soldiers. Walking from Tsemonling Road to Shonnu Road one would also face over 30 armed soldiers patrolling the streets. Yet, this was still much less than in March when one was confronted with an enormous amount of soldiers.
However, very quickly, the atmosphere in Lhasa turned tense again. Of course, the sentries at Sholgrong Sar Road came back, also the area around the sacred Lukhang was once more full of armed police; and even less surprising was the Barkhor and the areas where Tibetan reside such as Karma Kunsang, were like Baghdad, as people in Lhasa would say. For about one week, every morning at dawn, a few military helicopters would circle in the sky above Lhasa, flying at a very low level. I could see those helicopters thundering passed my window even from the second floor. We all knew that this was military terror and those being terrorised by this colossal military action weren't just a few people. It was obvious that it was aimed at "those who are not one of us".
One afternoon, when Wang Lixiong and I entered Barkhor from Lugu North Alley, walked along Tsemonling Road, Beijing East Road, and the Lukhang, we saw sentries, patrolling armed police, special police forces, public security guards, bouncers, plainclothes police and so on everywhere. According to rough estimates, there must have been over a thousand such people. When we passed the police station in the Barkhor, we caught sight of a few dozen young armed soldiers forming two columns inside, exercising, boxing and wrestling; the air was filled with the roars of battle and the bright red slogans attached to their heads reading: "Army-Civilians Unite, Building Harmony" seemed rather ironic. Many tourists stopped to watch the scene; some of them were astonished looking tourists from Western countries. Wang Lixiong said that witnessing such scenes, those Western tourists must think that Tibet is under colonial rule. But the Communist Party regards itself powerful enough to not care about concealing anything.
Of course, around the Potala Palace area the scenery is entirely different, Lhasa people jokingly call it the "Han Chinese area". We witness a similar situation on Dekyi Road and Namtso Road with its fiery restaurants and all its culinary fragrances, which is Lhasa's famous food streets, even though the prices are as high as in Beijing. In fact, this street should be called "Corruption Street", where scary looking people eat and drink at the expense of the public. During lunch and dinner times, the entire street resembles a car show full of fancy vehicles. But the even more extravagant corruption is found in hidden gathering places, which according to reports are frequently visited by military and cadre restaurants. One of these places is situated next to Lhasa's "Hunan Love" restaurant, 99% of the money spent there are public funds and waiters and waitresses claim to even know the taste of well-known cadres and garnish the dishes accordingly. One table can easily cost a few thousand, even over ten thousand Yuan.
The most memorable experience during those unpredictable days in Lhasa was that time when I walked around the Tsekor at nightfall. The scent of juniper, which believers offer during the day, was still lingering in the air; it was the fragrance of faith that makes one feel carefree and relaxed. But it is a shame that the Lukhang has already been turned into something like a Han Chinese park; the layers of prayer flags hanging above the lake had already disappeared a long time ago and instead one finds nine dragon screen walls erected at the main entrance, Han architecture is dominant everywhere.
Meanwhile, the outstandingly beautiful Potala Palace is being stigmatised as "the most reactionary, the darkest, the cruellest, and most barbaric" construction of "Old Tibet". Yet, during the 51 years of unified Chinese Communist Party rule, referred to as "the epitome of progress" in a self-adulating way, they have not managed to erect any building that is even anywhere near as beautiful as the Potala Palace. Instead they have shot themselves in the foot over and over again by creating a Potala Square as an imitation of Tiananmen Square. This year, they added another two completely unnecessary luxurious underground passage ways. Moreover, they paved the prayer-wheel path in front of the Potala Palace with slab stones sticking out at both ends and they are using every opportunity to further commercialise the Palace and make money. Even more troubling is the fact that the paved slab stones which used to be found in front of Potala Palace, already made shiny and smooth by many pilgrims prostrating, and which should have been preserved or at least photographed as a memory, were regarded as scrap stone and have disappeared.
Beijing, November 17, 2010