High Peaks Pure Earth has translated a blogpost by Woeser written on March 22, 2011 for the Tibetan service of Radio Free Asia and posted on her blog on April 19, 2011.
Woeser writes about the tragic self-immolation of young monk Phuntsog from Ngaba, Eastern Tibet, who self-immolated on March 16, 2011. As Woeser points, it is an incident reminiscent of the self-immolation of Tapey in February 2009.

Meanwhile the situation in Ngaba remains tense, see recent media reports such as this one from the BBC.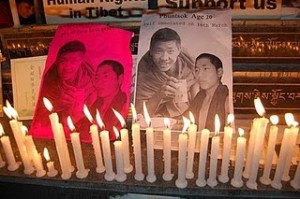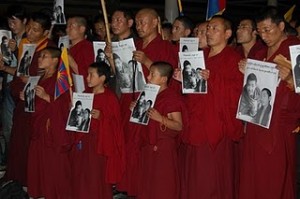 "Remembering The Young Monk, Phuntsog, Who Died from Self-Immolation"
By Woeser
On March 16 2008, when monks and lay people took to the streets in Amdo Ngaba and raised their voices in protest, among the many people that were killed by the state machinery were a pregnant women, a 5-year-old child and also a 16-year-old female middle school student, Lhundup Tso. Thus three years later on this day, many Tibetans commemorate the victims by lighting butter lamps in temples and at home. Phuntsog, a monk from Kirti monastery, commemorated by setting himself on fire.
On a sunny afternoon, he left the monastery that was under close surveillance by military police and walked on his own to the end of the sun-drenched road; here he suddenly went up in flames. From within the fireball he shouted: "Let His Holiness Return!", "Tibet must be free!", "Long live the Dalai Lama!" People gathered around watching in a state of shock, the entire street filled up with heavily armed special, ordinary, armed and plain-clothed police forces using clubs ferociously striking at Phuntsog; was this to extinguish the fire or to beat him?
On March 17 at 3 am, Phuntsog passed away. He was only 20 years old, born in 1991. His parents were from the second village in Me'urama Township, Ngaba County. Two Buddhist monks from Kirti Monastery, one lived somewhere inside Tibet and the other had crossed the snow mountains to escape to Dharamsala last year. Myself and some other friends interviewed them. They said that when they saw the military police beating Phuntsog, some monks and ordinary people rushed over and lifted Phuntsog up to take him to the hospital next to the temple, but it was already passed the hours. So they once more took him up and carried him to the monks' residence, where his parents burst into tears of shock. They took him to the county hospital, but people there refused to take him in. To save his life, the people finally decided to pass Phuntsog over to the authorities begging them to save his life. That was at around 5 pm.
Very late that evening, the hospital was finally granted permission to take Phuntsog in and save his life but, by then, there was no hope left; early in the morning, at around 3 am, he passed away. Yet, the hospital refused to give his remains back to his relatives until 4 pm. It is said that government officials came to inspect his dead body. The monastery was told to complete any funeral activities before 8 am on March 18; they were not authorized to keep the body.
Phuntsog's tragic death was reported by various foreign media. Even the Chinese government news agency Xinhua had to admit that this event had occurred. But initial reports referred to the victim as 24-year-old Phuntsog; later on, it was said that he was a 16-year-old teenager suffering from epilepsy. According to Xinhua, the police patrolling in the area promptly extinguished the fire and quickly took Phuntsog to the hospital for immediate medical treatment, yet "despite his heavy wounds, a gang of monks from Kirti Monastery who entertained ulterior motives, forcibly took Phuntsog out of hospital and hid him inside the monastery" and only after continuous negotiations by the local authorities and the victim's mother did the monastery release Phuntsog so that he could be taken to the county hospital at 3 am. "Because Kirti Monastery kept Phuntsog for such a long time, precious time was lost that could have been used for the treatment of his wounds and he died on March 17 at 3:44 am."
Xinhua News Agency tried to portray Phuntsog as someone suffering from physical or mental illness, it tried to frame the monastery and monks as murderers. These phrases were also used on February 27 last year when Tapey, a monk from Kirti monastery set himself on fire on the street and was afterwards shot by the police. After many foreign media reported on this issue, Xinhua had to admit that "a man wearing robes" had indeed set himself on fire, but they did not admit that military police had shot at him. The doctor also denied that he had any bullet wounds, and instead claimed that his body only showed combustions. However, in reality the hospital wanted to amputate his leg and right arm after removing bullets from them to crush all evidence, but only because Tapey's mother tried everything possible to prevent this from happening, they eventually could not carry out the amputation.
Xinhua also reported that Phuntsog's father said that his son "set himself on fire, there are only combustions and no other wounds". This was just like Tapey's case last year, Xinhua "quoted a Tibetan monk to argue that the talk about shooting was just an invention by him". In fact, Jiangkou, the monk from Kirti Monastery who had taken and disseminated photos of the military police shooting last year, was later sentenced to 6 years and is still in prison at this very moment.
Phuntsog did not die because he set himself on fire; apart from the combustions, he had wounds from the beatings; he was beaten to death, he was killed. So March 16, the day commemorating the oppression of the Tibetan people will always be remembered for the 20-year-old monk Phuntsog who died from self-immolation.
Beijing, March 22, 2011
This post is also available in:

English