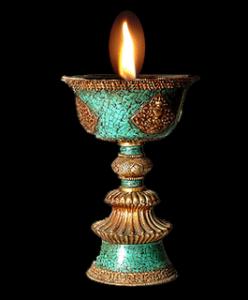 High Peaks Pure Earth has translated a blogpost by Woeser that was written on the first day of 2009 for Radio Free Asia and posted on her blog on 8th January 2009.
In the blogpost, Woeser reflects on the turbulence of the many events of 2008 that have deeply affected all Tibetans. As evidence of the ongoing distressing situation in Tibet, Woeser mentions the 59 Tibetans who were detained in Lhasa for 'spreading rumours', something that was reported by the BBC on Christmas Day 2008.
Perhaps in response to the turmoil of 2008, Woeser emphasises remembrance and reflection in her blogpost – themes she was to continue a week later in her blogpost 'Let Us Make Lamp Offerings and Light Candles to Commemorate the Souls of the Deceased'.

"Remember and Memorialise Louder Than The Gunfire!" by Woeser
Because we're still all so deeply bogged down by what just happened in 2008, it seems that 2009 has crashed into us without warning. I'm reminded once more of what a friend in Lhasa says only when drunk: we just don't greet each other with 'Tashi Delek' (good fortune and fulfillment of wishes) anymore, good fortune doesn't exist and neither does fulfillment, what we should be saying to each other is "zap zap jé!" (be careful).
Terror still hangs like a black cloud over the heads of Tibetans. A week ago, the Deputy Director of the Lhasa Municipality Public Security Bureau declared at a press conference the detention of 59 'rumour mongers' who had 'incited ethnic feelings'. The so-called rumours referred to 'illegally downloading reactionary songs from the internet'… A journalist from the foreign media asked me: "What kinds of songs are 'reactionary'?" For a moment, I really didn't know how to answer. If I said that any songs of yearning and praise for the Dalai Lama, no matter how implicit the messages are, would still be banned as 'reactionary songs', then surely this would sound incredulous to a westerner who had never experienced extreme repression.
Not only was there March, April and May when 'wanted' notices were publicly announced every night; not only was there June, July and August when armed police forces were patrolling the streets; and not only was there September, October and November when even more surveillance cameras were installed; there was also yesterday when my friends in Tibet tell me that every night they suddenly hear dogs in the vicinity barking furiously and you can't help being terrified; terrified that your door will be kicked down by state security, terrified that you will be locked away in some dark prison for some unknown crime, terrified that your loved ones or you yourself will vanish into thin air… Whenever I hear these whispering voices telling me again and again, it saddens me so deeply.
What consequences will this terror bring? Nobel Peace Prize Laureate Aung Sang Suu Kyi has said: "Within a system which denies basic human rights, fear tends to be the order of the day. Fear of imprisonment, fear of torture, fear of death, fear of losing friends, family, property or means of livelihood, fear of poverty, fear of isolation, fear of failure. A most insidious form of fear is that which masquerades as common sense or even common wisdom, condemning as foolish, reckless, insignificant or futile the small, daily acts of courage which help to preserve man's self-respect and inherent human dignity."
To compare this with Lhasa today, Tibetans who are unwilling to speak their minds instead spill their hearts in their blogs: "Lhasa is simply a 'stupid' city with the 'stupid' Party and government offices; politicians from home and abroad are 'stupid' and Tibetans are themselves competing for stupidity, and it seems they're getting 'stupid' ever faster." To put it another way, people are playing dumb. It is only if they play dumb that they can conceal their inner terror and escape their internal agonies. Those killed are already gone, and wounds have scabbed over. How are we supposed to live with the promises and threats of carrot and stick?
I do not blindly praise people in western society. But an American President once said some of the most incisive words in the history of humanity. He said a democratic society cannot be arbitrarily deprived of four freedoms: freedom of expression, freedom of belief, freedom from want and freedom from fear. As mortals, as ordinary people, we should be able to share in these most basic freedoms. But regrettably, these most basic freedoms are more unattainable than the stars in heaven. It is not actually much that we want; what we want is simply the right to live a meaningful existence and hope for the future, is this really too much to demand?
On the eve of 2009, I received many text messages wishing me a prosperous and happy New Year and good fortune for the New Year. At this moment I knew that people from all over the world were heaping best wishes and blessings upon each other − a wonderful creation of human nature. But I would also add: in the New Year, I hope you will be free from want. In fact, to that I would even add, I hope that everyone will be free from fear! At this point we say farewell and forget the year 2008, but we should not be reconsidering the way we live our lives, instead we should remember and memorialise louder than the gunfire!
1st January 2009, Beijing