High Peaks Pure Earth has translated a blogpost by Woeser written on June 6, 2011 for the Tibetan service of Radio Free Asia and posted on her blog on June 15, 2011.

This blogpost serves as a follow up to Woeser's previous post "Encountering 'Tibetan Lamas' in Chengde", posted on High Peaks Pure Earth on June 29, 2011.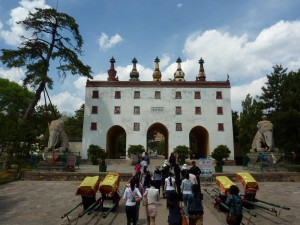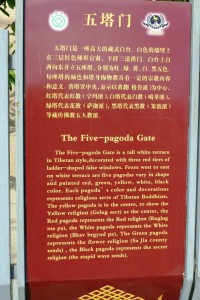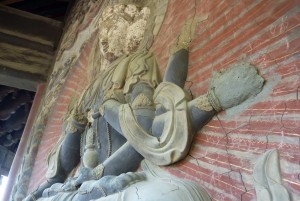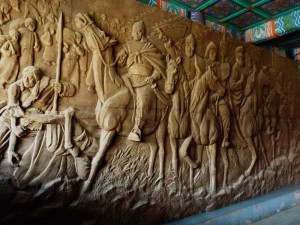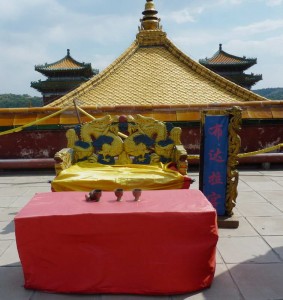 "Re-Telling the Story of Chengde"
By Woeser
An anthropologist specialising in the study of tourism believes that today's tour operators are manufacturing fake tradition and culture; apart from economic benefits, there are also political reasons behind this, the creation of political power. When I visited Chengde, I also experienced some of this. In Putuo Zongcheng Monastery, which is commonly referred to as "Little Potala Palace", a young tour guide, at the top of his voice, introduced the following to a group of tourists: "the Panchen Lama is the Emperor who was established to restrict the Dalai Lama's power and influence".
Politics, sometimes implicit, other times explicit, have infiltrated everything. Almost all information brochures introducing scenic spots have turned into propaganda texts and tour guides' explanations do not live up to historical or academic investigations. Particularly noteworthy is the term "ethnic unity"; feudalism, which Mao Zedong despised so much, is now referred to as a model of "ethnic unity", and the late 18th century Mongolian Torghut tribe, moving eastwards, is in an embellishing way called "returning to the homeland"; even exhibitions and new statues have been set up. The American Tibetologist who travelled with me to Chengde took photos and sent them to an expert in Mongolian Studies who replied in a sarcastic manner: it seems that they found some groundbreaking new information in Chengde.
In order to transform a monastery belonging to the Emperor's home into one that caters to the public and functions as a scenic spot, a superficial make-over was required. Using academic vocabulary, this process can be referred to as "remoulding" or "reconstruction". It is a little bit like adding manufactured flavour enhancer to alcohol. During the "restoration" – using modern construction equipment – of the ruins, which have been seriously damaged by war, revolution and political movements, the authorities in charge were consciously adding whatever they considered necessary; and when the story of Chengde was being re-told upon completion, the results can be summarised in two simple words: brainwashing and consumerism.
There are numerous examples for this. For instance, the roofing of the main hall of the "Little Potala Palace" is golden. Tour guides explain that the golden leaf was once plundered by Japanese devils using bayonets, and hence all that remains is a scar; this then usually results in an upsurge in nationalist feelings amongst the visiting tourists. However, an insider wrote online that in actual fact, it was ordinary people who during the Cultural Revolution as part of the "Destroy the Four Olds" campaign, came here, smashed the Buddhist statues and took away the golden leaf. On top of that, they exhibited some "before and after" photos showing scenes of the "old" and the "new", their purpose was clearly to praise the government's efforts in "restoring" places of cultural and historical interest. It was of course not explicitly indicated when exactly the wrecked ruins shown on the old images had been destroyed, but from the limited information on the internet, it became known that it happened during the Cultural Revolution.
Can we say that today these relics have just escaped devastation by sheer luck? A Chinese cultural heritage expert expressed his deepest concerns: "today, the damage inflicted upon these pieces of heritage is comprehensive… the time when damage was at its highest was in the 1990s, this was also when the country's exports peaked. The damage during that time far superseded that of any previous decades." With Chengde as an example, this was also the first "big project" of China's cultural heritage world. And the thieves are the officials in charge of the management of historical sites such as "Little Potala Palace" and the Panchen Lama's temporary residence. The embezzlement and theft has been going on for an entire 10 years, numerous cultural relics have been replaced by fakes and will never be recovered.
Let me tell you a small but ridiculous detail. "Little Potala Palace" has a "Five-Tower Gate" with five Buddhist Pagodas in different colours standing on its top. According to Buddhism, these represent the centre, south, east, west, and north. However, on the sign in front of the gate, it is falsely written in Chinese and in English that these five pagodas represent the five schools of Tibetan Buddhism: the yellow pagoda stands for the "yellow school", also known as the "Gelugpa School", and the black pagoda stands for the "black school" or "Benpo School" (Bonpo); now, the Chinese character for "ben", which should not be used here at all, actually means stupid in Chinese. As a result, in the English translation, which was a direct transcription from the Chinese, it says "the stupid wave sends".
Chengde was inscribed on the World Cultural Heritage List in 1994; as was the case with all other Chinese cities of cultural or historical interest that were opened as tourist spots, politics and commerce took away all its authenticity and it became another kind of ruin, gradually being damaged by large-scale tourism. Yet, tourists coming back from the empty and falsely acclaimed "pseudo-antique commercial streets" are leaving angry comments on the internet: "they were just waiting to burn holes into the pockets of every single tourist coming from far away".
June 6, 2011
This post is also available in:

English