High Peaks Pure Earth is proud to present the English translation of the preface by Woeser to her new book "The Snow-Lion Roaring in the Year of the Mouse: A Chronicle of the Events in Tibet of 2008" that was published at the beginning of March 2009 in Taiwan.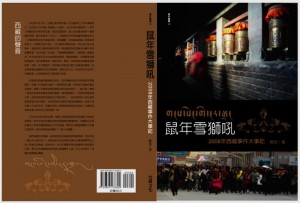 Because of the news blackout, Woeser became the main chronicler of events in Tibet in the year 2008 through her first-hand sources on the ground. A similar chronology was published in Spanish and Catalan at the end of 2008 for which Tibetan historian Tsering Shakya wrote an introduction that has also been used in this Taiwan edition, Woeser quotes from this introduction in her preface.
Woeser published the announcement of the publication of "The Snow-Lion Roaring in the Year of the Mouse: A Chronicle of the Events in Tibet of 2008" and the preface on her blog on 9th March 2009. There is no English edition of such a publication but High Peaks Pure Earth readers can find the most complete collection of Woeser's Tibet Updates in English here.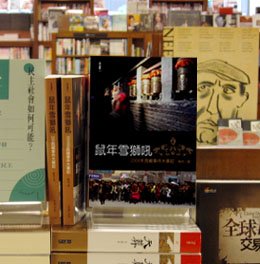 "The Snow-Lion Roaring in the Year of the Mouse: A Chronicle of the Events in Tibet of 2008"
Preface by Woeser
On the night of the "Incident of March 14", a young man who was there in Lhasa and experienced it in person (he was later taken innocently into custody for more than 50 days), whereas I was in Beijing, said to me: "in fact, we are very weak, although we always say 'nation' and 'Tibet', we are only paying lip service. When disasters happen, it's the ordinary people who are braver than us and are always going ahead regardless of anything." Yes, the situation was often like this – when many people shouted out loud their accumulated rancour that they had kept inside for so long, more people hid aside to keep their silence. Me too, I was silent, and silent for so many days. The reasons were not the everyday risks, for instance, the imminent danger appeared clearly on one afternoon when a policeman said kindly to me that I was prohibited to go outside; not because I feared him, his working unit, this state apparatus, absolutely not. The real reason was because there were too many feelings suffocating my throat, stuffing my brain full and making my hands stiff as I hit the keys on the keyboard.
I told a Chinese friend who sent his regards to me from the US: "During these days…tremendous suffering, and some feelings of disillusion…I cannot speak out…just like a singer suddenly loses his voice…I don't know how to express…huge grief and indignation as well as the struggle…" Just as a singer loses his voice because of disillusion and the struggle in his heart. The disillusion stems from this country where we are living, and moreover from the people in this country we have to get along with. However, disillusion doesn't mean being tired of life, and doesn't mean that the courage of resistance arises so there is still some struggle from the inside. After a few months, I often heard a voice which came from an idol from my youth whom I had gradually forgotten, an Italian lady called Oriana Fallaci, who, after the events of September 11, wrote: "at this moment, if we keep silent, it's a mistake, to speak out will be an obligation." As a reporter and a writer she has written and spoken many words but only these words have tortured my heart.
Yes, to speak out is my obligation. For me whose writing career starts from writing Tibet and who writes with a Tibetan's heart, if I keep silent at this moment, it is not just a mistake but more than that it is shameful! In order to feel at ease, I started to chronicle daily from March 10th the blood and fire happening in the territories of Mdo-Dbus-Kham* which I knew about and published them on my blog. And I knew well that without Tibetans in every area who were taking grave risks in assisting me, it was impossible for me, who was far away in Beijing, to shoulder the task of recording these events. As Tsering Shakya mentioned in the introduction: "[…] People from all over Tibet sent reports to her as though she were the official chronicler of the momentous events." How many of my fellow Tibetans who I knew or didn't know experienced the darkness both day and night? I still remember those days and nights in the darkness, I sat alone in front of my computer, documenting, just documenting. I often heard sad information, and my tears wet the keyboard… I appreciated my friends very much but I could not reveal their names because so many of them were still in Tibet, or their relatives were in Tibet. At this time I also built solid friendships and made precious connections with my friends, which, for me, is an indescribably fortunate thing. During those tough days, we supported each other, we encouraged each other, and made each other feel as though we were not alone and not isolated. We were actually all in different places as the witnesses and documenters of an important historical moment.
At the end of May, my blog was hacked several times and finally it was completely destroyed. I knew well who wanted to put my blog in mortal danger. After a hard time of facing up to the challenge, I rebuilt a new blog with the assistance of friends and have continued to document. Not long after, I went back to Tibet, once in June and another time in August. My trips started to become shorter and shorter, which had never happened before. It was not what I intended, and I was forced to cut my visits short. I wanted to go to all the regions in Kham and Amdo again, and hoped to have been able to stay in Lhasa for a long long time. I wished I could be the same as I had been before, free to circumambulate the holy mountain, Gang Rinpoche (Mt. Kailaish), to go on pilgrimage to Lake Namtso, to visit all the areas of Mdo-Dbus-Kham where I had stayed or I had not yet stayed before. All of these places are my hometown. However, I got the opposite of what I wanted, in August, in Lhasa, I was only able to stay 7 days because I was investigated and searched by the police, this left me feeling very sad. When leaving, my mother sighed and reflected the reality of the situation: "the Lhasa of today is not the one of last year, and the you of today is not the one of last year…"
It is true, after the events that took place in March, Tibet is not same Bod (Tibetan for Tibet) as in the past, and all of the Bodpas (Tibetan for Tibetans) are not same as before. In the beginning of 2009, reviewing the reality exposed in the past year, I wrote an article for the Tibetan service of "Radio Free Asia", which reads: it would seem that each event just happened yesterday, people still bleeding, fire still smoking, the tears pouring, anger soaring in the blood and fire for most of us are still very real experiences. This is because there is a plot going on behind the huge shadows… maybe we must do a random investigation of the Tibetan people, to ask them who they know are dead or have been beaten, or have been captured, or are still in prison…for example, from March 10th till now, 12 acquaintances of mine have been arrested. The earliest was arrested on March 15th; the latest was arrested at the end of November. Among them, Lama Jigme of Labrang Monastery has been arrested twice, and even now he is still in prison. Among my friends who were arrested, two are women; three are monks, the others in different professionals. Eight are in Lhasa, one is in Xining, one is in Labrang, one is in Hongyuan (Martang), and one is in Beijing. Only one person's parents are dead, the others have family, parents, brothers and sisters and beloved husband or wife and young children… Perhaps we, everybody, can gather this kind of statistic. We can do more in detail and in this way keep more accurate records of actual events. This task is not a task that can be finished quickly, it must be in detail, correct, complete, and then, the lives disappeared in the darkness without being known by the public will provide a truth about the blood and fire that happened in 2008 unable to be erased and denied by anyone.
I hence plan to publish this chronicle. This is to commemorate the year 2008, and also 1959. For Tibetans, they have never forgetten "Nga Chu Nga Gu" (in Tibetan: 1959) the year of 1959, if people thought that Tibetans had forgotten 1959, this is not just a misunderstanding but a deliberate malicious misconception. It has been 50 years now and history must count one by one, not only my writing has to take this count engraved on our memories, but also many Tibetans who are of the same blood as me must take up this mission. This is not the same as an accusation, our Buddhist nature is able to forgive every experience, but forgiving does not equal forgetting. And this is not enough to take up the mission: the publication of this book is not really the same as speaking out. The real kind of speaking out is that everybody speaks out. Therefore, I want to dedicate this book to the Tibetans who have experienced 1959-2009, and to Tibet where I promise to be reborn in my future generations.
Something I have to explain is that this chronicle, which begins from March 10 2008 and ends on August 23 2008, is not complete. Due to various limits, the information, which I was able to receive and gather, may have missed many important facts, it being the tip of the iceberg, and cannot reflect all the facets of the present Tibetan situation. And there are still protests and crackdowns that have occurred after August, supplemented by the footnotes, however, there are many cases that haven't been documented. In fact, up to now at the eve of the anniversary of the Tibetan events that happened last year and shocked all the world, there are still many inhumane and unfair incidents taking place in the broad territories of Mdo-Dbus-Kham, the Tibetan suffering continues…
I hereby thank Yun Chen Publishing Company in Taiwan for publishing this book on a special day, March 10, 2009; this is a day of the 50th anniversary of peaceful Tibetan resistance. I am also most grateful to Tibetan scholar Tsering Shakya, who is accredited internationally as an important historian for modern Tibet. In November 2008 and January 2009, my work "Tibet: Breaking the Silence" concerning the Tibetan events of 2008 was translated into Catalan and Spanish and published in Spain. Tsering Shakya wrote an introduction which is very appropriate for this book. And in the days of 2008, I noted daily events which were translated thanks to Tsering Shakya and published in English. The exchange between us exactly represents the communion of heart with heart of the Tibetan people inside and outside.
Regarding the pictures in this book, some were taken by myself, some by my husband Wang Lixiong and some were downloaded from the internet. As for the others, some photos have the real name of the photographer, some are anonymous, some were provided by the inside and outside Tibetans and some were given by travellers, I hereby give all my thanks to them. There are certain anonymous pictures downloaded from the internet in order to show the real situation and the purpose behind them is to make public the truth. I cannot know who the photographers were but I hereby highly appreciate them too.
Tsering Woeser
Beijing, January 10, 2009
* Mdo-Dbus-Kham: According to the geography of traditional Tibet, the entire Tibetan territory is divided into three main regions from the high to flat land: upper, central and lower, called upper three regions of Ngari (Ngari Korsum), central four horns of U-tsang (Dbus gtsang ru bzhi), lower six Ranges of Dokham (Mdo Khams sgang drug). "Ngari Korsum" is the high peak of mountains, the source of rivers, also the roof of "the roof of the world". "Dbus-gtsang-ru-bzhi" includes the total area of Dbus and Gtsang which is nowadays Lhasa valley, Nyag-Chu plain, Shigatse, wide area west and north from Shigatse in the territory of the Tibet Autonomous Region. "Mdo-Kham sgang drug", "Mdo" is Amdo which includes many area of Gtsang in Qinghai, Gansu, Sichuan provinces. "Kham" is the Kham region that includes Yushu in Qinghai, Dechen in Yunnan, Kardze in Sichuan, Chamdo territory in Tibet. It still includes the Gyarong region which is consisted of part of Ngaba and Kardze Tibetan areas in Sichuan. And the shorter name of Tibet is called Mdo-Dbus-Kham.