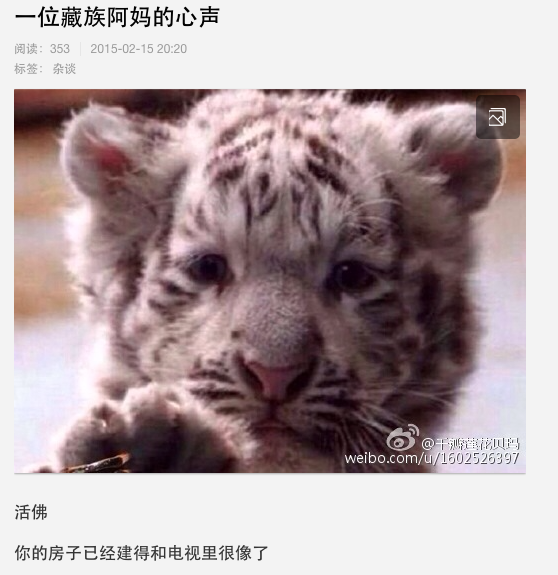 High Peaks Pure Earth has translated a poem by a Tibetan blogger calling herself "A Thousand Lotus Flowers" which was written and posted online in February 2015.
The poem is a strong piece of social commentary aimed at Rinpoches (reincarnate Lamas). The sentiments are an interesting precursor to the controversy that raged online at the end of 2015 which was covered in the introduction to the post "A Message to All Tibetan Youth" by Thubten Phuntsok.
Again, whereas in the past, the Tibetan religious community have been seen as the main opposition to Chinese rule, Tibetans online are now seeing Lamas and monks as colluding with the authorities, seeking material gains and wealth with their main followers being Chinese people and not Tibetans.
A Tibetan Mother's Thoughts
Rinpoche
Your house is built just like the one on TV
Your car can suddenly hold a number of Khampa guys
Your younger brother married a star of the grasslands
Come back
Dawa says
In your dreams you chant in Chinese the names from TV
Nyima says
Your teachings are like translations of Chinese prayers
Rinpoche, come back
You are about to forget the grasslands
This year there was no rain on the grasslands
We could not find you reciting the manuscripts
The caterpillar fungus harvest was very poor this year
Your younger brother took them all
Rinpoche
Come back soon
The novice monks in the monastery
Many of them ran away this year
Some of the monastery walls have fallen down
At night the novice monks run off to play video games
Dondhup is doing big business now
He opened a tent hotel on the grasslands
He also wears venerable red robes
Collecting rent from all around
Tashi had another son
Please go and convince him
He says he will absolutely not send his sons to the monastery
Rinpoche, come back
Some Shanghai university students have come to our village
They teach the youngsters how to read Chinese
Everyone says they are Bodhisattvas
From heaven
The students say they are just ordinary people
They are teaching us how to keep clean
They give us medicine
They are living in those two clay houses
They don't own a car
They don't like eating tsampa
They are not Tibetan
They are here with us
Rinpoche, come back
Your palace lies empty
Your land cruiser is parked out front
Every day we are only able to gaze at your image
Rinpoche
We have just about forgotten the sound of your voice
Losar is almost upon us
Come back
Jampa says your Holiness is going to build a monastery
The palace will be the first to be built
The monastery took many years to finish
Oh! It grew bigger and bigger
The novices grew fewer and fewer
Oh! There are more and more Buddhist robes
More and more like to wear lay clothing
In the era when it was forbidden to believe
Faith was eternal
Now we are free to believe
We hope that in the name of faith
You will cherish all sentient beings
The lives and deaths of parents and elders depends only on your Holiness
No need to worry about Aunty with her cold in the Han lands
We common folk in Tibet have only your Holiness
Aunty in the Han lands has good hospitals

Oh! The numbers of all the stars in the sky
Are fewer than our Rinpoches
Oh! We can see the stars in the sky
But we cannot find our Rinpoche

Rinpoche
Oh! It is we Tibetans that need you the most
Come back
You, who were raised on tsampa
You will never get used to drinking coffee
You are Buddha to us Tibetans
Do not leave to be a wandering beggar