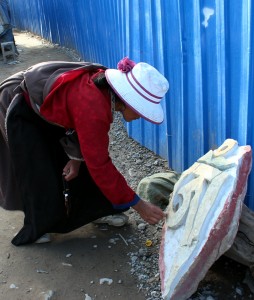 High Peaks Pure Earth has translated a blogpost by Woeser written on August 24, 2011 for the Tibetan service of Radio Free Asia and posted on her blog on August 31, 2011.

In July, Woeser and her husband Wang Lixiong travelled by road to Lhasa and these posts were written about the places they visited on the way. Woeser's previous post was on the impoverished county of Matö while this post focuses on Yushu, the area in Kham that washit by a 7.1 magnitude earthquake on April 14, 2010.

Woeser has previously written about the earthquake and described incidents that happened in the aftermath. On the anniversary of the earthquake, Woeser wrote about how a documentary film to commemorate the earthquake was banned.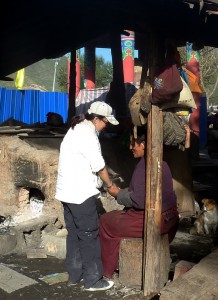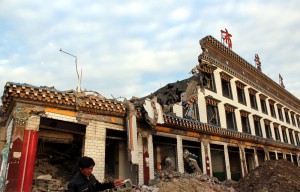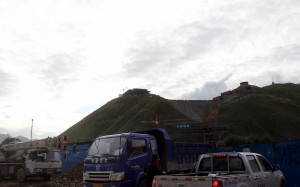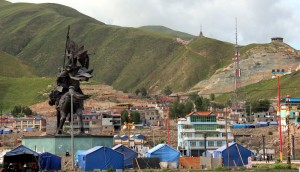 "Over One Year After the Earthquake, A Rushed Visit to Yushu"
By Woeser
When travelling towards Yushu, I felt complicated emotions arising in me. We all know about the big earthquake that hit Yushu on April 14 last year; numerous homes were destroyed, numerous lives were lost. Before that I had often visited Yushu, once I even stayed there for half a month, so I cherish profound feelings for the local people and their customs. One of the stories that impressed me in particular was that of a Rinpoche who established a library in Yushu where he collected mainly Tibetan but also Chinese and English, books and they were not only about Buddhism.
In the year of the earthquake I wrote an article titled "Tibetans from Yushu Talk About the Year After the Earthquake". With regards to the recent developments in Yushu, all of my Tibetan friends from Yushu told me that there exist several taboo topics that must not be spread to the outside: firstly, anything regarding land and property; secondly, anything regarding schools and pupils; thirdly, anything regarding religious assemblies and other Buddhist activities. So, I wrote: "it appears that rebirth after destruction is extremely challenging, natural and human disasters have resulted in a twofold attack. The blueprints of the government's reconstruction plans have changed over and over again; apart from Changu Village that has been rebuilt with simple, red-roof buildings, serving as a model example, the majority of the disaster victims still live in tents, living maimed lives."
So what does Yushu look like today, or let's say on July 26?
First of all, I need to say that when we had almost reached the Yushu county seat, our car was suddenly stopped by police in nearby Gyana Mani. And they were not only traffic police but also special police forces and an old plainclothed policeman. Furthermore, when checking Wang Lixiong's ID card, one of the special police, a young handsome Tibetan, said in Tibetan: "Tha ge rey (it is him)", this is when I suddenly realised that this was no routine inspection but that it was specially directed at us.
We were allowed to pass but were subsequently always shadowed. However, when stopping in Gyana Mani, I left the car in spite of it all and walked around Gyana Mani that had recently been restored by numerous devotees, which took me over one hour. Many Tibetans were silently turning prayer wheels, along the sides of the road one could see the sky blue tents erected for the disaster victims. I asked one of the people turning the prayer wheel who told me that they may have to live there for another two or maybe three years, "we don't know", he said in a voice full of anxiety. I also saw groups of primary school pupils in their blue and white school uniforms, they told me that Yushu only has primary schools, when they get older they have to move to Han areas to continue school. These children were the happiest among all the people I met.
Next to Gyana Mani I found a few stoves covered in iron sheets with large pots. An old Ani (nun) who voluntarily made tea for those turning the prayer wheels tightly grabbed my hand and asked where my home was; I only said "Lhasa" then my voice choked with sobs… Gyana Mani's surrounding environment was dusty and sandy. A young Tibetan woman stooped down and tried to wipe off the dust that had settled on a mani stone carrying the inscription "Om", she even used her mouth to clean it. But the passing cars and excavators kept raising dust and sand covering the mani stone over and over again…
At the fall of dusk, we arrived in Yushu that had still existed in our memories but that now appeared alien and had changed beyond recognition; Yushu had already been turned into a dusty and noisy construction site, this was the feeling that was most prominent when we arrived. There were many different construction companies, all sorts of construction machinery and many different people from different places whirling around, "it seems that all of China's construction contractors have come to Yushu", I sighed. But, one year and three months after the earthquake, Yushu still resembled a battlefield that had just been bombed, broken walls were everywhere.
We were constantly shadowed by three cars, following us closely. This was definitely a warning. We knew that it was to prevent us from getting in touch with our local friends, so as to not acquire any knowledge about the real situation on the ground. If we really wanted to meet friends, how could we avoid getting them into trouble? All we could do was to walk around the city for a long time and find a hostel to stay at, which was not an easy undertaking. When we checked in, we bumped into a chief labour contractor from Sichuan who told us that he had finished his work and come back to get his money but had already waited for over a week. He said furiously: "those cadres, they fiercely eat up money."
The same evening, I could not fall asleep, I noticed a smell that I had never smelled before. I said to Wang Lixiong that this may be the smell of the victims of the earthquake, it perhaps never disperses?
Lhasa, August 24, 2011