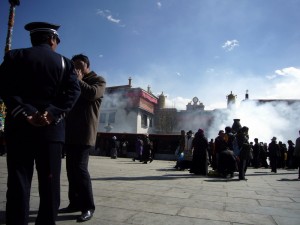 It's hard to believe that a year has gone by since the Dalai Lama received the Congressional Gold Medal on 17th October 2007. I remember very clearly staying up and watching the ceremony online at a ridiculous hour because of the time difference. It has been a turbulent year for Tibet since then. Last weekend, as I was procrastinating from doing any real work, I stumbled across a letter I had received from Lhasa written around this time last year which I thought I'd share here. The Congressional Gold Medal ceremony is hinted at in the letter. Some of the names and details have been changed but basically this very sweet, personal letter conveys the feelings of many young Tibetans today who have been educated in China and then return home to Tibet.
Lhasa, October 21st , 2007
It has been over three months since I left Beijing. It is good to come back and work in Lhasa after spending eleven years studying in China. During the past three months, I have been experiencing so many things (positive and negative) emotionally.
Up to now my personal life in Lhasa is fantastic. I am living with my relatives and go back to my own home at weekends. My relatives have a huge apartment building and I have a private room for free. My relatives are people who have a lot of things in common with me in terms of many things. They are quite interested in my job and believe that this job perfectly suits my personality. So I share my working experiences with them. They often encourage me to go abroad for further study in the near future.
I am lucky enough to have my best friend TK with me in the same city. We hang out together as we did back in Beijing. We share our happiness and sorrow. Therefore, on the whole we are as happy as we were before. Besides, TK is as "rude" as before. One day, we went to attend the opening ceremony of a new restaurant together. We took a bus to the restaurant. When we sat down and began to talk, we suddenly realized that a lot of fellow passengers were looking at us curiously. We looked around and saw that we were the only Tibetans on that bus. Naturally, I could not helping feeling as if we were on a bus in Beijing where this kind of situation often occurs. Then TK burst out: "What are you looking at?! Why is it so strange that we speak Tibetan?!?!" The Han Chinese seated beside us did not set curious eyes on us any more. Haha".so this is typical TK. I am sure a lot of people never expected such a character as hers from her cute face.
No matter how well my life is going in Lhasa, there is always a dark or painful side deep in my heart. I believe this is a universal case for Tibetans like me. Never in my life did I realize that the political situation is so intense and so serious here in Lhasa. The ongoing 17th National Party Conference is greatly affecting Tibetan people's routine life. During the conference, police have been scattered everywhere. On my trip to Lhasa, I found that the Qinghai-Tibet railway was safely guarded by police. Rumour is hard to be blocked among the gossip-natured Tibetans.
Although few Tibetans have a clear idea of what is going on on the international stage, most Tibetans know that something good and exciting is happening. I heard that a good many Tibetans dressed up on special days and went to burn incense as usual in spite of the hard restrictions. I also heard something that happened on that day. A group of nuns were spotted getting off a bus and disappeared around Karma Kunsang (a Tibetan residential area). Immediately, police made raids on every Tibetan household in that area in order to find the nuns. Finally, the nuns were found in a Tibetan house. It turned out that the family had invited the nuns to hold religious activity. Unfortunately in another Tibetan house, police caught twenty monks who were also invited to read Tibetan scripture. So we can imagine what kind of great changes will take place in these two families.
Such kinds of things are happening as life seems to go on happily here. Yesterday, one of my friends from Drepung monastery called me. They told me that during this conference the monastery had been guarded by the police. Monks are not allowed to leave the monastery and enter the city. So this is also what is going on in this seemingly peaceful city. In this city, I guess those who turn a blind eye to what is going on in real life is the happiest person.
There are also a lot of cheerful things occurring here. Nowadays, Tibetan music is becoming more and more popular among Tibetans, especially young Tibetans. Many new-faced Tibetan singers have popped out. I am also enjoying buying any newly published music videos. Apart from music videos, recently a video which advocates vegetarianism is popular among Tibetans. The video shows how the innocent animals are cruelly killed for the sake of human beings' luxury. I was shocked by the bloody scenes in that video. I felt shameful for human beings' mercilessness and cruelty. However, it is very difficult for me to be a vegetarian especially when I go for field work.
Just a few days ago, I listened to the Karmarpa's teaching on vegetarianism. Kamarpa suggested that we can try to eat less meat than before by eating meat in only one meal a day. I realized that his teaching is very reasonable and practical for people like me. So now I do not eat as much meat as before and I found myself rejecting meat from my deeper heart. Whenever I eat meat, I feel guilty. I do intend to become a vegetarian but I try not to eat meat if there is another choice. I observed that nowadays to become a vegetarian is very popular among Tibetans. Luckily, there are two very good vegetarian restaurants in Lhasa now.